PREPARING A CRANE
Step 1: Find a piece of paper. Preferably something that was once important, a financial document, a wedding invitation, death certificate, anything now lost in time and filed to be forgotten.
Step 2: Fold the paper to prep the square, meeting the top edge to the side edge, and cutting off the excess.
Step 3: Divide into 4 smaller squares.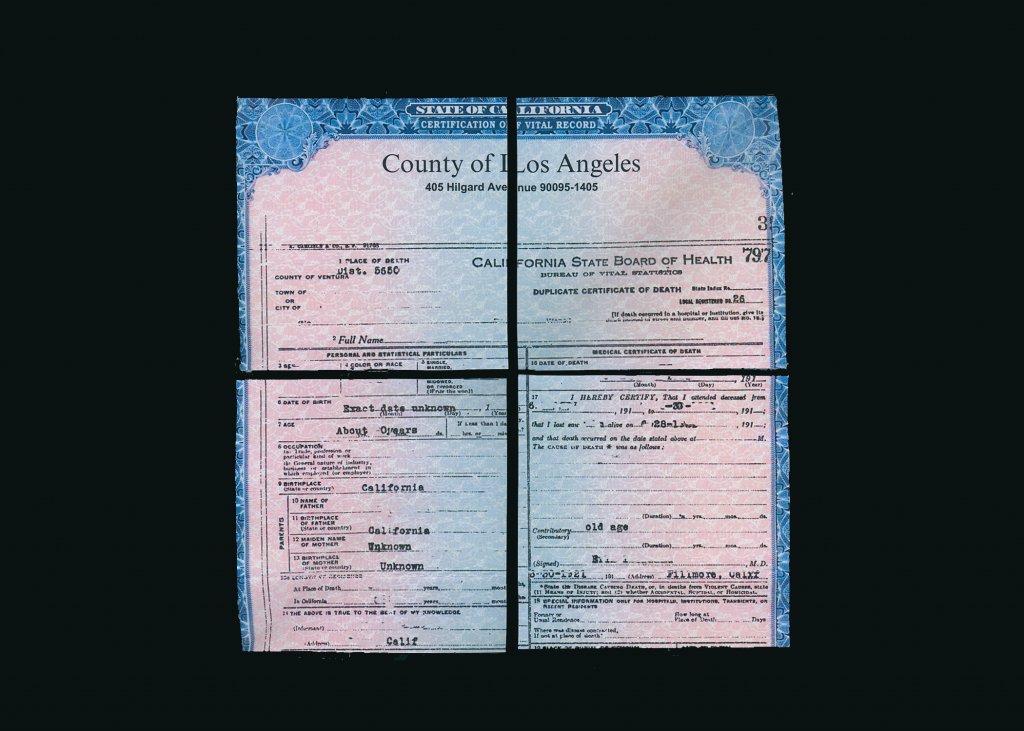 Now we actually start making the crane.
There is a restaurant in my hometown where the ceiling above the cash register is covered with paper cranes. The colors cram against each other, wedging the space with character. As a kid, I would stare up at the ceiling in awe of the sheer vastness of these miniature crafts. As an adult, the feeling remains, only it is underlined but the thought of who dedicated so many hours to do so.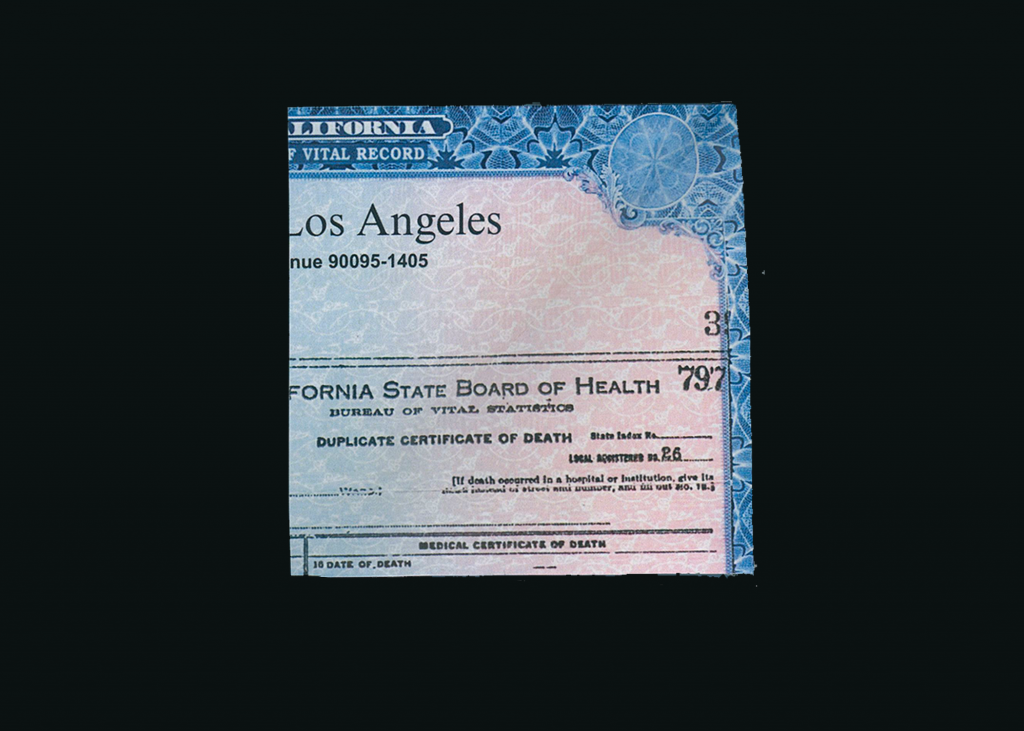 FOLDING A CRANE
Step 5: Fold your square each way diagonally. Whatever you want the surface of the crane to be should be folded inwards.
Step 6: Flip over and fold both ways horizontally.
I got the idea to start making cranes at work one day. Being employed by an office on campus means one of my core responsibilities is going through the thousands of files for people who have had a life at this school, and throw them away. Years of personality on hundreds of pages, trashed when their time expires.
Step 7: Pinch the sides of the paper and push inwards to make a diamond (or really, a tilted square). I still mess up this step in about 15% of my cranes, no matter how many I've made.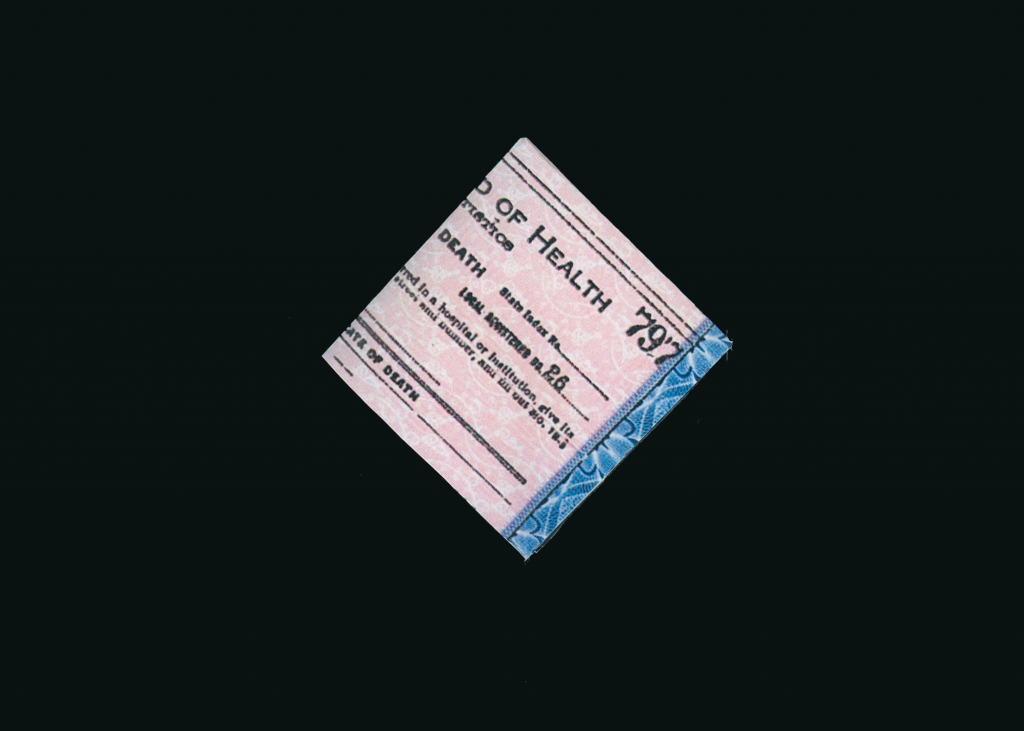 Step 8: Fold the bottom edges to the center to make something that looks like a kite. Repeat on the other side.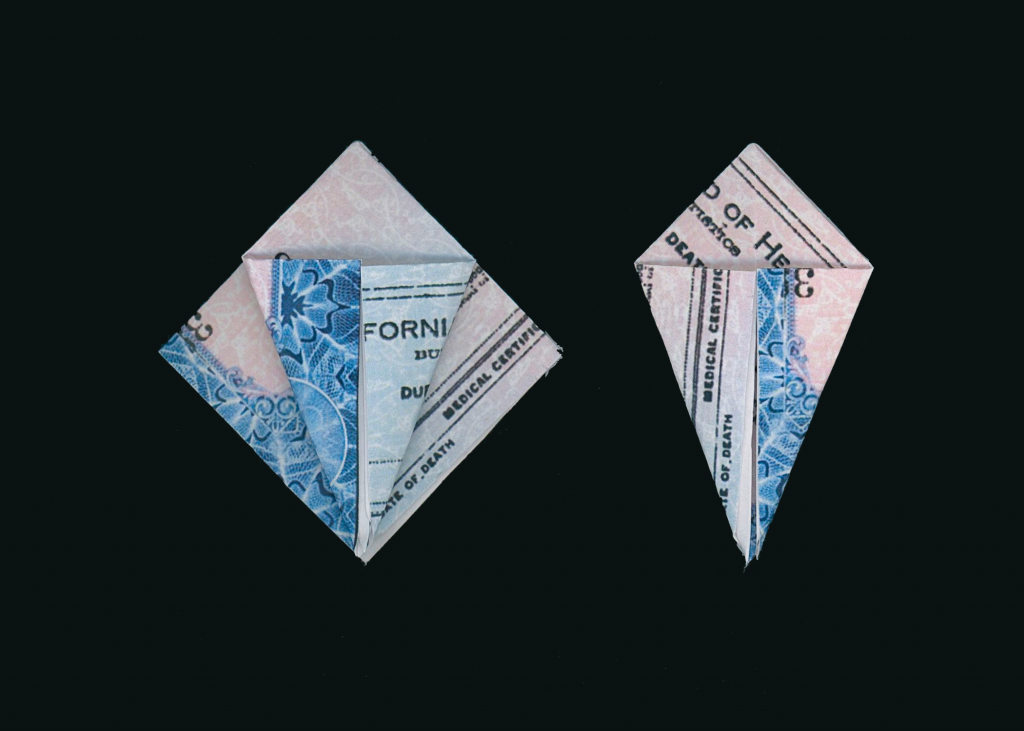 Step 9: Fold the top corner back and forth on each side.
Step 10: Now fuck up what you did and unfold step 8. Pull The piece out to make a pocket shape.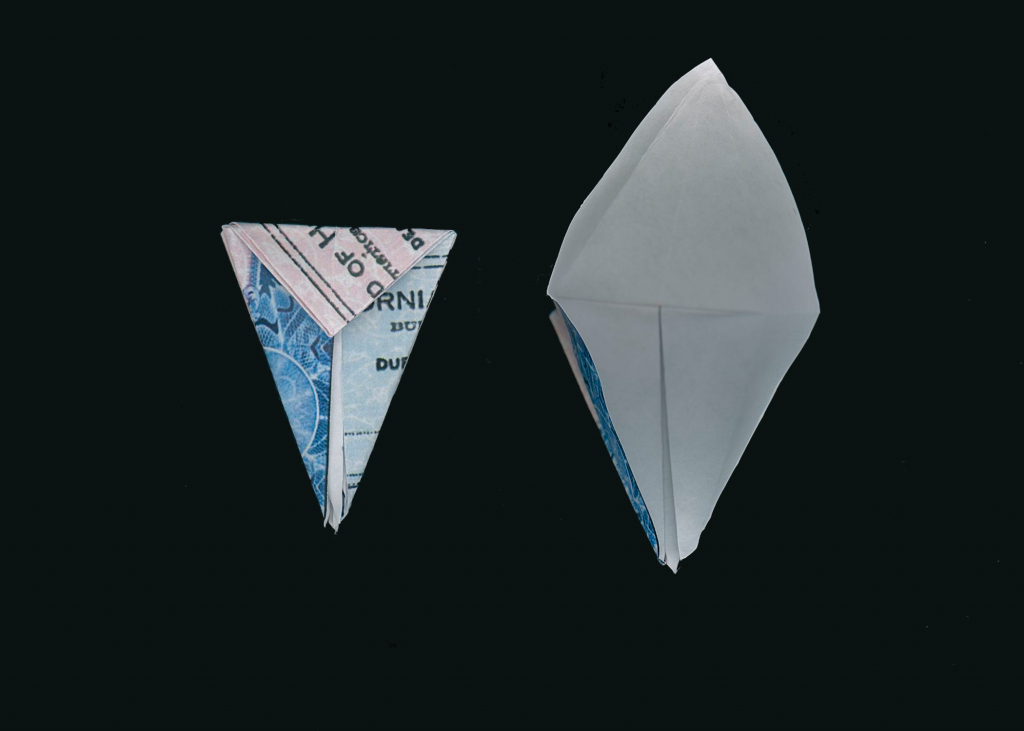 Without negating any historical significance of the art form, I was drawn to the idea of making cranes at work because it was an easy way to reshape the obsolete. Turning useless information into art. It was silly, maybe absurd.
Step 11: Take the pocket and fold the edges to make a taller diamond. Repeat on the other side.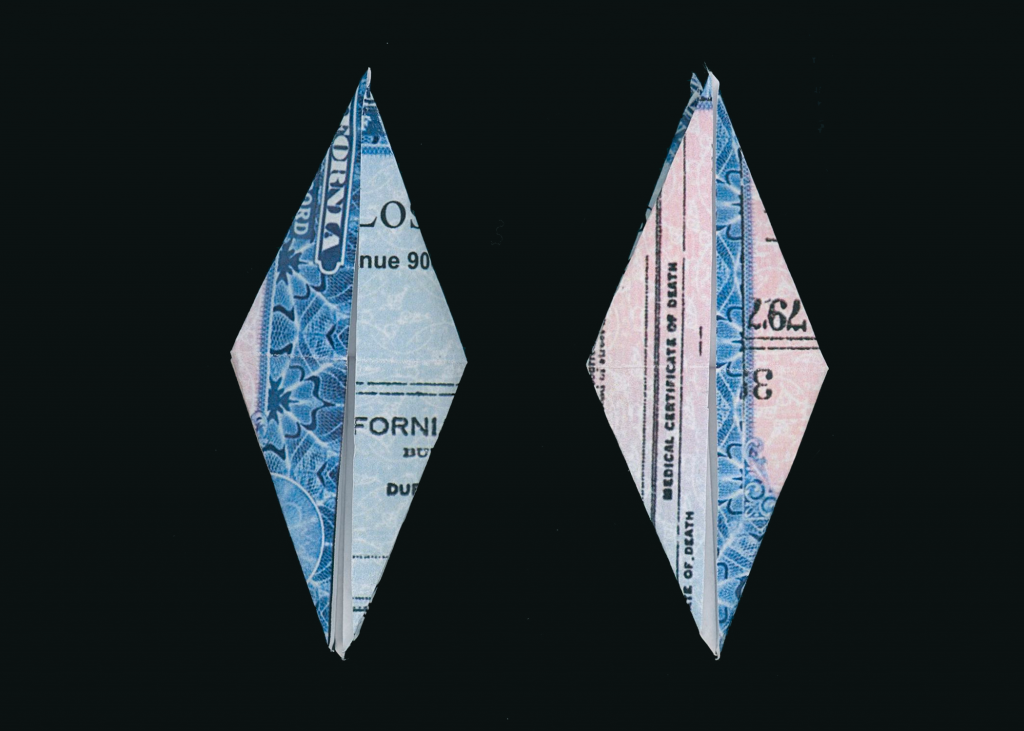 So a little over a month ago, maybe two, I set out a tray on top of the shredder bin, letting people know that if something didn't have to be destroyed, it could be repurposed.
Step 12: Fold the edges in again, to snatch the waist. Both sides.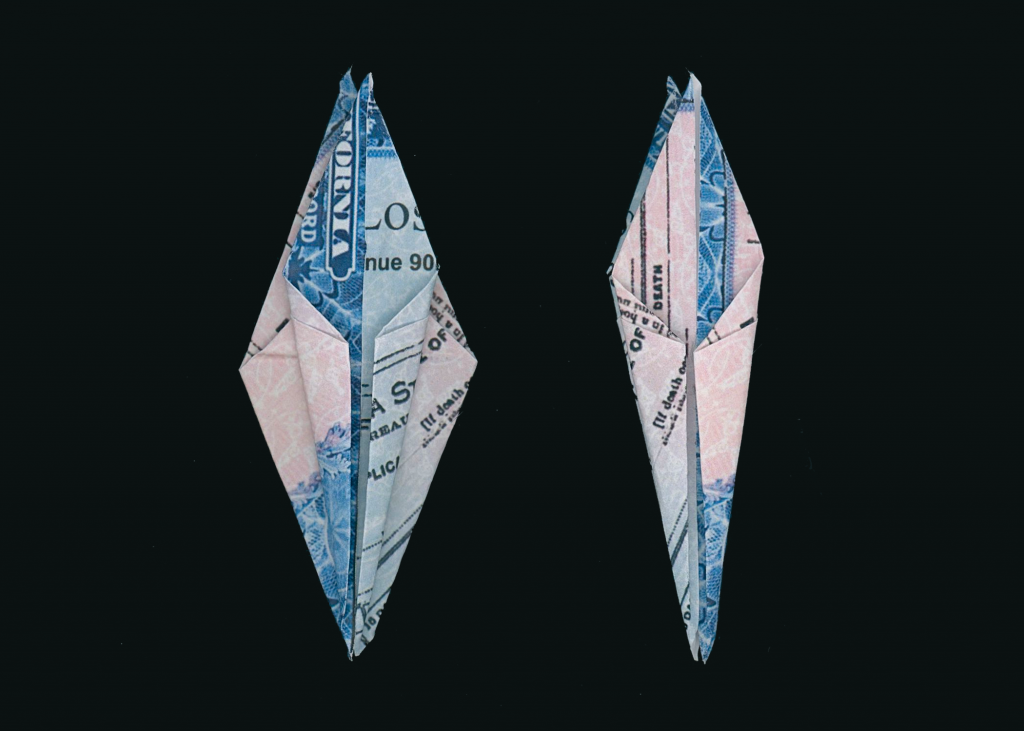 Step 13: Flip flop the edges, so you make this rotisserie-chicken looking thing. Or maybe a Fox.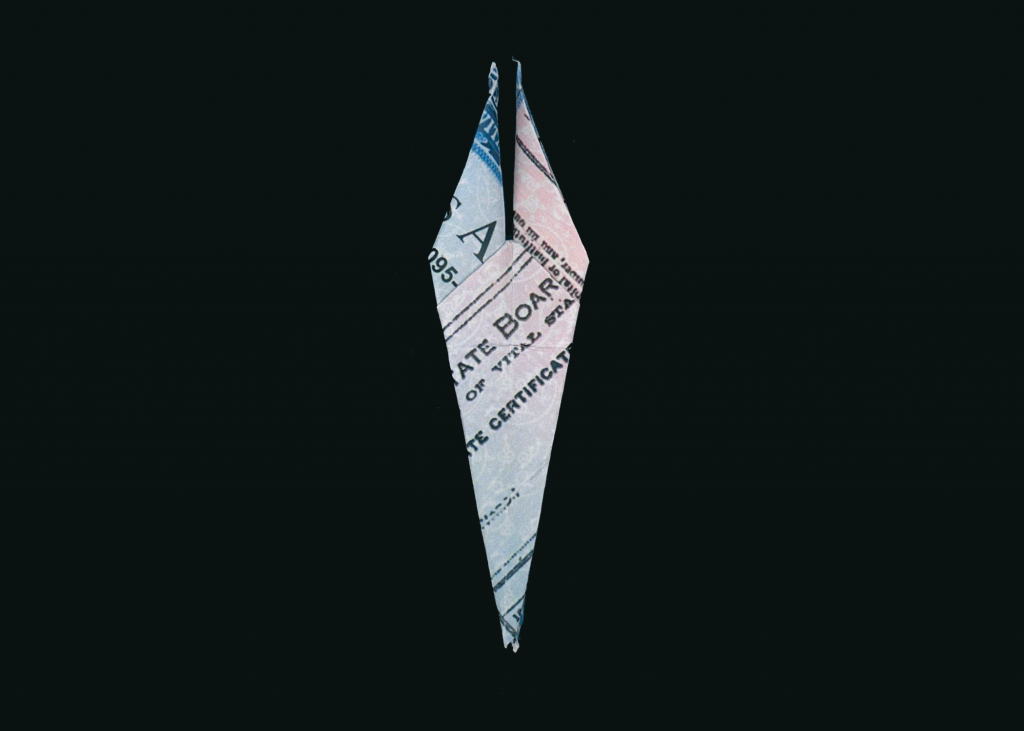 It took a little while for the papers to start rolling in, but after amassing some evidence of what I was doing with them, there is a steady stream incoming. I went from googling "how to make a paper crane" to folding at lightning speed every break I got. I string my garlands of new life around the entrance.
Step 14: Fold the bottom half up on both sides. These will soon become your wings.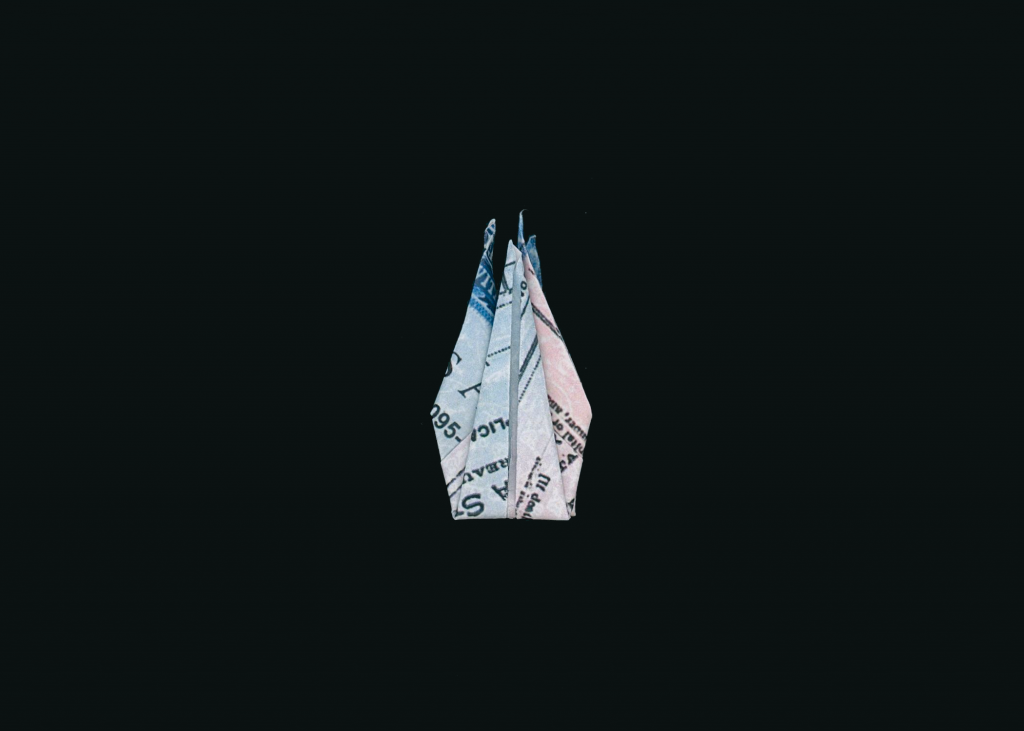 But the paper won't stop. Every day there are more donations, evidence of worlds once recorded that I'm trying to save from the waste bin.
Step 15: Flip flop the sides again.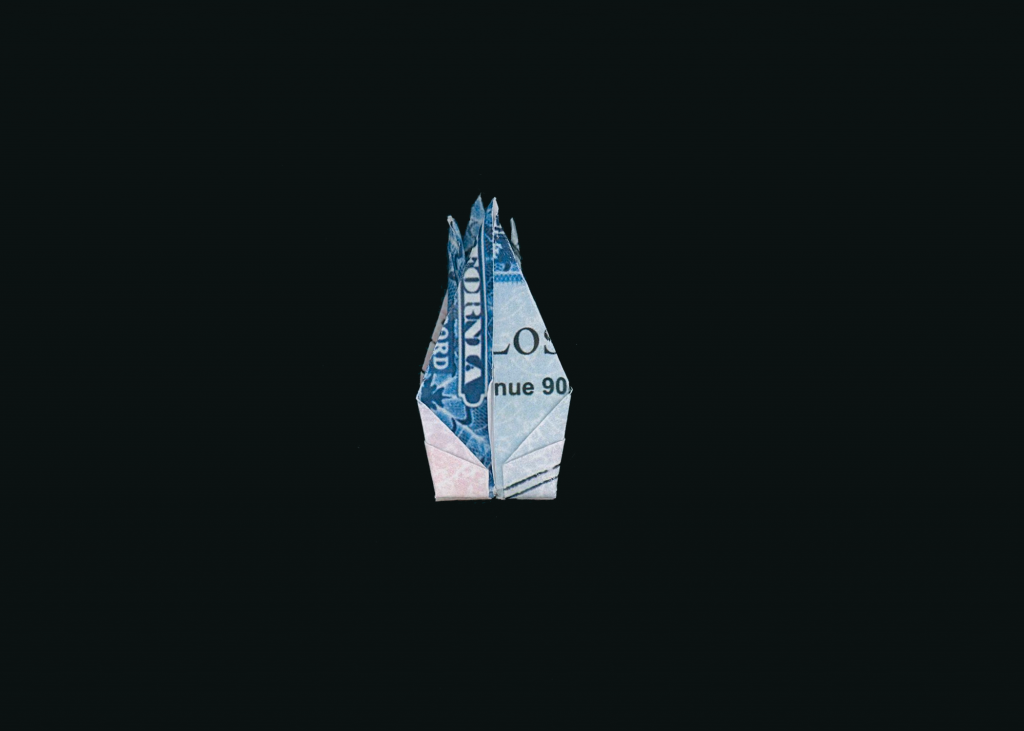 Step 16: Fold the wings down and pull out the head and tail.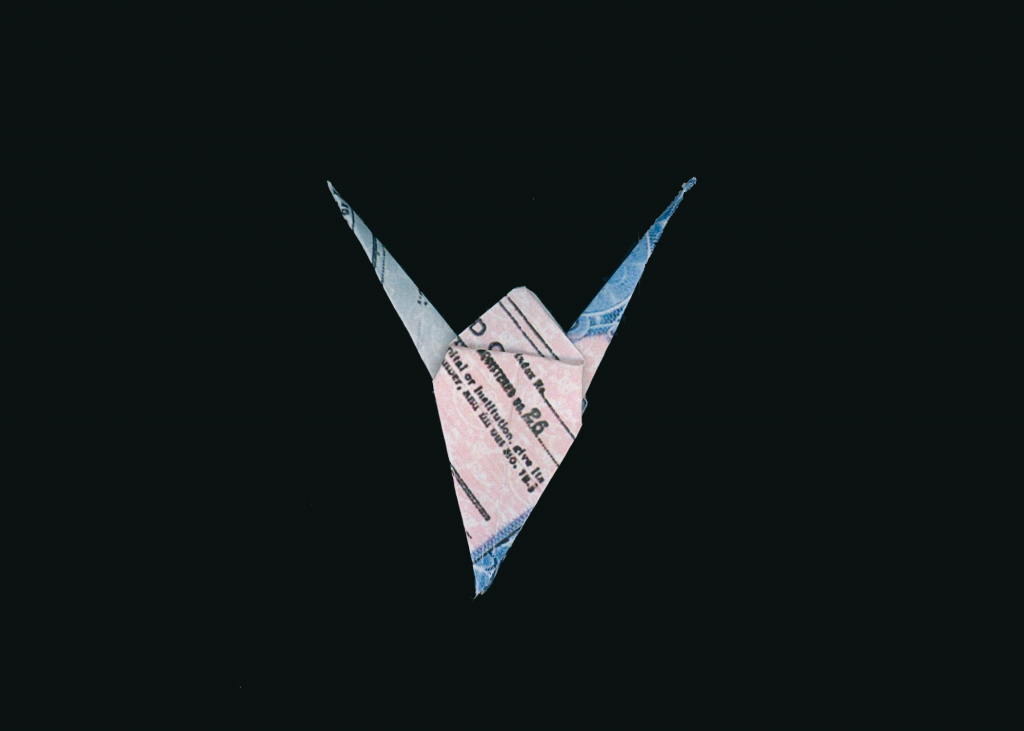 Done.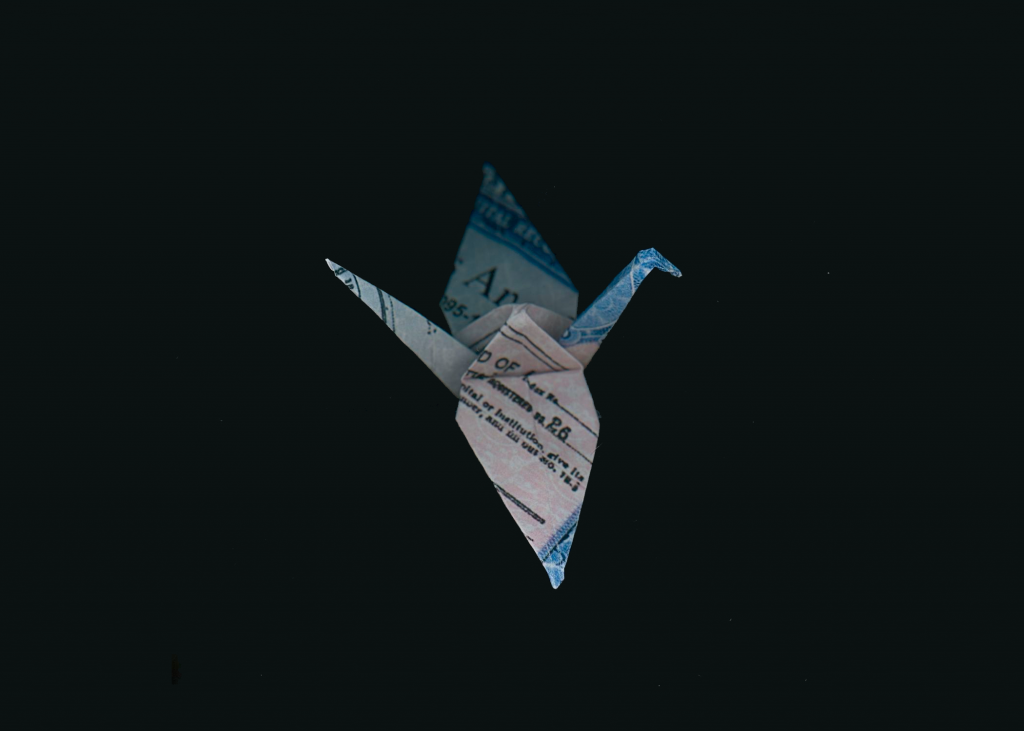 Step 17: Repeat everything.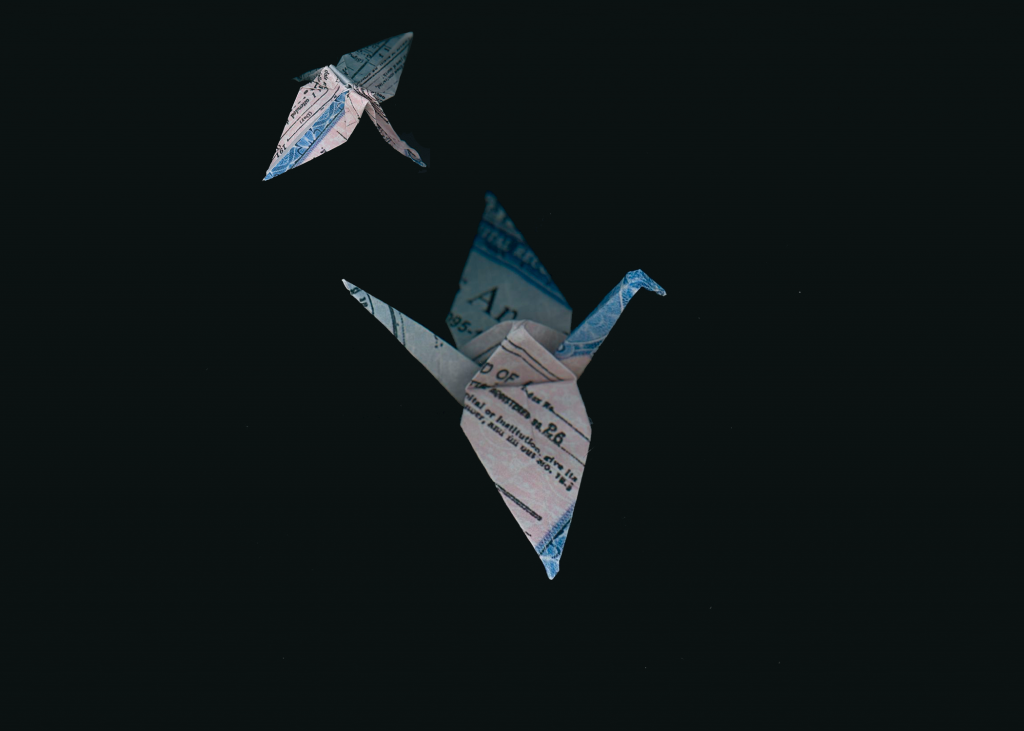 Step 18: Repeat everything.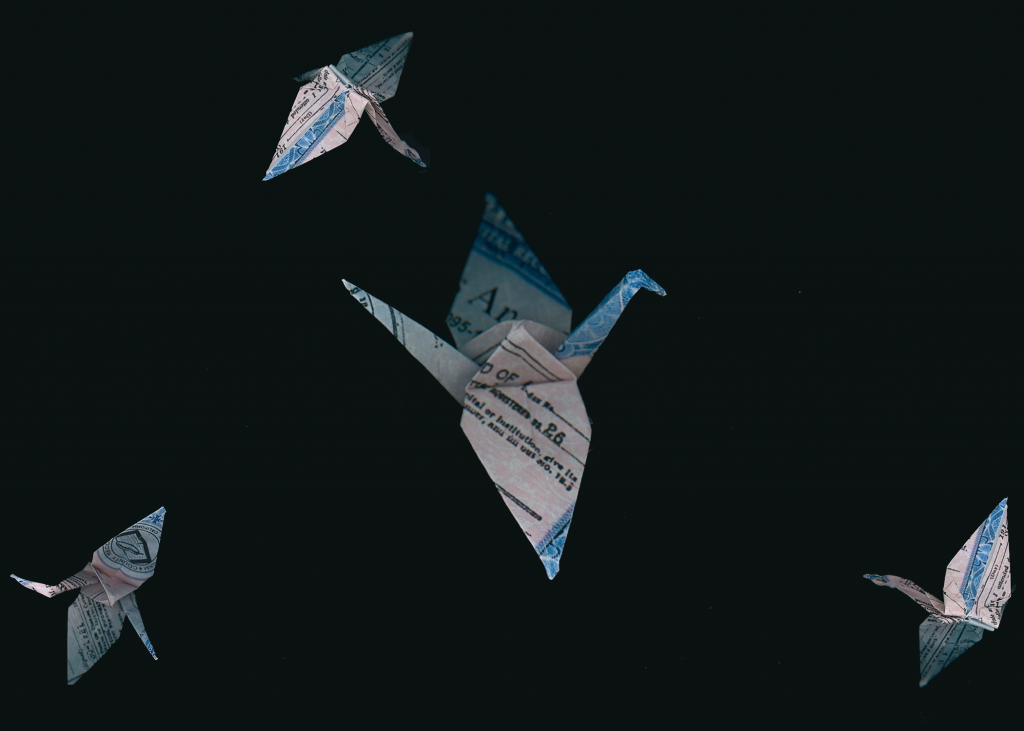 Step 19: Repeat.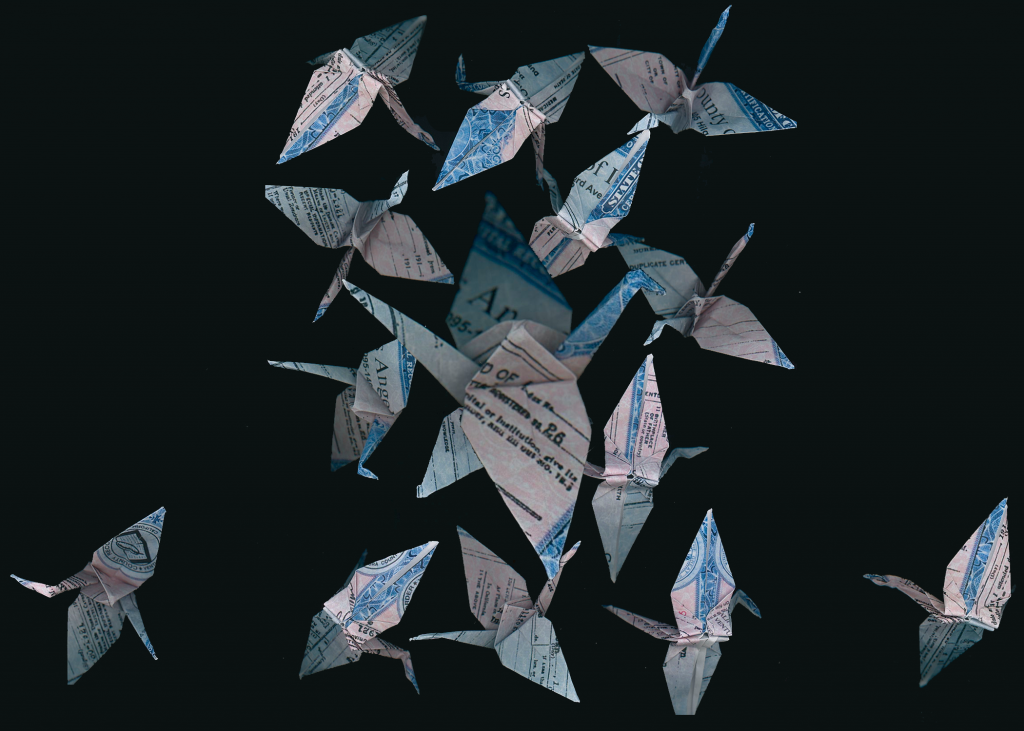 20: Repeat.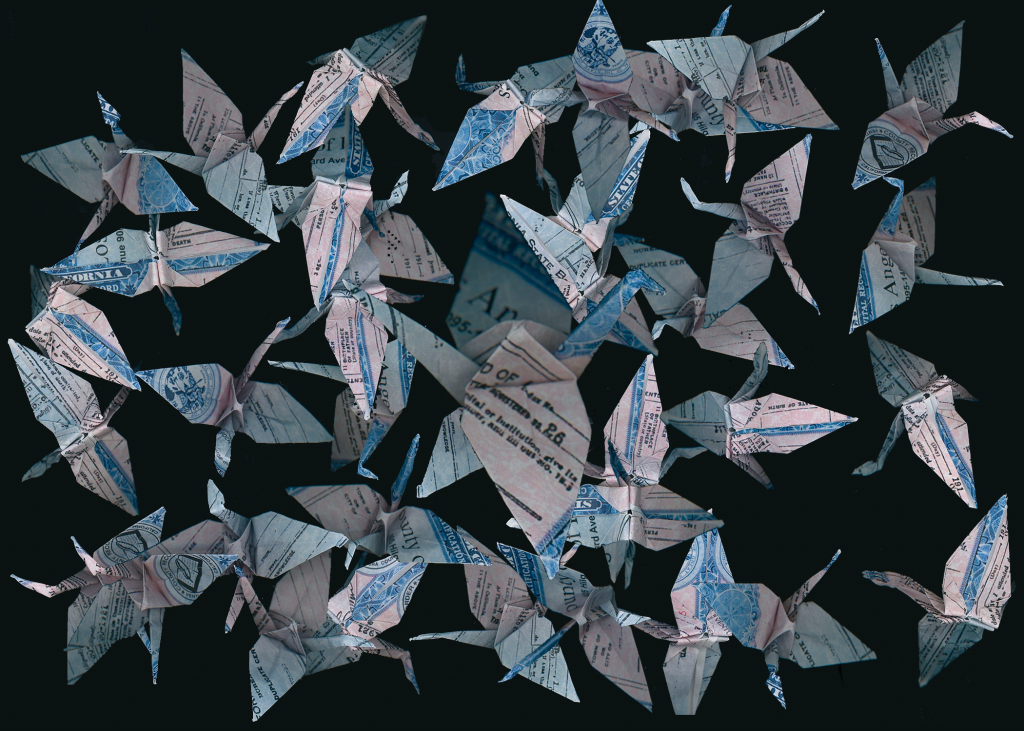 21: Repeat.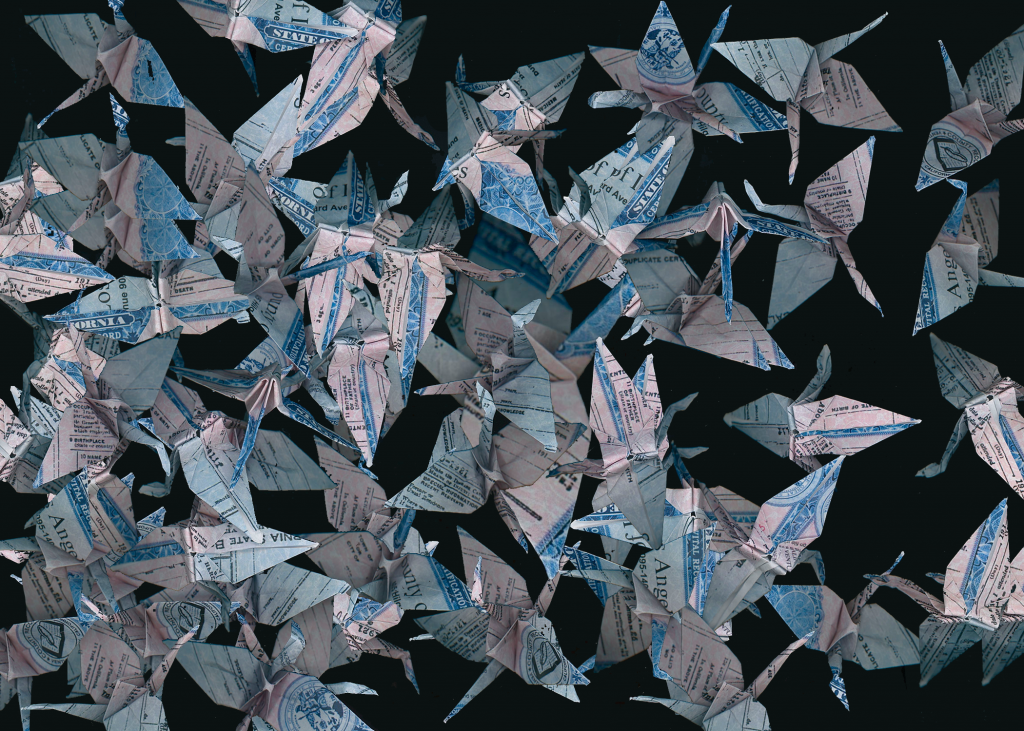 I've made almost 100 cranes at work so far, and I am nowhere near the number of cranes back at home. But I often make this mistake, approaching something with the intention of accumulation. Aren't we all guilty? Why does UCLA have so many files anyway?
BEING A CRANE
My month was defined by repetition in pursuit of accomplishment. Even stretched thin, it's pretty easy to go through the motions. But I haven't yet found the line where to stop, and with such a looming goal in mind, I'm drowning in the expectations I created for myself. They just keep printing more paper. I can only fold so many cranes with what already exists.
Repeat.
My wings are clipped and my edges are crumpled as I try to fly beyond the void of ultimatums, the definitions between success and demand oiling my path to progress. There are so many birds around me, blurring my vision as they heave flutters of distress. But at the eye at of the storm, my calls for more ring hollow.
Repeat.
Lacuna: a formal word that refers to a gap or blank space in something—in other words, a missing part.
(For legal clarification, the document I used is not from work, it's a random file I found on Google and modified in photoshop.)
((If you actually made a crane out of this, you win.))
Concatenation: April 2023