Chance The Rapper @ Kia Forum [9/21/23]
Photos by Timothy Norris / Kia Forum Photos
It's a magical night tonight within LA's historic Forum. We've gathered here for a very momentous occasion: the 10th anniversary of Chance the Rapper's breakthrough mixtape, Acid Rap. 
Chance The Rapper comes out strong with one of his biggest songs, "No Problem." As this is a show dedicated to Acid Rap, I'm pleasantly surprised that he's already playing songs from his other projects. He continues with two other tracks from Coloring Book. Right from the jump, it's clear that Chance The Rapper is an excellent performer. His crowd interaction is great and his personality radiates positivity. All of his songs are taken to new heights when heard live in front of a roaring crowd.
As this is a specialty tour for Chance, it seems that the crowd is full of die-hard fans. I can hear people around me rapping along to Chance's every word. The transition from "Pusha Man" to "Paranoia" has always been one of my favorite parts of the Acid Rap mixtape. On the original SoundCloud posting of the mixtape, "Paranoia" is the B-section for "Pusha Man," coming after nearly 30 seconds of silence within the track. I've always been blown away by the artistry in this track. The songs are paired together to contrast the braggadocious and glamorous life of being a famous rapper with the harsh realities of living in Chicago. "Paranoia" is a deeply reflective and emotional cut and needless to say, Chance nails the live performance. The arrangement of this song also adds to its emotional weight. This live setting seems to be what the song was always made for.
Chance brings out both BJ the Chicago Kid and Saba for "Everybody's Something." This song's always been a favorite of mine, so I'm extremely glad everyone is there to do their part. Much to my delight, Chance keeps Saba out there for the next track as they cleverly transition into "Angels." "Angels" was one of the first tracks to truly make me a Chance the Rapper fan, so I'm very pleased to hear it live. Chance and Saba are both incredible live performers, so it's a treat to hear them play off of each other.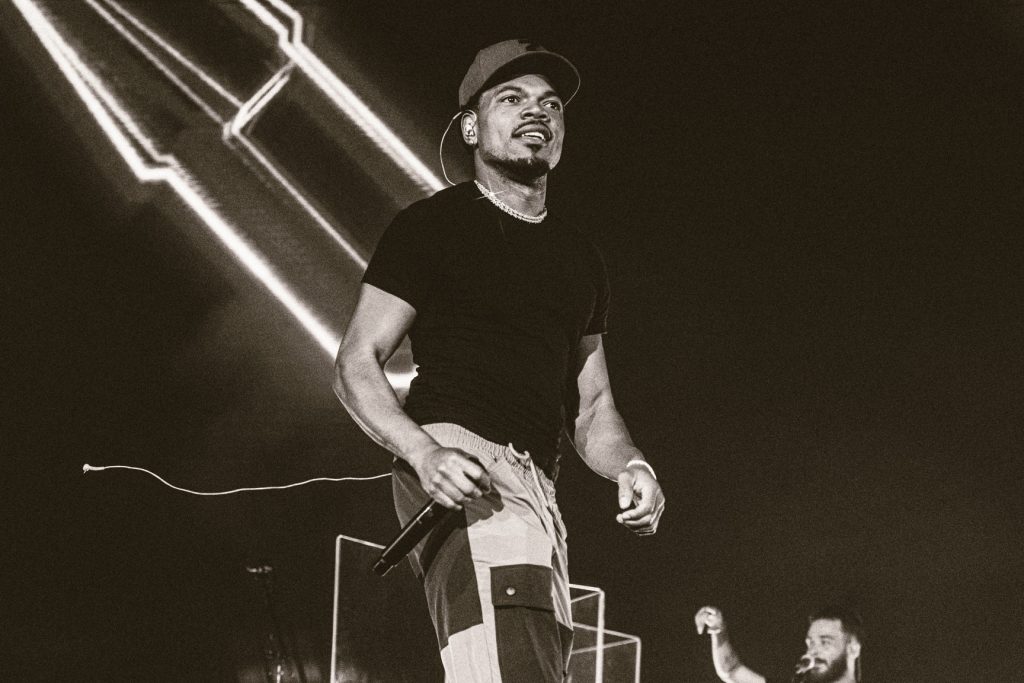 Later in the show, Chance plays a string of covers from the likes of Lauryn Hill, Usher, Alicia Keys, And 2pac. Chance knows what to play to keep the crowd engaged. He even raps his famous verse from Kanye West's "Ultralight Beam". Chance always shined on this track, so it's a pleasure to hear his part. While Chance's writing talent has always been clear to me, in the live setting, it is overwhelmingly obvious how advanced and developed Chance's lyricism is.
As the concert seems to be winding down, Chance plays my favorite track of his, "Same Drugs." If "Angels" was the song that made me a fan, "Same Drugs" is the song that made me a super-fan. As expected, Chance puts the same emotion and passion heard from the studio version into his performance. I truly almost begin to tear up, as this song has had such a deep impact on my life. I lived and breathed Chance the Rapper during my Freshman and Sophomore years of high school, so hearing some of the most formative songs of my youth is unreal to me.
Chance closes with the fan favorite track, "Cocoa Butter Kisses." Performing this song in an arena gives the track an anthemic lift. Throughout the show, I am consistently blown away by Chance's technical rapping ability. He is immensely deserving of all the success he's enjoyed throughout his career.
As "Cocoa Butter Kisses," comes to an end, Chance leaves the stage. Those who've been paying attention know that there are still a few songs left from Acid Rap to play. Chance doesn't toy with us too much as he comes back out for an encore. He plays the incredibly energetic song "Chain Smoker." Everyone's up and dancing as he sings this banger of a song. He closes with the outro to Acid Rap and expresses his gratitude to the crowd.
Since releasing Acid Rap ten years ago, Chance The Rapper has experienced major highs and lows within his career. While careers in the music industry are often subject to volatility, one thing is certain; Chance The Rapper is a phenomenal live-performer and an incredibly talented artist. I look forward to seeing how his career continues to blossom over the upcoming years.