House music has long been a staple sound of any festival worth their salt. Outside Lands certainly backs this statement up, as headliners like ODESZA and FISHER electrify the main stages of Golden Gate Park this year. The festival even features the beloved SOMA Tent, a stage fully dedicated to house and other electronic dance acts.
One such house artist gracing the all-star lineup at SOMA Tent this year is Thadeus Labuszewski, better known as Disco Lines. He took the stage on Friday to a crowd so amped up, that the stage quite literally couldn't handle them.
With over four and a half million listeners on Spotify, Disco Lines is best known for hits like "BABYGIRL" and his remix of Taylor Swift's "Love Story," which have blown up on TikTok thanks to their danceable beats and catchy hooks. Coming hot off the heels of other festivals like Lollapalooza and HARD SUMMER, Disco Lines has proven to be one of the most exciting acts of 2023
We got the chance to talk to Disco Lines before his set and talk about this summer's festival circuit, TikTok's role in today's music, and having fun with your work. Make sure to also check the end of the article to read more about his new projects!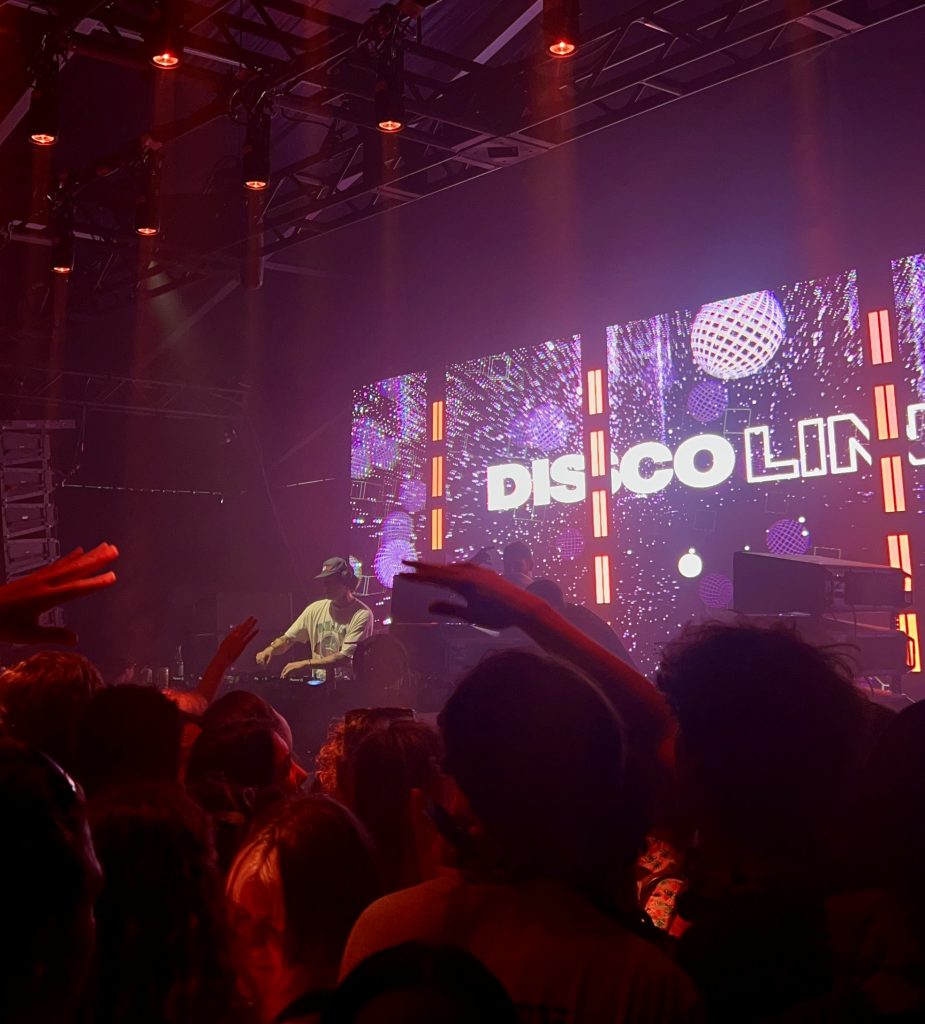 [Note: this interview was conducted Friday, August 11, 2023 at Outside Lands Music Festival in San Francisco and has been edited for clarity and brevity purposes]
You've been doing this whole festival circuit recently, how does it feel to be here in Golden Gate Park in San Francisco doing Outside Lands.
It's crazy honestly because I started out doing college parties, so a ton of fraternity parties. I made the Taylor Swift "Love Story" remix, kids loved that in college. I don't really play it anymore, but to go from that two years ago to building a solid audience from colleges, and start playing real festivals has been awesome.
2. How are you feeling today? Are you excited?
Everything's good. I got all my friends here in San Francisco, all the boys. I went to Boulder, so I have all my buddies from my old fraternity out here. And they're just so jazzed. The stage is crazy. I've never done an Outside Lands. It's just sick to have everyone here, and the area is so beautiful.
3. You have two recent new releases, "RWEOK?" and your remix of "GASLIGHT" by INJI. Could you tell us about these exciting new projects you've been coming out with?
Yeah, "RWEOK?" so many people thought it was re-wok. It's called "RWEOK?" because it uses a sample that was free to use, but you can't name it the same. The sample is called Are We Okay, so we needed to come up with a name. And I was like, this looks so dumb, but Travis Scott dropped his album, and he had something like that with the question mark, so I thought ok this is cool. That was a cool song though, it's made with my homie Demo Tapes. He actually lives like 30 minutes away from here.
4. Is Demo Tapes going to show up today?
I lowkey forgot to text him. He's a great kid, he's super talented. He makes beautiful soundscapes and atmospheres. I'm not really good at chords, I'm good at an overall idea of a project, and song structures, when it comes to that stuff, I need help, so it's good to have him.
And then, the "GASLIGHT" remix is cool. INJI is blowing up, that girl is so talented. I found her via TikTok, it's the new SoundCloud. No one is going on SoundCloud to find new music. I still do, but not that many other people do.
5. Totally, it's like how your remix of Taylor Swift's "Love Story" blew up on TikTok.
Two years later. I made that song as a joke in college. I didn't even like house music back then. I discovered freshman year proper progressive house, like Avicii, and deep house. Stuff I found in college, I ate that up every single day walking to class. I would just put in my headphones and listen to the darkest sh*t.
6. What artists would you say have inspired you?
Right now I'm vibing with everyone pretty much. I like Cloonee, I like John Summit, those are classics. Odd Mob is probably one of my favorites, he's a dude from Australia. Very ethereal, beautiful, whimsical music with a house baseline. That's kind of like what I'm trying to do.
7. You mentioned TikTok and making songs like the "Love Story" remix as a joke. On your TikTok account, you make funny videos. You're not afraid to have fun obviously. How do you bring that to your music and performances?
Yeah, I'm a goofball. During my set I'll say something dumb. I don't know why they give me a mic. Honestly, it's pretty embarrassing because I will listen back to what I've said, and it's pretty heinous. But in the moment when I'm up there I just get so excited. I just get on the mic and scream stuff.
If you take anything too seriously you're not going to have a good time doing it. You're not going to put your full effort into your work. If you go into a studio and you're like, I want to make a hit today, you're not going to make a hit. But if you get inspiration from somewhere else, go fuck off for a bit, come back, don't even think about it, you sit down, you might do something dope. TikTok is a great way to promote that and a great way to find new music.
8. You have an independent record label, Good Good Records, and also Good Good Radio on Sirius XM. How has working on those two projects been?
Shoutout Sirius XM, I never thought I'd be on the radio, but yeah it's cool. I started a record label because I feel like for labels nowadays it's hard for them to promote music because people want to follow a person. We look at other people and think, " Oh I mess with that dude. I want to support him." A label is a big conglomerate with a bunch of dudes in suits who know nothing about music. That's what I learned from all the label meetings I went to. I'd sit down and it was just a bunch of dudes in suits. They're the ones with a bunch of money, but why are these dudes the ones pushing music? That should come from the artists themselves, so I looked at people like John Summit who killed it with the Off the Grid shit. I thought, I can do that too, and it's going well.
I've released two songs on it. "MDMA" was the first one. That was interesting because my whole plan was a viral TikTok marketing scheme. It did well originally when I posted it, and then when it came out I started posting again and it just tanked because you can't use the word "MDMA" on TikTok.
The radio show is cool too. It's every second Friday of the month, BPM, check it out. The new one is coming out today.
9. Are we going to hear "MDMA" during your set today?
Yeah, probably. I planned the first 30 minutes of my set and then I'm just going to figure out the rest while I'm up there.
10. Wrapping things up, it is UCLA Radio, and one of the things all our DJ's who have a radio show first do is pick their DJ name – aside from your established moniker Disco Lines, I just wanna know what would your DJ name be?
DJ Disco Lines. No, just kidding. My first DJ name was Shady Nasty, so I'd go by DJ Shady Nasty. In high school I was making tropical house and trap beats, and I just called myself Shady. It's the worst name.
11. When did you switch to Disco Lines?
We had a concert at our fraternity house, and someone asked, "Do you want to do a disco line?" I don't know what that is, but it's fun, it has music in it. The name also has "lines" like dancing lines.
12. Any last things you have to say or shout out to aspiring creatives or DJs?
Work on something eighteen minutes a day every day, and you'll become successful.
______
With so many new projects also in the works, it's clear that Disco Lines is here to stay. Make sure to check out his newest single "RWEOK?" with rising lo-fi producer demotapes.
Don't forget to also tune into his radio show on SiriusXM BPM, 'Good Good Radio.'
And last but not least, you absolutely can't miss the chance to hear his music live — luckily he's going on tour this fall!