Before the show had even begun, with the likes of Lil Peep and XXXTentacion blasting throughout the cavernous Vermont Hollywood, it became clear that Nick Rattigan, under the moniker "Current Joys," would be departing from the melancholy indie pop that dominated his early career. This inclination was reinforced by Current Joys' latest release, the album LOVE + POP, which is a manifestation of creative freedom and genre-bending exploration that says: "sometimes you don't need to take yourself so seriously." Therefore, in a performance catered to a younger generation whose musical inclinations evolved right alongside him, Rattigan proceeded to present an emotional rollercoaster of a setlist, bouncing between upbeat hyperpop and devastating slowcore tracks. 
Your Angel opened the show at 9PM, and what a vision she was. Appearing in fishnet nights partly concealed by knee high boots, wearing silver micro shorts paired with streaming brown hair and a matching corset, Your Angel, or Maddy Boyd's, captivating appearance was reflective of an even more captivating voice. Ranging from the poppy "One More Time," to the more spacey, "STAR," Boyd's creations did a fantastic job highlighting her crystalline vocal climaxes within the context of a definitively 2000's pop-inspired setlist. Boyd veritably conquered the stage, dancing effortlessly, hands flared, hair streaming. A particular favorite was the shimmering "You Never Say Sorry" off A Star in the Highlights, an infectious pop track that felt so contemporary, yet at the same time so danceable in the same manner as songs produced by Boyd's musical influences (think Britney Spears, Nelly Furtado, Justin Timberlake…).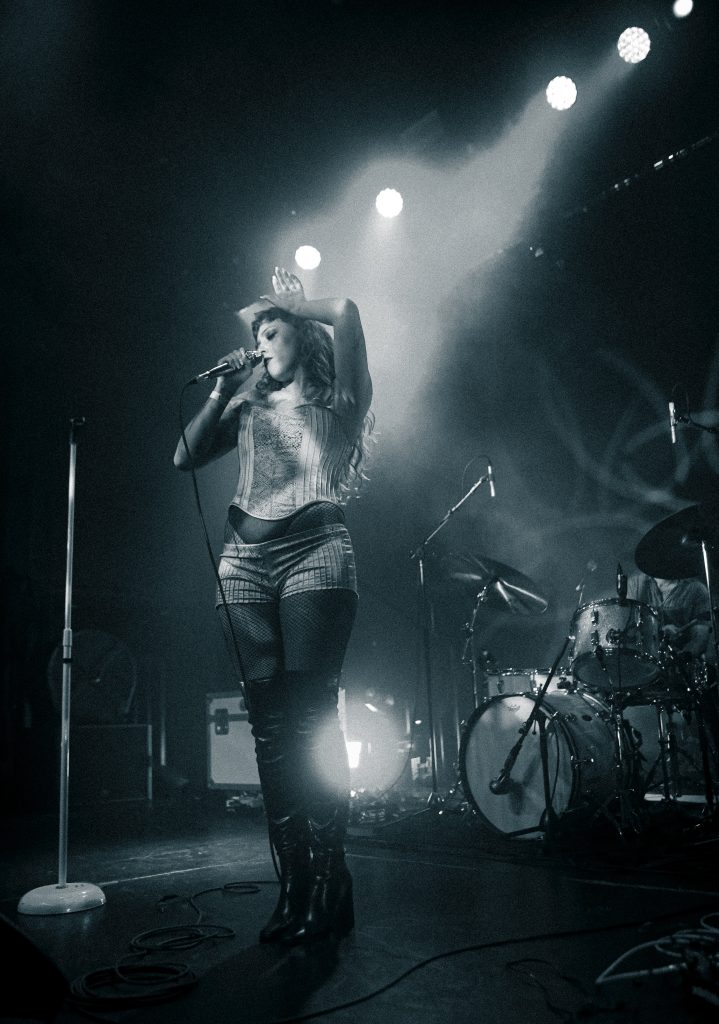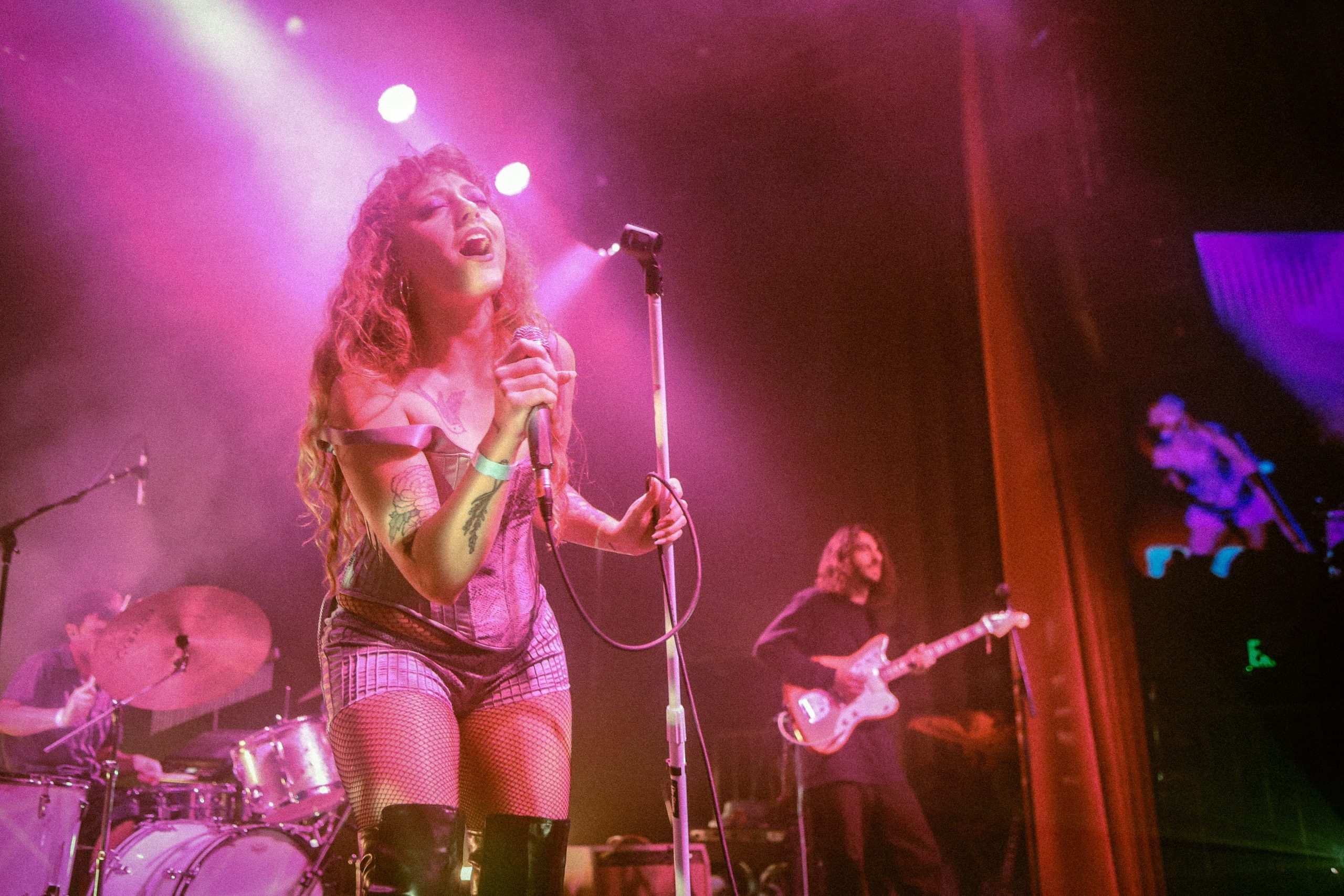 Your Angel's brief yet exhilarating setlist was a drug that left the crowd aching for more, a craving thankfully satiated by Current Joys, who brought Boyd back out to open up their set. Launching into their first track, "My Shadow Life," off LOVE + POP, a dainty melody laid the perfect backdrop for restrained harmonizations, a tame yet raw rendition that displayed each singer's vocalizations beautifully. Boyd accompanied Rattigan through two more cuts off LOVE + POP: the Lil Peep cover "Walk Away as the Door Slams," and the album's namesake, "LOVE + POP." Leaning more pop than any of Current Joys' previous work, the catchy "LOVE + POP" felt distinctly hyperpop with Boyd's bright, earworm vocals surprisingly successfully intermixed with Rattigan's signature screams.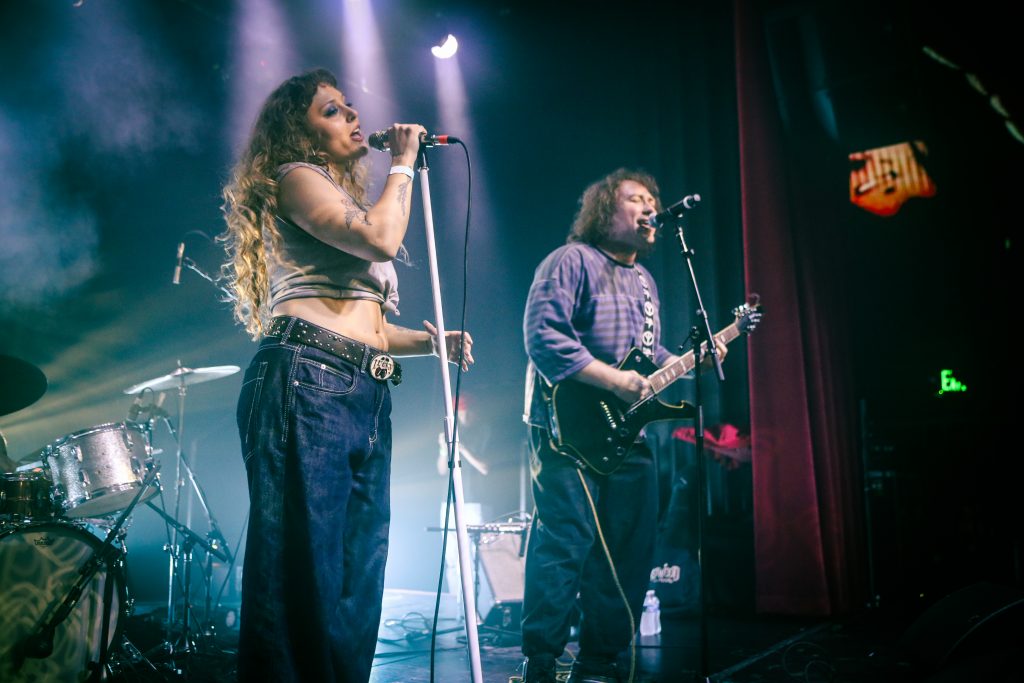 As Your Angel departed the stage, an unexpected burst of nostalgia permeated the venue as Current Joys launched into "Televisions," off their very first album, 2013's Wild Heart. Reminiscent of what formerly defined their sound, the melancholic jangle pop track not only facilitated nostalgia but personified it; if nostalgia was a sound, it would be "Televisions." Juxtaposing the apathetic sound he was creating, Rattigan strummed his guitar excitedly, bouncing behind the mic stand before launching into a spirited guitar solo, cymbals crashing courtesy of drummer Jackson Katz. With the pensive theme unabating, 2014's "Rambling of a Dying Adolescent," was played like the mournful, lofi track the lyrics "Do you cry all night/And you'll never understand" suggest.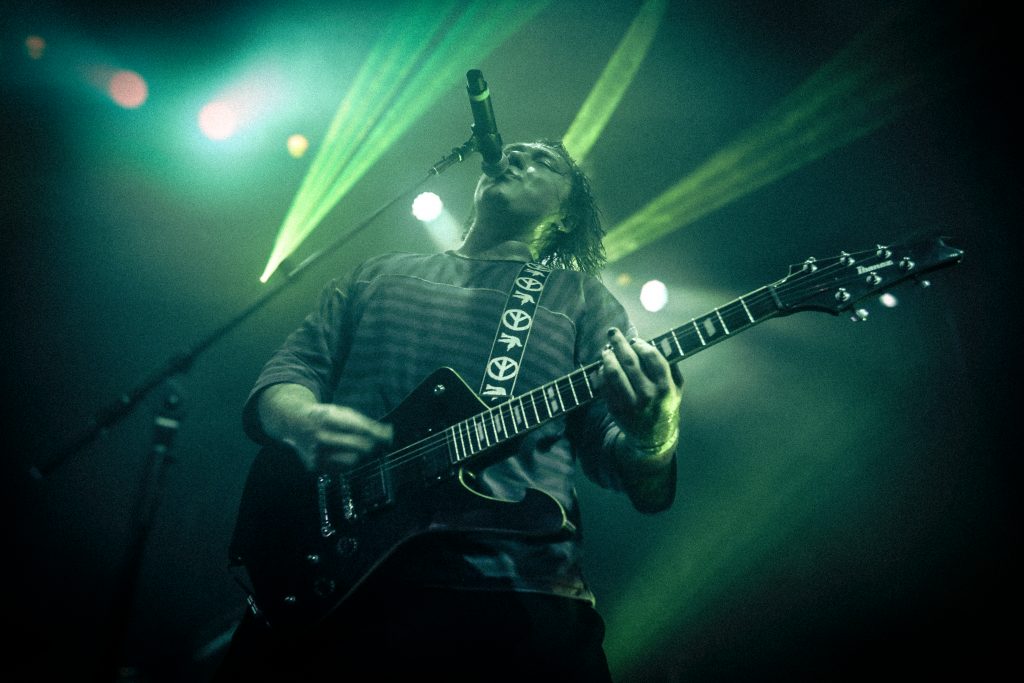 "Cigarettes," a frantic post-punk track off LOVE + POP changed the pace, reintroducing the theme of evolution pertaining to the comparison between Rattigan's past and present work. However, despite sounding tight and constrained in recording, Rattigan played "Cigarettes" with a newfound energy that had him swinging his guitar as Henry Dillon filled in with earthy bass chords. Climaxing with Rattigan ferociously screaming, "I hope you never die," his tormented cries were perfectly, satisfyingly harsh, a manifestation of the energy he had accumulated during the song's protracted climax.   
Another throwback, "Weird Science" featured catchy surf riffs, a perfect interlude preceding the angsty "Amateur" off 2021's Voyager, which also marked Boyd's final return to stage. The emotional track was fantastically enhanced by Boyd, the two distinct voices weaving and building together, reaching a cinematic crescendo as the pair sang "You're every song I love/Can't get away from."
At long last, Rattigan delved into the landmark, A Different Age, beginning by pulling out the cut "Fear." "Fear," a slowcore track characterized by quivering vocals and moody synths, felt like the onset of a depression; Rattigan's ability to transform emotional sentiment into a physical experience through both lyrical and production mastery is laudable.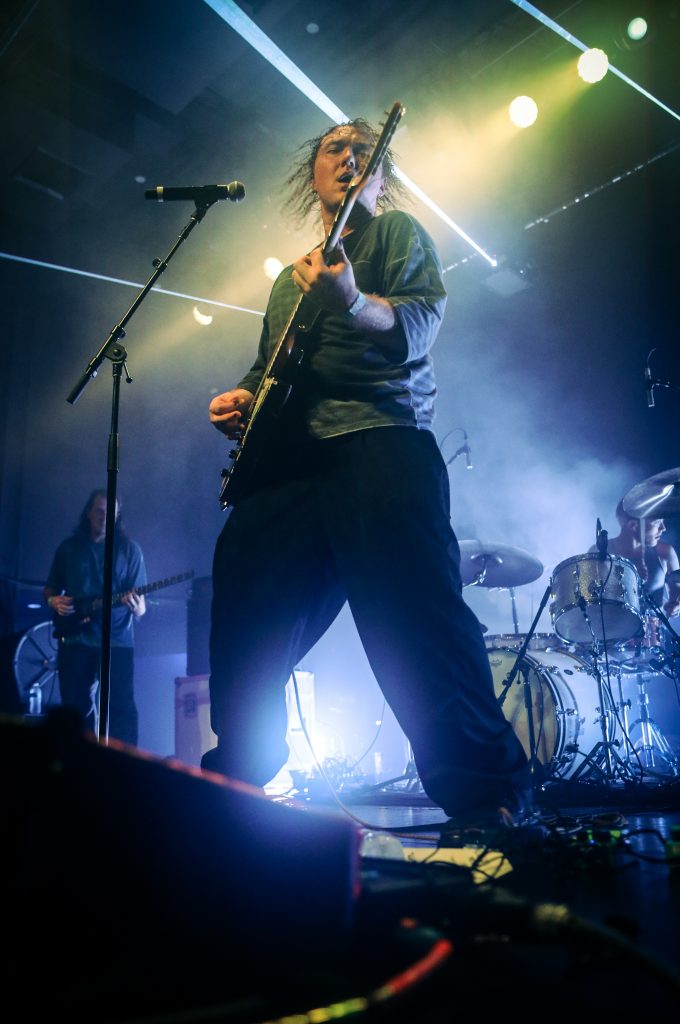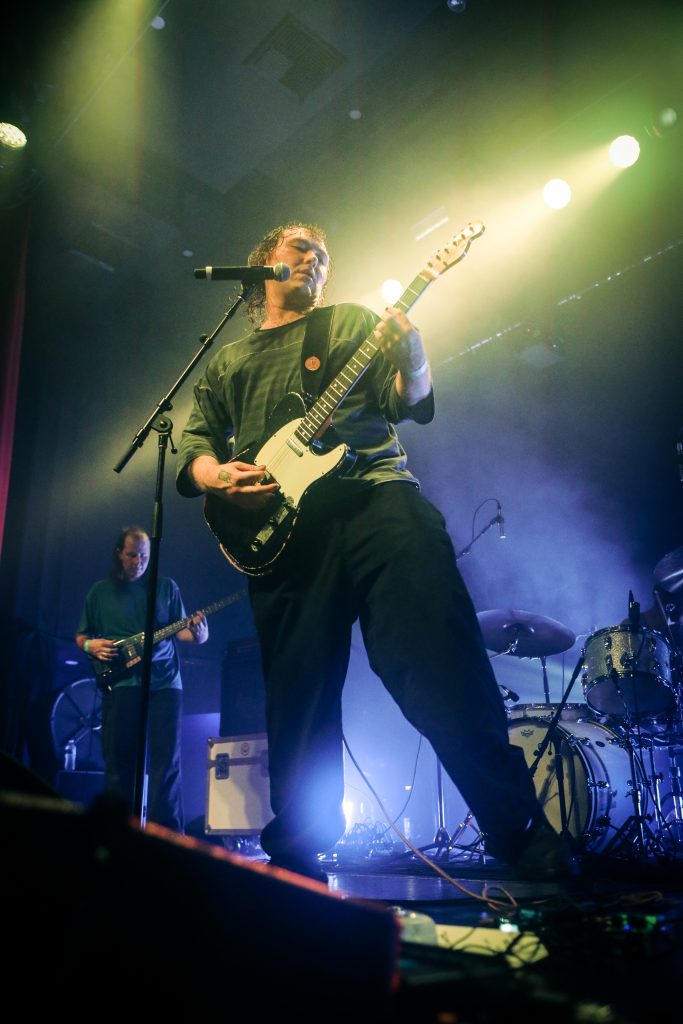 Another highlight was"My Motorcycle," off 2015's Me Oh My Mirror. The track, performed marginally faster than the recorded version, featured one of the most successful builds of the night, manifested not only in the increasing intensity of Rattigan's vocals, but also in a cutting bassline and drilling beat. The build's success was manifested in the sensation that one really was riding down the freeway, exposed to the elements and building speed in an effort to escape the afflictions of everyday life.
And finally, to complete the pre-encore setlist was the techno-inspired "U R THE REASON." An unexpected turn to dance music for Rattigan, "U R THE REASON" was performed accordingly, feeling like a cross between a jam sesh and a rave. With Rattigan self-identifying as a "deadhead," he could be said to have been channeling the driving drums of Grateful Dead's "The Warm Devils" as he took a turn feverishly pounding the floor tom in a lengthy, exhilarating fill.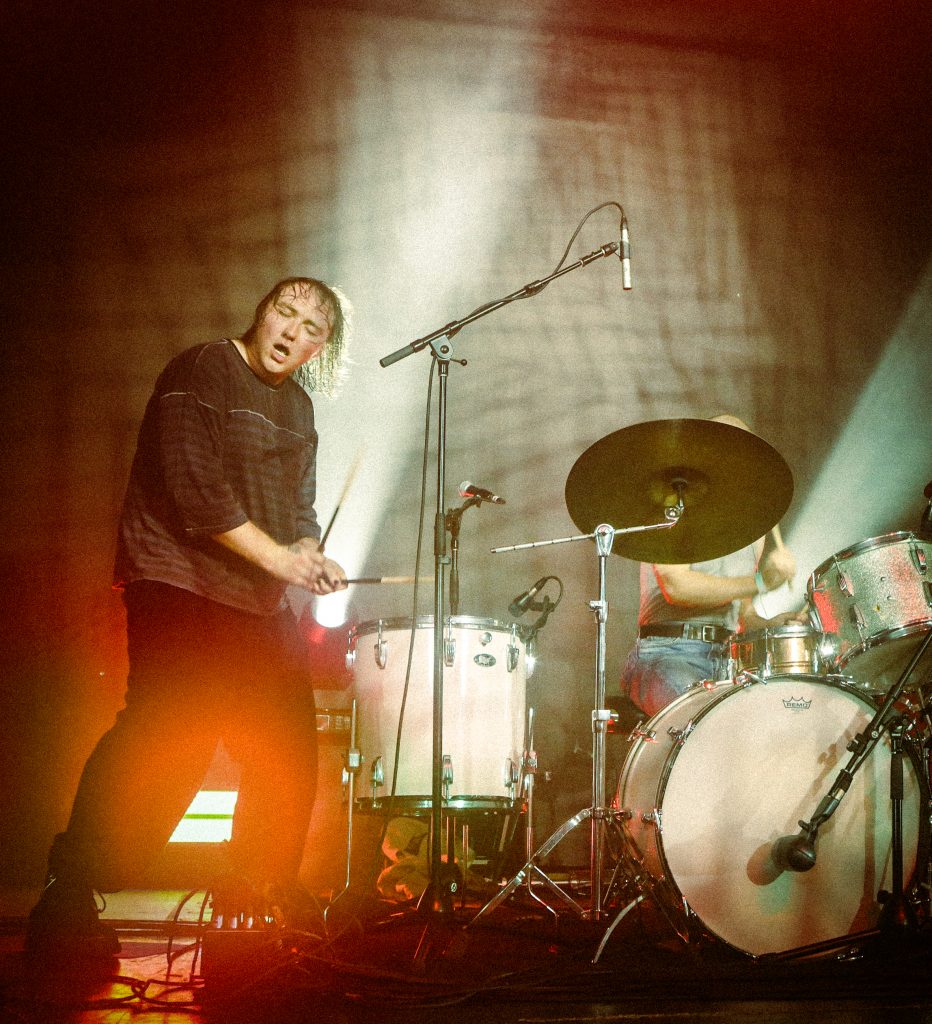 Rounding out the night was what I would deem Current Joys' perfect encore: "Become the Warm Jets," "Kids," "New Flesh," and "Ghosts." The encore was a celebration of Current Joys' history, what seemed to be a "thank you" to an already-emotional crowd for loving his early work, and whose support therefore became the foundation that gave Rattigan the freedom to continue exploring the depths of his creativity in LOVE + POP.  And naturally, the crowd absolutely loved it. 
Rattigan succeeded in paying Homage to the new and old in an electrifying performance at The Vermont Hollywood that left fans crying, head-banging, and crowd-surfing all at the same time.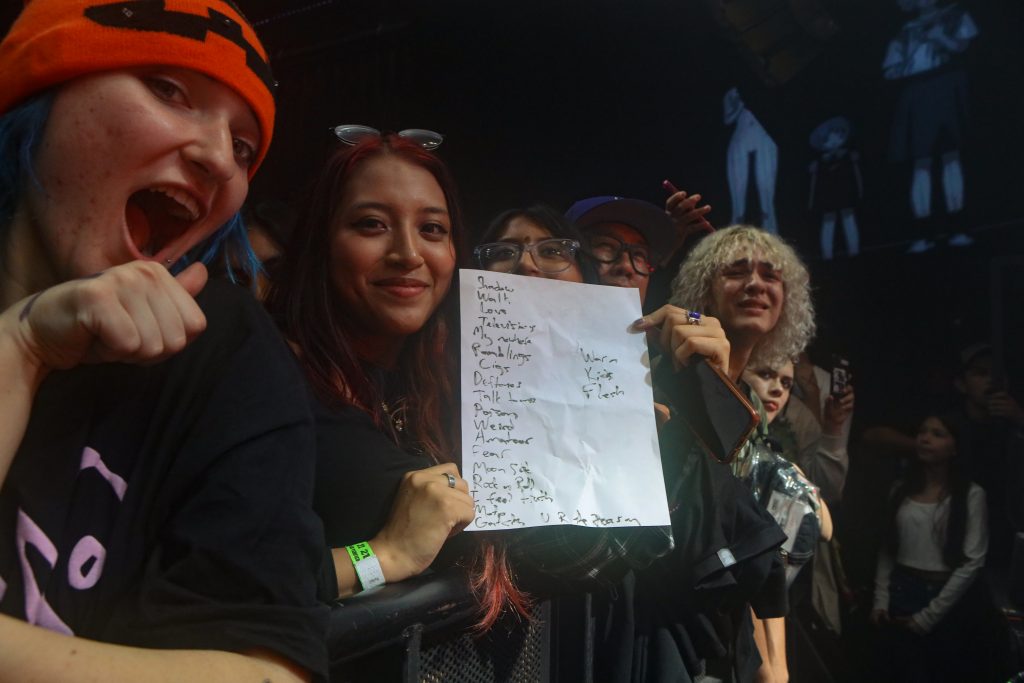 Catch Current Joys' latest release below: