Spring is all about defrosting, rebirth, and new beginnings. What do you need to do as we move into the new season? What ground are you preparing for the seeds you'll plant? What changes are you wanting to make?
As Digital Press's end-of-the-quarter project is aptly titled, the word "chrysalis" is marked by the theme of transformation, a transitional state that we as humans constantly experience as one unified whole. For this collaborative article, we asked our writers to reflect on a transformative time in their past, or one that they're currently in the midst of, as well as a song that defines that period. Let's hear what chrysalis means to them: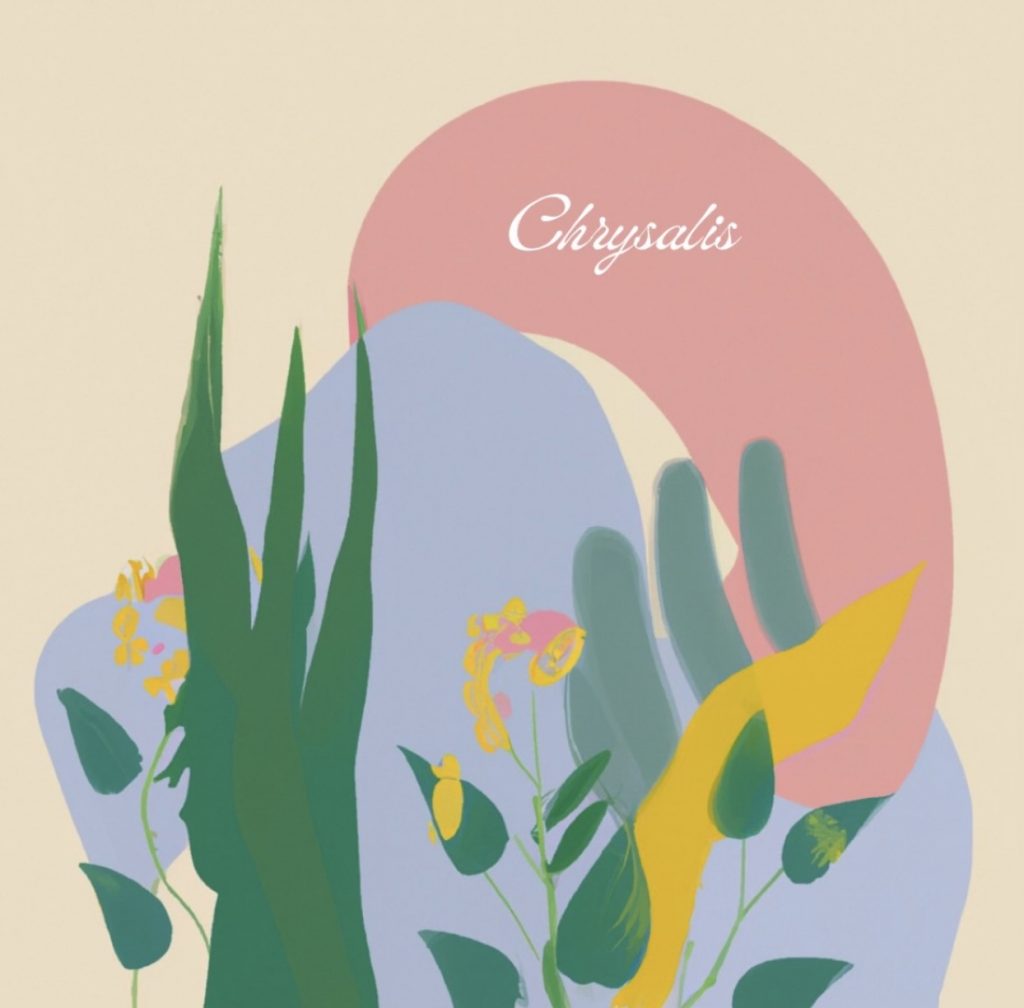 [Click Here to Listen To Our Playlist!]
~ Jeslyn Wang ~
Song: "Circles" – Eden
To be a nine-year-old staring back at herself in the mirror is not quite the same as a college student looking at that very reflection ten years later. To the nine-year-old, she doesn't just see herself, but a kaleidoscope of possibility. When she's on a plane, she imagines herself as an astronaut, traversing undiscovered galaxies light years away. When she's at the movies, she's not just sitting in the popcorn-laden seats, but sprinting through the endless jungles of Pandora. When she's at a train station, she convinces herself that only she can see the number 9 ¾ engraved on the platform; if she runs at just the right angle, she swears she'll soon be at Hogwarts.
The passage of time ravages many things – our imagination seems to be one of them.
Ten years later, I realize it's not quite as easy to balance on the tightrope hanging between childhood innocence and adult realization. As I linger precariously over the line separating trick-or-treating and taxes, I wondered at what point did I falter and end up with the latter. Evidently, I've grown painfully accustomed to dwelling on what used to be and what now isn't. So accustomed that I also forgot the progress I've made on the way. Because somewhere along the line, while I did lose Tooth Fairies and Santa Claus, I also grew infinitely more.
As nineteen-year-old me looks in the mirror, she may not see a spaceship, an Avatar, or a Ravenclaw. But what she does see is someone much happier. Slowly but surely, she's traded nutrition labels and empty plates for ice cream runs at midnight. She turned the uncertainty of moving across the country into a home she now calls forever. As the years passed, she stopped bracing herself for silent disgust when strangers asked about her sexuality; before she knew it, the disappointment that would never come turned into an acceptance that was always there.
Little by little, I stopped trying to jam together the puzzle pieces of my life and started letting them just fall into place. Ultimately, transformation is neither a linear nor straight line; if it were, change would lose its beauty. The road to building our puzzled existences is forever continuous, as we fit together every person that turns from stranger to soulmate and engrave every unfamiliar moment into cherished memory. We sacrifice so much of ourselves to reach the person we think we have to be. In the process, we fail to see that life's meaning isn't just found at the beginning or the end, but within the vast spectrum that does exist between these two polarities. And so, while spring may be marked with rebirth, I find that transformation exists in every season.
~ Emily Chang ~
Song: "Riot" – Hugh Masekela
My first day outside the apartment after the storm sounds like jazz; sunlight as bright as trumpets capering, groovy waves oscillating around my arms and neck and even my toes. It makes me think of how much I love how the word "embouchure" sounds, how it reminds me of kissing. It has been over a year since I've kissed someone and meant it. But who cares about that when today I've got a swing in my step just on my way to the grocery store? I bought 5 oranges and ate 2 of them immediately, hoping they'd make up for the sunshine I missed all those days I stayed inside my room, surviving off of nothing but toast.
Beautiful days like these make me wish I had someone to love. Because in my fantasy version of a perfect day, it's 75 degrees and sunny, I'm walking around in a pair of broken-in Birkenstocks, and I'm holding someone's hand, swinging it around to test how double-jointed they are. But today is so nice that, after all those gloomy weekends, it doesn't even feel like I'm settling. Because when I walked home all the crosswalk lights were green straight to the lobby, & then, keep the beat, when I hit the elevator button, the doors slid open immediately! I've got the traffic gods in the palm of my hand.
And listen to this: when I got home, my neighbors were playing their instruments. I could hear them from the balcony. Live jazz! Free live jazz! It sounded like a whole 17-piece big band in a 168-square-foot living room. Just picturing it makes me laugh, all of them jammed in with their brass, shakos stacked against the ceiling, the music rushing out their window right into mine, begging for room to breathe. Now the bass is beating feeling into my heart as freely as blood. It's ready to burst any measure now.
~ Angel Perez: ~
Song: "My I Love You" – Frankie Cosmos
As the spring breeze brings new beginnings, my family is preparing to welcome the newest generation: my sister's first baby. While my excitement to meet my niece is only growing, seeing my sister create life inside of her has made me hyper-aware of my own aging. I no longer feel like the child who begged his sister to lie in bed with him while he fell asleep. We moved away, and watching shows together for hours suddenly became phone calls squeezed into busy schedules. Though we are a few years apart, I always felt like we were the same age growing up together. I suppose we're all grown up now, but sometimes I still think about living under the same roof as her and feel somber when I remember that it's in the past. When I see her next, I'll meet my niece, and the growth of my family will feel even more real. In the meantime, I'm wondering how to grapple with the departure from childhood and spending lots of time thinking about my own future, which feels far more immediate than I once thought. I'm ecstatic about the birth of my niece, but my family's growth feels synonymous with the inescapable reality of growing up for both my sister and I.
~ Lucy Netchvolodoff ~
Song: "Ribs" – Lorde
"Bye, sweetie. I'll call when I land in DC."
Just like that, my dad shut the door to room 437, and I was an adult. Tears streamed uncontrollably down my face. I curled up into fetal position on the bottom bunk of the new bed. I'm scared.
I spent every day of the past year waiting for my dad to close that door. I even pictured this moment as a way of cheering myself up when I was in the throes of my senior year of high school. And I never cried when my parents dropped me off at camp for the summer. Never. So why am I crying now?
In retrospect, it's pretty obvious. Crying in Rieber Hall was my destiny. It doesn't matter how much you want to grow up. That shit is terrifying.
I did not know who my friends would be, what I would major in, or where I was going to eat that night. I wanted to be wholly optimistic about it all. I wanted to stop crying. But I couldn't pick myself up from the bottom bunk. What if I'm disappointed?
Ironically, I had never felt more like a child than I did crying in that little bunk bed in Rieber Hall. All I wanted was for someone to come along and tell me what to do next–exactly what I had avoided for most of my upbringing.
No one came along. I picked myself up from the bottom bunk and kept unpacking. The tears stopped, but my thoughts ran in the same circles. The uncertainty never went away. It still hasn't, but now it doesn't make me cry so much.
~ Arami Chang ~
Song: "So Long You Pretty Thing" – Spiritualized
Friends and family have jokingly told me that my birthday, April 4th, is somewhat of a curse. In East Asian languages, the number 4 sounds a lot like the word for death. 4/4, a double death. I've never been the superstitious type, but lately I've been starting to wonder whether my birthday really is cursed or not. Because the truth is, I'm not sure how I'm going to celebrate my 20th birthday.
Maybe I'll receive birthday messages from my family and the 2 friends who actually remembered my birthday. Maybe I'll treat myself for the day and get a sushi platter from Whole Foods for dinner. Maybe (most definitely) I'll end the day by unceremoniously returning to my dorm, greeted by roommates who aren't even aware that I've just concluded the 2nd decade of my life.
For a long while, I've been plagued by just how dull my life has been. The thought of meeting new people and growing out of past relationships filled me with dread and anxiety, and I thought it best to simply opt out of it all. So while everyone was learning to move on from their past, I wasted my time waiting for that one phone call, that one text message, that one person to fix all these years of lonesome melancholy but to no avail. Who's to say all this is gonna be any different this time around?
Lately, I can only think about all the regrets I have. How I should've gotten a driver's license sooner in my life. How I should've gone to more parties sooner in my life. How I should've gotten to know the taste of good wine, watched more Charlie Kaufman films, and learned to love sooner in my life. It's only a matter of time before my teen years culminate in a monument to my failures.
I could easily get started on all the partying and debauchery that I missed out on before the big day, but I probably won't, and I'm starting to think that maybe it's better that way. With spring in bloom and one more hour of daylight, maybe now's the time to take a quiet exhale before heading into my 20s. Maybe I'll leave the city for some time. Feel the wind blow onto my face. Hear the leaves hum against the wind. Listen to the birds and cicadas sing their little dirge. Watch the sky bleed orange. Wonder whether I'm watching the sunrise or the sunset. Look at the patches of moss sprout from compost and mulch. Appreciate that death on April 4th isn't marked by mere loss but by the birth of new life.
~ Ali Alqatari ~
Song: "Shatter" – Liz Phair
I am on the edge of the night at a garden party, where several of my musically inclined peers are performing with their respective bands. Perched on the fence, I overlook the crowd from a different perspective. I look at the sea of faces and imagine what it would feel like to have their attention in my grasp, visualizing a light emanating from my chest, a version of myself whose gravity pulls those around me into my orbit, hypnotized by some kind of creative energy that comes down upon us in a moment of shared connection for music. But even as I create poetic imagery to distract myself, I am berating myself for separating from the crowd. A paradoxical mental environment I inhabit often: both a desire for interpersonal connection and a need to protect myself, separate from being in the moment. The truth is, I am relieved to be up there, because I am too overwhelmed to socialize with my peers in attendance, and separating myself serves to alleviate my constant anxiety at being perceived socially.
After years of trying to rise above binary perception, I am beginning to face my inner desires and validate them. These days, I have been dedicating myself to a choice of allowing my emotions to express themselves freely, letting go of my incubated thoughts, which have often framed the world as an experience I'm afflicted with. As I watch, humming loudly enough that only I can hear myself, I begin to notice how beautiful the scene is: united by our yearning for the cause of our youth, basking in the energetic exchange and our excitement at being in this moment with each other, all of us with our own dreams and desires, fears and heartbreaks. It hurts to feel like I cannot be who I want to be yet, but I remind myself that separation is an illusion, and that I am one with the crowd.
I send everyone love from my vantage point in case they need it, and relish the universe once again for providing me proof that by letting my emotions ebb and flow, I will reach perspectives I never would have otherwise. I am changing in ways I cannot explain, yet I experience it everyday. My only goal nowadays is to embody my higher self, and I have to learn to stand out of the way when I ought to. It is freeing to let go of the desire to control the narrative about your own perception, and to allow yourself to be consumed by the moment, letting your body express whatever emotions it needs to as it recalibrates itself in service of your intentions.
~ Skye Schoenhoeft ~
Song: "We'll Meet Again" – Vera Lynn
Bouquets of flowers are promising cuttings of life that fill space with color, fresh air and love. But almost as soon as they're in your life, they're gone. My surroundings are littered with wilted flowers right now, the remnants of February's winter, bestowed on the people around me. I have never wanted to receive flowers; it has always made me feel more anxious than appreciated. Something about the show of it, the tradition, and the fact that it is so fleeting turns me off of the whole thing. This Valentine's Day, I am grateful I didn't receive any, because over the last few weeks I have watched the bouquets around me wither and crack and fall. These aren't the types of flowers I want to see at the end of winter. This time is supposed to be about blooming and revival, but instead I sweep up the petals and change the murky water that the season left behind. Even if I help with some of the cleaning, I am grateful that their death isn't mine, because I choose to leave my flowers rooted.