From hookups in the station to name-dropping crushes, UCLA sure had a lot to confess to our Radio booth. Here's all the juicy, nasty, slightly concerning confessions and intrusive thoughts you've been waiting for.
Hear how our Digi Press Winterns break down the dirt you've given them. We asked you to meet us in the booth, here's what you had to say and here's what we have to say about it.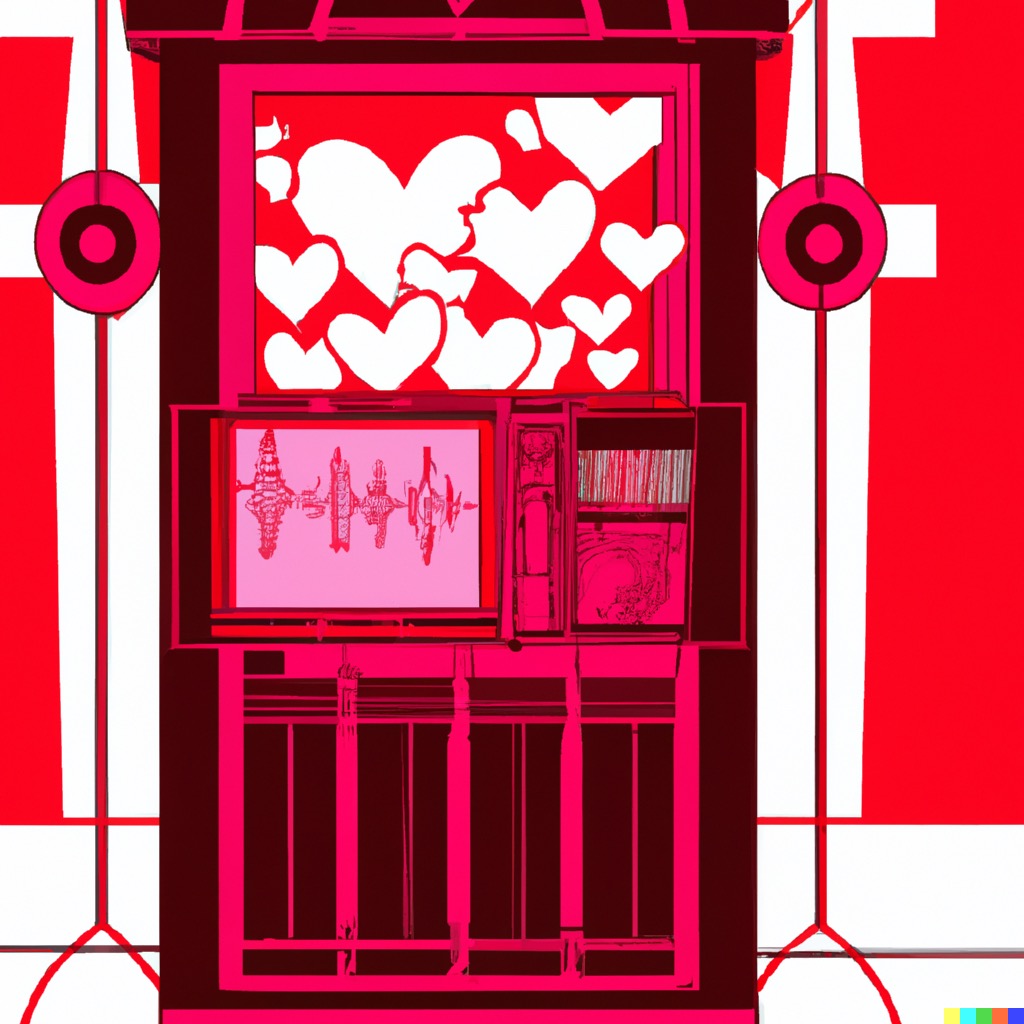 "Ok so I have a suspicion that my dad is secretly gay. For context I'm gay and my dad recently divorced my mom and looked super happy about it for no reason at all😃. He also hasn't started dating anyone since and doesn't seem really attracted to women really, it's been like a year. The final nail in the coffin was my cousin telling me that MY AUNT AKA HIS SISTER was bi. come to find out, my brother went snooping through his phone and he might have been having an affair with like 1 or two other people while they were still married as well💀(keep in mind they were married for like 20+ years).🥴"
Ali says:
To quote fabulous drag performer and legendary one-hit-wonder TikTok icon @missmaamshe: "Hi diva, you know I'm just not feeling this one." Seemingly, there are quite a bit of pieces to this situation you find yourself in, but I will try to convince you to change your perspectives about some aspects of this situation which will then hopefully allow you to integrate this situation and learn some great things to help you grow.
I am sure your parents made the right decision if even only one of them seems happier now. It is definitely not worth it to be with anyone, even the parent of your children, if it means compromising your own happiness in any way whatsoever. I would like you to imagine being married to someone for such a long time, and never feeling internally fulfilled, and imagining how such a state of mind can foster an environment of inner shame and infidelity. Of course, that is not to say that it is okay that your father may have seemingly cheated on your mother, but your brother snooping through his phone is a very big crossing of his boundary and the respect you all should have for his (and your mother's) privacy.
I am not sure why you mention your aunt being bi as some sort of backing evidence for your dad being gay? I was not aware scientifically we had made enough progress to actually have confirmed the hypothesis that if your sister is bi you might be gay. Mostly because I don't think that is a smart hypothesis in any analytic way and making such conclusions actually seems quite old-fashioned and backward thinking.
Maybe you care so much about figuring out your father's personal attraction because it could be a way for you to feel closer to him. But at the end of the day, as I'm sure being gay yourself would know, that your queerness is not some sort of secret, and subsequently, that you also do not have to disclose your private preferences to everyone. You could perhaps communicate your openness to it, without creating an environment which sees something so personal and integral to your dad's life as some piece of hot gossip.
Really consider thinking about allowing your father to explore himself, as being from an older generation, he might have never had the opportunity you do now to figure himself out in a largely affirming way in the environment around him. Try to give him the space he needs to come to realizations and communicate them at his own pace. Finally, accept that he might not be willing to disclose this information with you (which is his right) or that he might not even be gay, and that either way, it is not your business to figure out your dad's sexual history or future.
"2: Started the day texting my ex and ended the day leaving the club at 4 in the morning after dirty macking 4 diff people"
Ella says:
My initial question is what is the nature of this relationship with your ex and what were the grounds of you texting them? Assuming this is a toxic, self-sabotaging move on your part to text a problematic ex, we should probably unpack this.
Attachments are profound, and no matter how much time goes by I think there's usually a little part in all of us that craves an ex. That reach out is tempting, for many reasons, and usually when other things in life begin to go awry, we crave comfort. We crave what we know. Again, I'm assuming you don't have a new romantic partner gathered from the experience at the club, and I've found that going back to an ex, or anyone or anything from a past life, is a little like feeding an addiction after you've been sober for a while. You want to do, something viscerally propels you to text them, it is deeply emotional and internal. And you either do or you don't. But there;s always something underlying that has absolutely nothing to do with the ex.
First, I prompt you to look at your own life. Why did you text them? Not surface level, because you missed them or wanted one last night in bed, but what was going on that made you resort to someone you cut out of your life? What made you want to step back, to self-sabotage, to turn away from your own self-worth? I say start there and see what you uncover about yourself, your tendencies and fears and loneliness. I say this on no high horse, I've texted my ex's many times, I've gone back to an ex many times, against my better judgment. I have repeatedly let people in my life who've hurt me back into it, after being strong and cutting them off for so long. But I've also had the urge to text an ex, and found it within myself not to do it. I've done something else I enjoy instead, something that grounds me back to myself and what makes me happy.
Now I know this was all unsolicited advice, but you confessed this, which either means you were proud of it or felt guilty. Don't feel guilty for going back to the ex, I probably wouldn't feel proud either. But use it as a lesson of reflection. What happened after you texted them? Did it actually make you feel any better? My bet is not. 

Now onto the second part, good for you for getting a good mack sesh in. Everyone needs a messy night at the club now and again. Don't feel guilty about that either. You're young, this is the time to explore all options, have all the experiences. I'd say think about it as you taking back your power, making your moves out in the world. Promiscuity can be a beautiful thing, if that's what makes you happy. Then again, reflect. Did you feel any better after the club, did you drink too much that made you act that way, or were you consciously aware of what you were doing? I think it's only problematic if you weren't actively in control of yourself, and only you know the answer to that, whether it was really something you wanted to do or something you did out of other motivations.
The big message here is to look beneath the actions you took. What made you take them, and how can you heal yourself instead of looking to others to fill in the gaps for you?
"I desire this short man from nyc with a mustache!! (ale; y'all can name drop idc) I've had a crush on him since last year, and he's finally single! We've been introduced to each other and he's oomf, but I know he doesn't want me because he didn't like me back on hinge and instead liked one of my girl friends instead! Death for me"
Sam says:
How to be a heartbreaker – Marina
Oof, that's kind of an icky situation. You like this short king with a sick stache & he liked one of your girlfriends on Hinge. Happens to the best of us. I totally get feeling torn up about it…men really have a way of f*cking with our heart in the worst way. Maybe it's their lack of emotional intelligence, maybe it's that we're all touch starved, but in our brains, we end up turning these mid men into gods.
When I read your response I immediately thought of the line "she's Barbie and he's just there" in reference to the new Barbie movie coming out this summer with icons like Margot Robbie and Hari Nef. You sound like Barbie. And he sounds like he's just there. I think the reality of the situation is that he's not into you…and maybe that's a good thing. We just need to do some reframing.
Anything that you initially find attractive about someone can totally be reframed into an ick, if you try hard enough. Oh, he's 6'5? Well, who wants to date a bean pole with the emotional resonance of a sippy cup? And in your case…he's short with a mustache. Sounds like the ick won't be too hard to endeavor – and that's in no way dissing your taste (well, maybe a little). Just give him the ick, listen to some bad b*tch music, and the getting-over-him-stage will follow. Also…men always want what they can't have. So even if you go out, meet people, and have fun while subconsciously wanting him, you're literally attracting that kind of energy by raising your frequency. God, I sound like your classic LA manifestation girlie (maybe that's because I am). But yeah – find the ick. Raise your vibes. And you're good.
"i didn't go to Mexico in an attempt to have a chill spring break and still ended up getting drunk every night, developing a nic addiction (again), and having sex with a family friend"
Lucy says:
I think you are being a little too hard on yourself. What really is a "chill spring break," anyways? I don't know the reasons why you were attempting to have a chill spring break in the first place, but it sounds to me like you were behaving just as appropriately as everyone else who went on spring break–you were just behaving that way from the comfort of your own home. I understand how you might beat yourself up about not following through on your plans to have a chill spring break, but there is no point in judging yourself.
If you wouldn't want someone else to judge you for what you did over spring break, you shouldn't do it yourself. When my friends speak negatively about themselves, saying something like "I'm so stupid," I always try to respond with "hey, don't talk about my friend like that." It always puts things in perspective. Why would you treat yourself in a way that you wouldn't allow anyone else to treat you?
Now, about the drinking and the nicotine addiction and the sex–all of these things sound like they're perfectly normal behaviors for a college student. Perhaps not the healthiest, but who am I to tell you that. I applaud you for wanting to improve your health and break bad habits. You are years ahead of me. You still have time to "chill out." You're only a college student. Let yourself be imperfect. Let yourself have some judgment-free fun.
"I wanna hook up in the station at least once. Just a quickie. Please. At like 3 in the morning or something when no one's there. I'm begging. If I do it will anyone even know? 👀"
Ali says:
First of all, I support your seeming ambition to the hedonistic, reckless, hormonal, not-fully-developed frontal cortex ideas which are manifesting in your brain. Theoretically, it seems like a main character moment from some kind of sexy college movie or something. But I would like to challenge you to consider the potential risks, just so you are aware. First, you could get kicked out of UCLA radio and deal with intense disciplinary action at the mercy of some UCLA overlord, which is quite a travesty for a hookup which will probably not be as life-changing as you think it might be. Second, what if you mess up a piece of equipment or create unnecessary waste which you would then have to clean up. Third, there are people coming in and out of the station almost every hour of the day to create their radio shows (make sure to tune into UCLA radio)! Imagine how life-threateningly embarrassing it would be for you to get caught. No one would ever look at you the same and you would forever be the "station hookup person" that ended up getting kicked out of UCLA because you weren't smart enough to find a way to lock the door in there first. 😉 
"i cheated on my boyfriend, i don't know why i hate myself everyday for it. he's the love of my life i can not even go a few hours without him i'm so very dependant and in love with him and still, this happened and i hate it so much i hate myself so much. i want to marry this man and i'm so scared that my actions has ruined this, i can't live without him i don't want to. the guilt kills me everyday and the fear that my karma will catch up on me is so much more painful. i hate myself, i hate hate hate what i've done."
Ella says:
Woah. Okay. There's a lot of self-hate talk here. Number one lets address that. One of the hardest things we encounter as human beings, especially in this generation, is loving ourselves. Your self awareness that you hurt another person is incredibly powerful. It is so important to reflect on our actions and the impacts they have on others, which is why I chose this song. However, you hating yourself for what you've done simply doesn't change anything. It won't change the fact that you cheated on him, or the fact that you feel guilty, or the fact that he's entitled to have a reaction himself. It's natural to resort to self-hate because we all don't like feeling uncomfortable and dealing with the repercussions of actions that don't align with who we are. But it doesn't help. It won't help you figure out how to tell him, how to move forward, how to make amends.

I'm not saying you have to tell him, but considering he's extremely important to you and you're afraid of "karma" I think you should. I also think objectively he has a right to know. But again, that's up to you. What I do know is that it's clearly impacting your relationship with yourself and thus your relationship with everyone else, and with him. You won't be able to work through that until it's out in the open.
I know you're scared about how he'll respond. You're scared that he'll leave you, you're scared that you'll lose him. These are very valid fears, and difficult to deal with when it comes to someone you really care about. Unfortunately, which I'm sure you already know, his response is going to be valid too. I'm not going to sugar coat it, you fucked up. But let's move past that. What's done is done. Making amends and repairing the damage is all you can do now. The way that you show up now, for him, and yourself, is what you have control over.
My last comment is in regards to you being unable to live without him. I understand being completely enveloped by the sheer existence of another person. Your life is them, your fears and desires center around them. I guarantee you that you will be able to live without him, if it comes to that. He may be the love of your life for a moment, but I believe we have many loves of our lives and each serves us to grow in a different way. This is going to be a huge period of growth moving forward for you. Loving yourself will be paramount in getting through it, but I have faith that you will, with or without him.
I've found in my own experiences that honesty and respect go a lot further in terms of growth, for individuals and in relationships. I also know that relationships encounter obstacles, and these tests are what reveal the true nature of those relationships. People work through things for those that they love, and I know that you will be able to as well. Just hold a little compassion for yourself. You're human, humans make mistakes, and the fact that you care so much about this just goes to show what kind of person you really are.
"sometimes i worry about being charged with involuntary manslaughter bc cars are scary, i drive reasonably safely – not 100% the best driver but also not a reckless asshole. but like, accidents happen all the time."
Sam says:
Okay, so I think you're probably fine. If you're worried about driving safely you're most likely already driving reasonably safe. I feel like that's the classic psychopath principle – real psychopaths don't question their sanity. Like, if you say, "am I crazy?" then you're most likely not crazy. But if you steamroll ahead with your crazy behavior without batting one false eyelash then you're probably a little unhinged. It sounds like you're in the former camp. You're just a little freaked by the 405, the 10, the 101, all the literal death traps we call freeways in LA.
I think what helps me stay safe & confident behind the wheel is that I'm not ignoring the possibility of an accident. You know when you're exiting a freeway and you see some huge dent in the metal railing? That's a glaring reminder to slow the f*ck down. You can use those little things – a dent in the railing, a crazy speeding car – to remind you that you'll probably be okay if you go safe. But you are right; we can't prevent an accident, even if you are going at a safe speed, because they do happen. So just get a super-safe car – like a Toyota or Honda or a Subaru.
You're probably wondering why I included the song brutal by the queen Olivia Rodrigo here. Sounds like the opposite of chilling out on the road. That's because it is.
I think you need to be having about 10% more fun on the road, even while being safe, because driving can actually be really fun for us music girlies. I cannot think of a song that is more fun to blast while driving than brutal – it's angsty and amazing. You can have your 3 minutes of recklessness and then skip over to traitor or happier & just shed a singular tear while you drive a cool 55. It's perfect.
"I have a crush on someone who's super flaky and honestly just disappointing when he's not just a concept in my head."
Lucy says:
Someone once told me, "if he likes you, you'll know." It's always true. If you don't know, if you're constantly second-guessing how your crush feels about you, then they probably don't like you that much.
The solution to your problem is simple enough: self-validation. However, self-validation is easier said than done. You're craving someone else's approval. You're in love with the idea of receiving validation from this person, but they don't give it to you. The reality is that the only person you can always rely on to make you feel good about yourself is yourself. It's hard to learn. I still haven't found a way to always practice self-validation, but I'm working on it.
Only when you understand your own self worth will you be able to let go of the false concept of your crush in your head. It won't hurt as much when they disappoint you, either. If they don't validate you, then you will not want to romanticize them. If they give you validation, then you will not have to romanticize them. I guess that's what my friend meant when she said "if he likes you, you'll know." So, to let go of this crush, I recommend you start loving yourself. When they disappoint you, remind yourself that you don't need them. You will always have yourself, and that's enough–cheesy as it sounds.