Raveena @ El Rey [5/28/22]
Photos by Ethan Guffey
As we pulled up to the El Rey Theatre, the line full of twenty-somethings dressed in bright colors and complex patterns on Wilshire Boulevard immediately caught our attention. "This is exactly what I expected Raveena fans to look like," my photographer Ethan commented.
Lots of matching sets, intricate hairstyles, and psychedelic designs paid homage to the unique and specific style of the singer, while also clearly establishing the creative nature of her fan base. The people in front of us in line chatted excitedly about other concerts they had seen. I was struck by the diverse range of artists listed, from Kanye to Clairo to Steve Lacy. Unstuck to particular genres, they instead focused on musicians who create distinct atmospheres around their work: a quality that Raveena has made herself known for from her 2017 EP Shanti to her 2022 album Asha's Awakening.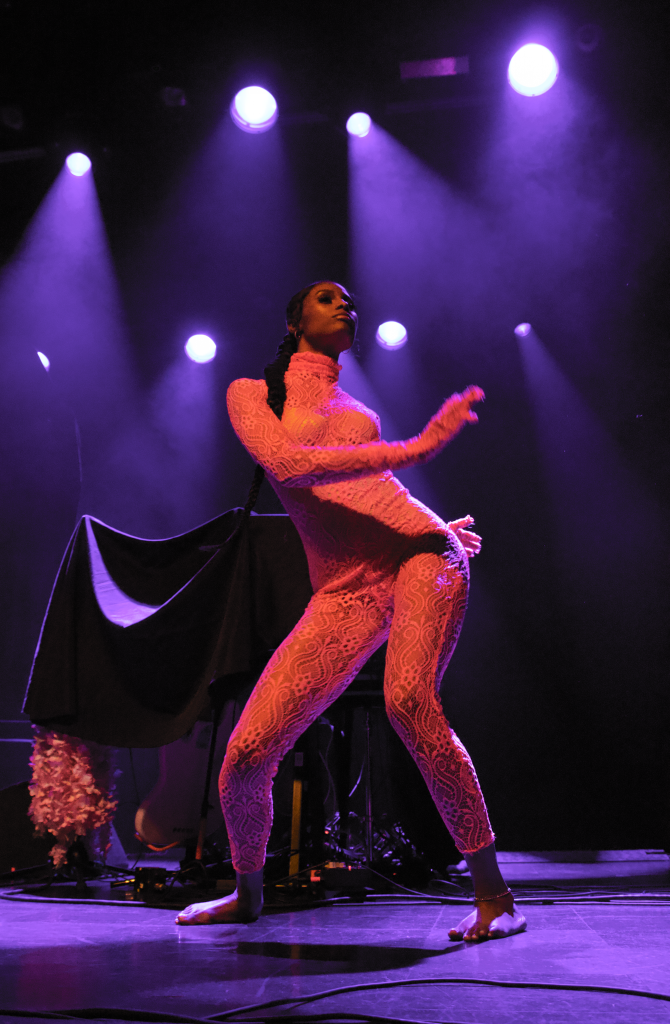 As we all filed into the theater, pairs of couples staked out a spot where they could wrap their arms around each other, swaying to the pre-show playlist of Raveena's inspirations, which ranged from Bollywood tracks to '60s blues. Raveena has listed Nina Simone and Ella Fitzgerald as influences, along with Indian jazz and disco singer Asha Puthli, for whom her 2022 album and tour is named.
The music faded away and the curtains opened to reveal the opener, Fana Hues. I was struck by her stage set-up. Instead of a band, Hues was accompanied by two dancers and a DJ. As she began with "high roller," a song from her recent album flora + fana, her dancers circled around the stage, backing up Hues' own soft choreography that emphasized the track's sensuality.
As she worked through the set, she continued to break into dance routines, joined by the dancers and her DJ, who moved behind the table. Even when she went to drink water between songs, everything felt structured and coached.
Hues seemed determined to evoke the spirits of various pop divas from the last fifty years. Her two piece sparkly silver set felt reminiscent of 2000s wardrobes of Britney Spears, Beyonce, and Christina Aguilera. and her riffs and belts when she took to a mic stand brought images of Whitney Houston and Diana Ross. She even covered Fergie's "Clumsy" before transitioning into her hit 2020 single "Icarus."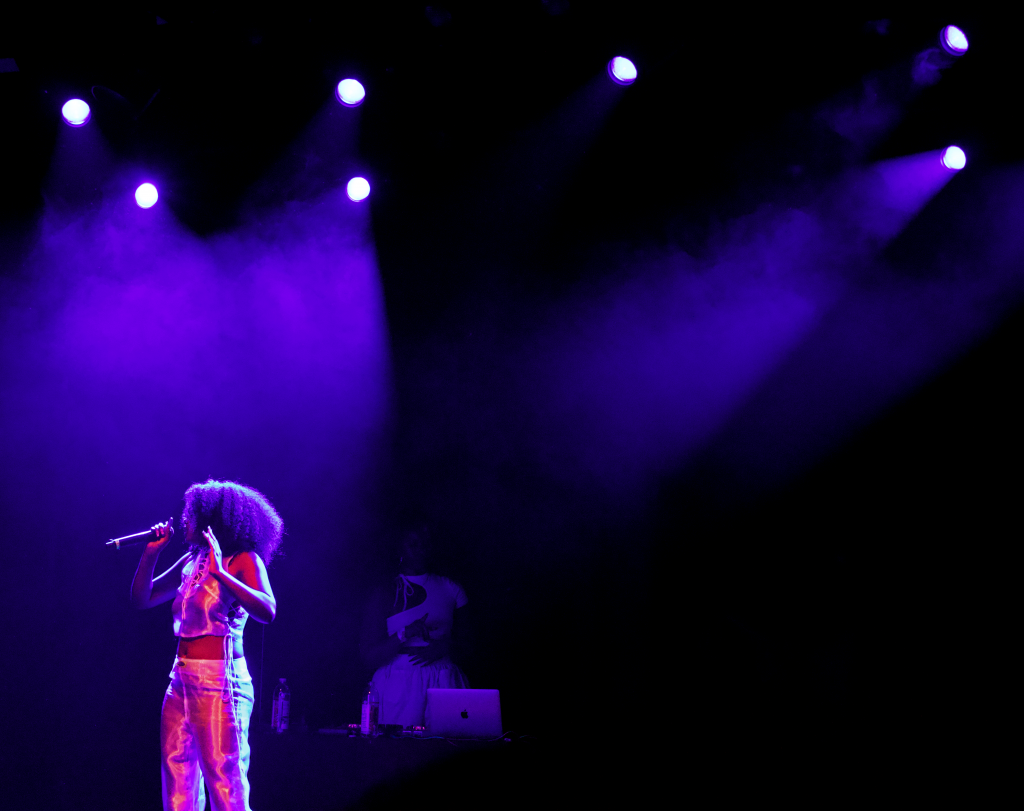 Hues and Raveena occupy the alternative R&B space, and their songs similarly reference the sensual and the divine. Both also have clear visions creatively, matching their musical creations with distinct visual vibes. However, with each choreographed moment, from how she grabbed the mic off the stand to how she circled her hips, Hues lost some of the raw connection to the crowd that is integral to Raveena's appeal.
When the curtains rose to reveal Raveena's stage set-up, the design felt like an extension of her albums. Psychedelic images projected on the screen behind her, while yellow and orange flowers adorned the mic stand. She dramatically turned as the curtain rose, immediately breaking into "Mystery." She took each break in lyrics to strut and spin around the stage, as the crowd cheered her on.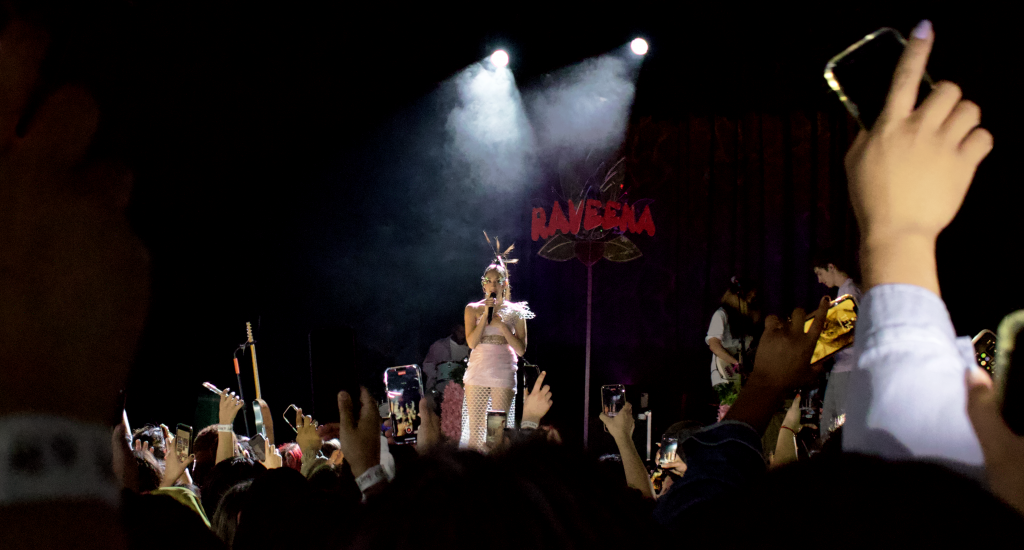 Before she sang her biggest single, "Close 2 U," she prefaced, "I want to sing you a sweet little love song." The crowd sang along joyfully, and Raveena beamed as the whole room filled with the lyrics, "You're in love with a singer/So I sing you to bed." In response, Raveena climbed down off the stage to interact with the crowd. "I just had to say hi," she explained giddily.
Even Raveena's breakup songs are full of love and gratitude. With "Bloom," she brought the energy down, returning to her 2019 album Lucid. Her soft and airy vocals contrast the message of establishing boundaries after a breakup. "Baby, don't hold me/You don't hold me down/You can't love me now," she sang, radiating power and grace.
Raveena took a break in her set to speak about the recent robbery of her tour trailer, in which her team lost instruments, hardware, and all of her wardrobe and makeup. "I'm remembering that life isn't about material things and I'm so grateful to be here with you all tonight." Nevertheless, Raveena was still dressed impeccably in a striking pink gown and gold-chained overlay, paired with a slick ponytail with spikes of hair sticking out in all directions.
Raveena's imagery, from album and stage designs to clothes and makeup choices, serve to set her artistry apart, fusing her South Asian heritage with trends of contemporary R&B. As the set continued, Raveena switched between English, Hindi, and Punjabi, all while maintaining her signature ethereal vocal quality.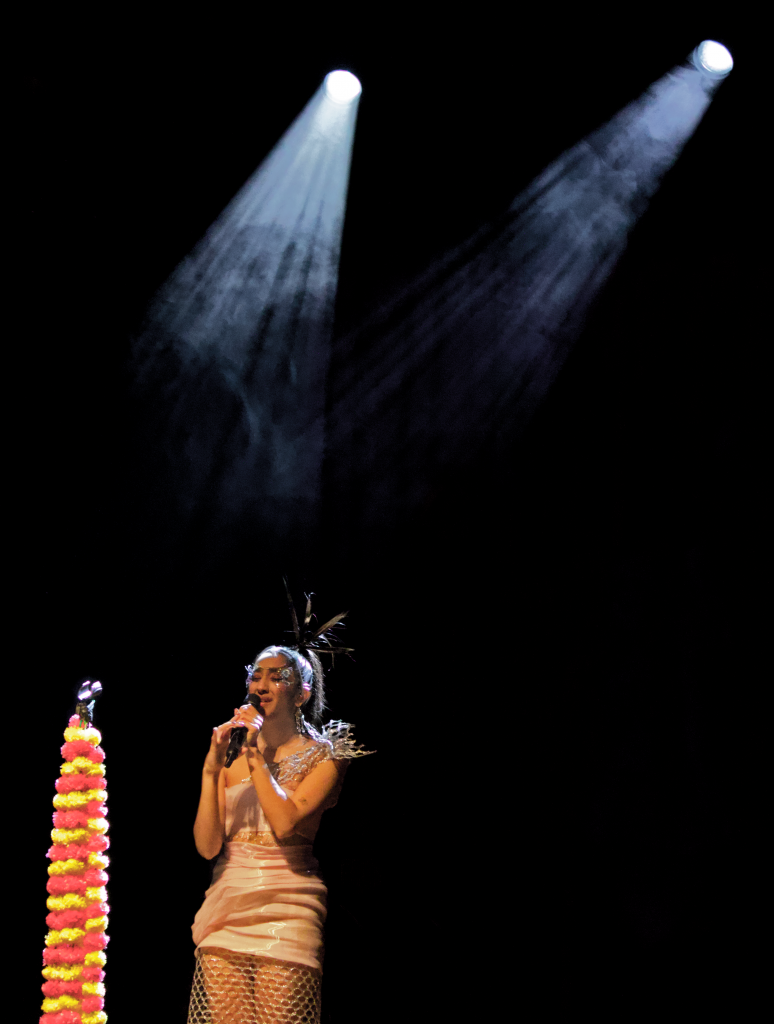 Though much of her newest album focuses on her Indian heritage and influences, Raveena maintains her queer identity. She dedicated her song "Temptation," which she used in 2019 to come out as bisexual, to all the women in the crowd. As she brought a fan from the front row onstage, the two danced together as the crowd sang and cheered.
About halfway through her set, Raveena quieted the crowd, asking everyone to meditate with her; it felt out of place for a concert, yet right for Raveena's performance. I found myself entering into a kind of trance, aided by the hypnotic music that remained quietly playing. As Raveena returned to singing, the energy in the room buzzed with a new intensity, the crowd swaying along to her next song "Honey." When she asked the crowd to lift up their phones, the room illuminated with flashes, and Raveena reached out her hand before returning it to her chest, indicating the gratitude and love she shared with her fans.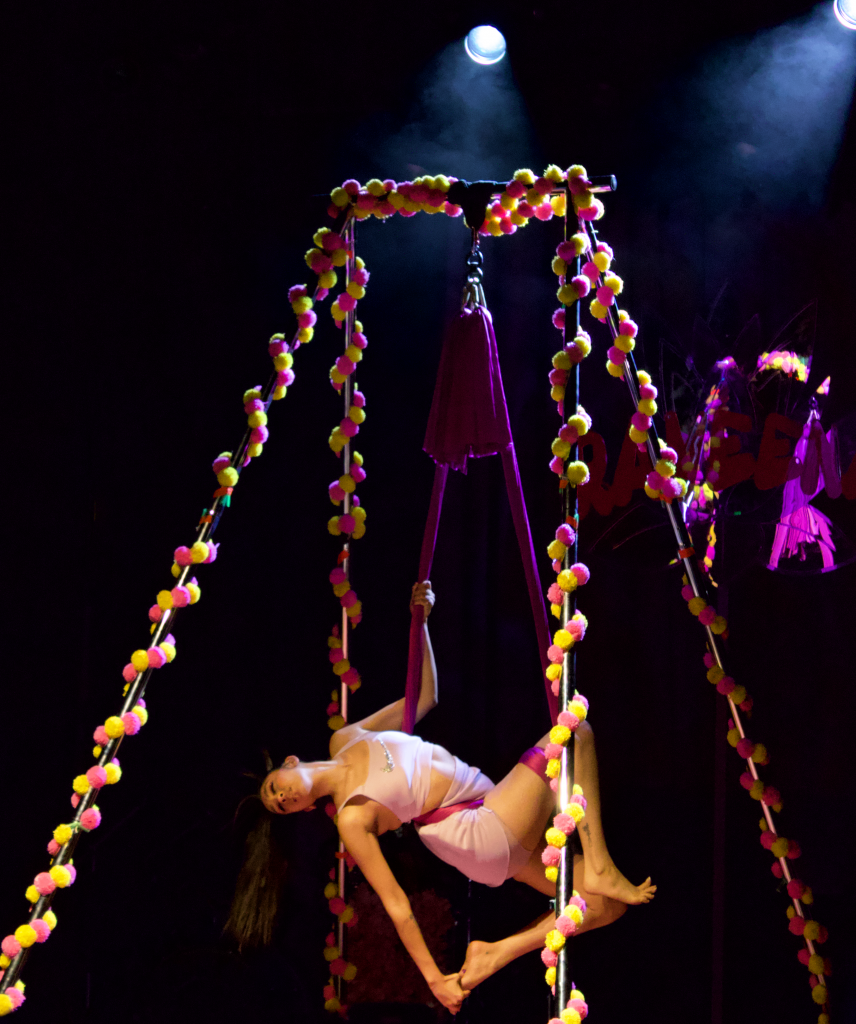 After, she exited the stage, as the crowd cried out for more. Stage hands then brought on an aerial rig, and Raveena returned in an outfit change. She then mounted the silks as her track, "Arrival to the Garden of Cosmic Speculation" played. Bathed in a pool of yellow light that left a design of half moons circling the ground, she climbed and spun in various complicated and graceful positions. The crowd applauded and cried out encouragingly, entranced by the singer's presence.
After her aerial performance, she finished the show with the lively hit "Tweety." As she sang, "I'll let you run away/ My love, it always stays," her love for performing and her fans was palpable, but, if this show is any indication, they definitely will not be running away any time soon.