Photos by Katrina Weissman
I was skeptical about Phoebe Bridgers, but looking at the sea of phone-flashlights swaying to "Moon Song", finding myself singing every word, and feeling tears prick my eyes killed remnants of my doubt. I am totally a Pharb.  
When her acclaimed album, Punisher, was released last July, I gave it a listen-through. It didn't do it for me. I found myself comparing Bridger's commercial success to her Boy Genius bandmates, Lucy Dacus and Julien Baker, claiming they possessed things Bridgers lacked, and they should be as popular, if not more. But that kind of talk is cheap, and creates a fallacy that Bridger's success is not deserved. Regardless, Punisher didn't put me in the mood I wanted to be in that July. At that point of the pandemic, I was in the bargaining stage of grief, planning for a post pandemic world still beyond reach today, and negotiating with god the kind of reward cashing in months of isolation would get me.
It wasn't until December that I did my second listen-through. I saw a TikTok about how the song, "Punisher", was a tribute to Elliott Smith, and my interest perked. I listened to the song. Then I listened again. I listened to the album. Then I listened again. What I lacked in July that inhibited my appreciation of Punisher was born in December, crying and kicking and very much alive. I felt the grief that soaks this album. I glimpsed the anger of growing up with an abusive parent. I felt the longing to be as good as our idols. I felt the want for my love to be enough to make someone okay, and vice versa. Above all, Punisher let me mourn the year we lost, and brought me to a place closer to acceptance, or at least to a place where I felt too tired to be angry.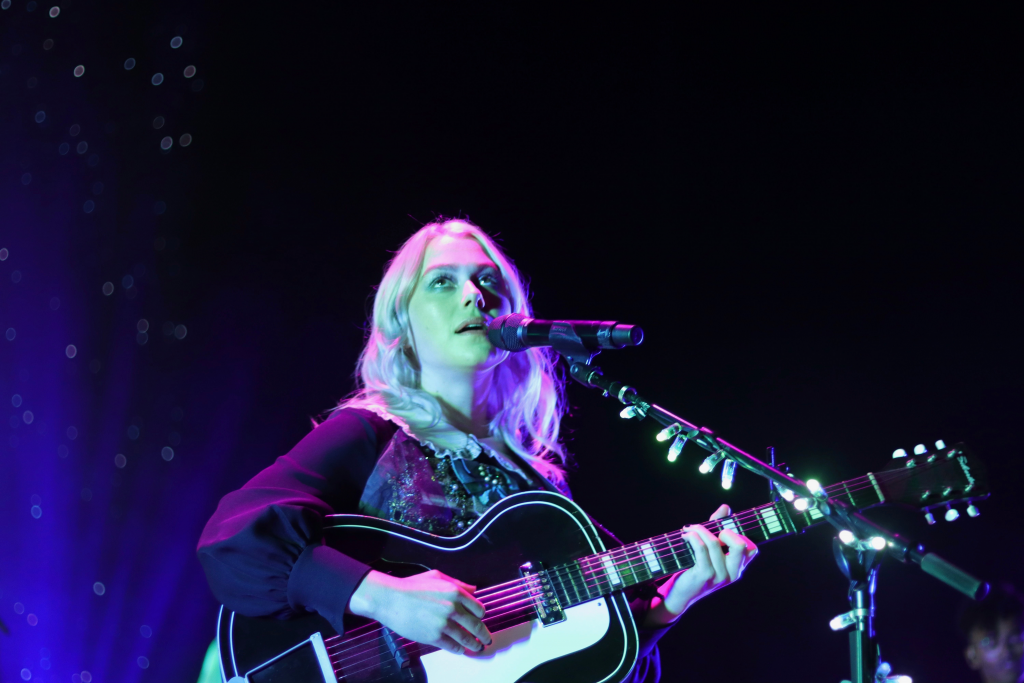 The entrance to the Greek Theater was packed with cars. Lines of patrons stretched past the entry ways, vendors among them selling hotdogs and unofficial merch. The venue is outdoors, larger than I'm used to, and completely packed. I can't imagine how surreal it must feel for Bridgers to come back to her hometown in this context. Looking for my seat, I navigate through pockets of fans, more teenagers than I expected. I've never seen more iterations of platform Doc Martens in one place.
Dimming lights and the start of "I Gotta Feeling" by the Black Eyed Peas inform fans that Phoebe's about to get on stage. It's a cheeky reminder of Bridgers' wry sense of humor that cuts the heavy themes presented in her discography. The band behind her including brass and violin launch into "Motion Sickness". While the band is dressed in the original skeleton pajamas, Phoebe, equipped with a black sparkly guitar, is wearing a long black dress decked with a jewel studded rib cage and a frilly white collar. She warps the crowd pleasing song, elongating rests and lyrics to highlight how well her vocals translate live and emphasize emotive phrases. The lyrics are a scathing indictment of abuser Ryan Adams, but the quick bass line gets everyone on their feet. The crowd is in a frenzy as she finishes the last phrase:
"And I wanna know what would happen if I surrender to the sound."
She puts pressure on the last word and draws it out, high and clear, and lets it echo through the venue for a moment before the stage shifts into Punisher mode. Blacklights give the band's "bones" a pulsing glow as "DVD Menu" creates a somber tone. Violin threads through dark ambient bass, reminiscent of being submerged in murky water.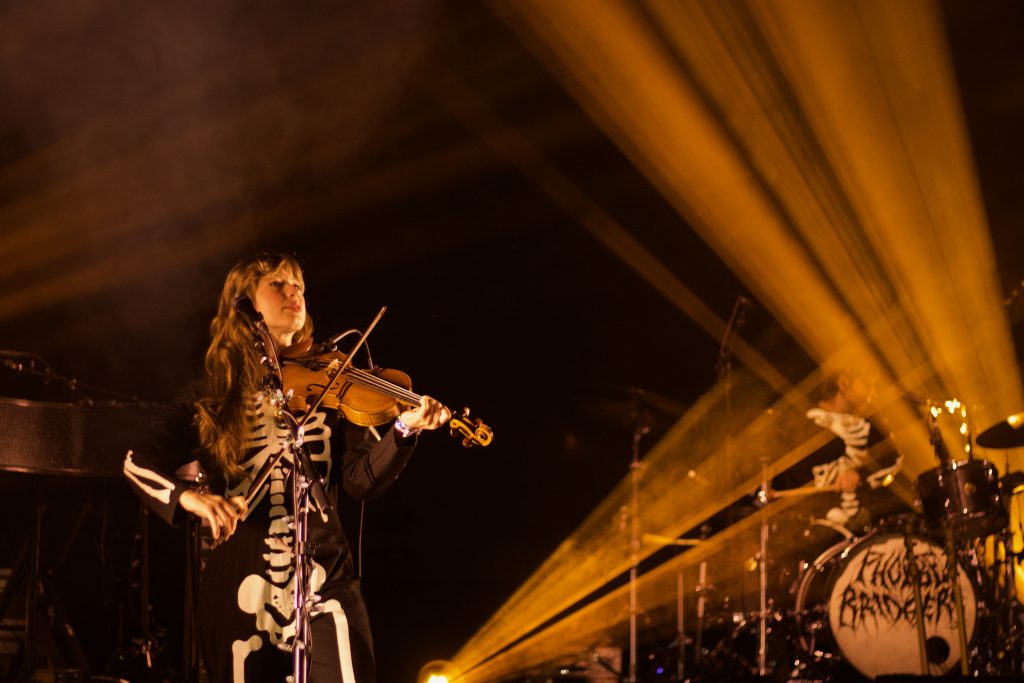 Bridger's set translates beautifully live. The dreamy, melancholy string instruments are cut by bluesy brass and haunting lyrics. The band pumps up the pace on faster tempo songs to create more contrast. Bridger's plays for them occasionally with her back to us. Her composure remains calm and concentrated throughout her set, cracking pleased smiles between lyrics. It's impressive to see the grip she holds on the thousands of attendees. These people know every word. Bridgers looks taken aback when the chorus of Kyoto, a song she dedicated to "anybody who's had to lie to CPS" is shouted back to her.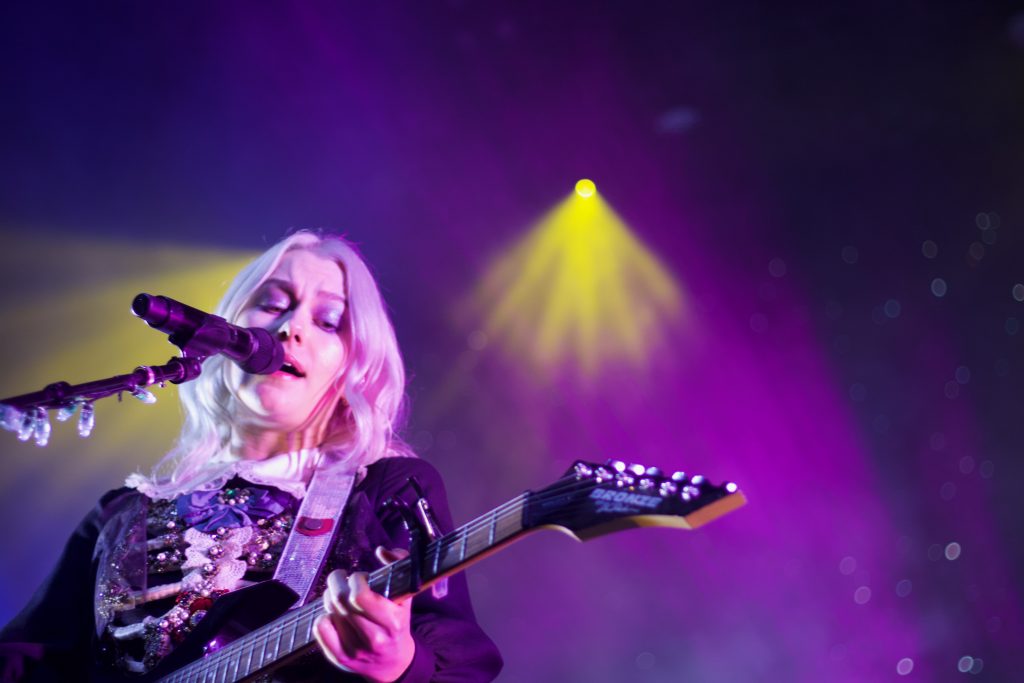 It's sweet to see them interact with each other, the violinist and the guitarist playing facing each other, looking content. There's a point where Marshall Vore, drummer and banjo player, struggles to get in tune. Vore and Bridgers crack jokes with each other as Vore fumbles before a stagehand comes on to help him out. Bridgers introduces him as Mark and the crowd starts chanting his name before they continue with the set.
I liked how Bridgers interacted with the audience, too. Her descriptions of songs feel like an inside joke. "This one's kinda about sports" she says before the start of "Halloween", a song that depicts a dead relationship with a lyric about a fan killed at Dodger Stadium. Genius readers know this was added after Bridgers was "stressed about lyrics". Her flip lines break tension in a way that reminds of cracking jokes to a therapist. She makes her gratitude clear though, and her thanks feel genuine and sweet.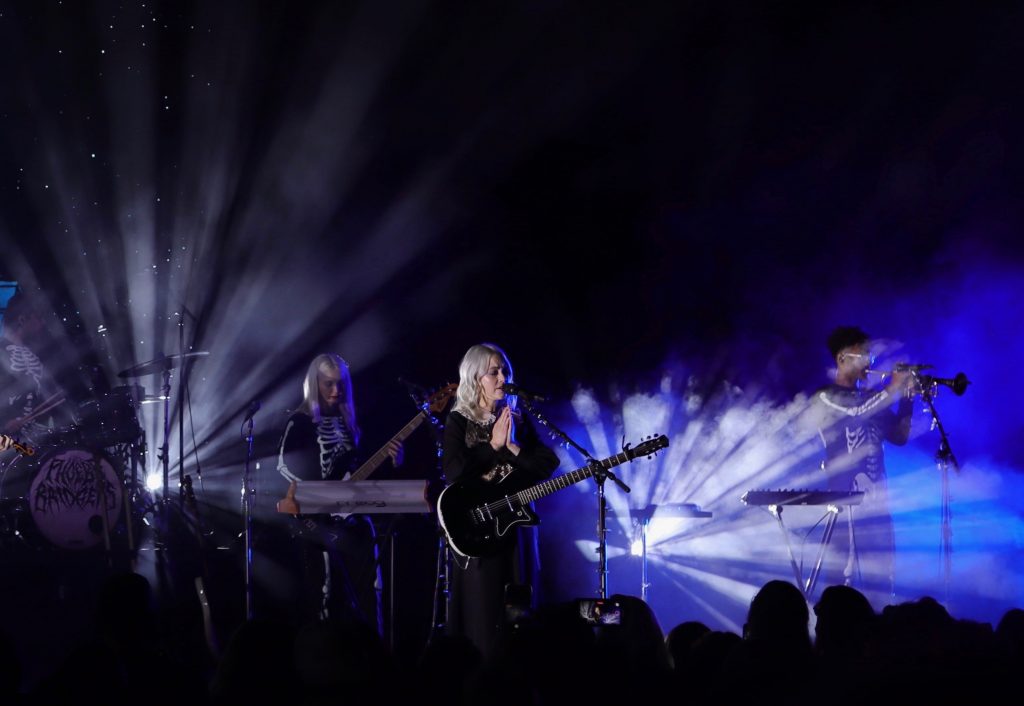 All songs performed were heavy with emotion, but Bridger's performance of "Punisher" raised the hair on the back of my neck. The only song performed without her guitar, Bridgers holds her free hand behind her. The instrumentals and vocals layer perfectly and pull the audience, eagerly waiting in the buildup to the chorus.
"What if I told you I feel like I know you, but we've never met."
The bass hits heavy, giving a physical sensation that matches our emotional reaction. I feel so lucky to be here, to feel the chords buzz in my chest. To share this feeling with thousands of people feels like such a lovely resolution to all the times I listened to this song alone. The song ends with red lights flared around Bridgers. She looks up at the sky and we stare in awe as the album cover is recreated before us. Like the concert, "Punisher" ends sooner than I want it to. Even after the tableau, I can't help but hope for one more verse. And even after the encore, I can't help but wait around the emptying theater for one more song.