Photos by Jennifer Uskolovsky
Upon entering the Lodge Room's intimate space, it was clear that the crowd was Wet with anticipation.
Hailing from Brooklyn, Wet has been a notable fixture in the indie scene for over six years. They have frequently pushed boundaries by blurring the lines between pop, alternative rock, and R&B. This tour marks a fresh start for the group; they recently came back together to create their new album, Letter Blue, after leaving a four-year deal with Columbia Records.
The Lodge Room's brick-lined exterior and lack of signage make the venue invisible to Highland Park pedestrians, but concert-goers know exactly where to meet. Inside, fans sit in tight circles as they sip vodka tonics, bonding over their excitement. Excluding the star-shaped chandeliers and the bar located opposite the stage, the concert hall feels like the setting of a middle school dance without the pre-teen angst.
When the lights fade to indigo, guitarist Marty Sulkow, bassist Joe Valle, and a touring drummer come on wearing white tees and jeans. As they play some dreamy melodies, frontwoman Kelly Zutrau speedwalks on stage.
Zutrau's outfit commands attention; she is wearing a navy pantsuit with silver fringe along with a pair of white cowboy boots, and her breasts are fully exposed under a sea of glitter. The fit is out of character, as she has been known to wear white tees and sweatpants during shows.
In an interview with Fashionista from 2015, she discusses her then laid-back style, saying, "There's a part of me that would love to wear bolder, nakeder things. I'm always very covered up and that's one thing I'd like to work on, showing my body more, showing my skin more." Six years later, these stylistic ambitions are a reality.
As soon as she eases into the first lines of the opening number, "On Your Side," all eyes are on her.Like much of Wet's discography, it's a song about the pains of love and heartbreak. The song is composed of ethereal synths and slowly-building melodies, a defining characteristic of their sound. In this particular track, Zutrau reaches out to a lover gone astray, convincing them that she is not the enemy.
"Baby, believe me, I'm on your side."
Wet's slow-burn melodies leave listeners yearning for more, both in terms of their music, but also in their love lives. This is not the concert to go to while experiencing a breakup.
Their first two numbers of the night, "On Your Side" and "Clementine," act as warmups for Wet. During these tracks, Suklow and Valle rarely look up from their instruments and Zutrau stays in one place. Despite "Clementine's" upbeat nature, it appears almost as if they are saving the real performance for later on.
Once "Clementine" ends, Zutrau addresses the crowd for the first time, and they are enamored with her. One fan screams the first of many "I love you!"s, and Zutrau smiles endearingly, laughing to herself.
After a tidal wave of positive feedback, she introduces the third number of the night, "Bound," an uptempo breakup song produced by Blood Orange. There is a noticeable difference in her stage presence: she bounces around comfortably and makes eye contact with the crowd, and her voice sounds fuller.
During "Bound," the group sets the musical tone for the rest of the performance, and an unexpected theme becomes apparent. Unlike their studio releases, which are characterized by intense autotune, electronic synths and heavy production, their performance tonight is stripped-down. Sulkow replaces synth melodies with his Fender Stratocaster, a live drummer accompanies them on stage, while Zutrau's voice is unaltered. This stark contrast heightens the performance. Zutrau's voice is rich and captivating on its own, and Sulkow and Valle's talent shines through.
Halfway through the set, the lights go black, and a spotlight falls on Zutrau for the most vulnerable song of the night: "These Days." With the exception of a subtle guitar melody from Sulkow, her mournful vocals carry the ballad.
"These days I can't take so much, I've been falling down, falling behind."
After the song ends, there is a silent pause, immediately followed by one fan screaming, "You make me Wet!" The room erupts into laughter, uplifting the mood.
The concert reaches its peak when Wet performs their hit song, "Don't Wanna Be Your Girl." Here, the band and the audience play off each other: as fans belt out the lyrics, the group embellishes the melody with emotional intensity.
"I don't wanna be your girl no more, no more."
In the middle of their second to last track, "Far Cry," Zutrau gently places the microphone on the ground and walks off stage as Sulkow and Valle dive into their only solos of the night. After the song ends, she returns to the stage and says something inaudible to them. They talk casually and laugh playfully. Having been friends since college, it is clear that they are tight-knit, and the fans are in on it.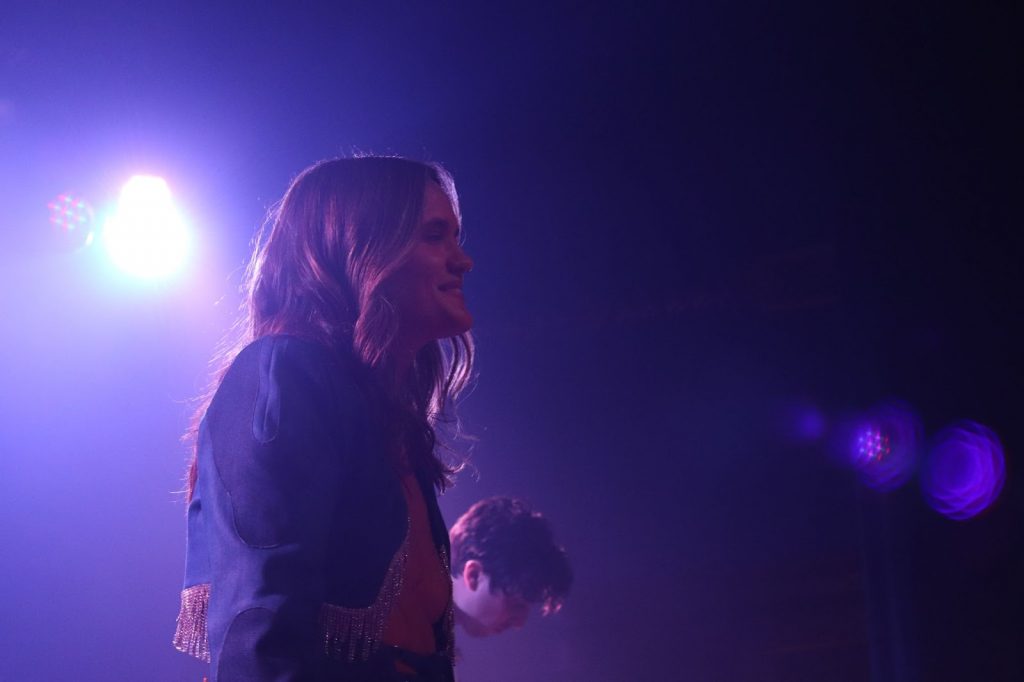 Zutrau announces their final song, "You're the Best," a wholesome close to a dynamic show. Despite fans shouting "One more song," the band does not perform an encore. However, when the crowd exits the venue, they stand by the entrance wishing everyone a good night.
At one point during the show, Wet states that this is the last stop of their tour promoting the new album.
"We had to end here in California."
This may be an end to their tour, but it is the beginning of a new phase for Wet; one characterized by more artistic freedom, comfort and confidence.