Photographs by Andrew Skrobak
Despite the limited parking and overpriced drinks, the Regent Theater is the right venue for Indigo de Souza's starving fans who had last seen her and her band in 2019. Yeah, it's really been that long. 
The venue's downward-slanting floor and open balcony provide perfect viewing spots no matter the height of any fan. As much as concerts have changed, with COVID vaccination checks and mandatory mask policies, pushing and shoving remains a staple. As you shuffle your way through the waves of Indigo de Souza's fans, it's hard not to notice the different faces, fits, and styles that fill the Regent's floor. Alts, skaters, goths, and surprisingly some older millennials stand, eager for Indigo de Souza. It's her music and aesthetic that encourages this type of environment, one that allows people to present their true unencumbered selves.
The stage floods with a red light as De Souza and her band nonchalantly walk onto the stage. They all slowly pick up their instruments. De Souza looks out into the crowd as she closes in on the mic. Her mouth, its closed. Nothing is said. Her band adjusts their instruments while we stare at De Souza, waiting.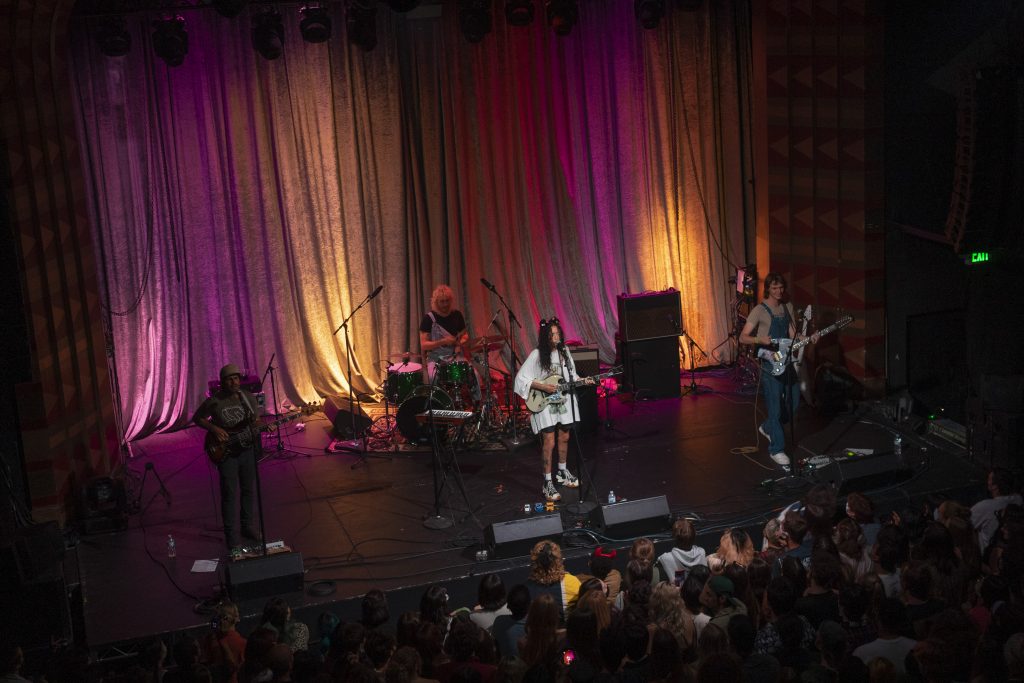 Some fans break the tension and yell:
"You are so cool! You are so hot!"
De Souza awkwardly chuckles and responds in short sentences. She is diffident. It's obvious that interacting with the audience isn't her wheelhouse. But she finds the confidence to thank everyone. Afterall, it is her first headline show at the Regent Theater and the floor is filled. While there is a timidness to her approach, she lets her performance speak for her.

De Souza opens with "Bad Dream" putting the crowd in a trance. The band sways, playing for 37 seconds, no vocals, demonstrating their skill and emotional charge before Souza's voice fills the room. Her vocals have this angst and pain that is not so easily apparent in her studio recordings. Her voice is breaking, but it's intentional.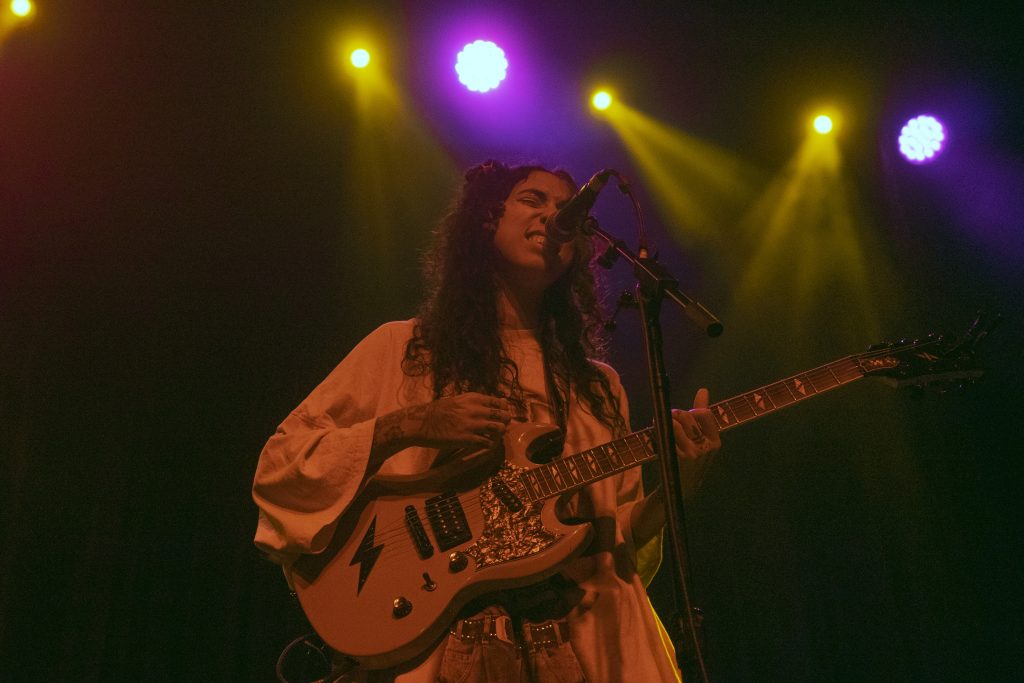 Reminiscent of Kurt Cobain and Playboi Carti, De Souza screams with a strain:
"Please send help to me."
She delivers the line in a way unheard of in her studio recording. The crowd hears the desperation in her voice, the actual pain the song describes. It is captivating.
Every song follows this style of altered vocals, adding a level of emotional depth that wasn't harnessed in the studio release. As the notes leave the stage, a sense of affinity amongst the crowd of different heads grows stronger and stronger. De Souza's songs push through and against every emotion, uniting the crowd through shared experiences of breakups, new love, and death. Props for De Souza for orchestrating this. She opens up so much about her personal life in order to choreograph this feeling.
"Real Pain," a song that captures the frustration of dealing with emotional trauma, gives the audience space to yell, to let out their anger collectively. Its bridge of screams, horrific cries, and intensifying guitar reverb transports the audience to a beautiful and powerful final act where they yell:
"I wanna kick, I wanna scream, I wanna know it's not my fault."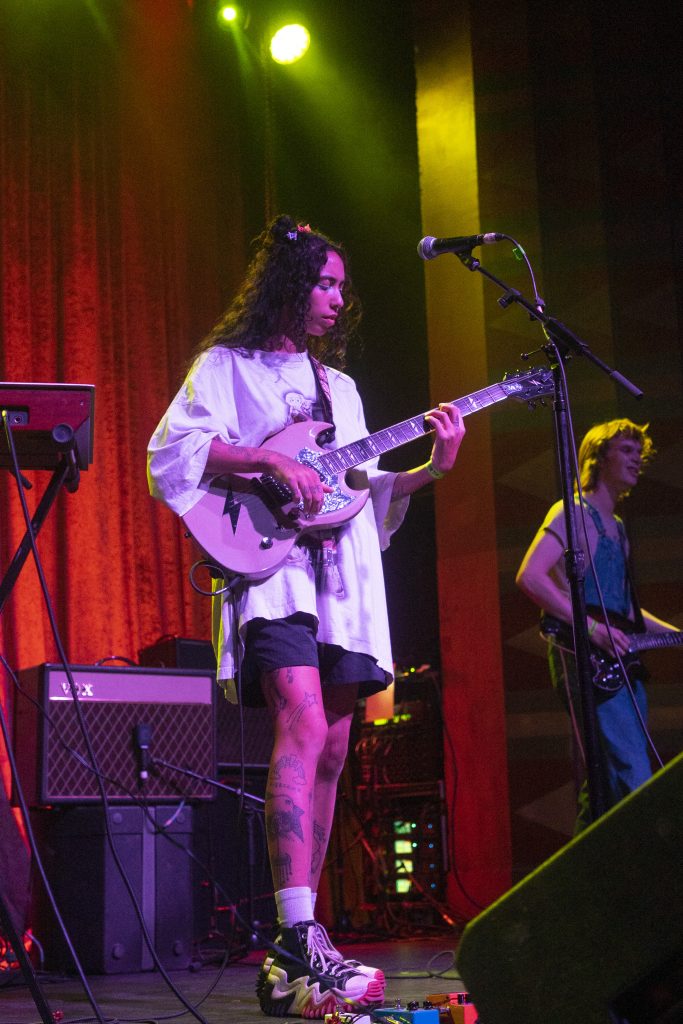 "Hold U" embraces some funk with dominating bass lines that get everyone grooving. Its energized, neo-soul beat perfectly captures the kinship, love, and support felt in the room full of strangers of different eras and styles.
"When am I gonna start being cool like everybody else is, everybody else is?"
The encore "Take Off Ur Pants" was an interesting one to listen to, especially in a venue of strangers that had developed some comradery. The song is about being an outcast, someone who for some reason cannot "get out of bed like everybody else does" or "follow through with [their] plans like everybody else does." However, in our rejected state, we still strive to be like others. We often compare ourselves to others' achievements and accolades and question why we cannot do it like everybody else does. It is an indie rock song about being divergent, but in that crowd, you find yourself harmonizing with the randos and begin to realize that you are not so alone after all.
It is De Souza's music that speaks to the crowd. She does little to address us because she knows that her setlist does it all. While artists take the time between songs to interact with the audience, De Souza waits for the applause to end and continues on with the next banger. And that is a testament to how fervent her music is. She and her band don't need stage antics to keep the people in attendance entertained. There are no callouts for moshpits or yells for the audience to turn tf up. Indigo De Souza just lets her strained vocals, her band's instrumental backup, and the feels of each song carry her performance.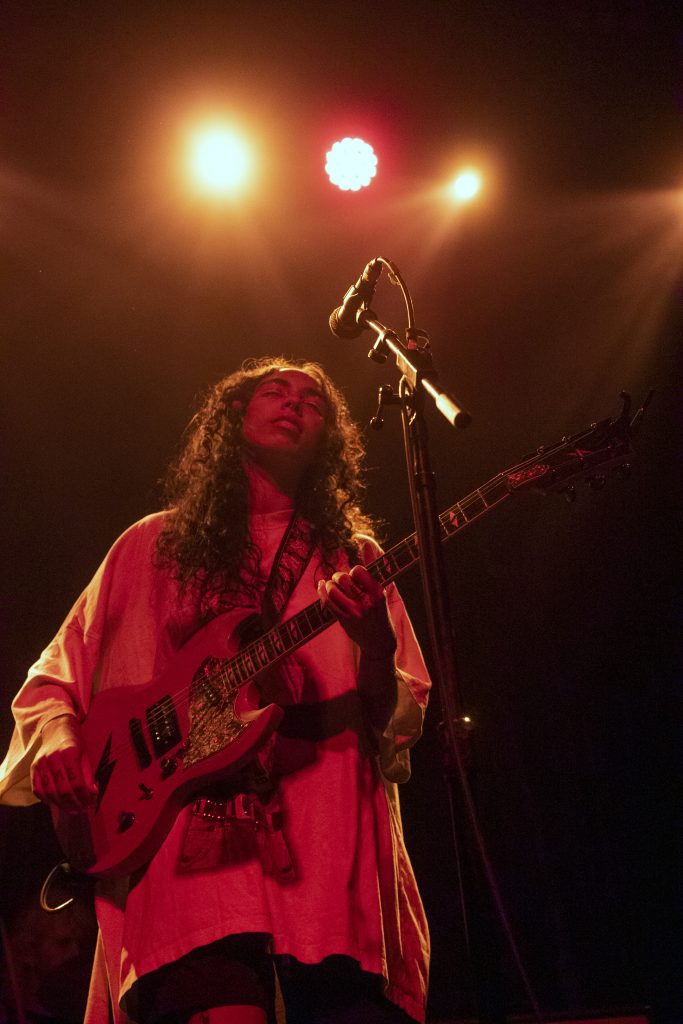 Indigo De Souza's effortless range in musical style, from grunge to funk, and displayed emotions, from unity to heartbreak, is what makes her and her band iconic. De Souza's setlist and discography is something that everyone can find comfort in. Seeing alts, skaters, goths, and older millennials all vibe and relate to one another through De Souza's music was a beautiful experience to witness and take part in. It speaks to how universal, yet so specific, her music is.

After more than a year of isolation filled with existential dread, it was healing to be part of this collective experience. In the room of complete strangers, we felt connected through such an intimate shared experience. This is something that everyone needs as we emerge from lockdown, and something that only Indigo De Souza and a few others can curate.