Photos by Jennifer Uskolovsky
It's jarring to approach the front of cleopatrick's venue and see the stage riddled with beer cans. Upon closer inspection, it's an array of Liquid Death water cans, whose tagline is "Murder Your Thirst." This set up expectations for the rock duo's show pretty accurately.
Canadian rock duo cleopatrick's music can best be described as gritty, angsty, and raw. Their debut album, BUMMER, preempted this tour following several EPs that have become staples in the alternative rock scene. As proven by the show, cleopatrick's sound resonates through live speakers way more vibrantly than their recorded tracks could.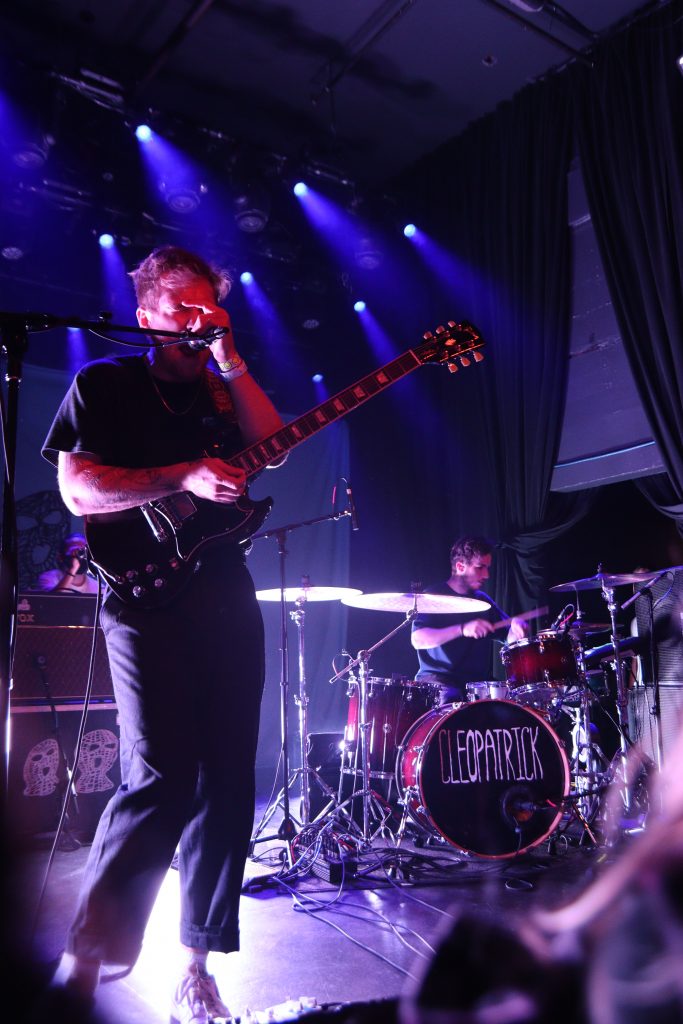 The energy of the event is charged with the hyped yet cool demeanor of Los Angeles indie rock fanatics. Bright green hair, chainmail, and the smell of fruit-flavored vapes riddle The Echo's intimate space in Echo Park. Friendly conversation are exchanged throughout the "alternative" local audience, with a shirtless man yelling "I like your shirt, brah." Giddy groupies line up at the edge of the stage. The audience is hungry for cleopatrick to begin.
The crowd erupts as Ian Fraser and Luke Gruntz take their place behind the mic stand and drums. There is almost an awkward silence that grows as the Canadian rock duo set up their equipment, with various grunts and murmurs echoing through the crowd. After adjusting his guitar, Ian jumps straight into their first song, "sanjake," and the crowd rejoices once again. The bouncy rock tune enlivens the room and gets the groove of the event truly going.
The stage lights flash all colors of the rainbow in an epileptic fashion. Ian roars into his microphone while picking his electric guitar. Sticker-style doodle tattoos and paper admission bracelets decorate his arms. He belts and strums while standing on one leg for a good portion of the show; quite impressive.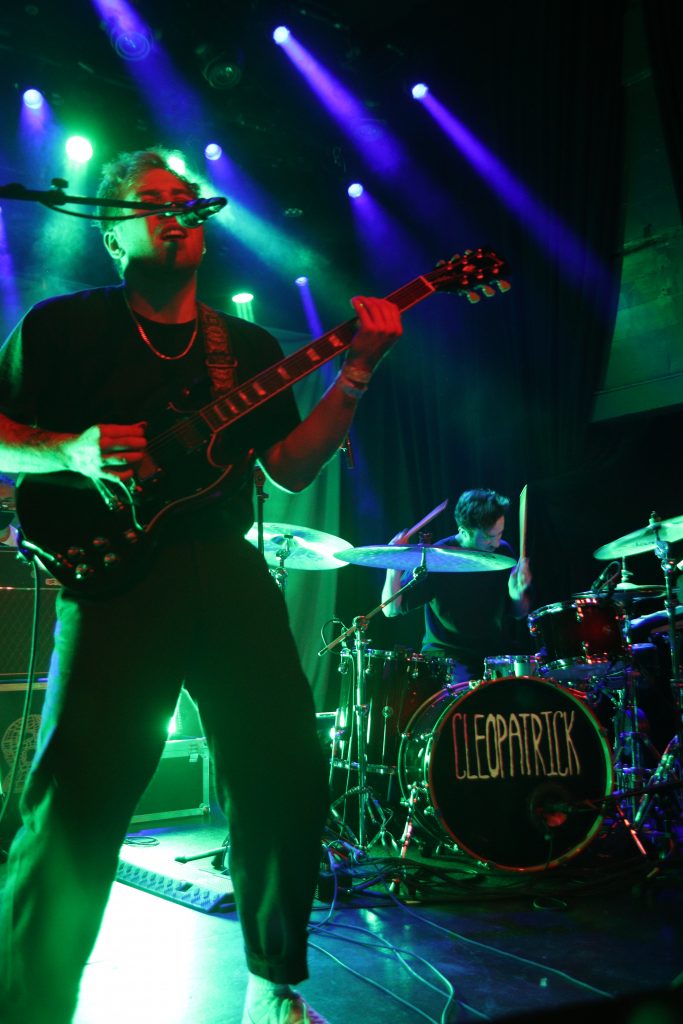 Kindergarten friends Ian and Luke steamroll through the setlist, only taking quick breaks to adjust pedals and backtrack settings. The band swiftly transition to their lead single off BUMMER, "GOOD GRIEF," a jaunty rock banger that makes you scrunch your face from pure grit. An eerie chant of the song title, "WHY JULY," repeats over a steady beat from Luke to sound like a melancholic rebuttal of "why'd you lie, why'd you lie…" The audience joins in to create an emotional rock hymn.
"GOOD GRIEF, LORD I BELIEVE, YOU'VE BEEN PUSHING TOO HARD FOR THE WRONG THINGS"
The crowd roars when they hear the first few chords of the fan favorite single, "FAMILY VAN." Similar reactions follow "VICTORIA PARK" and "THE DRAKE," serving as proof for the consistent appeal of multiple tracks on their debut album. Continuing themes of small town dread and youth rebellion are prevalent here, but in a more mature and sophisticated fashion. BUMMER delivers cleopatrick's sound in a more punchy, streamlined way that veers away from their garage rock roots and shows potential for future success.
Everyone bursts into cheers when the first few chords of "youth" began to play. While being one of cleopatrick's most popular songs, the Gen Z anthem makes for a hardcore moshpit. Drops of sweat soar across The Echo as entranced fans push, shove, and collide into each other with no remorse.
"THE DAY I TURN 23, I'M GETTING MARRIED. AND SHORTLY AFTER THAT, I'M GETTING BURIED."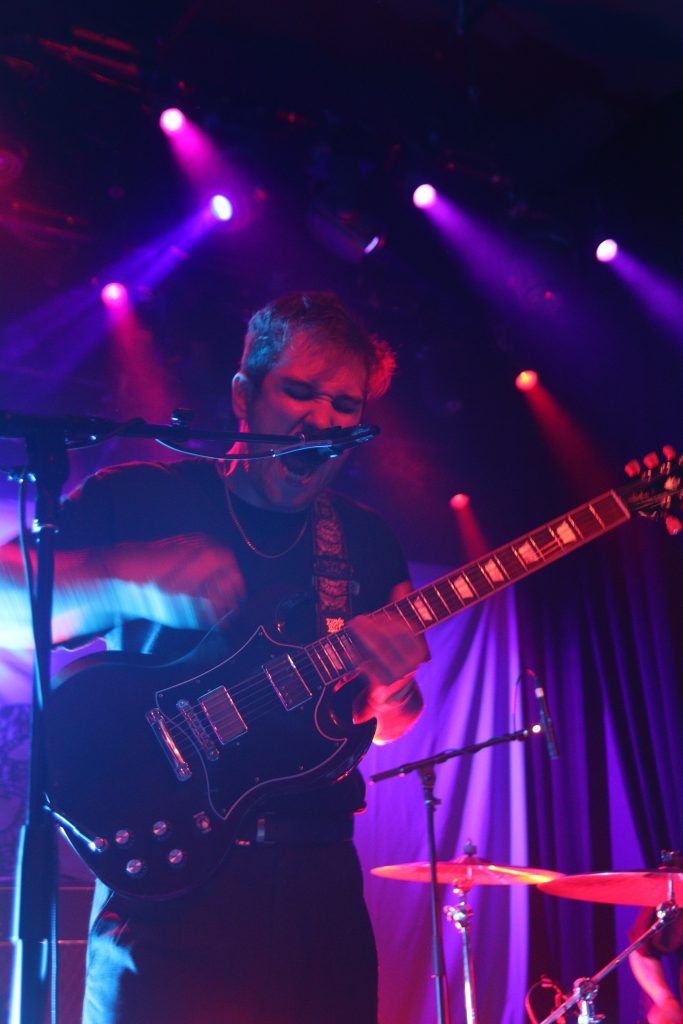 One of the highlights was cleopatrick playing their hit songs, "hometown" and "bernard trigger." Dark, sultry, and drenched in existential dread, these songs consist of a tempting buildup with groovy guitar solos that rile up the crowd into an enchanting rock trance. These tracks embody the violent grunge sound that made cleopatrick such a success in the indie rock landscape.
"BUT MY HOMETOWN, IT ONLY MAKES ME FEEL ALONE."
If there is one critique to be made for cleopatrick's performance, it would be the intensity with which they focus on their instruments. While it takes concentration to play a good set, the audience surely hungers for more interaction from the band.
Regardless, the energy existent in cleopatrick songs and performance is enough to rouse and enrapture any crowd. cleopatrick sustains a solid catalogue of indie rock porn that sounds better in person. If cleopatrick is touring in your city, make the effort to witness the rage.