Photos by Max Dallas
The Regent Theater's downward-slanting floor forms a cavern through which the dreamy instrumentals of Luna Li, the opening act, reverberate. 
Li hops from guitar to violin to keyboard, displaying her homegrown multi-instrumental background. She creates a live loop halfway through her set, and gradually lulls the audience into a layered, breathing jam.
"I want you to close your eyes and float away with me" – Luna Li
Initially impatient to hear Japanese Breakfast, the venue slows to engage with her indie-adjacent, bedroom-pop tinted sound. Luna's serene demeanor elicits relaxation and elation across the crowd. It's her birthday. Holding a small cake that her photographer brought out, she speaks about seeing Japanese Breakfast live years ago and, for the first time, feeling represented onstage as a Korean woman in music.
Michelle Zauner began touring as Japanese Breakfast in 2016 as an opener for Mitski, a Japanese-American singer-songwriter. Li's opening role, then, is a mark of Zauner's career starting to come full-circle. Li thanks the audience once more as she descends backstage. Several assistants remove her band's myriad instruments, momentarily returning with even more than they took away.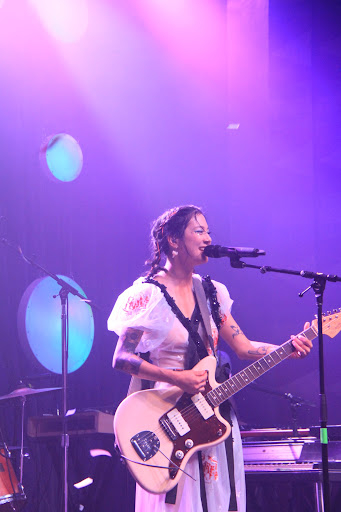 Fifteen minutes later, the lights go dark. Hundreds of heads turn towards the stage in quiet anticipation. Both of her LA shows were sold out. Michelle Zauner, in this year alone, authored a New York Times bestselling novel, Crying in H-Mart, released her third and most commercially successful album, Jubilee, and created the soundtrack for a new videogame, Sable. 2021 has been her biggest year yet; she's finally been able to shine in the public eye. Bounding onto the stage, Zauner's harmonic effervescence compliments the orchestral textures of "Paprika," the first song on Jubilee. She periodically strikes a gong onstage, spurring the crowd into dance.
Up close the band appears well-adjusted. Not only had Japanese Breakfast completed Jubilee a year before its release, but their tour has them sounding polished. Sax and violin prove to be apt additions to Japanese Breakfast's previous norm of drums and guitar. Almost everyone in her band has a couple instruments at their side. Zauner herself hops between electric and acoustic guitar, piano, and a MIDI touchpad throughout her setlist, mirroring the increased complexity of her recent arrangements. Jubilee's grandiosity renders the album nearly impossible to reproduce with a six-piece band, but each live rendition feels personal and laced with idiosyncrasies.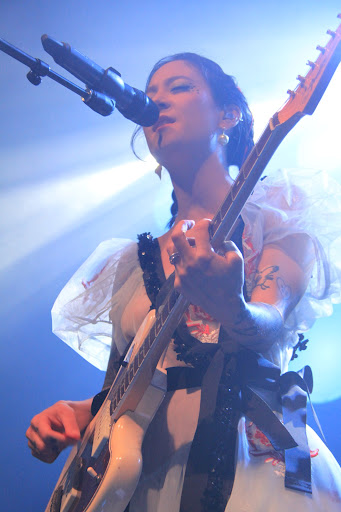 As Zauner picks up an electric guitar, her mother's wedding ring, slightly loose around her ring finger, becomes noticeable. Following "Paprika," the band performs "In Heaven" from their debut album, Psychopomp, which Zauner wrote in the immediate aftermath of losing her mother to cancer in 2014. Blue and white lights flash behind her, giving the song an ethereal air. Psychopomp has aged for years with Zauner. Its songs have grown beyond their lyrical anguish, chiefly exposing her deeply ingrained love for those in her life.
Her husband, Peter, accompanies her on guitar. Her bassist Deven, who formerly resigned from her previous band to tour with another, now plays along, reunited, his head nodding. Beyond the music, signals of Zauner's adjustment to grief and emergence as a mainstream indie icon pervade the theater.
Japanese Breakfast's instrumentation chameleons as they wade through varied styles. From the folksy "Kokomo, IN" to the pulsating, percussive "Posing In Bondage," their sound retains its signature tenderness. Jubilee's thematic focus on joy shines in the record's transcendent character. Sonically, it is a refusal to conform to a corporate-approved formula that has historically worked for indie acts attempting to make it big. Zauner's songwriting discloses her acceptance of the past, serving as an embrace of continued life. Her grief on Jubilee manifests as an ever-present, yet distant hum rather than a stabbing pain.
"This song is about… sadness" – Zauner, a little tongue-in-cheek as she begins "Tactics"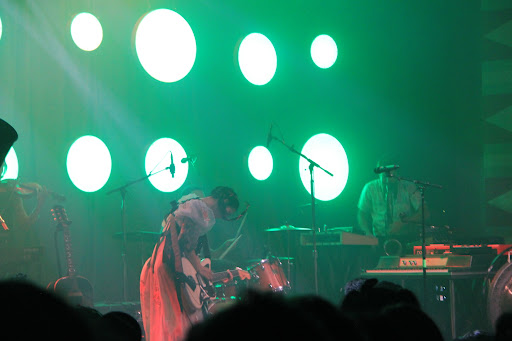 Japanese Breakfast wraps up their performance with two encore songs. Zauner returns alone at first and is joined by her bandmates as "Posing For Cars," the closer to Jubilee builds momentum. Zauner delivers a weighty, melodic guitar solo to close the song, stopping the final sustain with the click of a pedal.
At last, they close out with "Diving Woman," the first track on her sophomore LP Soft Sounds. Peter whips his body around to the beat as the band leans into a shoegaze-inspired jam. Wild solos travel from sax to guitar. Such a sleek departure leaves the audience with a reminder that Japanese Breakfast is only beginning their journey as a successful group. Zauner's capacity to express herself eclipses any singular means of expression as she and her band soar to higher heights.