Big Thief @ The Wiltern [5/11/222]
Photos by Samantha Smithies
Big Thief released Dragon New Warm Mountain I Believe in You, a 20 song treasure trove, earlier this year. It's an album that makes me think of good health. Eating until you're full. Laughing until your cheeks glow pink. Feeling a slight sore after a long walk. Having a good cry.
I saw Adrianne Lenker, the band's principal songwriter, perform solo at the First Congressional Church of LA two months before the album was released. The pew-crammed audience was captivated by her lone figure, equipped with an acoustic guitar that looked heavy but comfortable in her hands. I, too, was enchanted by her chirpy croon, echoing eerily throughout the church, especially during "Sparrow", a song depicting god's outcast of mankind at the beginning of Genesis. Great stuff for those of us reluctantly confirmed.
Back at the Wiltern, a venue that is a feast for the eyes (lush, art deco detailings) as well as the nose (popcorn smells), I'm curious how the Big Thief Experience will differ. Before Dragon, a cleaner separation existed between the band and Lenker's solo work. In an interview I read, and spent an embarrassing amount of time trying and failing to find it, Lenker mentions how she no longer inhibits herself from trying to write "Big Thief Songs" and "Adrianne Lenker Songs". It's interesting to see how this overlap will play out live, with a full band.
The crowd is relievingly un-teenaged. After feeling geriatric at at the concert I last attended, Mitski, it was a relief to see some diversity in age and style. For every mullet-ed, multi-pierced, vintage garbed attendee, their counterpart existed in another corner of the venue in a sweatshirt and jeans. 
Tucker Zimmerman is the opener, a grizzled and endearingly disheveled man, who looks like one of my mom's old river guide friends. I don't think the audience realizes how widely known Zimmerman is – David Bowie cited Ten Songs By Tucker Zimmerman to be one of his top ten albums. He adds a folky touch to a Chinese parable about luck, borrowing Max Oleartchik to play standup bass. Zimmeran cups the back of Oleartchik's head in his hand in a sweet gesture between songs, like he's a grown son of his, before "something extra special, Adrianne helping me out with a song". The rest of Big Thief accompanies Lenker, who, clad in baggy black with a grown-out bleached buzz cut, looks like the angry teenage brother of this found family. Think Reese from Malcolm in the Middle with a goth streak.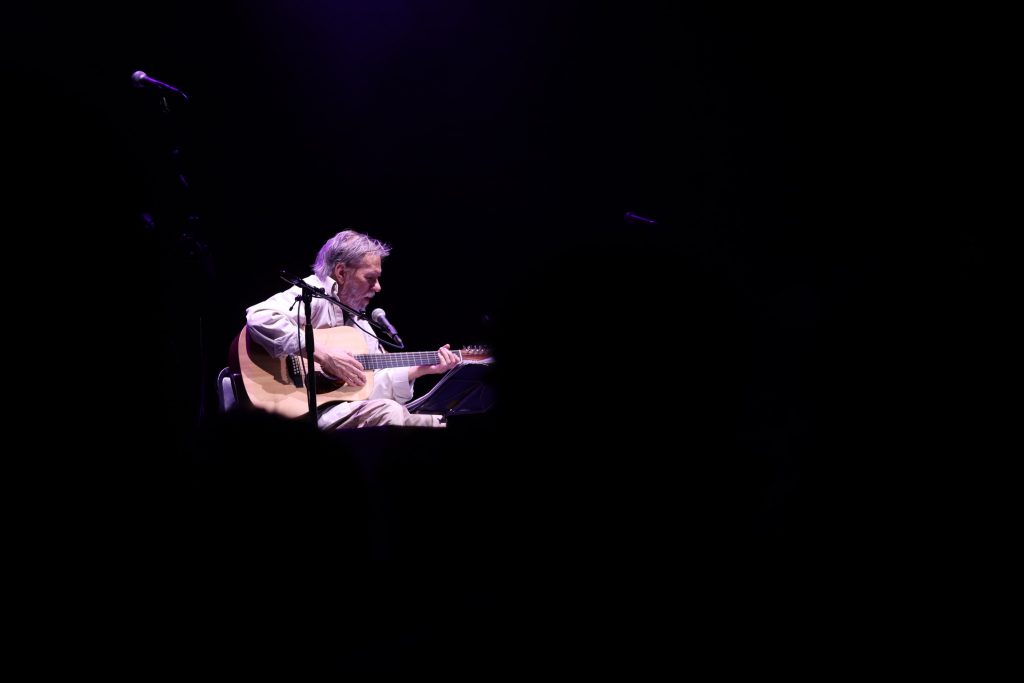 The image of my assumption is shattered when she politely thanks the audience (Reese could never), and tells us how honored she is to share the stage with Zimmerman, a musician she draws inspiration from and looks up to. They harmonize together, her breathy, soft higher register contrasts with and supplements his gravely low tone. The band members hug each other before leaving the stage, breaking before headlining. 
  The album, recorded in 4 locations throughout the United States, keeps a more homogenized rock sound performed live with the full band. The dynamic contrast of the songs featured on Dragon is less accentuated in this performance. The titular track of the album, recorded acoustic, supplemented with weary bass lines and glassy notes that sound as if played from a wind chime is delivered to us live with a darker tone. Lenker's voice stays the same, breathy, clear, and bewitching as she delivers the lines: 
"It's a little bit magic / Like a river of morning geese / In the new warm mountain/ Where the stone face forms and speaks"
Instead of the acoustic guitar weaving through her verses,a hard and sorrowful electric riff breaks them up. The punky reprise is satisfyingly unexpected, and reminds the audience how many genres Big Thief is able to maneuver through.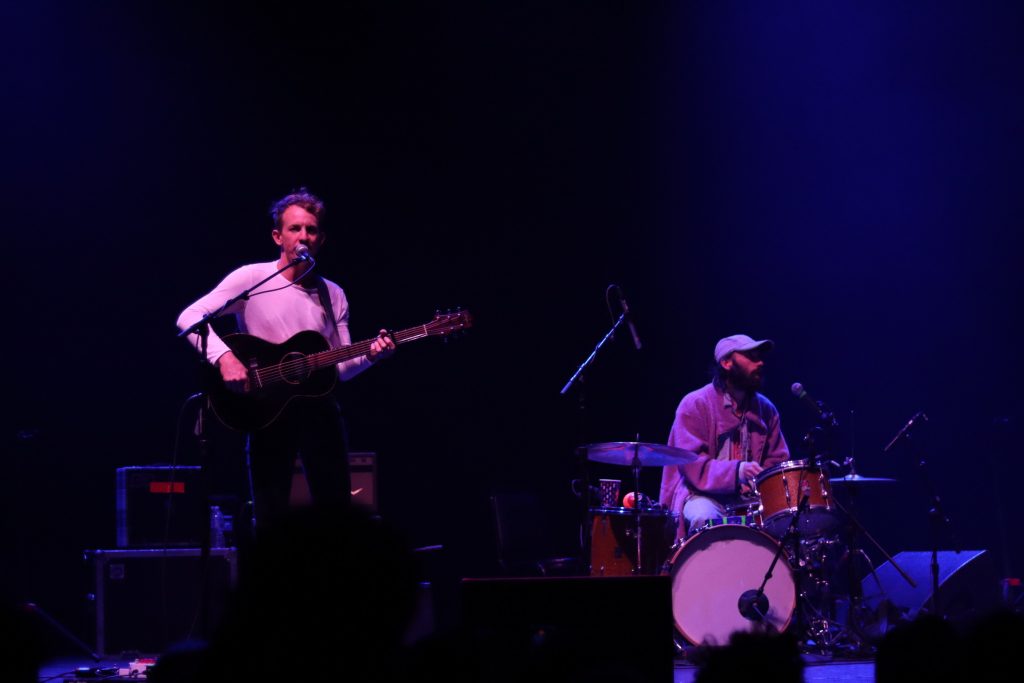 Lenker takes the time to ask the lighting tech to lower the lights, dropping the venue into a dusky haze before performing "Ingydar" a song off of her solo album Songs. Guitarist and bassist Buck Meek and Max Oleartchik play sitting on the floor for the second half of the show. There's something about the band, maybe it could be argued that it's unprofessional, or not streamlined, but it's the homemade authenticity that makes Big Thief so special. In an interview with Rolling Stone, Lenker makes her stance on how she wants to be received: "I want my music to be a guide to people to get back closer to themselves — not to me" (Berinstein 2022). On stage Big Thief strikes a lovely balance; They find a way to play for themselves, to enjoy the art that they are making, while also playing for their audience. Not as idols, but to share their art as something we can hold and interpret.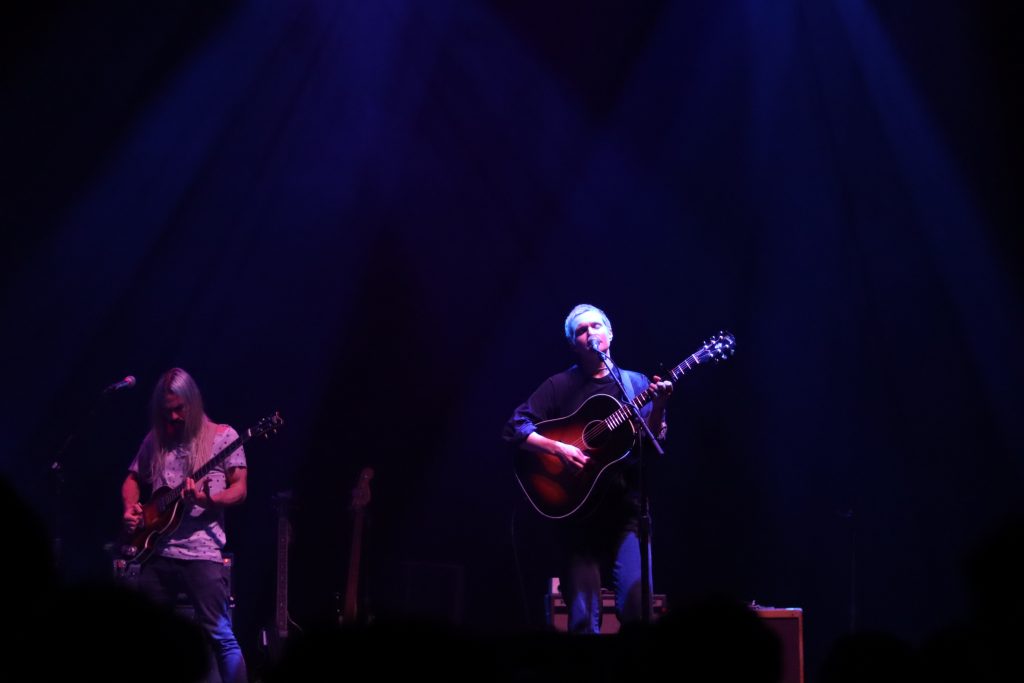 "Sparrow"is the last song of their set. I am intrigued on how the full rock ensemble will affect the song I had found so impactful in its sorry simplicity. The build up is the same, but we're expecting something heavier now, and a palpable anticipation builds between the audience and the band. Soft harmonies of Meek, Oleartchik, and Lenker bubble and grow until the lyrical climax-Adam's accusation of Eve. At Lenker's solo show and on the album, these lyrics were cried in a mournful tone, but here, she wails the accusation:
"She has the poison inside her / She talks to snakes and they guide her."
Granted I didn't pay much attention in my confirmation classes, but the fall of Man is always hard for me to swallow, to think we're all descendants from outcasts with such bitter words for each other. The physical weight of the instrumentals reverberated through my insides while Lenker's voice, piercing and full, raised the hair on my arms. They've created a chilling place to leave us. 
Thankfully they return for a heartwarming encore of "Spud Infinity", including Lenker's brother, Noah, on the jaw harp. 
"Feel free to sing along as loud and as badly as you want" Lenker offers us, before the froggy boings set the tempo. We take her up on her offer-"one peculiar organism aren't we all together"-a singing, dancing, fidgeting mass.
It's informal and imperfect. It's not a performance in the polished sense of the word-no crazy effects or concrete set list, no matching outfits, no attempt to look cool. It's an opportunity to see a family make art together, and share it with us for our own interpretation.