Photos by Angela Kan
In crooked Old English lettering, "Troubadour" towers above as I enter Doug Weston's iconic venue. Behind me, trails of a faint conversation between a concert attendee and a security guard float by. Concert-Goer is protesting, incredulous she's being asked to spit out her gum. Security Guard's answer is succinct and final: "Historical Landmark."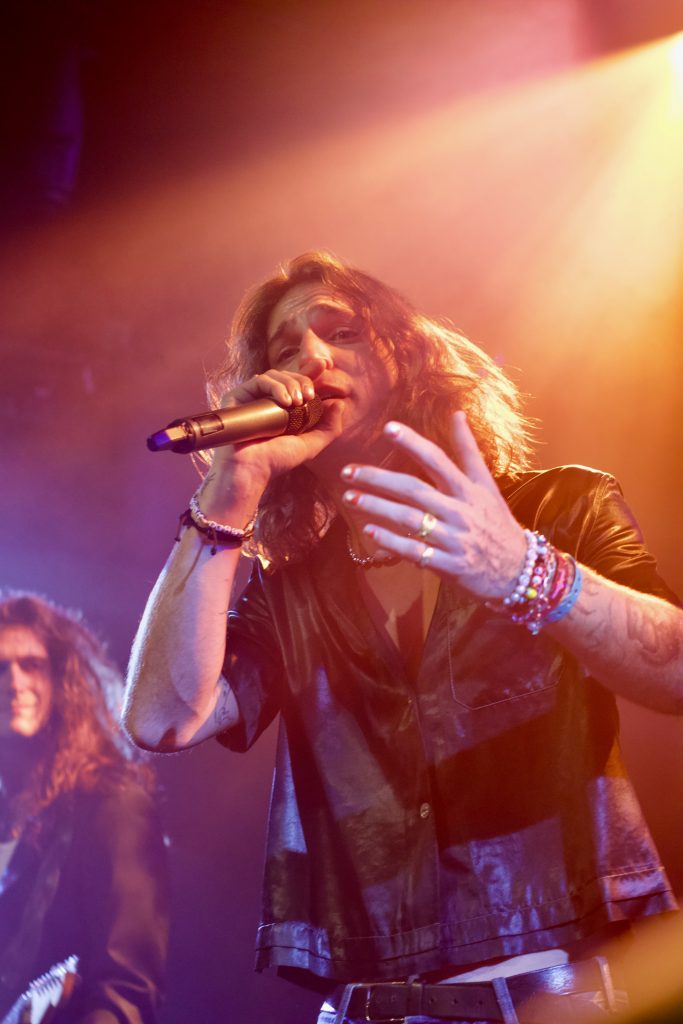 Bearing decades of history, the Troubadour remains a quintessential part of Los Angeles music culture. The memorabilia-lined walls, smokey bars, and intimate stage come together to lay out a perfect place for music to come alive. From private impromptu Bob Dylan jam seshes to Elton John's U.S. debut, Guns and Roses' breakout show, and performances by essentially every rock icon one can imagine, the venue has provided a platform for musical artists to emerge as legends for decades. Tonight, the iconic folk-and-rock venue serves as the backdrop for psych-indie rock artist Kid Bloom, who imaginably seeks to follow in the footsteps of those who came before him and seems well-positioned to do so.
This stop in Los Angeles marks the end of a two month-long US tour following the release of Highway, Kid Bloom's sophomore album. Highway is the most diverse musical project released by Bloom yet, merging together dreamy strands of psychedelic indie rock, synthetic disco, and 80's pop to create a unique, independent style that manages to be universally receptive. The performance is also a homecoming of sorts for Lennon Kloser (aka Kid Bloom), who grew up in Los Angeles. Indeed, the LA-native seemed to receive a healthy welcome home, evidenced by an enthusiastic mix of friends and family packing the Troubadour's upper balcony in support, all cheering and singing loudly.
As anticipation builds for the first opener, the growing crowd enjoys a variety of disco and funk grooves, from Earth, Wind, and Fire's 'In the Stone' to Carl Carlton's 'She's a Bad Mama Jama.' The background music fuels the group's energy as voices rise, dancing ensues, and those over 21 enjoy their first drinks of the night. Neon beer signs, old guitars, blue stage lights, and mahogany walls mesh beautifully with a young, energetic crowd excitedly awaiting the headliner.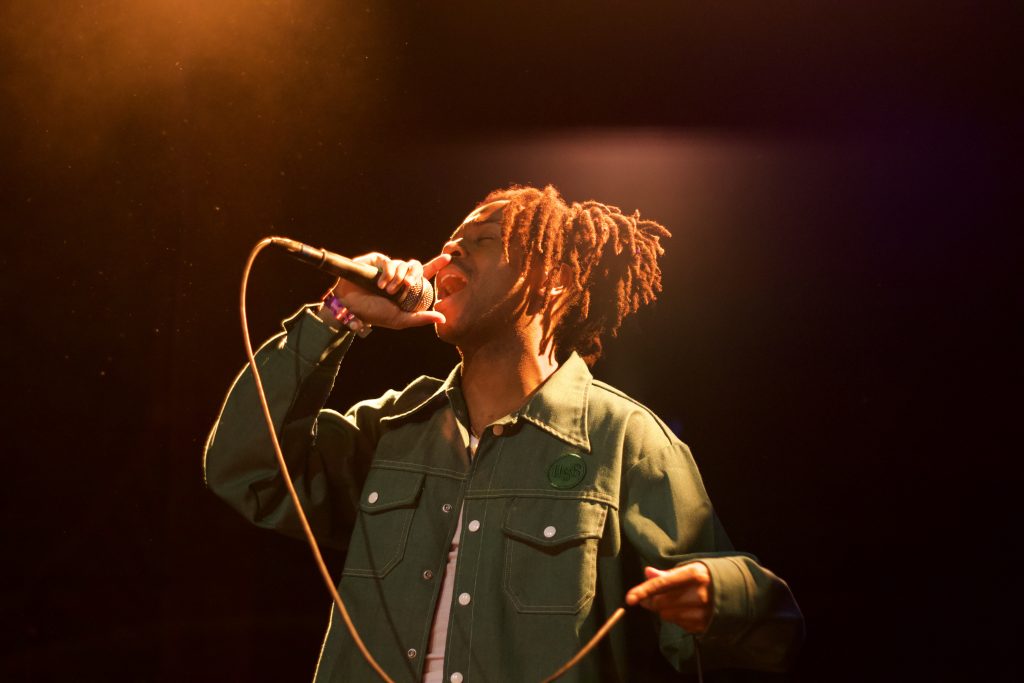 Opener #1, Kevin Holliday, casually strolls onto stage, backed by support from a groovy keyboardist and funk drummer. Performing his single 'Tennis Courts' and true heartbreak anthem 'Regrets', he warms the crowd up for a night of catchy electronic pop tunes. Holliday's sound carries a groovy, airy vibe, with distinctly raspy vocals and the confidence and charm to bring it all together.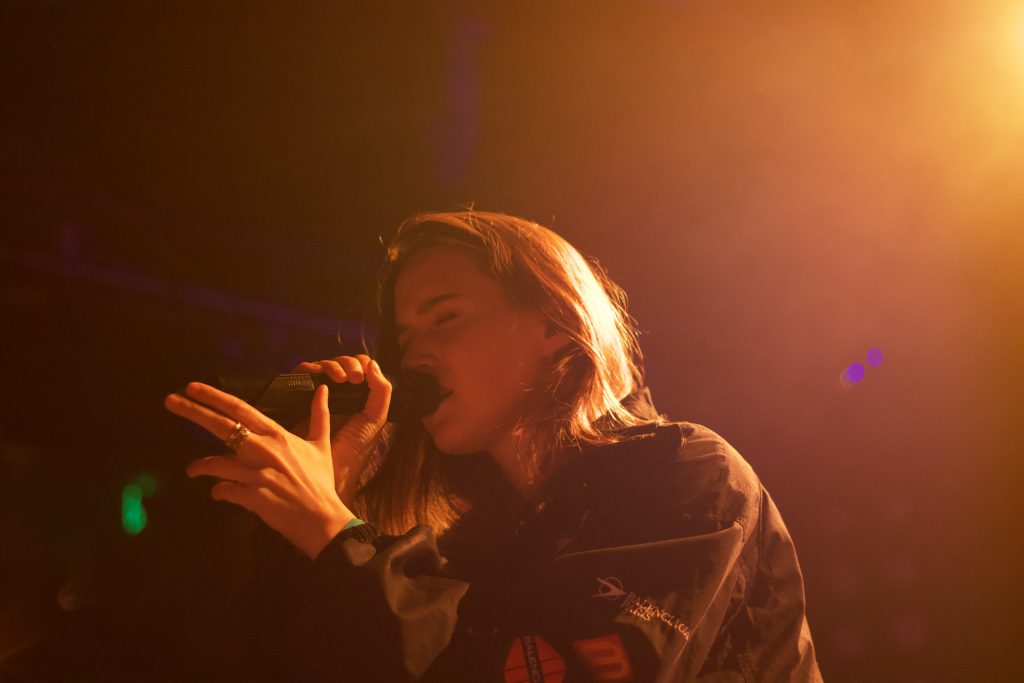 The energy sustains through a special second opener, Luka Kloser, who introduces herself as the younger sister of Kid Bloom. Friends and family cheer on proudly as Luka performs a set of techno alternative music, mixing in melancholy tones reminiscent of Lana Del Rey's work. Kloser, rocking a Balenciaga raincoat and mom jeans to create a laid-back aesthetic, partners with multi-instrumentalist Cooper, who utilizes a drum pad, keyboard, and bass to help create her unique sound. Luka's deeper voice and synth-heavy beats directly contrast her sibling's groovy indie-pop music, yet her heartwarming thank you's to the friends and family that have come out to support them both, as well as her gratitude towards her brother Lennon, makes it the perfect segue to the eagerly-awaited headlining set.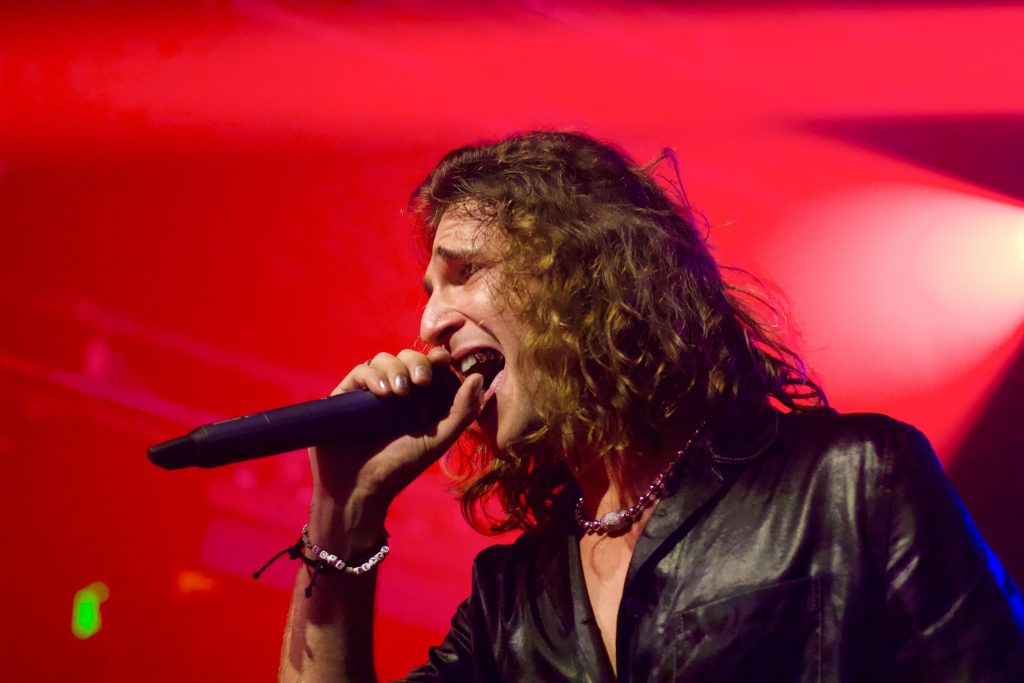 Right on time at 9:30p, the crowd roars as Kid Bloom's accompanying instrumentalists explode down the green room stairs and leap around the colorfully-lit stage, generating a surge of energy in the pit. Shortly after, Kloser himself enters, gliding onto the stage in a stylish outfit to match the band's surf-rock punk aesthetic. After signaling the band, the group kicks off with the track 'Keep Up,' a bright, exuberant tune with floaty vocals that aligns with Kid Bloom's recognizable dreamy indie-pop sound. After playing their upbeat 2019 hit 'LEMONHEAD,' they delve back into the newer side of their discography.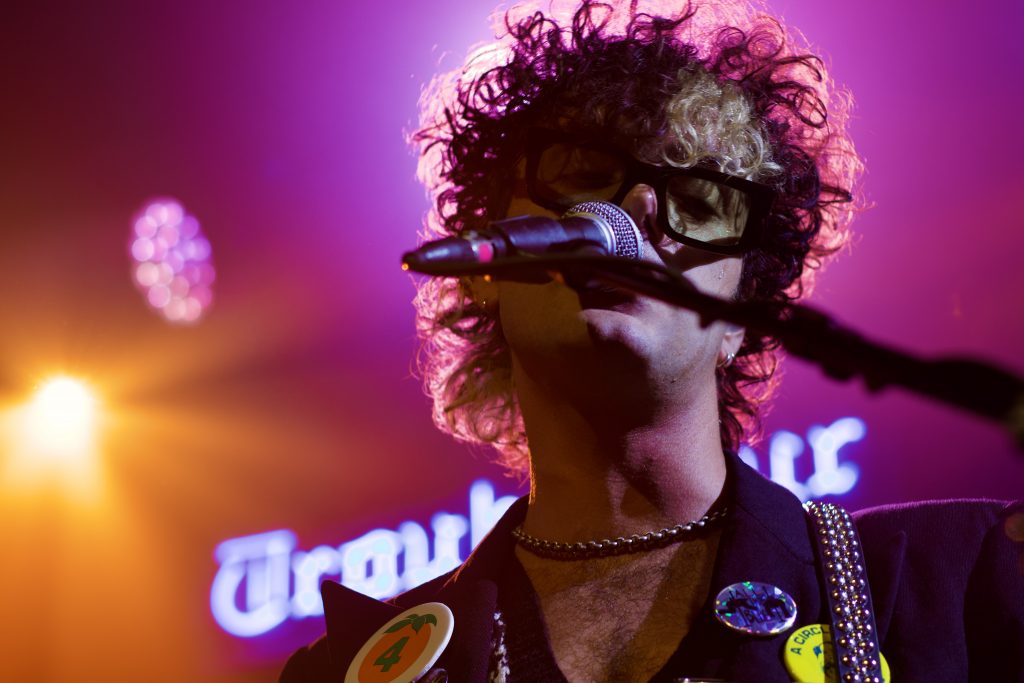 Self-reflective tracks 'Remedy' and 'Middle Ground' weave a disco bassline into the heart of the crowd, spurring a free-spirited sway and head-bop from the front row. Bloom connects emotionally with his thought-provoking lyrics on personal growth: "Now I've got a chance to be alone—did I take the steps to be someone new? The more I think, the more I prove." Hands from the crowd reach up to meet Bloom's as he struts around the small stage, locking eyes with fans and vigorously shaking the shoulders of hyped-up audience members.
My own attempt to snap a picture of Kid Bloom interacting with a fan is disrupted by the dynamic bassist, Eian McNeely, as he hops onto the subwoofer directly behind me and a thumping groove reminds me to enjoy the show as a fan. In lieu of dance breaks and organized choreography, Kid Bloom and his band opt for unpretentious spins and jumps that add an air of unpredictability, with each move engaging the crowd more and more. From the front row, I watch as Bloom notices a die-hard fan singing along to every word, struts purposefully across the stage to her, and finishes the rest of his bridge making intense eye contact with her, their faces inches apart. She doesn't miss a single beat. It is a touching, defining moment of the night, and I watch as her friends embrace her afterwards, holding her as she cries tears of joy.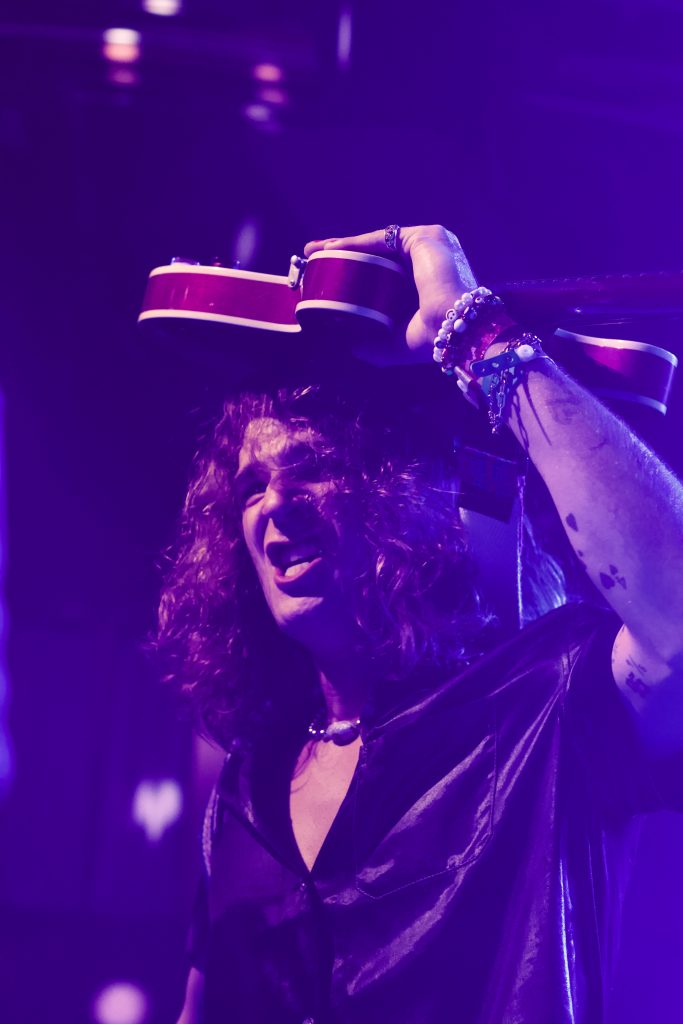 The final section of Bloom's performance closes with a mix of upbeat pop and psychedelic-rock inspired songs. As Kid Bloom strums his guitar, performing the hit single 'Hold In, Hold On,' I'm reminded of a bassline to one of my favorite Motown classics, 'I Can't Help Myself.' The acoustic groove juxtaposes a final set of songs that draw inspiration from older psychedelic rock and 80's pop hits. In interviews, Kloser cites artists such as Tame Impala and the producer Bekon as sources of inspiration, while also maintaining his own individuality as an artist. He commands the stage to confidently deliver his final songs, 'I Kissed a Girl, and She Kissed Me,' 'Cowboy,' and 'Have U Seen Her,' showcasing his range as an artist and also celebrating his final moments on tour.
The night closes with an emotional outburst of cheers from both fans and also the group of family and friends above. Watching Kid Bloom perform the final leg of his tour in his own hometown, with an unparalleled free spirit, energy, confidence, and joy, was an experience emblematic of his rising trajectory. In an iconic venue known for breaking big artists, Kid Bloom never missed a chance to interact with his fans, completely and fully embracing his own moment. I left the Troubadour that night energized, impressed, and excited to see the path Kid Bloom would continue to pave forward for himself.