MUNA @ the Wiltern [10/26/2022]
As I pass through the dirty gray metal detectors into the Wiltern, it is as if I have discovered the other end of a rainbow. Baby pinks, sky blues, and gold yellows flood the columned concert hall like Care Bear Con at the Vatican. Audience members mill about the lobby, chatting to pass the time; most entered right as doors opened at 7 o'clock. They wear assorted band merchandise, cropped or cut-out, emblazoned with phrases like "The Girls, Gays, and Theys" and "MUNA made me gay." The air is thick with a hot-blooded hopefulness, not unlike that of a political rally or public protest.
As I meander through the lobby, a young man calls me to his booth; he hands me a pamphlet and sticker promoting queer sexual health awareness. I move further into the cavernous space and two women, sitting at a booth about reproductive care, smile warmly at me. Birds of a feather flock together, and tonight's band certainly emanates this fervent progressivism and optimism.
Indie pop band MUNA, composed of singer Katie Gavin and guitarists Josette Maskin and Naomi McPherson, has released three records since 2017; they released their most recent eponymously titled project with Phoebe Bridgers' Saddest Factory Records. This third album sits at the intersection of Kacey Musgraves' pop-country twang, Carly Rae Jepsen's bubbly production, and Maggie Rogers' aching lyricism; with a generous sprinkle of queer pride, MUNA mirrors the same electric experimentation and bubblegum aesthetic of the early 2000s. In their music video for "What I Want," the band can be seen adorned in the period's staples: tiny sunglasses, bejeweled cropped tees, and leather bell bottoms.
The stage microphone spits feedback into the theater, and everyone is pulled in, swirling and tightening together, as if by some undeniable gravity. The light dims. The crowd goes silent. The strum of an electric guitar cuts through the heavy air. And with that, the room bursts into a kaleidoscope of sound and strobe flashes. Pop punk band Meet Me @ The Altar crashes onto the stage. Lead vocalist Edith Victoria leaps across, swinging her neon green locks side to side. Guitarist Teá Campbell flings her guitar into the air and waves it around, secured only by a floral-woven strap on her shoulder. She tears through each solo, galvanizing an audience already eager to dance.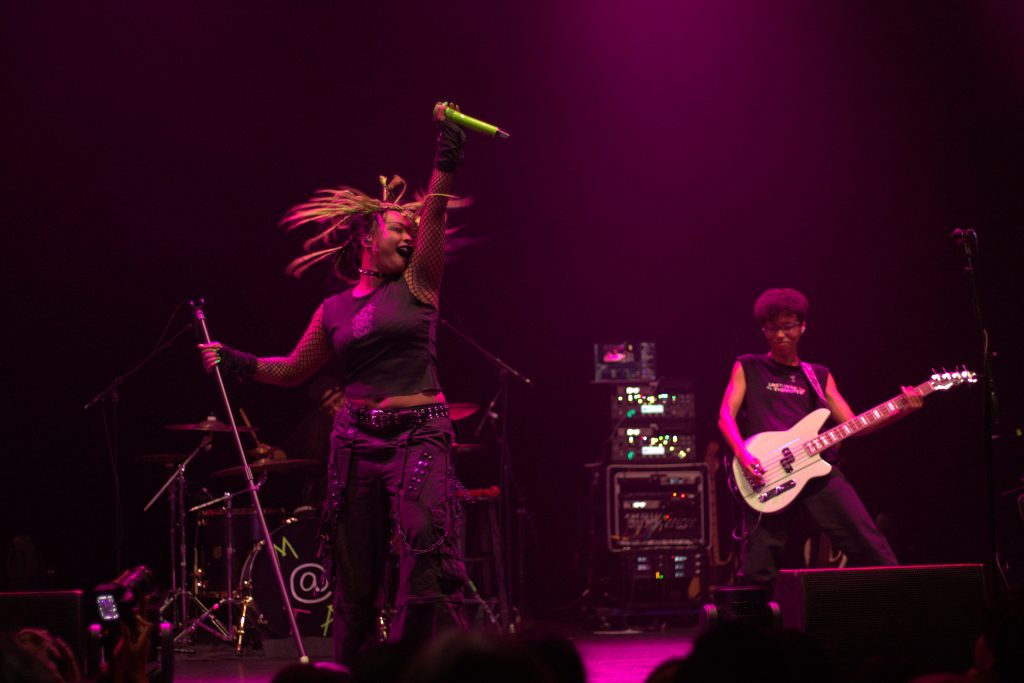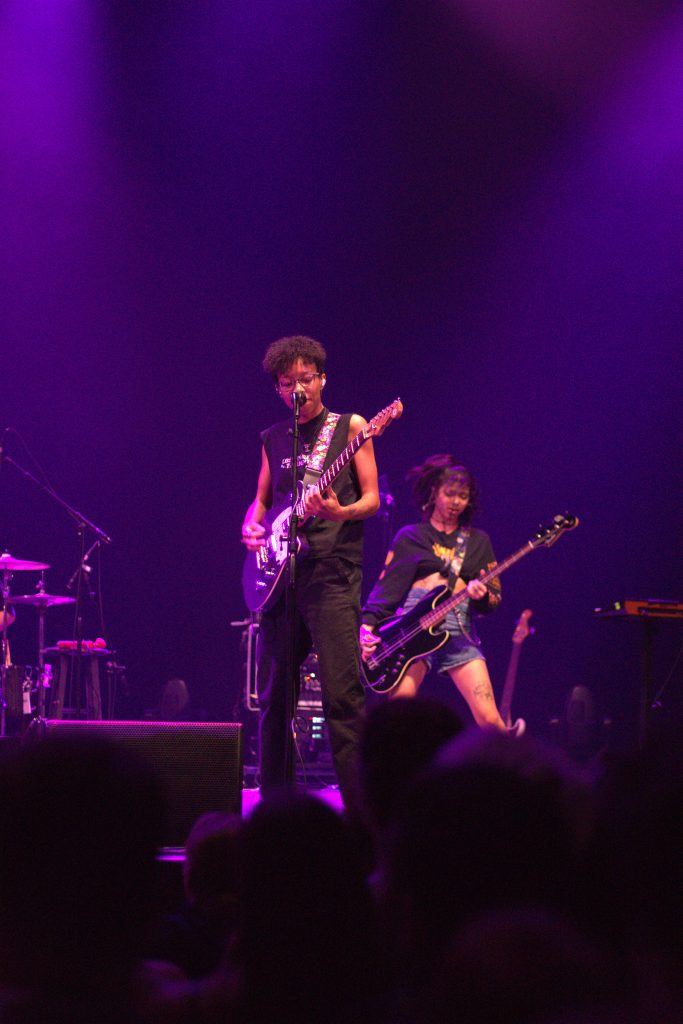 Victoria screams: "Talk trash, but you're like a million miles away / I'm not for your entertainment (I'm not) / I just laugh 'cause you're never ever gonna / Say it to my face (Say it to my face)." The band's rageful sardonicism pairs perfectly with their Camp Rock sound—energetic drum loops, elaborate guitar riffs, and bold choruses.
There is no half-assed attempt at elegance or profundity, only fun. They hurtle through several more songs with boundless angst and badassery, and then in a quiet, intimate finale, Victoria and Campbell settle on the lip of the stage and softly sing an unreleased ballad.
As the trio exits, the room feels hot and sticky with anticipation; red-faced audience members crane their necks, waiting impatiently for the next act.
The theater goes dark again. The crowd is stirring, but nobody moves. After a moment that feels just a little too long, smoke begins to stream in from the wings. Gavin, Maskin, and McPherson appear, as if manifestations of the audience's bated breath. The synths crescendo, the cheers reach a fever pitch, and MUNA leaps into the bass-pumping, disco-bop, "What I Want."
Gavin struts across the stage in her black knee-high boots, fingerless gloves, and mesh tanktop, pumping her hand wildly in the air and edging the audience to complete, ecstatic chaos. As she chants, "I've spent way too-too-too many years not knowing what / What I wanted, how to get it, how to live it and now / I'm gonna make up for it all at once / Cause that's, that's just what I want," she gives the audience permission to lose it – and lose it they do.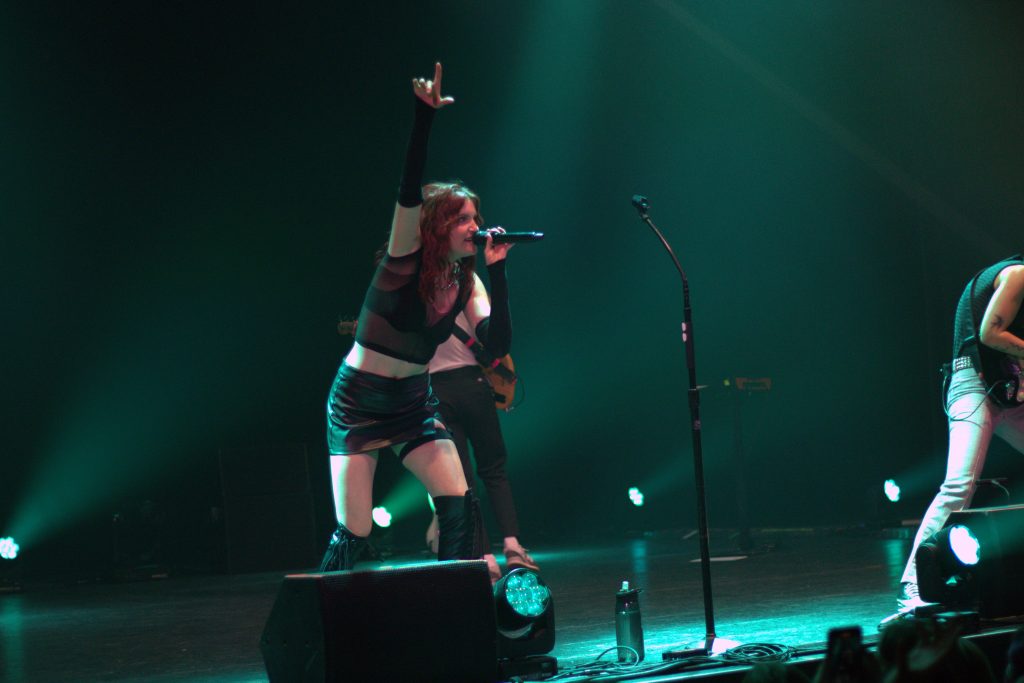 "What I Want" transitions into the snappy "Number One Fan" and then into the sultry "Solid," as MUNA guides us through a religious experience, leading, as Gavin posits on stage, "a gay church service." Comedian Matt Rogers, who has starred in queer movies and shows like "Fire Island" and "Q-Force," joins the band on stage for "Home by Now" and outspoken LGBT ally and singer Jojo lends her stunning vocals for "Stayaway."
The flashing lights and pounding beat fade as Gavin begins a teary-eyed introduction to the song, "Kind of Girl." She touches upon the feelings of inadequacy and isolation that accompany queerness and the process of learning to love oneself. The audience sways along as Gavin coos the opening lines, "I'm the kind of girl / Who owns up to all of my faults / Who's learning to laugh at 'em all / Like I'm not a problem to solve." When the band starts "Pink Light," each audience member raises their phone flashlights — covered by pink slips of paper — to bathe the auditorium in a rosy glow. Whether an act of solidarity or gratitude, the glittering light show is a testament to the fan's commitment to MUNA.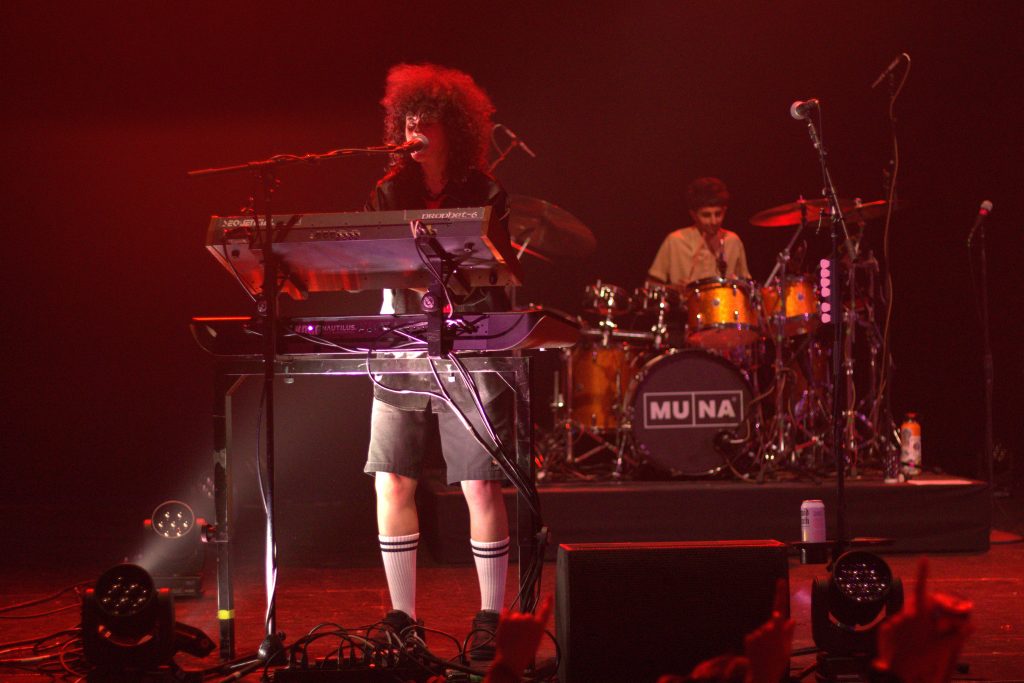 The band continues to punctuate the show with playful banter, discussing such topics as their growth as musicians and lack of athleticism; the dialogue is endearing and intimate, as comforting as a drag show at your local gay club.
Then, all of a sudden, the lights shut off and the stage goes still. A few moments later, the speakers start to play snippets of the Disney Channel introduction for Freaky Friday; at first incoherent, it grows louder and more recognizable. With the iconic line, "And you're watching Disney Channel," the band members bound onstage. A guitar is draped around Gavin's neck and McPherson stands at the microphone; switching roles — Jamie Lee Curtis and Lyndsey Lohan style — they erupt into a campy rendition of "Take Me Away."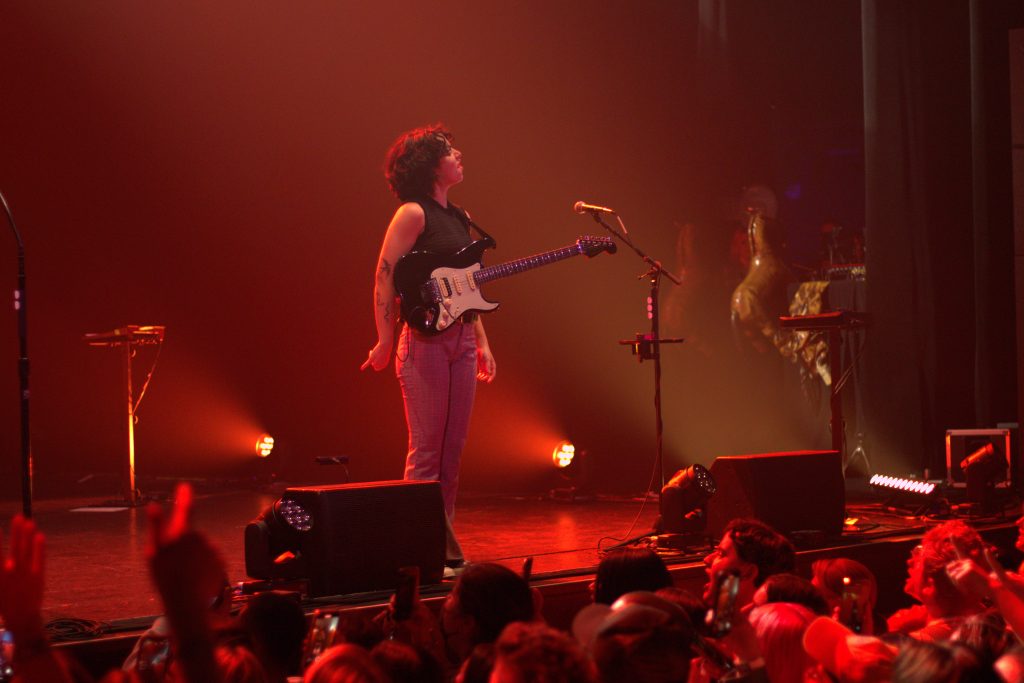 The show solidifies its status as Biggest Gay Party when bisexual singer-songwriters Bridgers and Lucy Dacus join in on the lush queer anthem, "Silk Chiffon." Gavin drop-kicks inflatable horses into the audience, and they ride through the air. If this is a gay church, the audience becomes its choir, echoing the chorus: "Life's so fun, life's so fun / Don't need to worry about no one / She said that I got her if I want / She's so soft like silk chiffon."
With this seamless finale, MUNA completes its trip down the rainbow-brick road, a guided tour of the queer experience from rage to euphoria to yearning and, finally, to joy. It is clear through their lyricism that MUNA does not hide their pride with double entendres or performative political one-offs; queerness is as fundamental to their music as the bright synths or striking choruses. With confidence and honesty, MUNA creates an unashamed utopia within The Wiltern that feels entirely achievable as the crowd exits the hall and spills onto the streets of Los Angeles.