Alice Glass @ The Fonda [10/29/22]
Photos by Evan Ibarra
The scorched earth quivers. At tonight's goth bacchanal, we expect an explosion. Sad clowns, juggalos, and caped vampires have come together to Trauma Bond with Alice Glass, whose eponymous tour is debuting a full-length album that is wholly her own. After breaking from the eminent electro-punk duo Crystal Castles in 2014 due to alleged abuse at the hands of her former collaborator Ethan Kath, Glass is returning to the scene that was a site of both trauma and triumph; this time on her own terms.
As with every eardrum-shattering beat drop, there must be a build up. DJ Lydia Graves is principal conductor tonight, providing powerful backing for the two opening acts: Cottontail and Lucy Loone. Her effortful beats cast a net over the crowd and hold us captive as both openers do their best to gain dominance over a stage drenched in hard-hitting bass, ominous trap and drill elements, and haunting nursery-rhyme style jingles.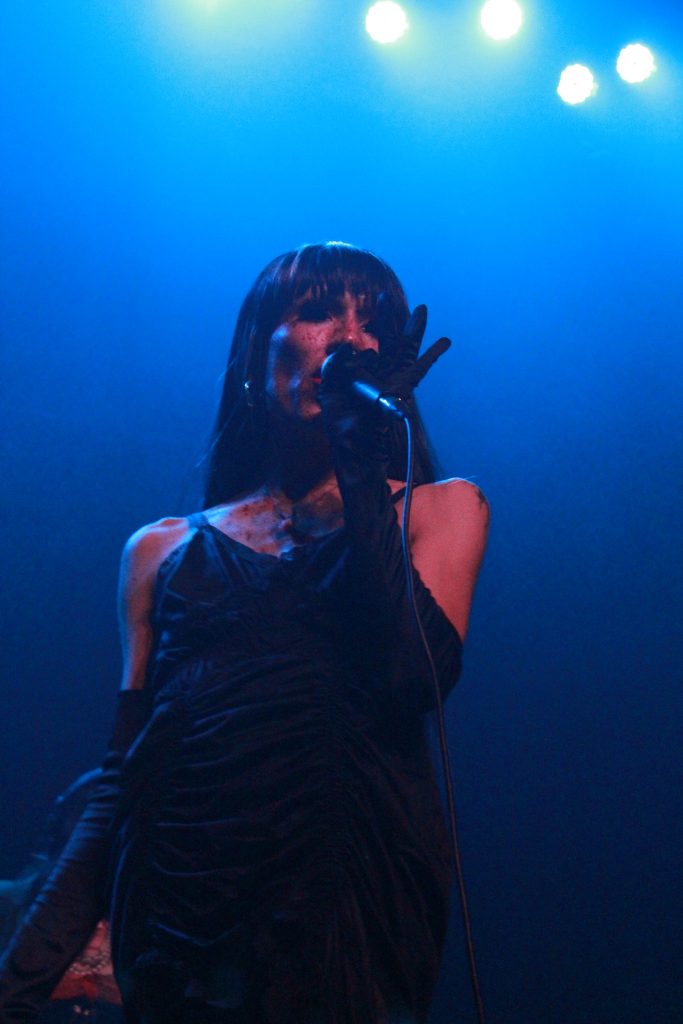 Cottontail, tasked with rousing the crowd from stasis, vogues on stage in a vampiric black ensemble. "This is for me not you," they breathe into the microphone. That much is clear: the mass remains silently observant. Cottontail's on-stage gyrating and self-aware falsetto hint at the sensual and erotic, but seem to float just above, searching for, but never meeting, the target. Both singer and crowd await the next made-for-hype dance break, and DJ Graves' booming bass is at risk of overtaking Cottontail. In "Money Hungry," however, Cottontail reclaims the stage and Graves' trap beats support rather than override their airy vocals. The spooky electronica of "Ravenous Rabbit," a new release, is much more refined. As the set dies down, I can't help but feel that Cottontail is withholding. Their "thankyoubye" is demure as they quickly curtsy and skip off the stage.
The second act, Lucy Loone, comes on strong and doesn't stop. They exclaim: "Dear god, thank you for making us bad bitches!" Loone has fun, feels sexy and confident getting down to the beat, and wants "all the hot people to throw some ass." Their warm voice warbles through honey and caramel. Loone oscillates between a pretty falsetto, a soulful rounded belt, and sassy rap backed by heavy bass. "Big Blood Mansion" is Megan Thee Stallion gone goth and "Cakewalk" is their unique fusion of Halloween horror and RnB. As soon as I notice that I've been bouncing to the beat this whole time, Loone says "love you too" to the room and struts off stage.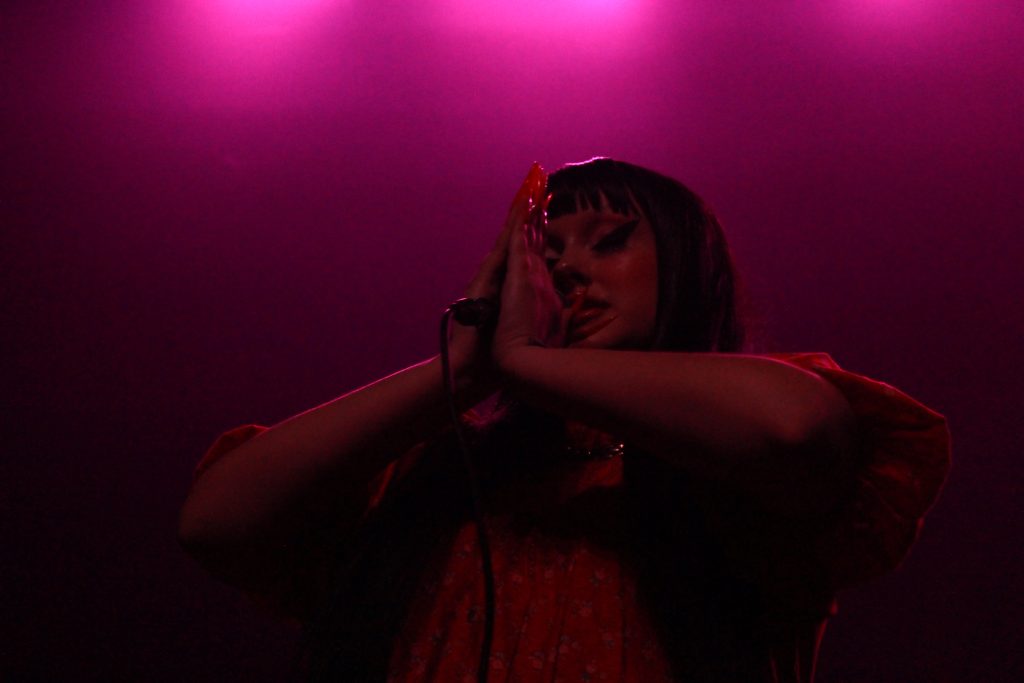 The volcano stands dormant until the room falls black. When red light floods the room once again, Jupiter Keyes is pushing a darkly atmospheric synth-choir as Alice Glass crawls onstage. The prelude quickly evolves into an unrelenting techno pulse that reverberates at my heels and behind my sternum, and intensifies. Alice Glass erupts like red-hot lava alongside Keyes' metallic, high octane pulses, and aims to leave no survivors in her opening number.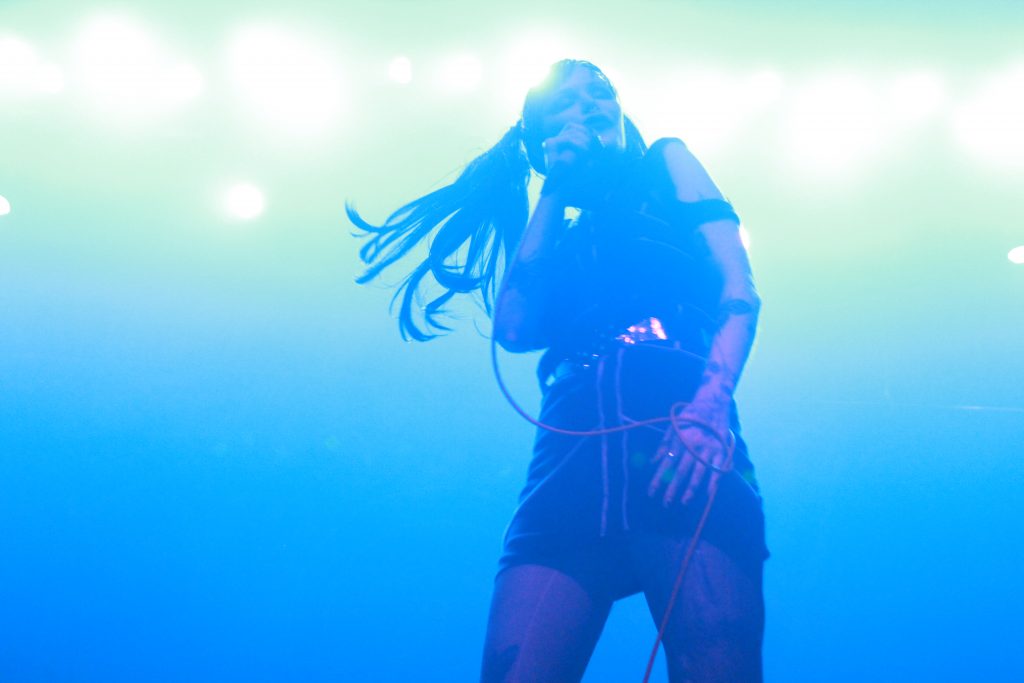 With a voice like a candy cane turned shiv that remains sharp against intensive industro-techno pulsing, Alice Glass is effervescent as she flits around the stage, forever evading capture. Her performance is that of a mangled riot grrrl as she wails "tell them all I can scream in silent mode" in "Pinned Beneath Limbs," a song that details the oppressive silencing effect of abuse. Tonight's rave is Trauma themed, and overt pain streaks through the flesh of Glass' compositions like bloody claw marks. She disappears and reappears under the palpitation of blinding white strobe lights, but her agony shines constantly: in "Baby Teeth" she claims "there won't ever be room for happy memories" and in "Without Love" she spits, "I don't wanna see tomorrow." Though the lyrics are bleak, the theme of resurrection is woven through, albeit sparsely. "Promise me, you're never the victim / Promise me, you have to fight back" is her battle cry from her 2018 single "Cease and Desist." The takeaway? Alice Glass is still standing, and the prey-turned-hunter is on the offensive.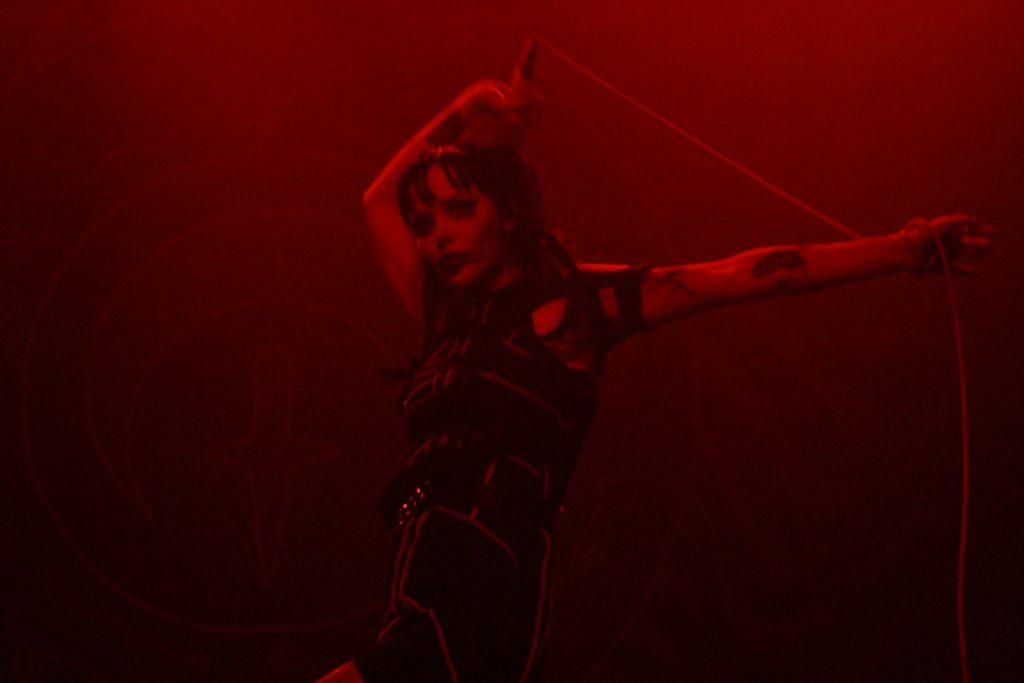 Throughout the set, there is no pull, only push. Electronic beats are thrown relentlessly towards the crowd, an unchallengeable "take it or leave it" that borders on nihilistic. It's both hedonistic and overbearing as Glass constantly pushes higher, pulsing towards something unattainable. The intensity is cathartic for both Glass and Keyes as they grab you by the chin and don't allow you to look away, but fatiguing at points for me. Elements of classic EDM, dark techno, punk, mechanical, industrial, metallic, and hyperpop sounds crowd each song, so much so that they often drown out Alice herself. Though the new album is titled PREY//IV, Glass is militant in her effort to prevent you from getting close enough to wound her. She holds you at arm's length, and layers of electronica serve as her armor.
After every song, Glass drags herself to the side stage and attempts to throw up — the effect of a SpaghettiOs induced illness. She grows progressively worn out as every song takes more than what she has to give, but always comes back swinging. The audience holds Alice: "we love you Alice," they scream. "Take a break if you need to." She doesn't seem to hear it. An object from the audience flies toward her. She doesn't even flinch as it barely misses her, and continues to croon to the sky. It's a testament to her tenacity when she continues to sing after falling to the ground in exhaustion. I'm starting to feel the same.
When she finally slows down for the first 15 seconds of "Animosity," it's refreshing, touching, and vulnerable. For a moment, Alice breaks through.
She turns around and blinding shards explode once again.