Skullcrusher @ the Masonic Lodge [10/17/22]
When I get to the table outside the Masonic Lodge, after waiting in line, gorging on onion rings and ranch and peering out into the cemetery beyond, I am not on the list. After calling PR, I sit on the curb while the security guard- he looks borrowed from a Batman movie, buff, shaved head, suit, leather gloves- shines a torch on the ivy-ridden wall of the gothic venue so we can look at opossums together before the hiccup is resolved.
"She's legit," the security guard says. "She's already interviewed the band. She got totally boned." The woman makes a face while returning my ID, and marking my name, now neatly crammed with the other S's. "Can you think of a better phrase?"
I'm here to see Skullcrusher, an indie folk, ambient-laced project of Helen Ballentine. It's her first performance after the release of her debut album, Quiet the Room, a visit into her magical, complex, tumultuous childhood in a lush enclave of Upstate New York. 
Nandi Rose, the artist currently known as Half Waif, describes it well:
"Like a kid constructing a shelter in a patch of sharp brambles, [Ballentine] reminds us that beauty and terror can exist in the same place. The complexities of childhood are so often overlooked, but through these private yet generous songs, she gives new weight to our earliest memories, widening the frame for us—even opening a window." 
Taming a more tender vein of electronic music, Helen interweaves threads of folk, creating a gauzy, gooey marriage of sound and texture. Hints of banjo add a blush to songs like "Outside, Playing" while violin creeps the line between the album's fond memories and painful ones; boosting anticipation with violent tremors and longing swells, adding a sense of sparkle with trinket-y pizzicato or the bounce of spiccato, creating a playful or menacing tone depending on speed. Piano and acoustic guitar ground the album, pulling the other instrumental elements together for Ballentine's vocals-whether they are layered in harmony or raw and lonely- to float atop of. 
The ambient sound design, and the snippets of creaking doors, crickets, static, inhaling breaths, perfect the vaseline-smeared lens listeners peer into, exploring the complexities of Ballentine's childhood, while also finding familiarities to their own upbringings. Quiet the Room is a mastery of communicating through abstract sound that is so difficult to place in any formal context. The feeling of recalling a hazy memory is caught and cradled in Helen's careful hands.
Sturdy high beams make the venue feel bigger than it is, while the cushioned seating lining the soft red walls, along with the dimmed chandeliers persuade me of its womb-like intimacy. To look around is to make eye contact with the same people too many times, but I find the small crowd to consist of twenty somethings and the occasional Grown Man. They look like stereotypical eastsiders, vintage workwear, choppy dry cuts, curated jewelry. Outliers exist in the form of a goth couple and those in the uniform of black jeans and denim jackets.
Mal, the guitarist for Skullcrusher, opens with their solo project. Equipped with a drummer and a baritone saxophonist/audio mixer, they deliver a potential-ripe performance embellished by their tenderly whined/whispered lyrics. The indie mood is set, and the ambient mood is established by Greenhouse, a duo (along with two stuffed lemurs) that labors over a laptop and synthesizers, to deliver a performance that blows a kiss to Mort Garson's Mother Earth's Plantasia and Japanese environmental music of the 70s and 80s. Imagine the music from Minecraft, including the sounds of running water and windswept trees. Now imagine being pleasantly high at the aquarium/botanical garden. Greenhouse exists at the intersection of those two things. It is lovely, but I am feeling impatient, the onion rings (surprise) did not substitute dinner, and I was feeling a little too tired to be out on a school night.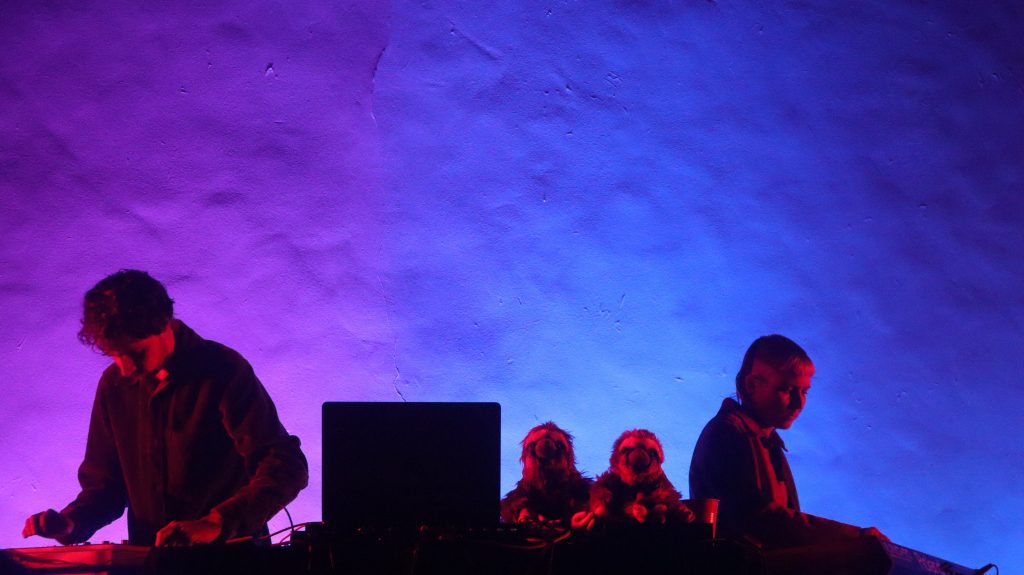 Skullcrusher is quick in their setup. The frillessness, the lack of suspense, the lack of fanaticism from the audience is refreshing. Everyone is polite, and doesn't push or try to make conversation with the headliners tuning their instruments on stage.
Ballentine is faelike, in a black full-body leotard topped with a little leaf-shaped skirt. She wears flimsy pink ballet slippers. I had the exact pair for my own fairy costume in second grade. Her head is adorned with a silver chain, a dark crystal dangles on her forehead, creating a mock widow's peak. It looks like a costume of a costume, she's dressing up like a child playing dress up.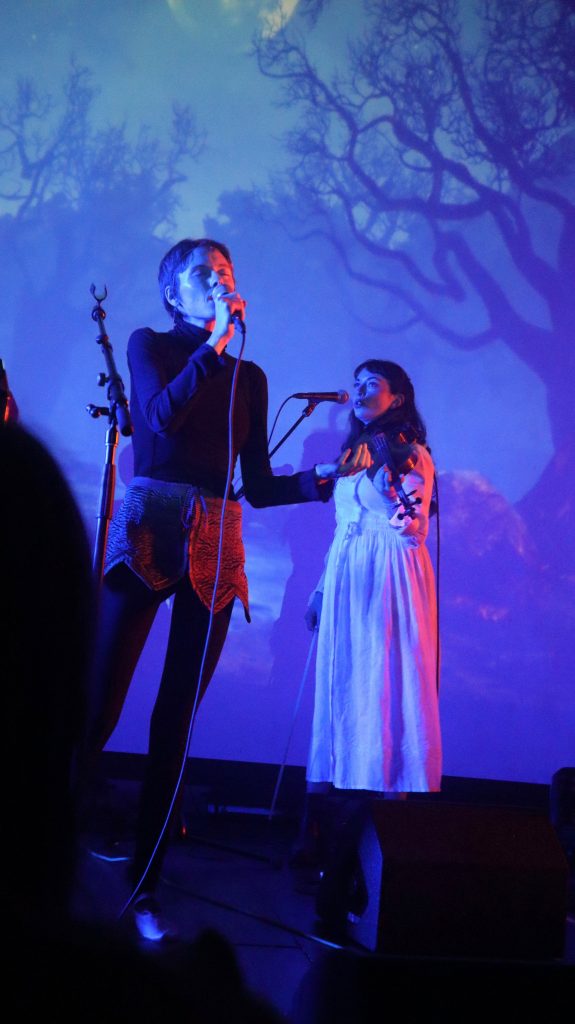 A projection of scraggly, old growth forest under the light of a fat, digital moon is displayed behind the band now bathed in a foggy blue light. "Quiet the Room" starts the set.
"Where do you want to be? / some place you cannot see / I know you had more to say / do you feel afraid / to tell me?/ the words still sit on your tongue/ they quiet the room"
Ballentine croons the few words of the song, her voice is rich and haunting, warped ever so slightly in a way that gives it a whispered edge. Her lyrics are wrapped in the dark instrumentals of her band. The violinist and backup singer create creaking swells that fade into a repeating piano melody laced with an ambient echo that reminds me of the sound an approaching BART train makes. 
"Thank you for being so quiet." She says after our appropriately timed cheers fade. We giggle and comment and smile politely up at her, not wanting the complement rescinded.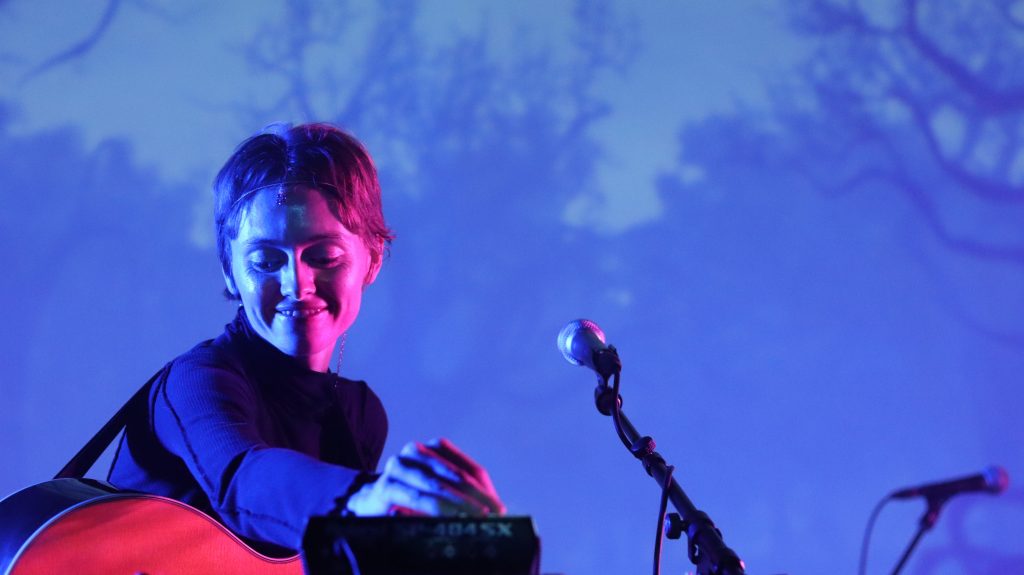 The set is short, only four or five songs, but is swollen with feeling. The violinist whistles into her mic to create birdsong, Mal cups the mic in their hands, literally breathing life into each piece. While playing "You are my House", Ballentine turns to her partner and banjo player, Noah Weinman, to look at him while delivering the lines: 
"I sink my feet into you / I'm aware of my weight and the ways it affects you"
Over and over.
"This is our last song" Ballentine says plainly, before mumurmering the first lines of "Lullaby in February." It's a song that perfectly encapsulates the album. The simple, lone guitar accompanies Ballentine's lyrics. They are simple, but she delivers them like a spell, like an omen.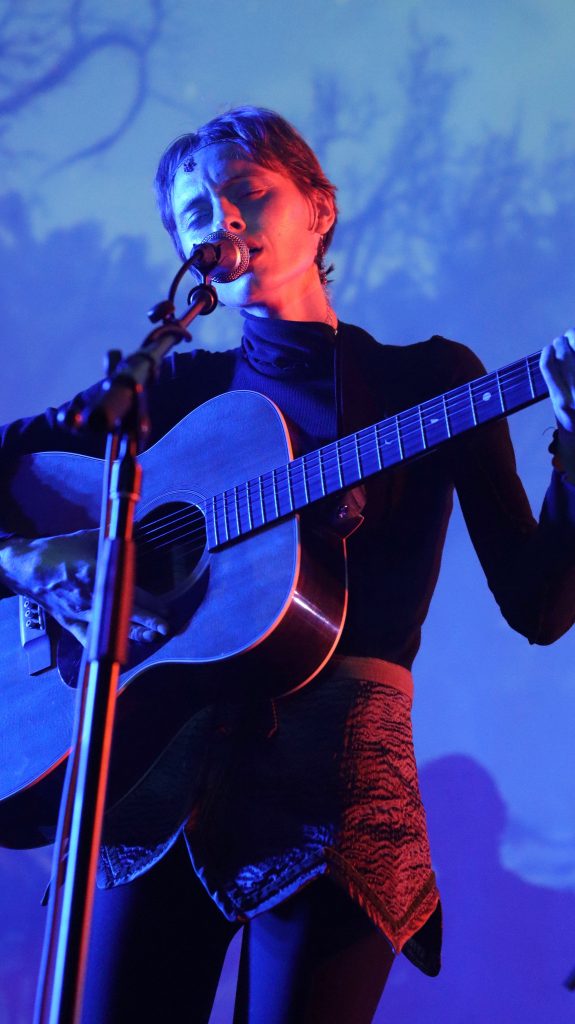 "Late at night/I can't sleep/You held me/You help me/Drift away/Back to sleep/Late at night/I can't stop/Picturing/Your face/Your face"
A heavy chord grows in the background. It becomes harsh, enveloping, and stands alone as the rest of the song fades away. Ballentine, while her band still plays, takes a selfish moment to kneel in her creation. Her desire to sit with the song does not seem to be performative. She doesn't look at the audience, she only looks inward. The chord continues as she stands, as we cheer, and the band walks down into the crowd and out of the room. I leave before it ends, but it follows me still.