Kenny Beats @ The Shrine [11/5/22]
Photos by Angela Kan
Don't Over Think Shit!
People often say these words when they're offering advice, which for many, is easier said than done. However, Kenny Beats and his friends echoed these words throughout the night in a different context—almost as a command or a prerequisite for enjoying the rich lineup and many special guests that the night had to offer.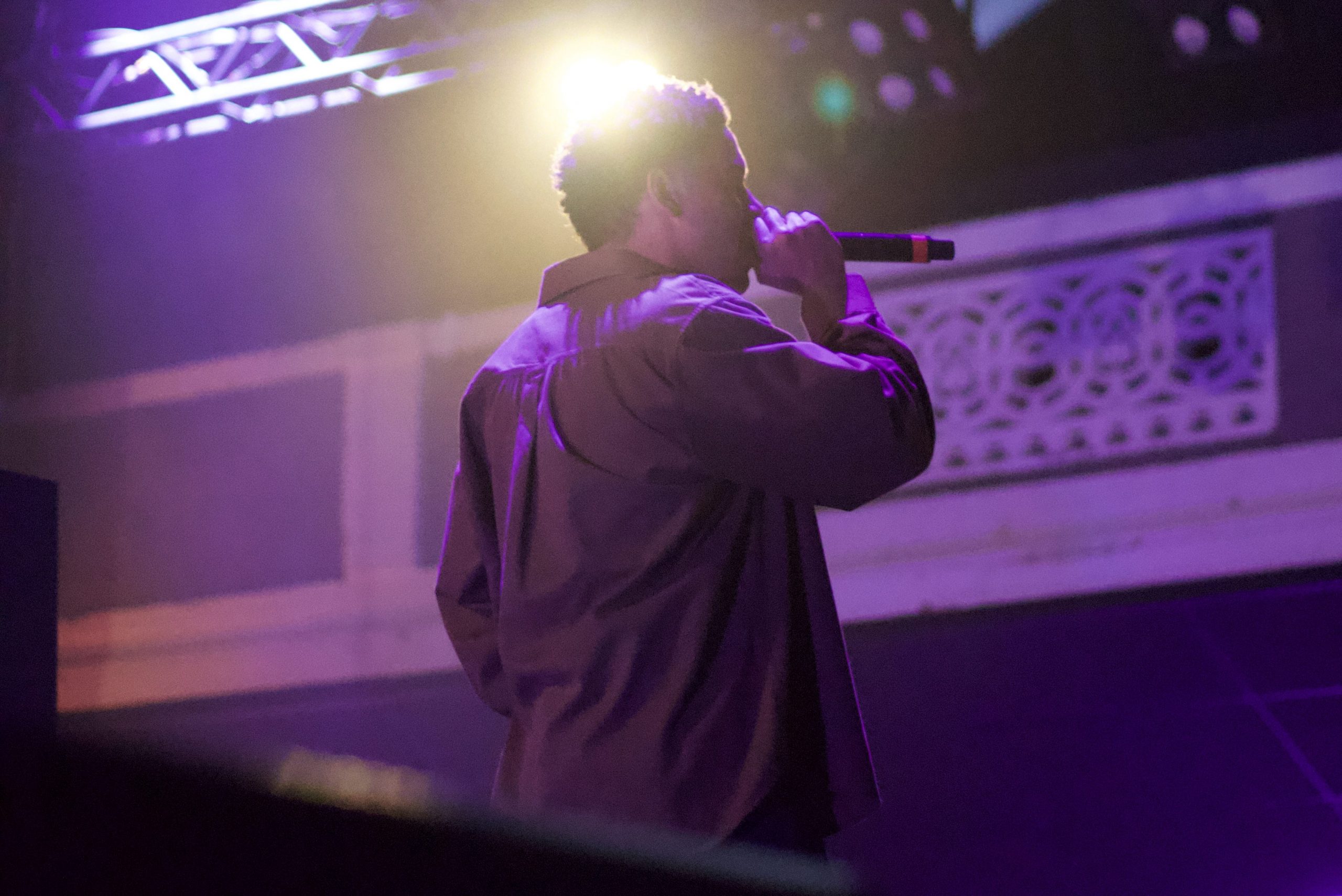 Zack Fox hosted the event at The Shrine Expo Hall, coming onstage to kick off the night and also smooth over the transitions between each artist in between sets, with excellent comedic remarks that often left the crowd roaring in laughter. This came as no surprise, since Fox is known for his stand-up comedy and humor-laced music that's not meant to be taken seriously. His ability to interact with the crowd, tiding us over during what would otherwise be draining waits between sets, brought him warm welcomes from the crowd every time he returned to the stage.
Up first was self-proclaimed "abg punk artist" Vicky Farewell. Despite this description, her performance felt sincere and gentle, characterized by mellow singing over tranquil production. Vicky sang under low red lights while seated in front of a small keyboard that she played with her right hand, and a drum machine, which she worked with her left hand. The coordination she had while juggling two instruments at once truly showcased her talents as a musician as her hands effortlessly glided over the equipment, producing harmonious melodies that were a pleasure to take in.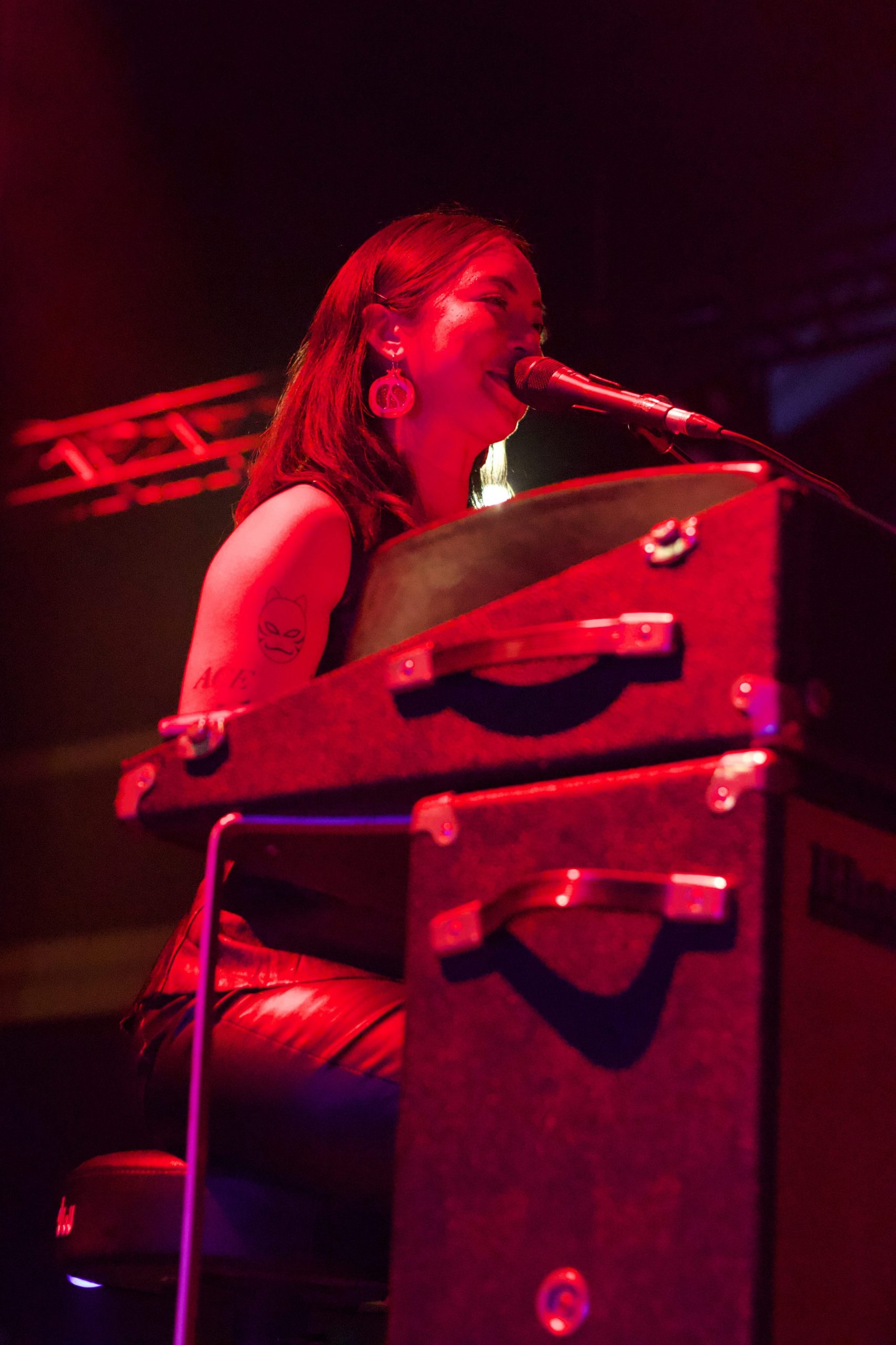 What really stood out about Vicky Farewell was her nonchalant attitude while the spotlight shined on her. She often spoke to the crowd during the breaks between songs, offering commentary about the tracks she performed in addition to dry humor that the audience reacted well to. For instance, during one song, Vicky jokingly complained about the red lights shining down on her in a one-off comment, leading to a slow shift from red to purple lighting, to which she responded, "Now it feels like a sex dungeon in here." Her final song was, fittingly, about sex, a track that the crowd responded well to as many lit the stage up with bright camera lights and lighter flames.
After a warm introduction from Zack Fox, MAVI approached the front of the stage, and the display screen behind the DJ setup lit up with a white "mavi" logo. My friend to my right held up his pack of Newport cigarettes that MAVI had signed the day before at a pop-up event in Downtown LA, and was immediately recognized by MAVI who shouted, "I REMEMBER YOU FROM LAST NIGHT!" with a smile across his face. Vicky Farewell brought tranquility into the night, and MAVI followed up by inviting in the emotion.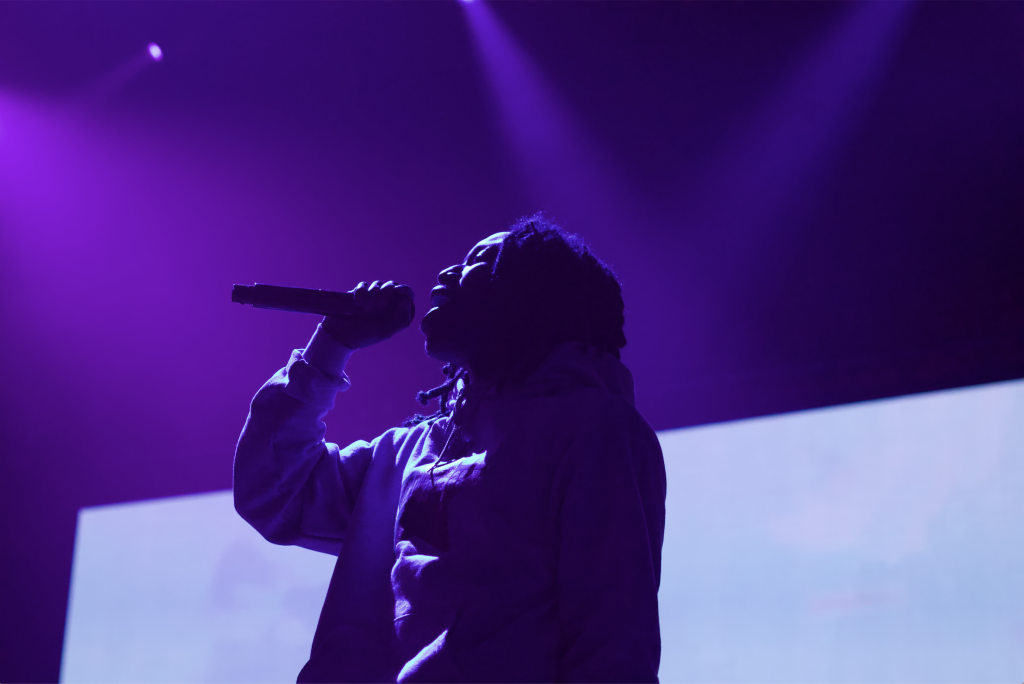 MAVI's poetic lyrics often connect to both the spiritual and emotional nature of human beings, and these words were on full display over experimentally lush instrumentals and booming 808s that rattled the barricade I leaned across. On the first track he performed, MAVI repeated the lines, "I've been underrated, it ain't nothing new," an introspective revelation about how he views himself within the underground hip-hop scene (a revelation that is, by the way, pretty accurate). MAVI displayed these types of vulnerabilities through unconventional, yet smooth rhyme schemes that he maintained while keeping the audiences' attention by commanding the stage and leading crowd chants, including a humorous "water" chant he initiated while taking a quick water break.
MAVI brought out two special guests, who each performed tracks with different emotional tones. LA's very own Amindi was the first guest to be brought out to perform their collaborative track titled "Trip." Their chemistry was captivating to watch: MAVI grooved with a small two step, swinging his arms to the beat as Amindi sang her hook and verse, often joining in to sing lyrics about romantic heartbreak, denial, and acceptance in unison. The second guest brought out was a close friend from MAVI's hometown of Charlotte, North Carolina, MESSIAH! The duo performed their track, "SO MUCH HATE," a triumphant track backed with a looping horn sample that brought immense charisma to the stage. MAVI's passion was exemplified in every word that he spoke, and it was clear that he was more than grateful to be on that stage, sharing his love and vulnerability with the audience.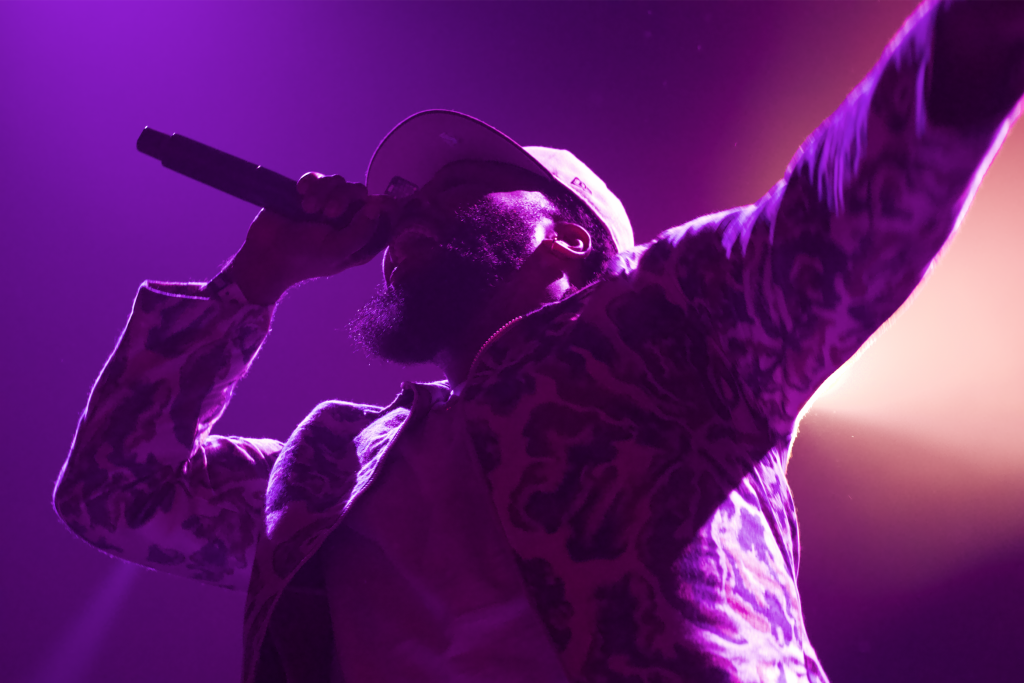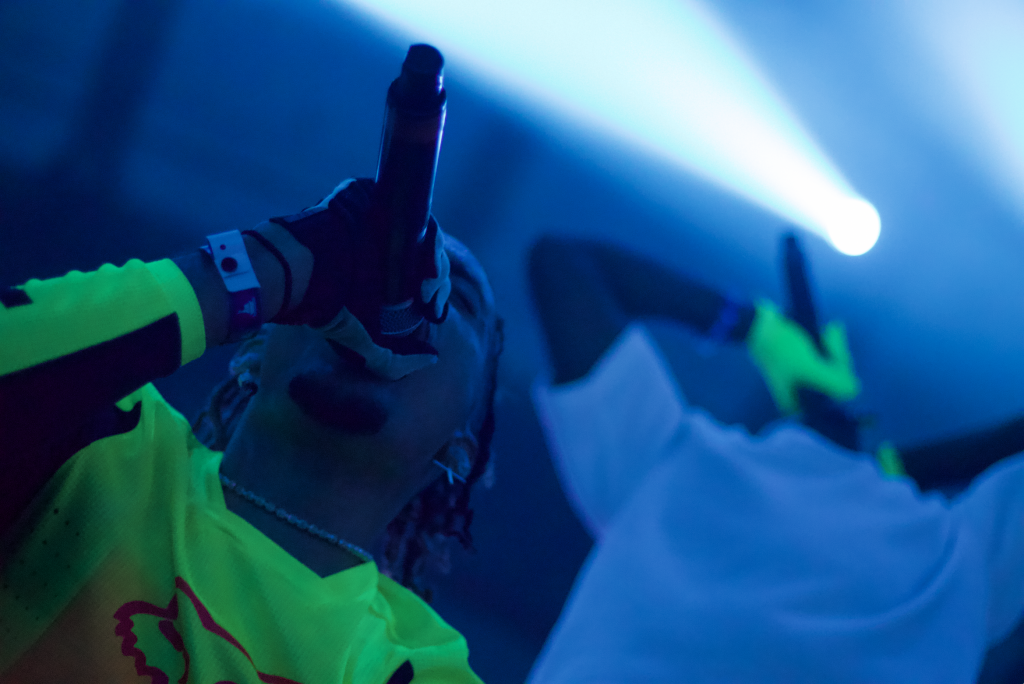 The next artist to take the stage was Paris Texas, a duo consisting of Louie Pastel and Felix, whose sound was a complete departure from anything that Vicky or MAVI performed. The energy they brought to the stage was rooted in rager culture, the same style that artists such as Playboi Carti and Travis Scott utilize in their live performances. Chaos was more than encouraged throughout their performance, with Paris Texas instructing the crowd to open up large pits on the floor and mosh as the beats dropped. Hell, their DJ even stage-dove straight into the crowd and joined in the moshing!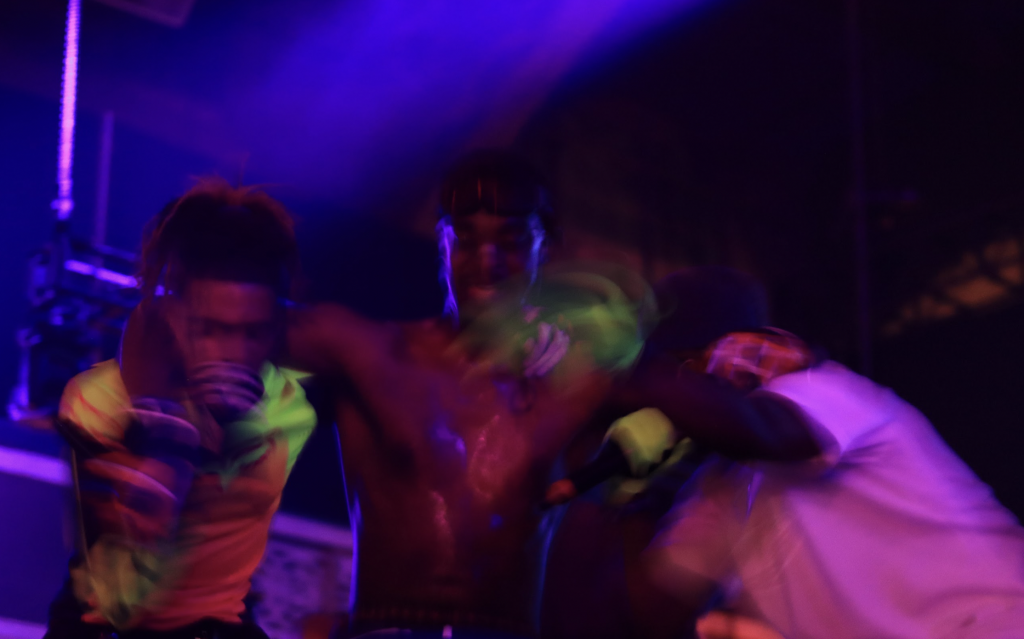 Paris Texas wore motocross pants for their set, adding to the aesthetic of their performance characterized by rapid strobe lights, fast-paced, bass-heavy music, and quick flashing images from the screen behind them that displayed the words "Paris Texas" for the whole duration of their set. During perhaps their most rage-inducing track, an entire group of men, including Zack Fox, came on stage to mosh around with the crowd, whose energy became so rowdy I began to feel inescapably pinned against the barricade. Still, Paris Texas delivered a performance that left the crowd soaked in sweat, with an unmatched vitality that allowed the floor pits to let loose any tension felt within.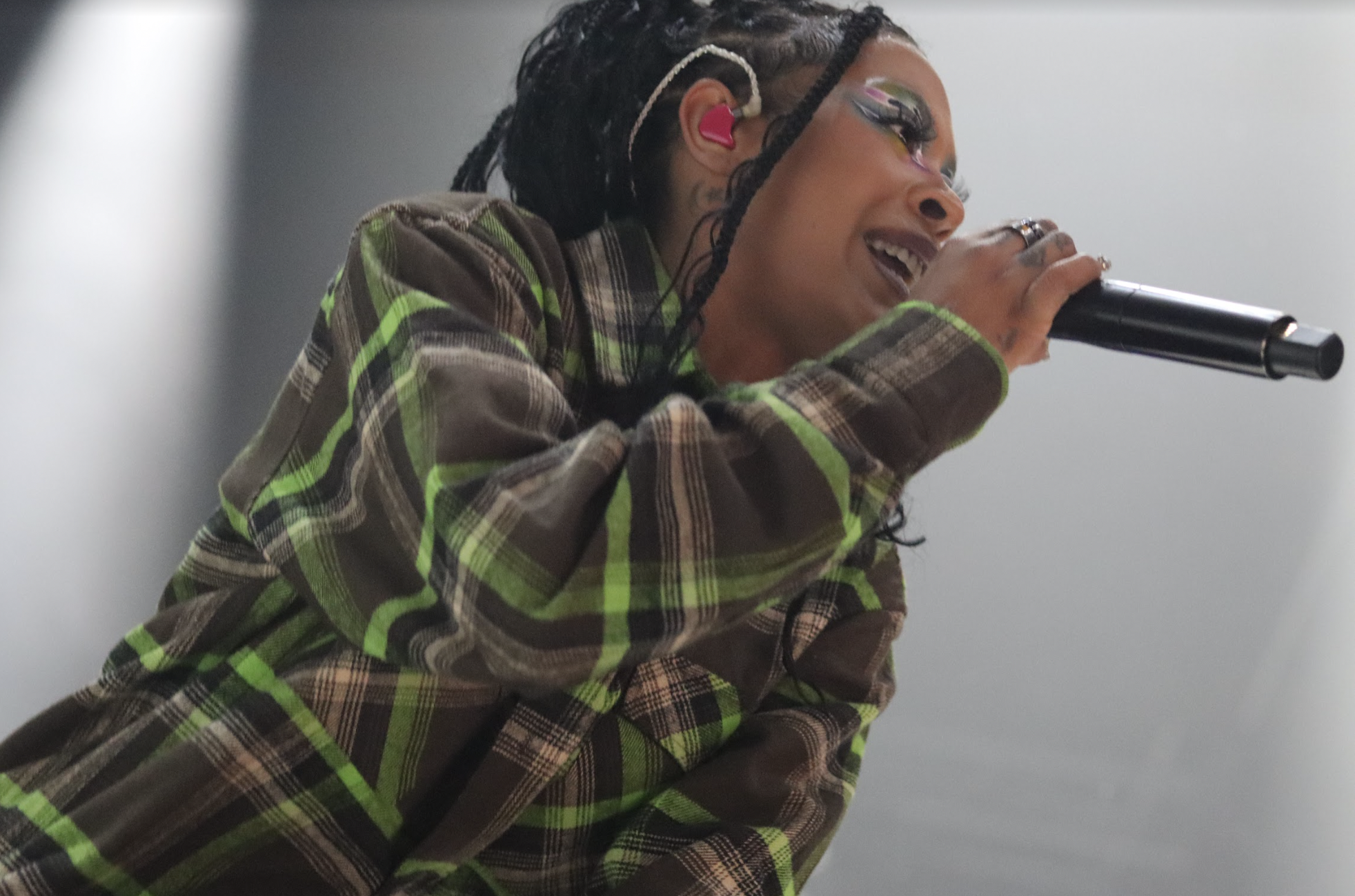 Rico Nasty stormed the stage as she lit up a blunt to carry on the momentum that Paris Texas generated. Similarly to the previous act, Rico Nasty embodied the spirit of rage culture in her performance, often screaming at the crowd to open the pits wide as she pranced around the stage, screaming partial lyrics to her songs or straight screeching into the mic. The only way to describe this type of performance is as an anti-show, where the focus isn't on the performer, but rather on the energy their music generates within the pits of the floor section. This was especially highlighted by the fact that absolutely no spotlight was focused on Rico as she performed, which made her disappear as a dark silhouette against the screen flashing a red, rotating "RICO NASTY" logo reminiscent of the Batman symbol.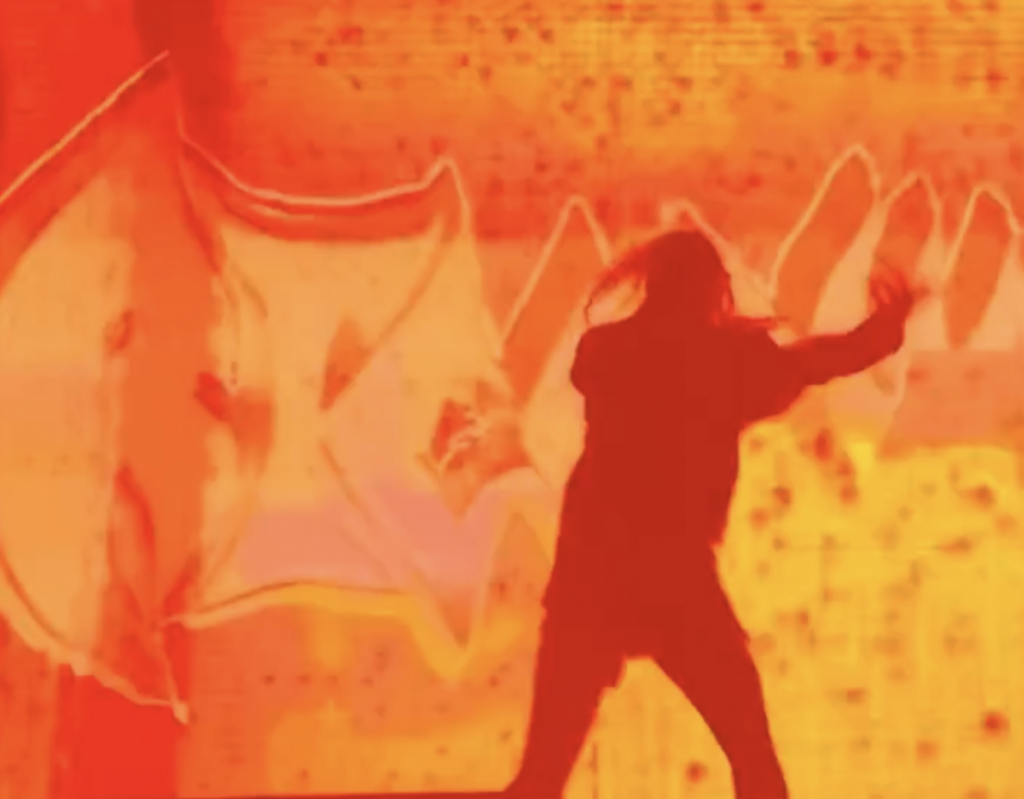 While rage culture is despised by many for its potential danger and intense energy, I felt that both Paris Texas and Rico Nasty satisfied the hunger that many of the concert goers that night had for moshing—which felt like the overwhelming majority. It was worth being crushed against the barricade to witness people jump and crash into each other with an intense ferocity backed by boomin' 808s and loud yelling. Rico Nasty also signed a fan's records, which made me happy to watch as a fellow signed-record connoisseur.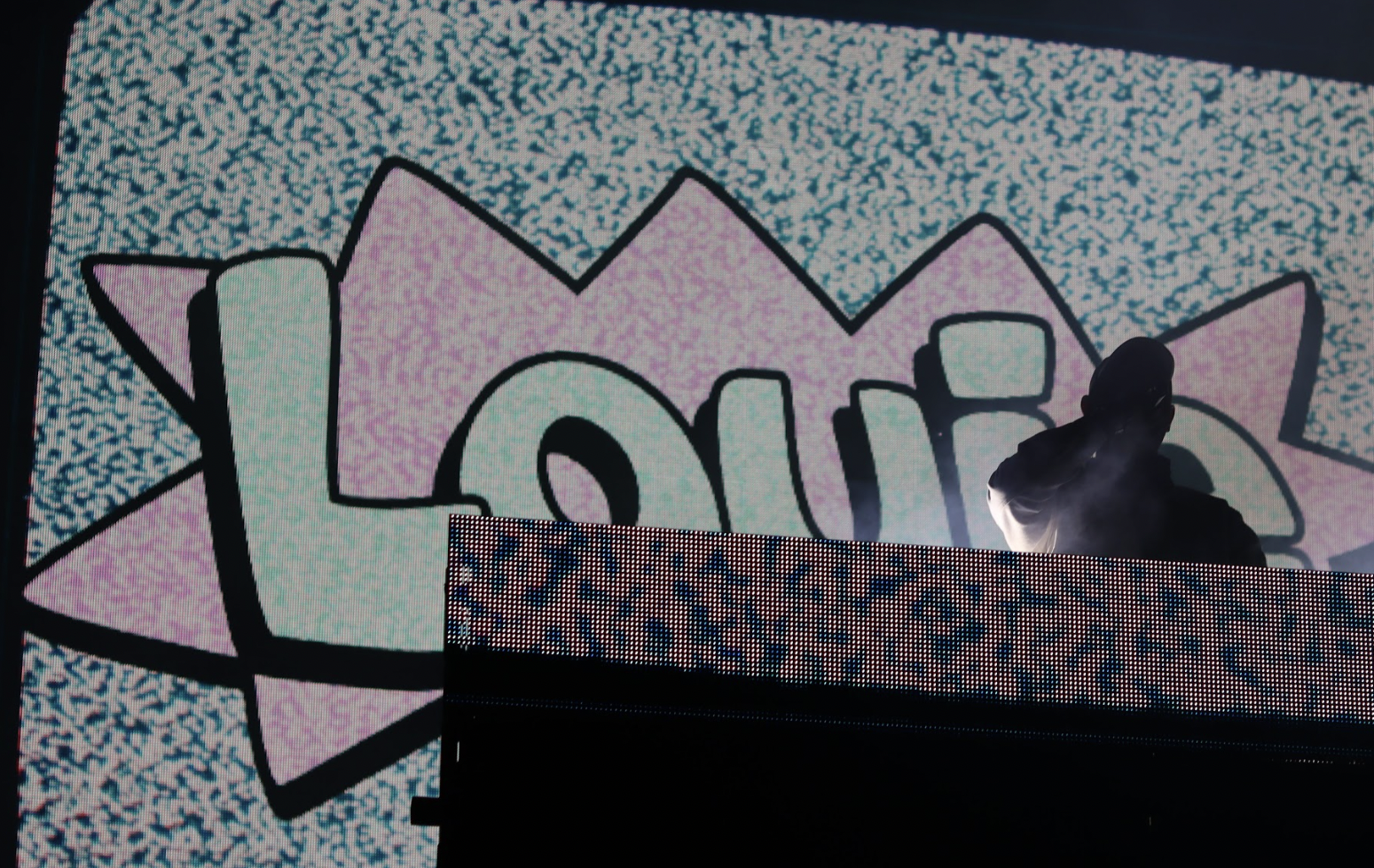 I never understood the appeal of rave culture and its recent resurgence into the mainstream. To be honest, I genuinely believed that you had to be on some type of psychedelic to actually enjoy raves. That is, until I experienced Kenny Beat's set. For any that might be unaware, Kenny Beats was an EDM producer before he transitioned into creating beats for hip-hop artists and dropping a beat tape, Louie, dedicated to his father. Kenny Beats balanced a healthy amount of hip-hop with EDM mixes, kicking off with Baby Keem's "vent" before sharply transitioning into Kendrick Lamar's "m.A.A.d city."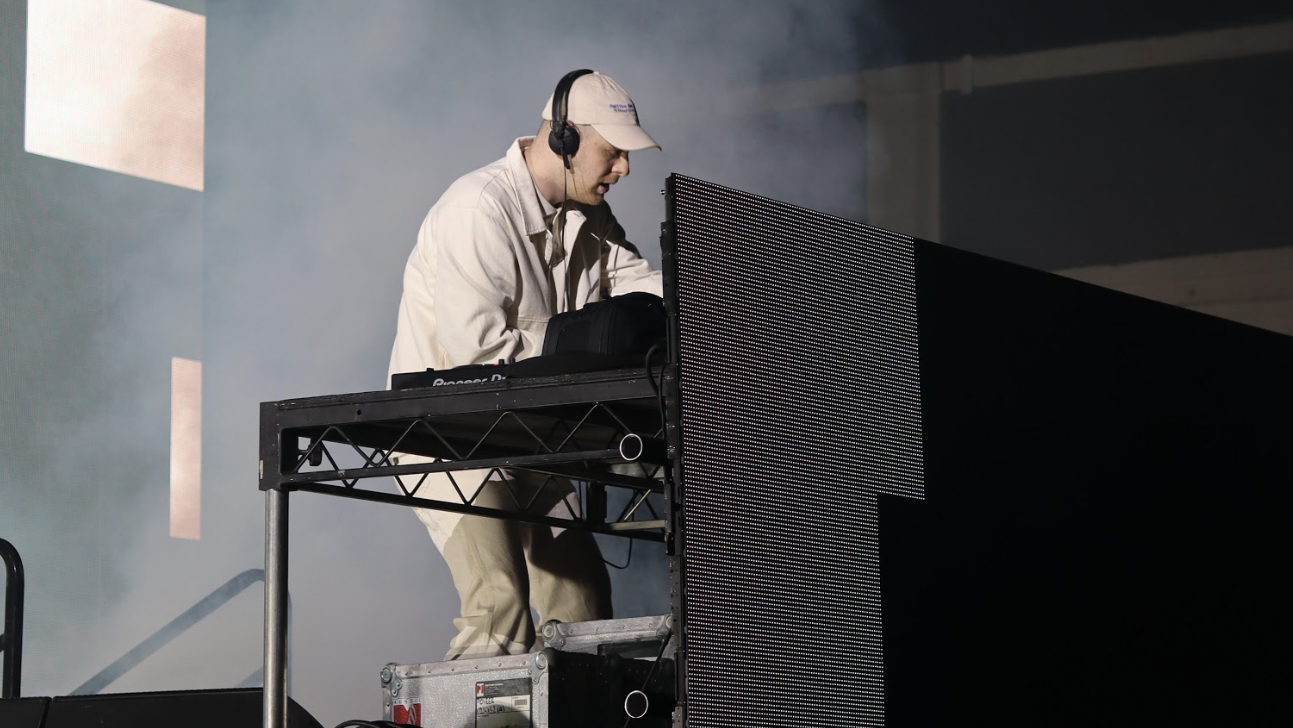 Kenny's DJ skills were on point all night: not once did he make a mistake that would otherwise lead to awkward transitions between songs, he played a diverse catalog of music that ranged from loud and abrasive to mellow and harmonious. The visuals projected behind him were hypnotizing, with different images of pyramids, lightning storms, colors morphing together, and so much more that all helped underscore the mood of the current song being played.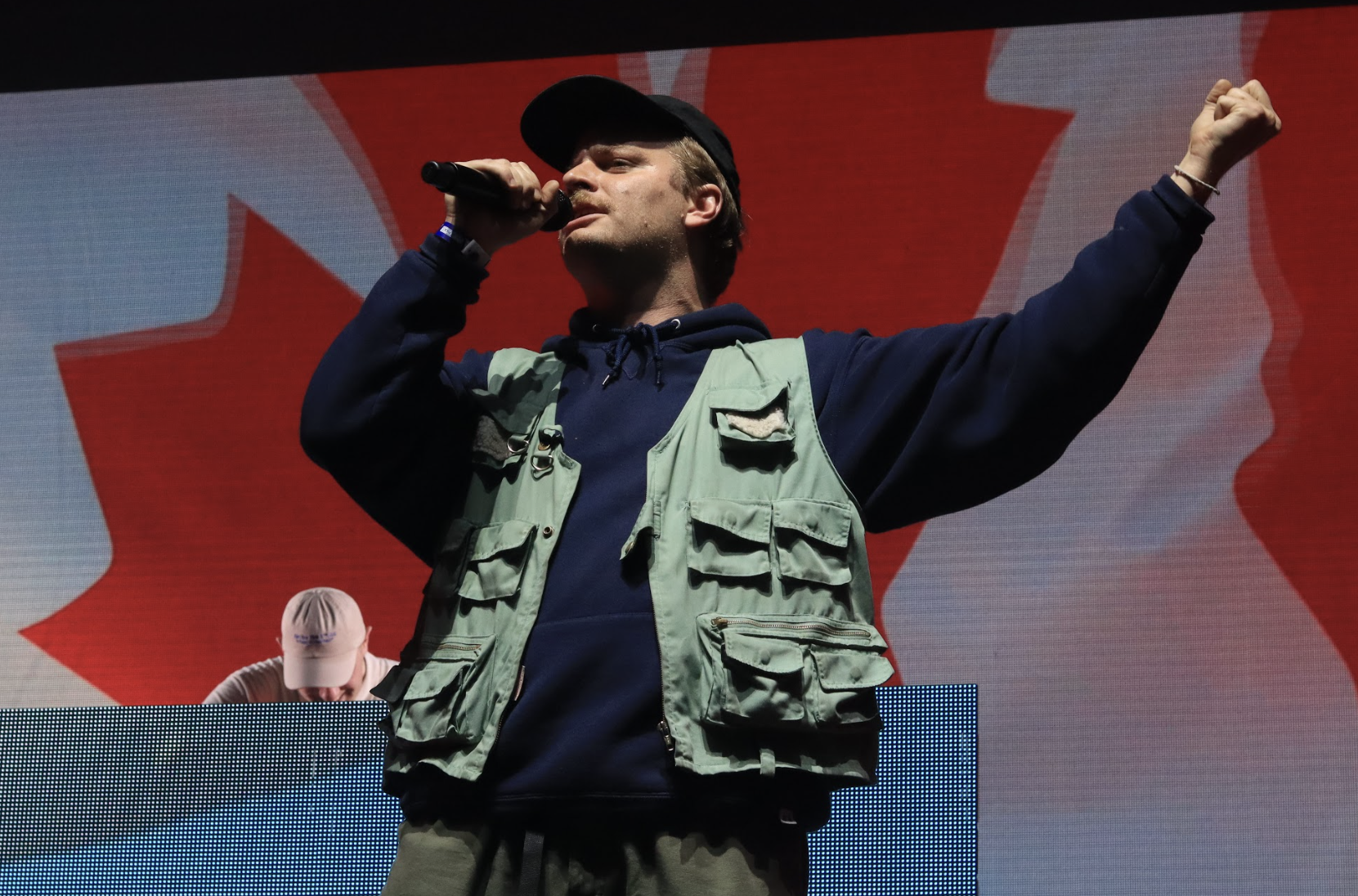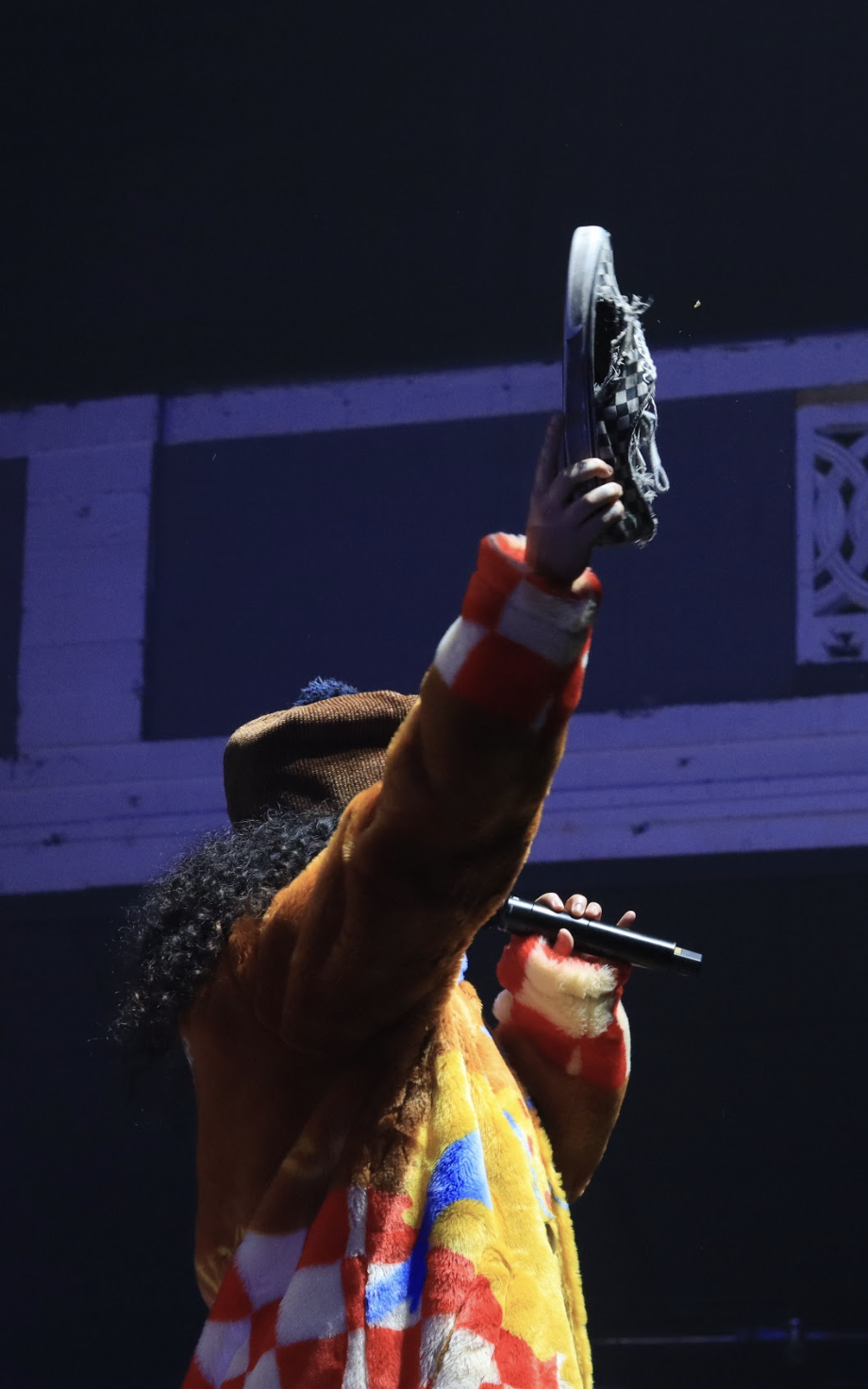 One of the main highlights of Kenny Beats' set were the guests he brought out, who each provided unique experiences. Mac DeMarco came out first to sing the Canadian National Anthem as the Canadian flag waved proudly behind him. Remi Wolf was next with high energy, skipping around the stage and even launching a shoe that someone had thrown onstage into the air. Zack Fox came out once again, this time to perform, and grinded the air as he rapped along to his tracks. Denzel Curry mario-hopped between large subwoofers located in front of the stage, even grabbing my Unlocked vinyl record sleeve during a song and signing it onstage, then passing it to Kenny Beats to sign as well. The audience knew to expect special guests, but the true excitement came from speculating on who they would be, then watching them run out onstage, meeting them with a roaring applause of screams.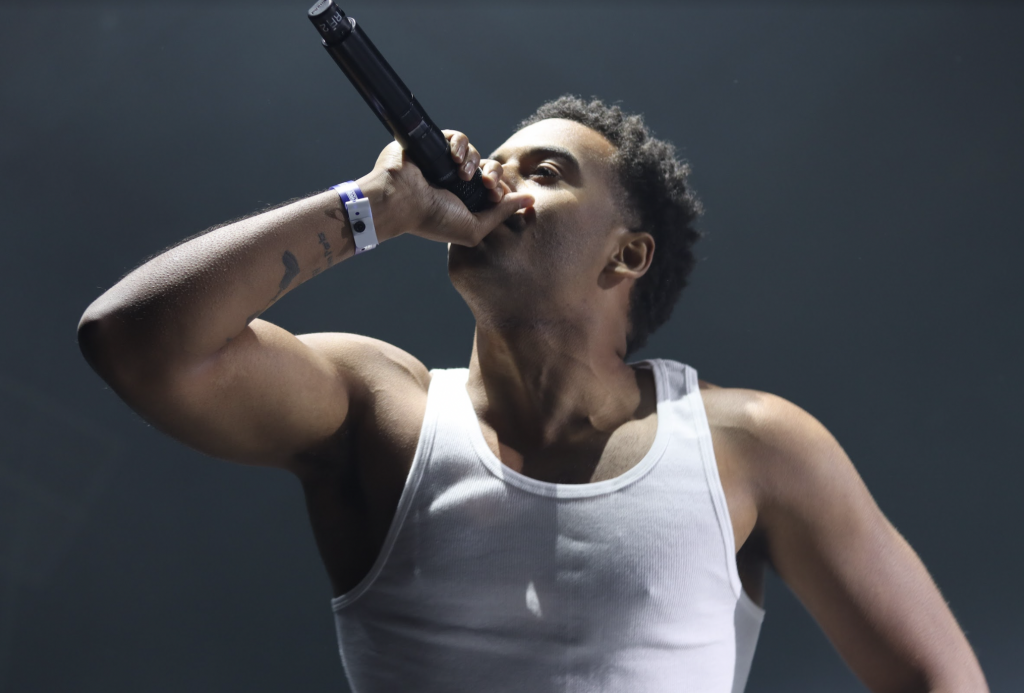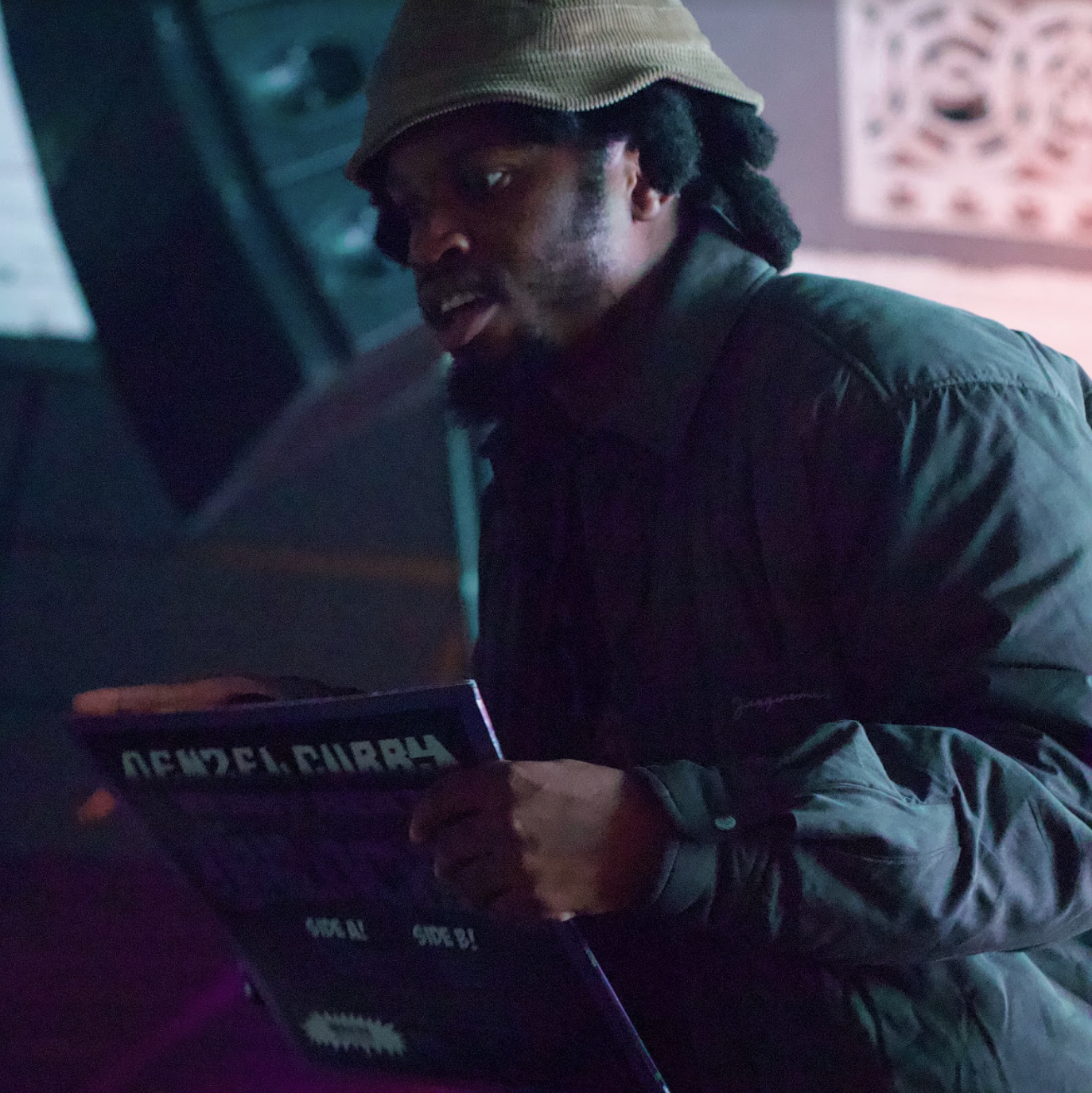 Every performer that night truly embodied the spirit of the phrase "Don't Over Think Shit!", whether it was through emotional and introspective lyrics or the loud and chaotic sounds that audience members moshed and let loose to. If Kenny Beats and his friends return for another LA show next year, you'd be best advised to try and attend—it might just change your way of thinking.