As I make my way in line, I am met with smiles and the familiar greeting of a lady that roams from venue to venue, selling bracelets for charity. This is my fourth time meeting her, so she asks me how I am doing, and we exchange pleasantries. She invites me to a yoga group and offers me a free bracelet to go with my outfit. "You bring me good luck." I am aglow, the night seems to be heading in the right direction.
As she leaves, a young couple, Nick and Julie, comment on the exchange, and I share my excitement to be at the show. I ask them what it is about Lizzy that they connect with so much: "We listen to her music stargazing" says Julie, with Nick explaining: "It's the songs you wanna listen to and stop what you're doing, lay down on the bed, and tune in." They generously share that this is their first outing as an official couple and I congratulate them on their apparent joy. Clearly, there is an infectious energy to be shared in the air, and as the crowd trickles into the art-deco, old-Hollywood venue, the excitement only grows.
Olivia Barton is opening the show tonight, hand-picked by Lizzy to join her on tour. Olivia is a lighthouse of talent with only a guitar and her sweet voice carrying her setlist, set against a stage covered in black sheets. I am unfamiliar with Olivia's work but am impressed by how engaging she is with the audience. She shares a tender story of a song she wrote while working as a waitress, unable to live out her dreams of being a musician, called "I Don't Sing My Songs", during which an audience member affectionately calls back: "We hear you!", with Olivia exclaiming: "That's my dad!" which is met with thundering applause. The crowd erupts at the introduction of her viral TikTok song, aptly named "If I Were a Fish", which she wrote with her partner about celebrating everyone's uniqueness and dedicated to "people who don't fit in." She ends the setlist by thanking Lizzy and encouraging the crowd to cheer for her.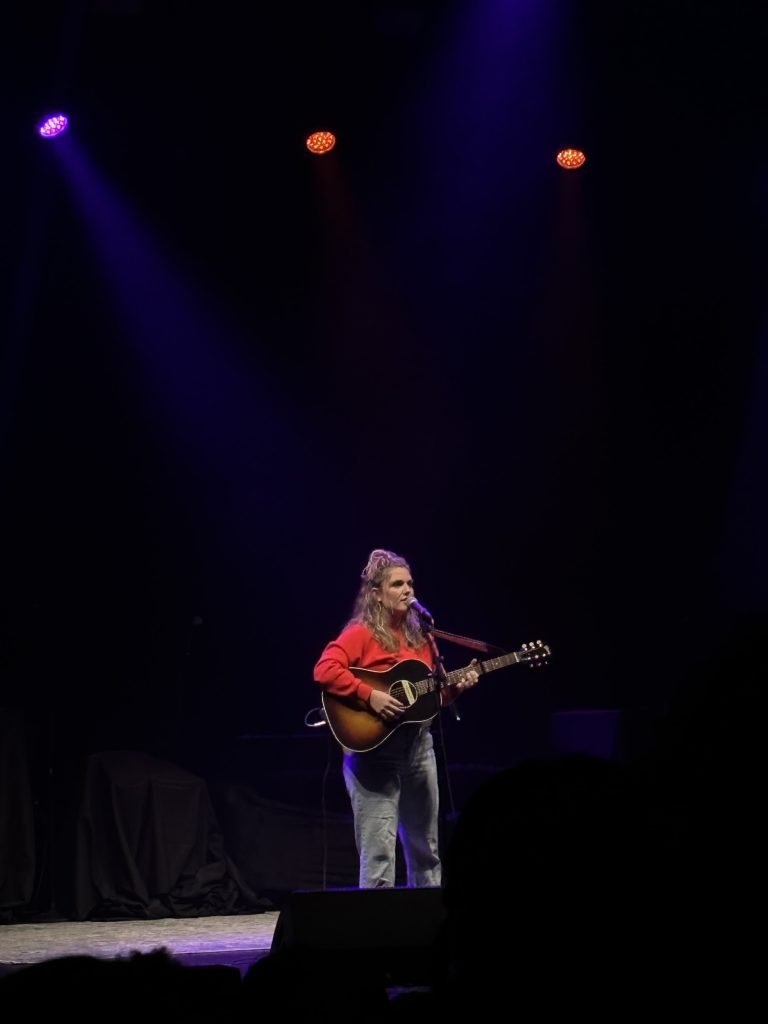 In between setlists, the venue's show playlist consists of songs like "La La Land" by Demi Lovato and "Burning Up" by the Jonas Brothers, with almost the entirety of those in attendance singing along. The energy is infectious and unmistakably youthful. At exactly 9:00 PM, the lights go out, the band comes out, and the crowd starts screaming. As Lizzy comes out the screams are hitting even higher notes, if that were even possible. After the black sheets from Olivia's set are removed, the stage appears to be set up as a bedroom, with a couch center stage and posters lining the back walls, and window cutouts being used as further lighting, matching the vibe of each song. She starts off her setlist with "an ego thing" from her 2022 album five seconds flat. She continues to work with the crowd as she delivers songs from the record, and it is clear the crowd knows every word of every song. I sing along to the songs I know: "all my ghosts" and "ceilings".

About two-thirds along her setlist, she explains that the next two songs are unreleased. The first of the pair, titled "Broken Glass", is my favorite song of the night, with string glissandos and an amazing buildup to a heavenly chorus, showing a clear musical growth and technical mastery from five seconds flat. The other song, "I Guess", is introduced by Lizzy with instructions on how to sing along to the song's outro, which the crowd picks up on rather quickly, impressing even Lizzy. After the song ends, she thanks us for allowing her to hear it exactly how she imagined it. She skips the encore and explains that she would rather just stay and perform the last three songs, ending a cathartic setlist with "come down soon", another unreleased song, "Pancakes for Dinner", from her 2020 debut album, and "orange show speedway".

Lizzy McAlpine's ability to deliver flawless vocals and poignant, vulnerable lyrics against musically-interesting chords like: "Broken glass on the table/ Pick it up hold it to your throat/ I can see who you are now that the window's broke/ Drop of blood on the carpet/ Didn't think it would go this far/ Don't know why I held on this long/ But here we are" has transformed me from a casual listener into a genuine fan. In an age when anyone can become a star from the comfort of their bedrooms, Lizzy McAlpine manages to transcend the label of a TikTok artist and has forged a unique path of communion with her audience. Her awareness of this intimacy aspect is apparent in her stage design and panache for strikingly gorgeous bedroom pop. What's more impressive is the amount of success Lizzy has achieved as an independent artist, signaling a new age in music where artists are free to express their visions without compromise. I think of Nick and Julie, and wonder if they enjoyed stargazing Lizzy tonight. It turns out, star power is star power, no matter where it develops.