What do you do after a 23 mile hike at Big Sur, you go to a Sammy Rae & The Friends Concert. I went with Harry Frahn, who was also on the camping trip with me.
As I quickly shoved myself to the front before another wave of people came in – Miki Ratsula, the opener, came out and the whole crowd cheered. A 2 piece set, acoustic guitar and laptop, not only delivered powerfully but also in the most intimate manner.
"Sometimes I'm jealous of my brother, for something that he didn't do. He looks like he could land the cover… of some magazine in our living room." said Miki.
Born and raised in Southern California, Miki shared their love and caring relationship with their brother, while expressing their concerns about how their family treated them during their transition. Like anybody else including myself, Miki is a big One Direction fan – covering Steal Your Girl. They expressed how covering more gender neutral songs will bring everybody together, and it certainly did with the crowd.
At last, they ended with this note:
"I just want to love myself so I can love you better"
(Photo by Harry Frahn)
Lights off, the crowd went quiet for 0.7 seconds. IN COMES THE FRIENDS.. Will Leet came out with a PRS Silver Sky accompanied by some funky chops. Kellon Reese (alto saxophone) and Max Zooi (tenor saxophone) rushes in from stage right, followed by Debbie Tjong (keys and background vox), James Quinlan (bass) and C-bass Chiriboga (drums).
The stage was filled with brightly colored bandanas, which Sammy intended to give and receive from audiences all along her tour.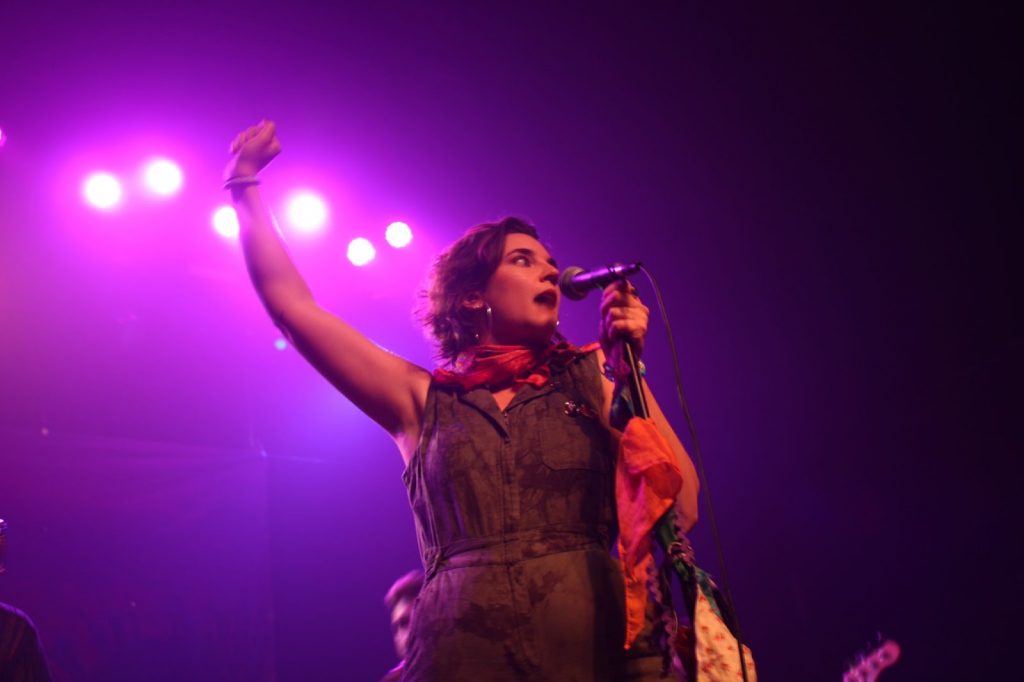 (Photo by Harry Frahn)
"We're here again Los Angeles!"
Shouted Sammy Ray as she rushes through the stage – this is their second show at the Fonda this weekend, sold out.
Everybody seemed to be color coordinated, creating a matt rainbow contour – with Sammy Rae dressed in a green overall. It was a rather cinematic yet soothing overall visual of the stage.
"The mission was to work with the backdrop", said James Quinlan wearing a marine-colored jumpsuit after the show, "…but really color blocking is the big thing!" He then very kindly gave me the set list of that night, can I just say – sweetest guy ever.
C-Bass started making eye contact with Will, in comes the funkiest wah. However, Sammy seemed to be looking for something.. She's searching… She's gazing… She locked eyes with an audience member standing next to me, gesturing like she's asking for something, the audience member immediately knew what she wanted and threw her jacket up on the stage. Sammy winks and wears it, runs back to the mic, "DENIM JACKET!" (single released in 2019) Next time, I will be bringing mine. C-Bass energy was immaculate, so I had asked the "milk connoisseur" himself to rank different types of milks..
"First is Hokkaido milk.. It's really.. really good. And then I like grass-fed milk… then Lactaid milk, believe it or not!"
Recently endorsed by PRS, "my first guitar was a Fender Squire, like the cheap ones you get in a box at Guitar Center. I got that when I was like 12 or 13. Just kind of was messing around, and kind of taught myself. I eventually ended up getting a Telecaster when I was 18… American model, felt like a huge upgrade," said Will Leet who also brought his Telecaster on stage that night. (Photo by Harry Frahn)
You know something climatic is about to happen when it's just Sammy Rae and her instrument. Transitioning from Living Room Floor to For the Time Being was one of the best introductions to the next chapter of the show. Soon enough, you can start feeling the ground shaking with joy.
Good Life.
25 or 6 to 4.
Jackie O.
Before you know it, it was nearing the end to the show. The audience member got her denim jacket back. The venue started echoing with "ENCORE"
(Photo by Harry Frahn)
Max Zooi came out with the sax and everybody cheered. Max then proceeded with Kick it to Me. The eye contact and conversational/singing way of interacting from Sammy does not stop even if it was an encore. I felt so connected to members of the band, like I was on stage, yet I can peacefully stand in my little square listening to them as an audience.
"Thank you Los Angeles"
This concludes her two night sold-out show in Los Angeles. Adrenaline filled, I was even not tired after this crazy ass day. Note, it was my first time learning about Sammy Rae & The Friends, nothing beats capturing and experiencing about a new band live.
Thank you Sammy Rae & The Friends.