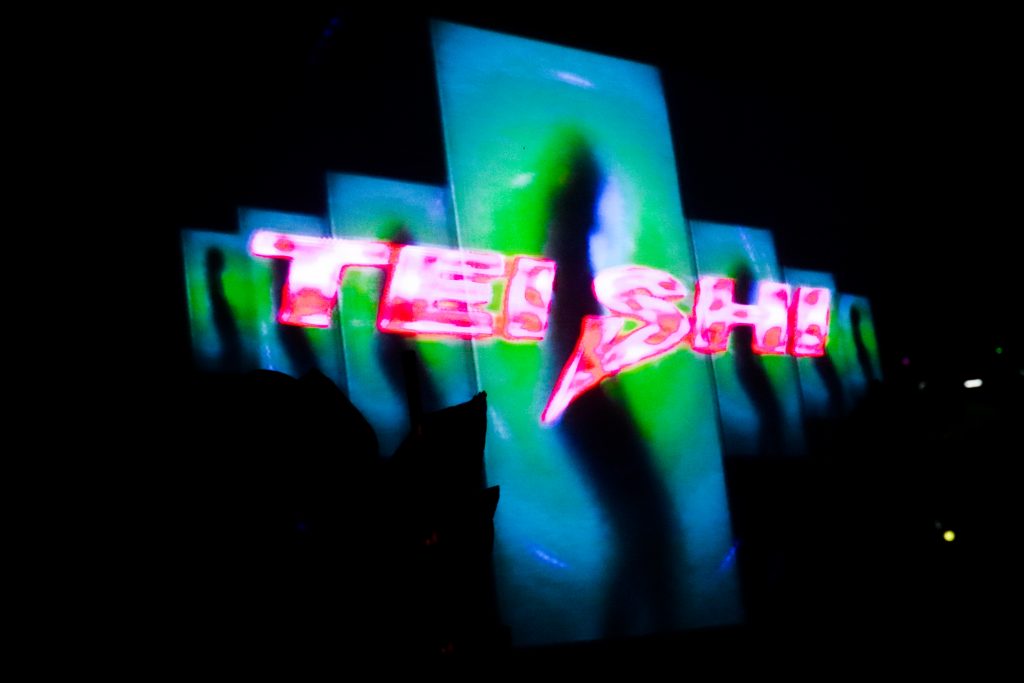 My first and prevailing predominant thought over the course of the night: this venue is way too cool for me. Zebulon Cafe holds an intimidatingly good looking [and potentially pretentious] queer crowd. The cafe's composition works perfectly for a low-key concert with a distinct separation of space between the performance and eating area, each with their own bar, and an outside spot accessible through a door between the two. My friend and I order fries and sit in the restaurant area while we wait. Mysterious indie films of rabbits eating carrots and such play. Securely fashionable young adults meander around chatting about their super cool jobs and very real lives. We discuss impending finals, winter break plans, and reek of being underaged. Who invited us? We're not sure [[no one is]].
I acknowledge here that I Shazamed almost every song played by the opener DJ who mixed electronic and hispanic music, an informal introduction to Tei Shi herself. Tei Shi is the stage name for Valerie Teicher Barbosa, born in Argentina to Colombian parents but predominantly raised in Canada. She then attended Berklee College of Music in Boston before finally settling in New York. Each of these transitions clearly worked to inform her style of music and artistry as a whole. Her music ranges from softer acoustic songs to more upbeat electronic ones with a well-developed understanding of music and multicultural background unifying her discography.
Tei Shi's opener Often enters the stage on time following the DJ. They're likable, casual, honest, and reassuringly defuse the uptight ego of the audience.
I find myself getting the ear worm for their track "Palm Trees" occasionally, particularly the line with the word serendipity (something about hearing the word serendipity rhymed in a song really struck a chord within me). Hearing Often live and later looking through their Spotify emphasizes the production disparity between lower and higher budget artists. I think the track Palm Trees with more funds behind it could become very popular, but the background beat exposes the song's amateur nature and slightly repels the listener (forgive me). "Neon Light" is catchy and merges sounds creatively. Often vaguely reminds me of Grace Ives in sound but not composure: relatively mellow songs centered around a few lines of impactful prose.
Go listen to Often!!!! With only 14,000 listeners on Spotify right now, they're an unrealized, up and coming vibe. I love that Tei Shi platformed another queer artist of color as an opener; I feel that she understands her power to uplift smaller artists considering the central role Blood Orange played in the advancement of her career.
I initially discovered Tei Shi because of her collaborations with Blood Orange. She seems to understand this trait common among many of her fans as she played all of their combined tracks and used his solo pieces as a transition between the opener and her main act. As Tei Shi began to rise in popularity after releasing her first two albums Crawl Space (2017) and La Linda (2019), she collaborated with Blood Orange on his album Negro Swan, joining him to perform at 2019's Coachella and starring in the song's music video alongside infamous names like A$AP Rocky and Tyler the Creator. We all know networking is the key to life; Tei Shi understood the assignment.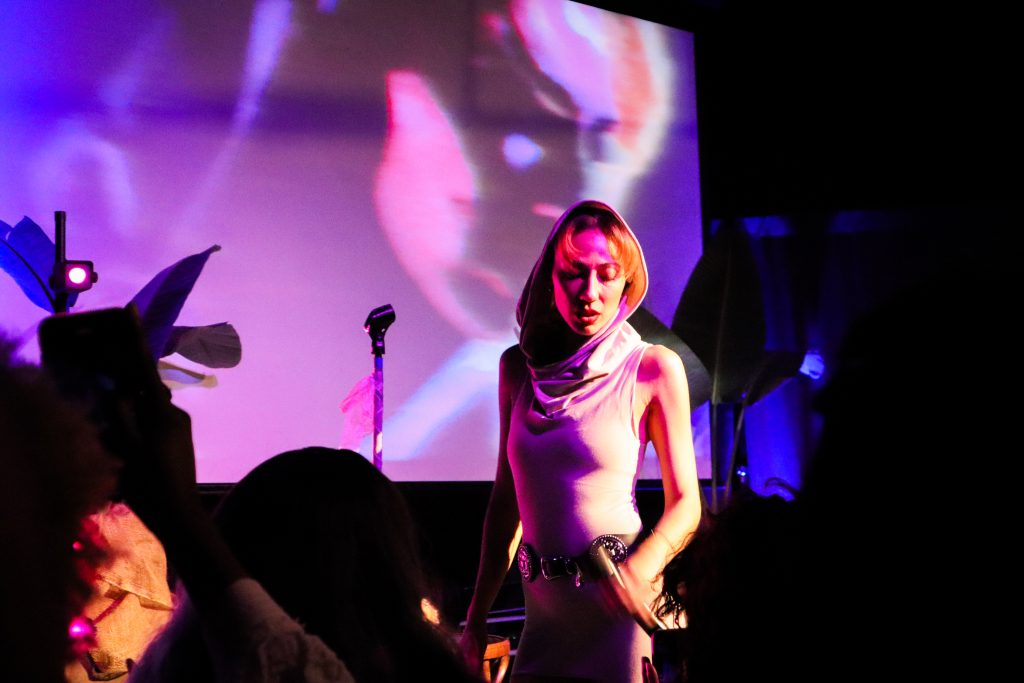 Tei Shi enters the stage and opens with "Twilight", a simple synth pop track that highlights her voice's range. She follows this with "Matando", introducing her multicultural identity as she switches from only English to Spanish lyrics.
The venue is small but packed full of energy; she's clearly amassed a circle of die hard fans. For most of the concert the screen behind her projects enticing, colorful graphics that warp her body's outline, greatly enhancing the visual experience.
In a venue this intimate, the artist either fully welcomes the audience into their world as an individual and defies the distinguished celebrity culture of music, or the opposite, veiling themself as an untouched celebrity, barely speaking and committing to their act without revealing much personality. Tei Shi stuck with the latter [quite Blood Orange of her I will say; I respect]. She flaunted around the stage like she was performing for 20,000 people at Madison Square Garden, and I found myself falling for it. She barely spoke more than a sentence of introduction, contrasting Often's casual demeanor and sporadic storytelling.
It's interesting because I think it's difficult to conceptualize the lives, fame, and funds of a mildly popular artist like Tei Shi with some break tracks and about 400,000 monthly listeners. Do they work a day job? How big are their concerts? Here I assess the reality and piece together an understanding of her reach to fans: limited but filled with enough passion to support her.
She brings on guest guitarist Mikey Freedom Hart, currently known for playing live with the Bleachers and…Blood Orange (surprise surprise). I enjoy the live instrumental addition, and they have a nice dynamic on stage.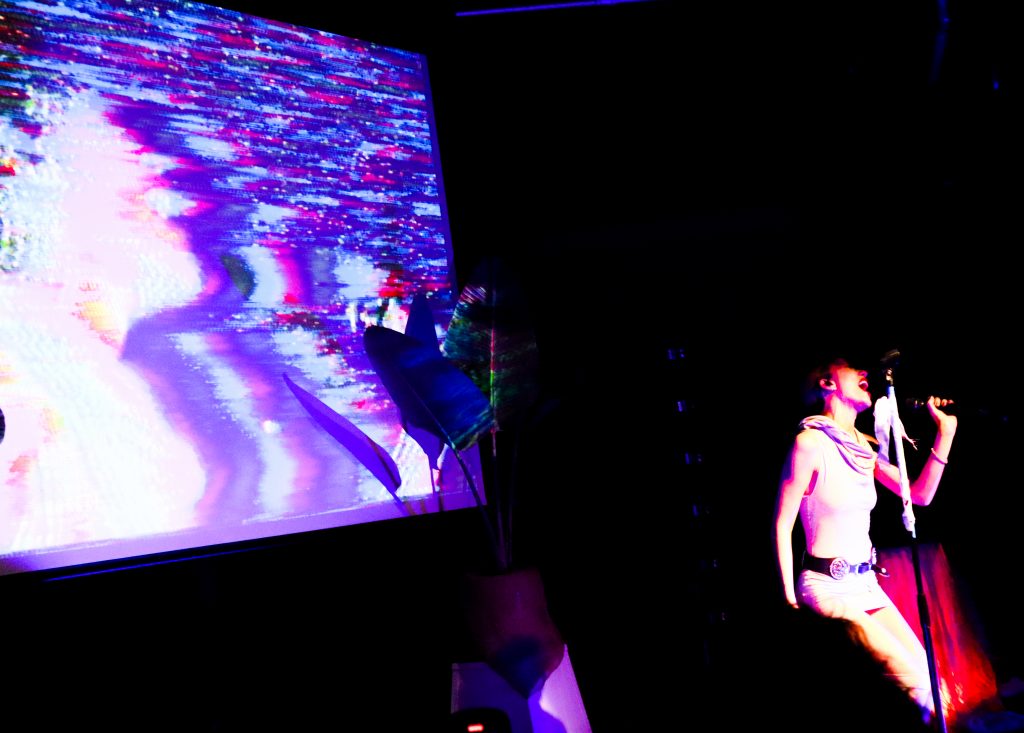 She debuted two songs just recently released in October 2022: Bad Premonition and Grip. Bad Premonition tells of her struggle navigating the unjust music industry, as the opening lyrics introduce, "I went looking for an answer//Came back with a couple notes///Got a taste of what I'm after//No forgetting what I saw". The lyrics of these newer tracks seem more explicitly vulnerable than her previous work and feature more complex electronic sound combinations.
She wraps up the night by pouring her heart and soul into "Basically", kneeling on the ground and belting the yell of a chorus. I loved it, and I love that song. Thank you Tei Shi.