From playing sets for EDC Las Vegas and the Ultra Music Festival, to dropping his first full-length album, House of Glass, 2022 proved to be a monumental year for Wax Motif. A year in which Motif's momentum climaxed, the "build-up" cresting prior to an explosive drop that was the launch of his 2023 "House of Wax " tour. With a sold out show at The Shrine Expo Hall, Motif would be playing his biggest solo show to date, with support from AYBOO and Deeper Purpose.
Entering The Shrine's parking lot was a fever dream. As my photographer and I ascended level after level, we passed men in preppy patterned button-downs, women in eclectic, colorful rave attire, and tailgates? Hailing from UCLA I'm biased in that I've only experienced the stereotypical tailgates which take place outside of the Rose Bowl, where many a beer is amateurly shotgunned, and questionable hamburgers are served out of seemingly every car. To my surprise, we witnessed a similar sort of celebration within the confines of the Shrine's ordinarily-barren cement lot, with buzzballs perched on the trunks of cars, and Wax Motif blaring out of open car windows and doors. Though unexpected, these tailgates indisputably facilitated a sense of community, with Motif enthusiasts gathering in groups assembled out of a mutual love for the music the night would soon bring.
Around 10PM, what started as a paltry crowd rapidly multiplied as the opening act, AYYBO, began a bass-heavy, crowd-pleasing set. With mixes from "Sorry Ms. Jackson" to "Money Trees" to "Mad City," AYYBO's set, composed of both released and unreleased tracks, undeniably lit the night's fuse. Maybe it was the consistency of his straightforward drops or the nonchalance with which he fluidly moved across the deck, but not only was AYBOO's set fantastically easy to dance to, it was highly entertaining to watch.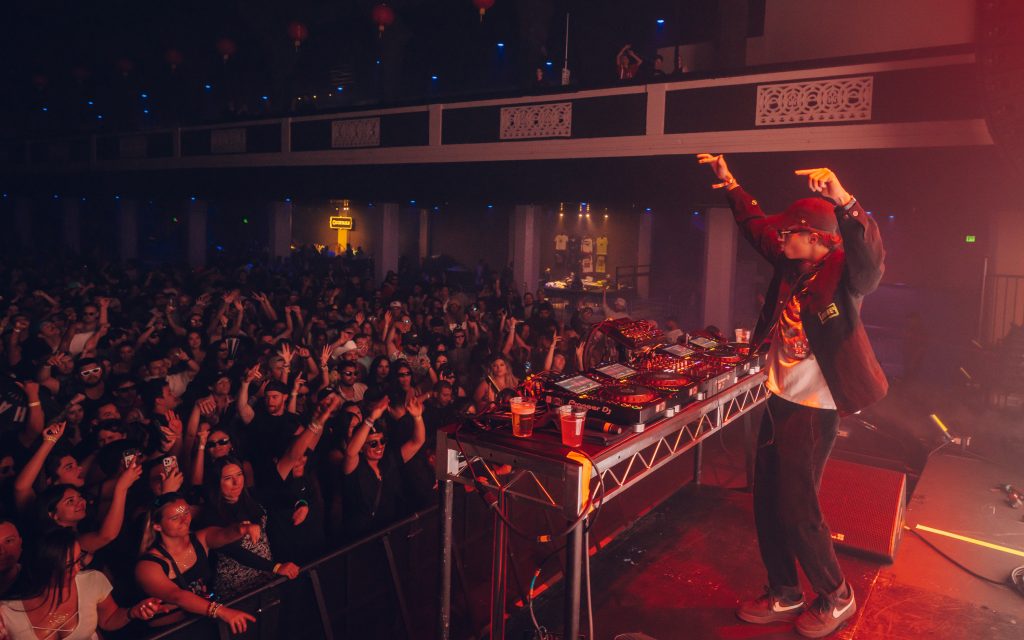 Hailing from across the globe, London-based Deeper Purpose's [aka Stephen Galloway's] energetic set was naturally accompanied by an abundance of Redbull; Galloway could be seen reaching into a cooler for Redbull after Redbull, knocking them back as various depictions of mushrooms swam behind his head. The Redbulls undeniably paid off with a lively set from Galloway, his distinct tech house style manifesting in unconventional drops and catchy hooks. Playing new release, "Up N' Down," interspersed with mixes from crowd favorite "Rolling in the Deep," to the cult classic, "Turn off the Lights," Galloway's high-energy set was familiar enough to have the audience thoroughly engaged, yet kept on edge with the unpredictable nature of his drops.
As the clock struck 12 AM, the crowd, still teeming with tension and energy, was finally rewarded with Wax Motif's grand entrance: a climactic track backed by the imagery of a grandiose Chinese Woman, staring the crowd down before launching them into a veritable vortex of green mountains and glimmering rivers. The illusion concluded with a writhing red dragon, hypnotically undulating in anticipation of the opening of "WET:" "watch while you jiggle on me."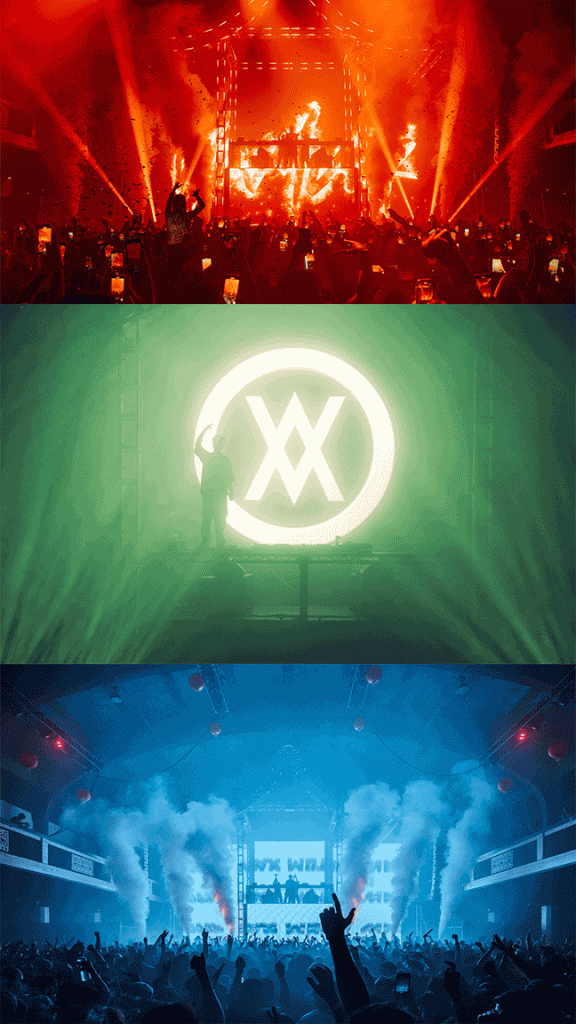 Daniel Chien, better known as Wax Motif, took the term "elevated surface" to a new level, DJing from a 20-foot platform that had the audience craning their necks to catch a glimpse of the master at work. In fact, not only was his stage impressive in size, it was almost more impressive in shape, with trusses molded so that Chien appeared to be delivering his set from within a pagoda. The distinct shape of the stage and the Chinese imagery playing behind Chien, accompanied by red paper lanterns neatly dangling from the Shrine's balconies, were proudly-displayed manifestations of Chien's Chinese heritage, additionally reminiscent of the House of Wax pagoda-adorned album cover.
Catering to a diverse crowd, Chien led his fans through an explosive 2-hour set that explored a wide array of beats inspired by genres ranging from Disco to R&B to Latin pop. Around an hour of house-leaning beats was succeeded by an hour of hard style permeated by explosions of confetti and fog, brilliant multi-colored lasers flashing in time with the beat. Despite playing into the late hours of the night (Motif's set concluded around 2AM), his well-loved tracks kept the crowd's hands in the air, wrists flicking and fans snapping along to salsa-groove "Lo Que Soy," vogue-esque "See in Color," and house beat, "On The Low." Though for the majority of his set, Wax Motif remained high above the crowd on his veritable pedestal, he did grace the audience with an appearance on the bottom tier of the stage during the lively "Fly Kicks." With fans finally able to catch a glimpse of the entirety of Motif, his efforts to hype up the crowd were matched with hands desperately thrusting towards the stage, concert-goers clambering onto the shoulders of their companions in an effort to become face-to-face.
Overall, Wax Motif's sold-out show was a manifestation of the love, respect, and enthusiasm his work has garnered over the span of almost two decades. The energy he generated was both electric and inclusive, with Motif's personal cultural expressions intersecting with the range of global sounds he included in his setlist. It was a celebration of cultural diversity: a celebration of the diverse fanbase responsible for Motif's exponentially-increasing popularity manifested in an exchange of love and mutual respect.