Hunched over my computer at the Sawtelle Urgent Care clinic I work at, I was jittering in my chair as I stared at the "6:05 PM" standing tall at the bottom right hand corner.
My shift ended at 7:00 PM. The doors to redveil's first headlining tour, "water 2 fire", were opening at 7:30 PM. I was in a time crunch.
As soon as I got the okay from my supervisor, I bolted to my car and made a beeline towards the El Rey Theatre as fast as I could. That was, until I realized I was still in my scrubs and had to drive back home first to change…
You might be wondering why I was so impatient to see redveil that not even the allure of urgent care could keep me still. To me, redveil's 2022 album, learn 2 swim, is a 35 minute long anthem of perseverance and unabashed defiance. To see an artist – at the mere age of 18 – stew up lyrics both deeply weary yet intimate embodies the impending doom that is growing up in the digital age. Yet at the same time, there is a melancholic optimism for a better future. Almost like a dim light at the end of the tunnel. Listening to his music, it feels as if you're sitting in the same room as him while he pours his heart out. Needless to say, redveil was one of my most anticipated upcoming artists this year, and I needed to catch him on stage in all of his glory.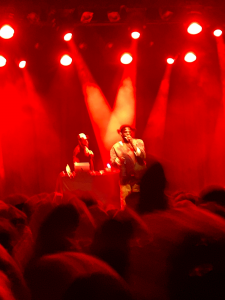 Having never been to the El Rey before, I had no idea what to expect. But as I walked in, I was pleasantly greeted by the huge crowd swaying to the opening act, femdot.. The bass was booming, the LEDs were bathing the stage, and femdot. was rapping his ass off.
I'd first heard of femdot. back in 2019 when he released "94 Camry Music," cruising over the beat while recounting old memories of profound nostalgia. As we meandered in and tried to situate ourselves in an already growing mob of people, femdot. paused and smirked at the audience. He made a muffled yell into the crowd that I couldn't make out, but I'm convinced it was something along the lines of:
"Y'all never heard someone rap like this."
With a voice that swept across the entire stage, paired with clutch ad-libs from Charles Lauste (affectionately known as DJ Charles) the crowd swayed in tandem without pause. After rapping through a couple of his bangers, "Senegalese," "Late Night Drive,"and "Lifetime" (I will never forget his "Bag a Lady!" verse), femdot. upped the ante. He spotted a young fan bumping his head vigorously in the crowd, abruptly deciding to pull him up on the stage.
Expressing his appreciation for the energy booming through the crowd, femdot. began talking about his upcoming 2023 album. DJ Charles started concocting a beat in the back while femdot. turned to the young fan, exclaiming that it was time to spotlight a new song. With the beat rumbling through my body, I was swept into the burgeoning mosh pit as both femdot. and the fan went absolutely ballistic – leaving not a single inch of the stage untouched by their ravenous vivacity, spitting fire with each and every bar. Once the dust settled, cheers rocked the floor as femdot. bowed, shared his love and appreciation for the crowd, shouted out the headliner, redveil, and ran off stage.
Before redveil made his grand entrance, his DJ meandered on stage with an innocuous hum. "Da-na-na-na-na-na, da-na" over and over again. At first, I didn't think much of it. But then, at the same time that the melody started to form in my head, redveil came out of nowhere diving right into his hit single off his new EP, "giftbag."
Before I knew what was even happening, I was shouting at the top of my lungs:
"GET OFF MY DICK, THEN GET OUT MY GIFT BAG!"
Looking back, what stood out to me the most was the crowd's ability to reciprocate every inch of energy redveil was giving back. After a fiery performance, and much exhaustion from multiple pits forming during every single chorus, redveil greeted the crowd with an infectious smile on his face.
For the now 19 year-old artist, the opportunity to headline his own show is a cause for celebration – a testament to the arduous journey he took to get here. Holding up a finger heart to the crowd, redveil told the audience that he knew it was going to be a special night. And then without hesitation, he jumped right into "Campbell," ripping the twangy Earl Sweatshirt-esque beat apart.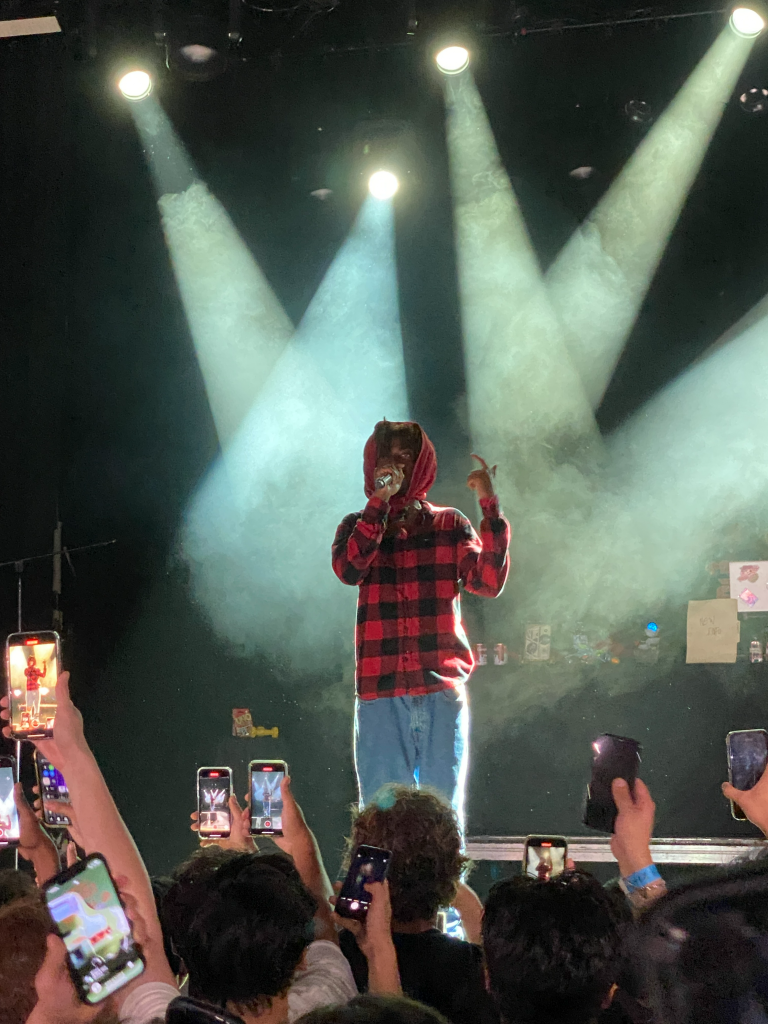 While it's clear where redveil gets his inspiration from, his performance was spun with such authenticity and pride, squashing any haphazard comparisons to Chance the Rapper, Mavi, or Logic. After a passionate few songs of spitting bar after bar, redveil paused and took in the crowd in all its glory.
redveil conveys an extreme maturity for his age, but still reflects the profound humbleness of an artist who's only road is up. Almost starstruck with his own achievements, he never hesitated to let the audience know that what we were experiencing could never have been imagined in his wildest dreams. From posting songs on Twitter and celebrating a whopping 100 likes to working with JPEGMAFIA and Danny Brown on their recent Scaring the Hoes project, redveil's journey is nothing if not impressive. In fact, being here was so special, he began to tear up:
"I think I just had a checkpoint moment I'm never gonna forget."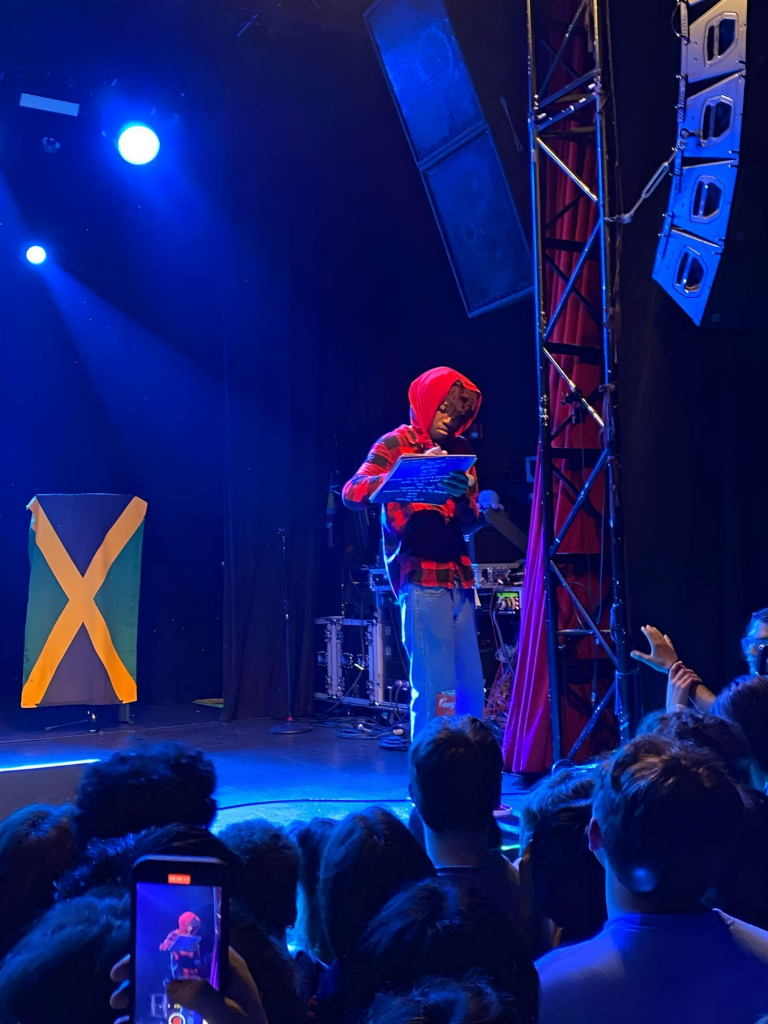 For about the next hour, redveil dived deep into his discography. Playing hits like "black enuff," "captain," "run it back," and "5500," there was something for everyone. He even brought on his high school music collaborator and friend, D'mari Harris, to provide accompanying vocals to "drown," a hyperpop sample subverted into a ramble of young love.
redveil never failed to deliver the energy and charisma it takes most artists years of performing experience to master. His performance was undeniably impressive. Scrolling through Instagram after the show, I saw both Isaiah Rashad and tobi lou shouting out their young contemporary on their story.
"Redveil is a genius."

Isaiah Rashad
But redveil wasn't done yet.
After spitting his final track of the night, redveil looked as if he was ready to tap out. But shakily bringing the mic up, he said he had an announcement to make. It turns out one of his friends happened to be in town. And that friend was Kenny Mason.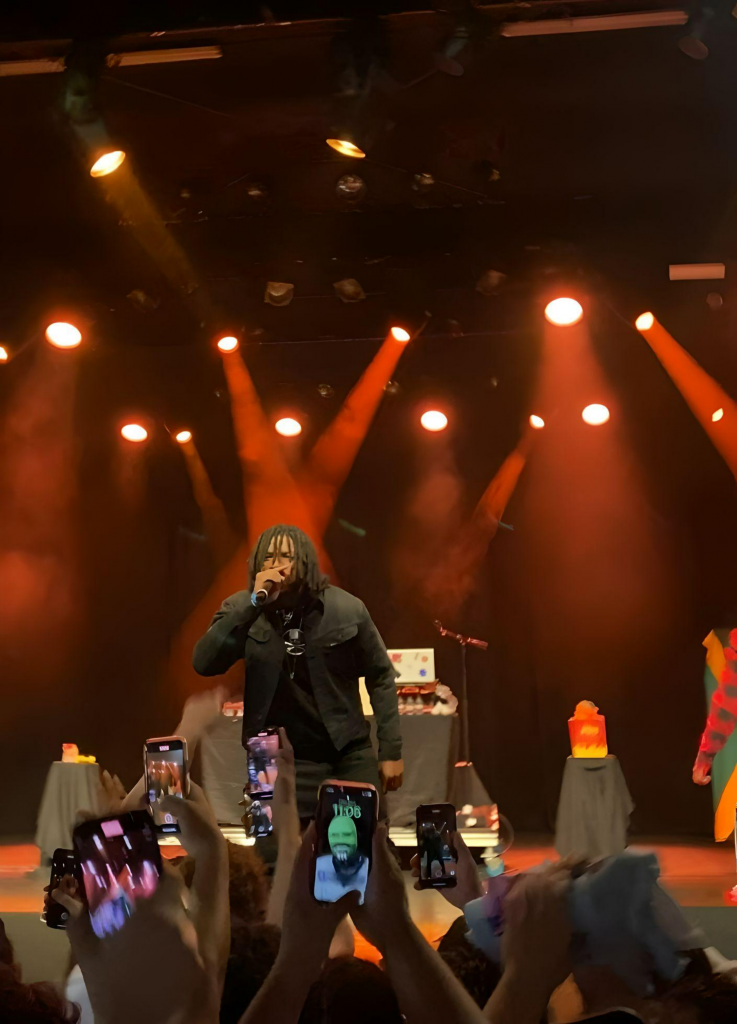 There is only one thing that realistically happens when Kenny Mason is holding a mic. And that is opening the pit back up.
Hearing the echo of DJ Drama's nefarious laugh over the speakers, I was somehow able to tap into some deep buried reservoir of energy to bust out one more hurrah. Then, as anticipated, Kenny Mason shouted "STICK!".
I've seen "Stick" performed one time before, at JID and Smino's LuvIs4Ever tour back in January at the Hollywood Palladium. But somehow, the crowd for a 19 year-old's first headliner was a recipe for an even crazier reception. Having been tossed across the cavernous pit forming in the middle of the crowd, I was drowning in the chants of hundreds of people. "Stick!" is all I could hear as I was blinded by sheer adrenaline.
As the performance wound down and the crowd became settled, redveil stood still in the center of the stage. Showing love to the crowd one last time, he thanked us, exclaiming:
"LA felt like the warmest hug I've ever had."
And with that, the performance came to a close.
Absolutely starstruck, I could only think to myself about one thing. He's only 19???