Photos Courtesy of Just Like Heaven Festival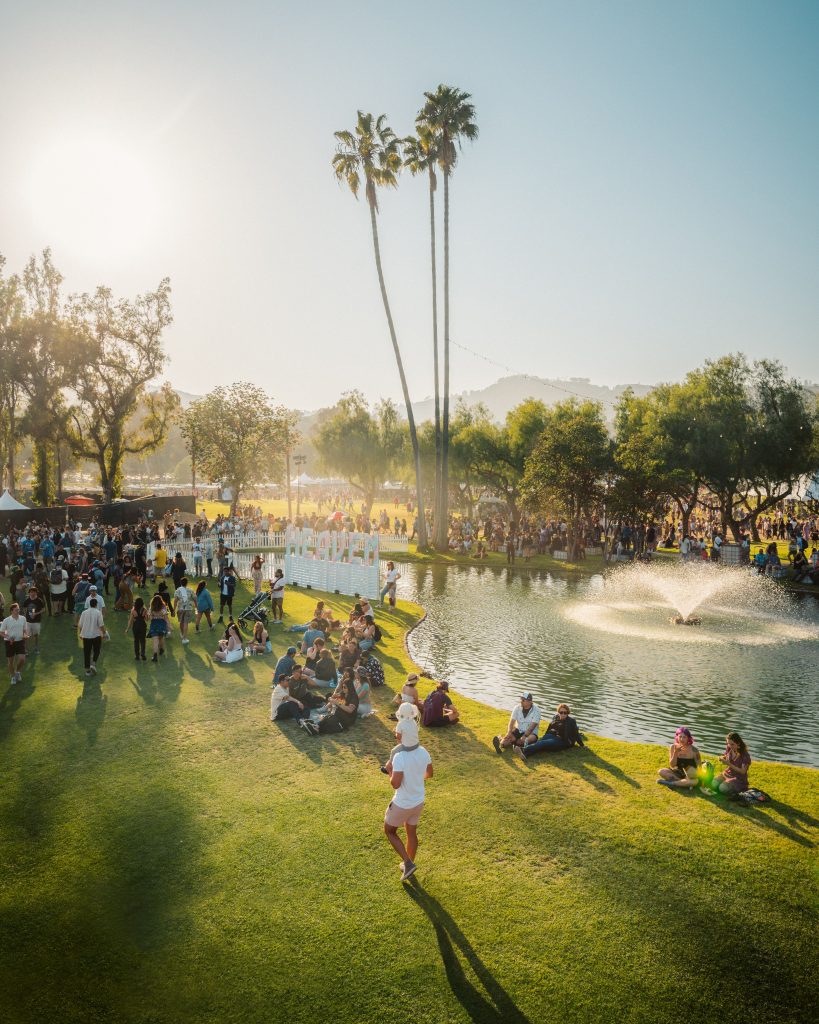 75 degrees, beautiful greenery, and magical music shared with excellent friends — Just Like Heaven lives up to its name.
Just Like Heaven is a music festival focused on the 2000s era of indie music. The fest's headliners include Yeah Yeah Yeahs, MGMT, Empire of the Sun, and M83. The festival grounds are set up on Brookside Golf Course, right outside the iconic Rose Bowl in Pasadena, California.
Around 2:00, I link up with my good friends Mitch and Noah who have traveled all the way from sunny Temecula, California. After taking in our surroundings, it's apparent we may not be the target demographic for this fest. As a few early twenty-somethings, we find ourselves surrounded mainly by millennials and their young children. Regardless, we are all extremely hyped. As the younger sibling of two millennials myself, 2000's indie music has been coursing through my veins for as long as I can remember.
The first set we see is Azealia Banks. We get to the pit early and itch our way to the front. Most of my knowledge about Azealia Banks has come from her various controversies over the years, but nevertheless I'm excited to see what kind of a show she puts on. The clock strikes 2:30, Azealia's set time, and the crowd is eager to start dancing. Time continues to pass and still no Azealia. Slowly, it creeps closer to 3:00 and the crowd still remains hopeful, albeit somewhat discouraged. Surely if she wasn't coming, they would have told us by now. Right? Sure enough, she shows up with approximately ten minutes left in her set. She comes out rapping a cappella, her breath control on point. Soon, we have forgotten all about her late arrival. Her energy is unrivaled and it's clear she knows how to perform. Since her set started late, her setlist is all killer, no filler. By the time she closes with her banger "212," she had successfully turned the Stardust stage into an all-out dance party.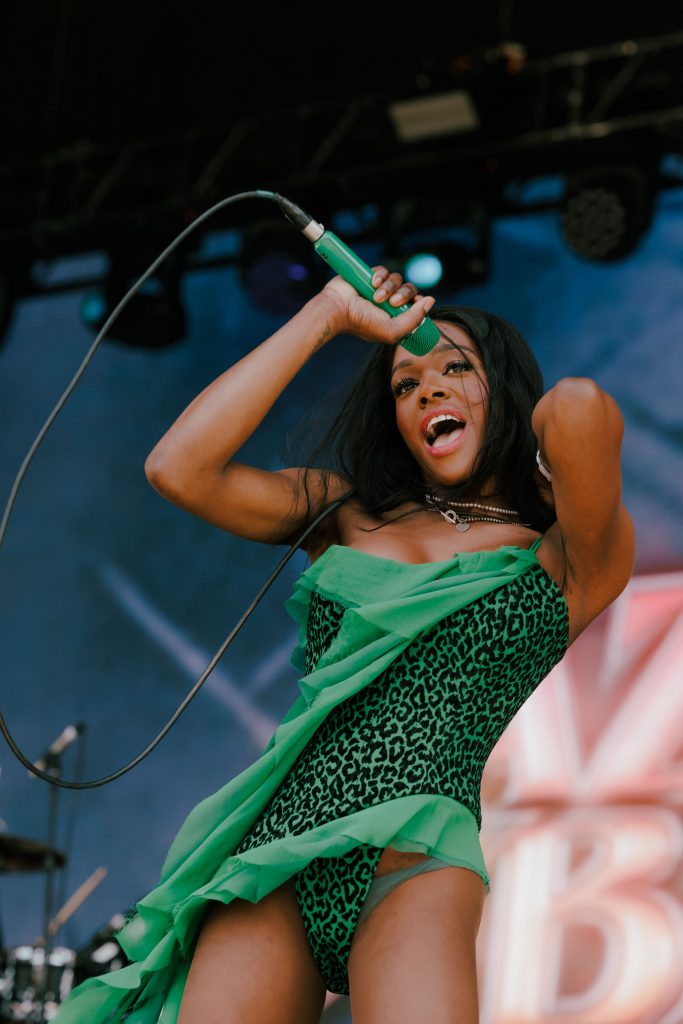 After Azealia, we find a comfortable, shady place to sit under a tree. There is so much fun to be had just sitting at a festival, enjoying the sounds of world-class performers, and chatting with your close friends. Just Like Heaven has an extremely welcoming atmosphere. After our peaceful relaxation session and some $20 quesadillas, we make our way to the Orion Stage, the main stage at Just Like Heaven, to catch the highly anticipated set of Future Islands.
Future Islands come out hot. Frontman Samuel T. Herring is a pure ball of energy, and you can tell he loves to perform. He dances like there's no tomorrow and his moves inspire the crowd to do the same. It's clear that his unique passion for performance is what sets Future Islands apart from their synth-pop contemporaries. His beautiful vibe makes the blistering sun infinitely more bearable. He takes the time to introduce each song and give a little background into what they're about. This helps me relate to the stories he tells about youth and love. The set reaches its peak when they play their fan favorite, "Seasons (Waiting on You)." Most everyone knows the words and the crowd sings along in communal harmony. They are humble and deliver a tight sound of dreamy synth-pop.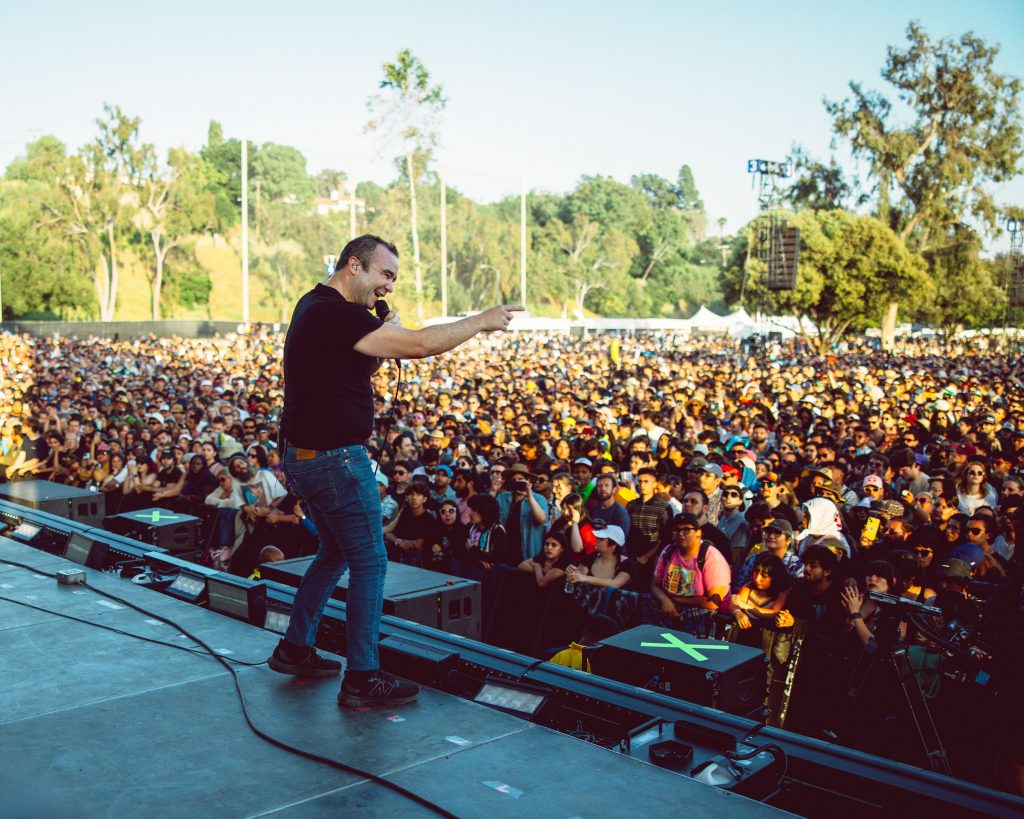 The next act up is Empire of the Sun. Empire of the Sun's signature sound is a blend of indie and dance music; I'm not quite sure what to expect from their set. As soon as the dancers walk on stage, it's apparent that their production value is significantly higher than Future Islands'. While Future Islands felt like a delightful moment shared with a summer friend, Empire of the Sun is a full blown spiritual experience. The visuals are next-level. One minute we're floating above a golden sea and the next we're exploring a vast cyberpunk universe. Every aspect of the show is made to transcend the audience away from the Rose Bowl in Pasadena and into a new, beautiful dimension of sound and light. The performance is very theatrical. After a few songs, the head of a giant elderly man pops up on the screen and delivers a pulsating speech about life. Empire of the Sun frontman Luke Steele screams into the mic during this speech. He's deeply in character, portraying a man either on the verge of a mental or creative breakdown. The dancers are top-tier. They undergo several outfit changes to fit the vibe of each song. They close with their mega hit, "Alive." Everyone lets loose one last time before Empire of the Sun takes their final bow.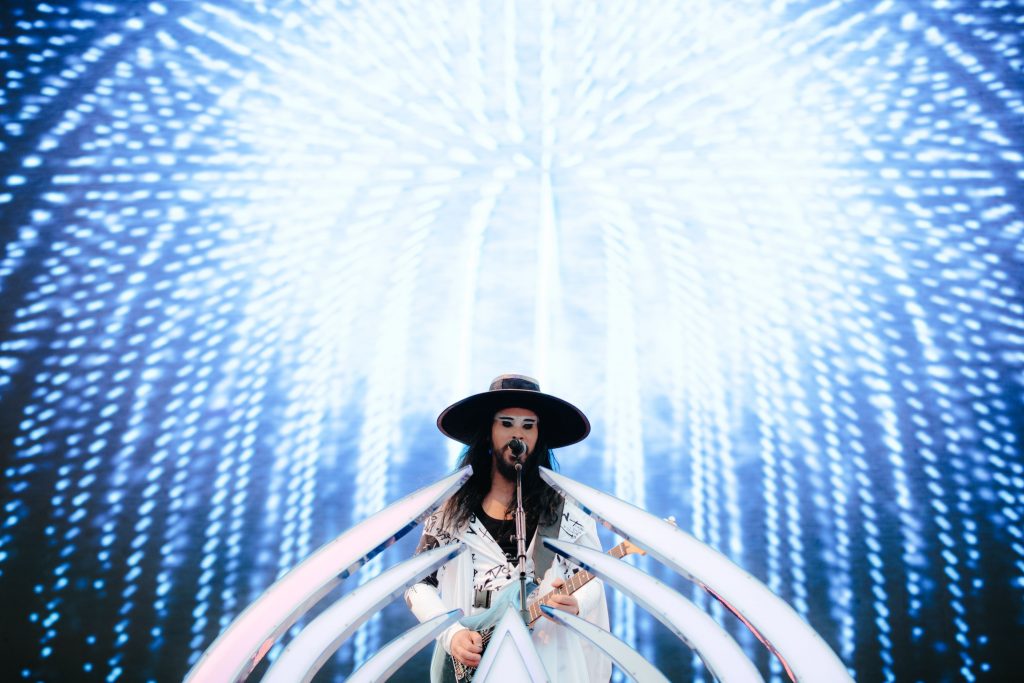 MGMT is set to take the stage at 8:35. Since they're performing their breakout album Oracular Spectacular in its entirety, I know they're set to open with their smash hit "Time to Pretend." To my surprise, however, the show opens instead with a handful of interpretive dancers dressed in white coming out and pouring yellow paint on themselves. The giant screens become filled with trippy AI-generated visuals. After an extended visual introduction, Andrew VanWyngarden and Ben Goldwasser come out to sing the song we've been waiting for. It's clear that a large portion of the crowd has camped out to be close to MGMT. The energy is immense as we sing along to their iconic song. After "Time to Pretend," they launch into a couple deeper cuts from the album. "The Youth" sports an infectious chorus that even MGMT newcomers can sing along to.  Before long, they launch into their feel-good hit, "Electric Feel."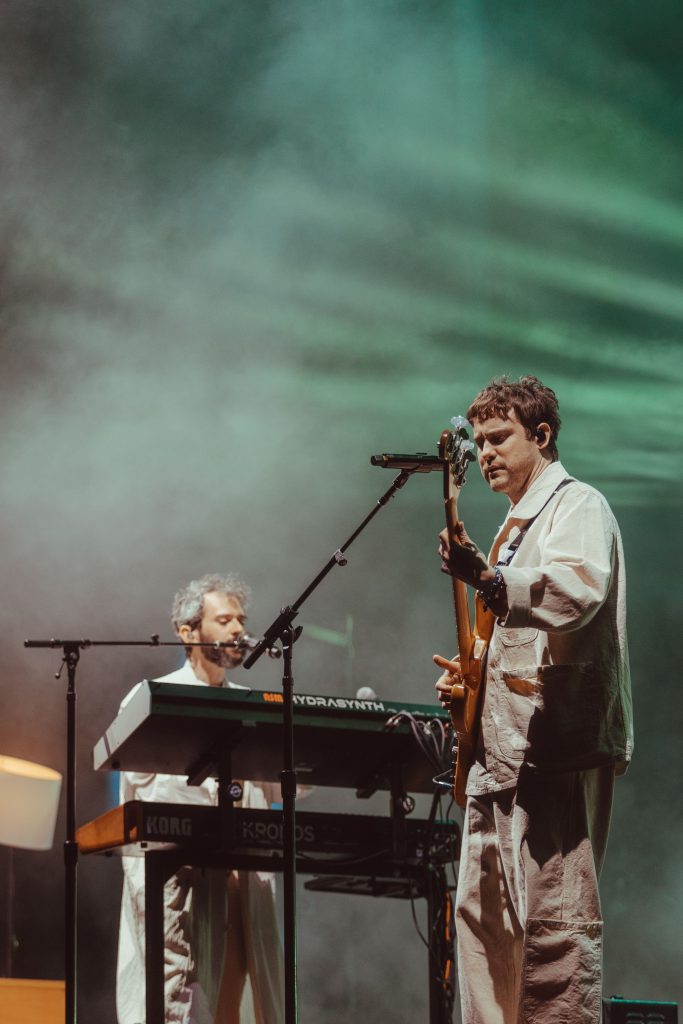 After the bass-driven banger ends, the band leaves the stage. Andrew and Ben soon return, except this time, they have giant papier-mâché heads. Papier-mâché Andrew and Ben act out a short skit. The skit goes back to their time spent as roommates at Wesleyan University, where they first met. As they talk about their dreams to become successful musicians, Ben sits at his keyboard and begins to play a janky version of the melody for "Kids." After a few attempts, he finally has it down. The skit serves as a perfect, heartfelt transition into a proper performance of "Kids."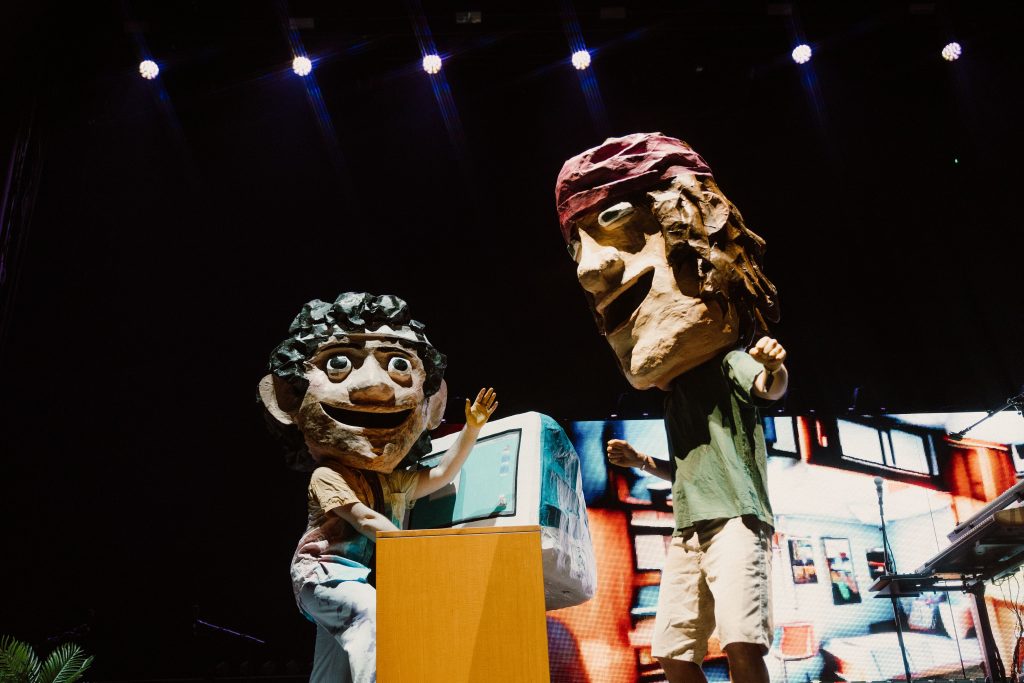 After "Kids" ends, I wonder how they will be able to keep the energy up after already playing their three biggest hits from the album. However, immediately after "Kids" ends, a spooky visual of a dancing skeleton takes the screens. Andrew and Ben reappear on top of a platform, sporting light up headbands. The stage goes dark as Ben begins to drop a beat on a dj-style mix station. All of a sudden, I find myself in the middle of a mini-rave. The visuals have gotten more intense and all we can see of Andrew and Ben are their light up headbands. Ben and Andrew skillfully parlay a booming electronic beat into their song "4th Dimensional Transition."
MGMT close out the rest of their set with their trusty live band. Their last song is a true deep-cut from their first EP called "Love Always Remains." MGMT managed to deliver a set that both satisfied the die-hard fans as well as those who were more unfamiliar with their discography.
Worn out from a day filled with heavenly music, we decide to call it a day after MGMT's fantastic set. Saying something is Just Like Heaven is a bold claim, but with the fest delivering in every way and exceeding our expectations, I'd say that no one is going to fight them on that.