"album cycle tours? old hat, played out, over! ep cycle tours? IN, fresh, sexy. only the hottest bands tour on ep releases. catch us on the road dishing out the hits and subjecting you to only minimal new music!"

Hippo Campus' Instagram post @thehalocline 5/15/23
Hippo Campus knows why you're at The Greek. Yeah, they just dropped their new EP, Wasteland, last month (April 14, 2023) – but you didn't come to hear that. Or did you?
As soon as an artist makes their first hit, there's pressure for them to make another. Once they have enough fans, however, it doesn't matter what they make; they'll always have listeners, even if they're not topping the charts.
Like many indie bands starting out, Hippo Campus spent their early days playing parties in their neighborhood – Saint Paul, Minnesota – writing sun-drenched, feel-good indie rock bops to fire up the crowd. Their first few EPs and debut album, Landmark (2017), shot the band to commercial success. Now established darlings of the indie pop rock scene with 2.7 million monthly listeners on Spotify, Hippo Campus doesn't need to gun for hits like in their earlier days. Six EPs and three studio albums deep into their career, they're not afraid to experiment with their sound and write songs that don't fit the commercial bill.
Hippo Campus' three most recent records demonstrate a significant shift away from the conventional indie rock sound: EPs Good Dog, Bad Dream (2021) and Wasteland (2023) along with their third studio album, literally named LP3 (2022). Musically and lyrically, these records are confoundingly satirical yet profound, spunky yet vulnerable – an attitude key to Hippo Campus' brand only now coming out in full force. Their lyrics are blunt, dark-humored, and eclectic, soundtracked by instrumentals that flip-flop between experimental electronics and stripped-back acoustics.
Not everyone, even the fans, has been keen on this new sound, however. One such fan, Kiki Plowe, wrote an article for The Cornell Daily Sun, "Are Hippo Campus' Best Days Behind Them?". Nostalgic for the band's earlier sound that was "perfect for an indie movie", Plowe writes, "At Hippo Campus' best, they produce the ideal summer songs, songs for blue sky days … and "just got an A on my paper" songs."
I find this view somewhat limiting. Who is to define when Hippo Campus is at their best, especially when they're only in their mid-20s? Artists are continually developing. Listeners only have access to periodic music releases, so we mistakenly ossify artists in certain stages of their development. With Hippo Campus nearly a decade into their career, I'm glad they're expanding their art, writing honestly and unapologetically with the financial security of having an established fan base. But, if you don't like their new stuff, don't worry – there was indeed "minimal new music" during their set at the Greek on May 15th.
As the clock hit 8 pm, opening act Gus Dapperton took the stage with his backup band (guitarist, bassist, pianist, and drummer). A rising star in the alternative pop scene, Dapperton flooded the ears of every chronically-online teen during the pandemic after featuring on BENEE's viral TikTok hit "Supalonely". His following has only grown, nearing Hippo Campus' with over 2 million Spotify monthly listeners. If you haven't heard of Dapperton before, think LoveLeo, TEMPOREX, Cosmo Pyke, and other artists you'd find on Spotify's Lorem playlist.
What differentiates Dapperton from your typical indie alt-artist is his aesthetic and distinctive vocal timbre. His monochromatic outfit juxtaposed formal and casual, masculine and feminine, comprising a black maxi-skirt, gray blazer, sheer top, patent shoes, a single pearl earring, slicked-back hair, and smoky eyeshadow. Where many alternative artists opt for a person-next-door aesthetic, Dapperton doesn't want you to figure him out just yet. A quick scroll through his Instagram shows that this eclectic getup is but one of his many experimentations with clothes, hair, and makeup.
Dapperton commanded the stage with an inscrutable enigma, mesmerizing the crowd with his silky vocals as his long skirt accentuated his dramatic dance moves. His setlst featured fan-favorites "Prune, You Talk Funny", "Horizons", and "Post Humurous", as well as my favorite, "Don't Let Me Down", his third single for his upcoming album HENGE (7/7). Set highlights included a choreographed dance break between Dapperton and the pianist and a slow-dance acoustic version of Drake's "In My Feelings".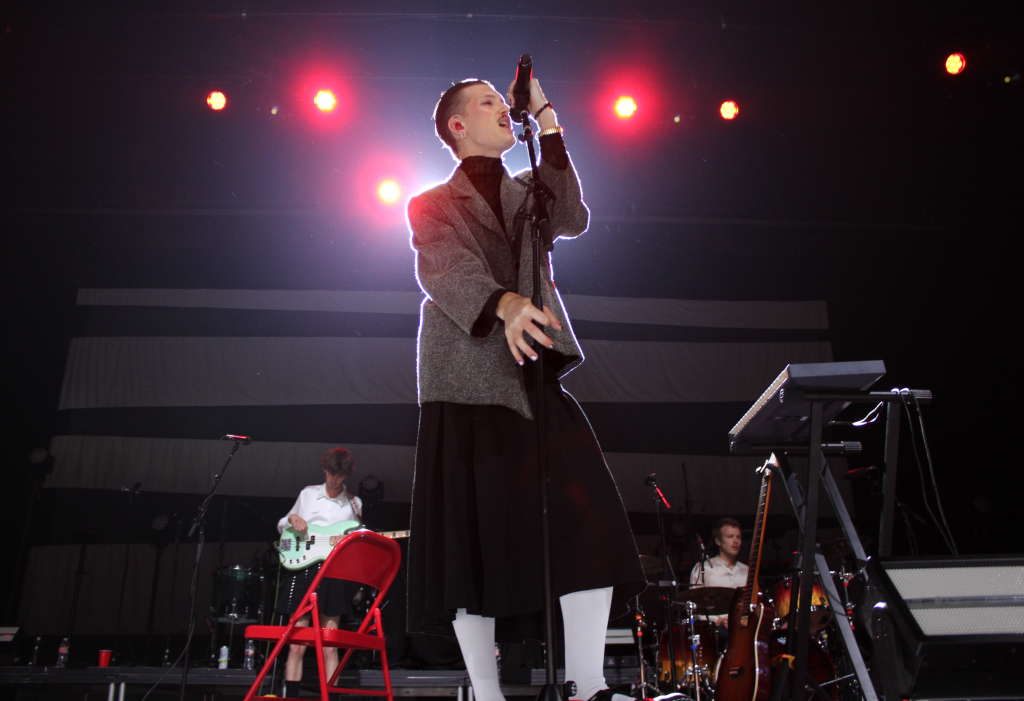 Hippo Campus walked onto the stage at 9:15: frontman Jake Luppen, guitarist Nathan Stocker, bassist Zach Sutton, drummer Whistler Allen, and trumpetist DeCarlo Jackson. Zach was my biggest celebrity crush in my teens, so to say that I was floored to see him in person is an understatement. I'm pretty sure he was my lock screen for a while. But I digress.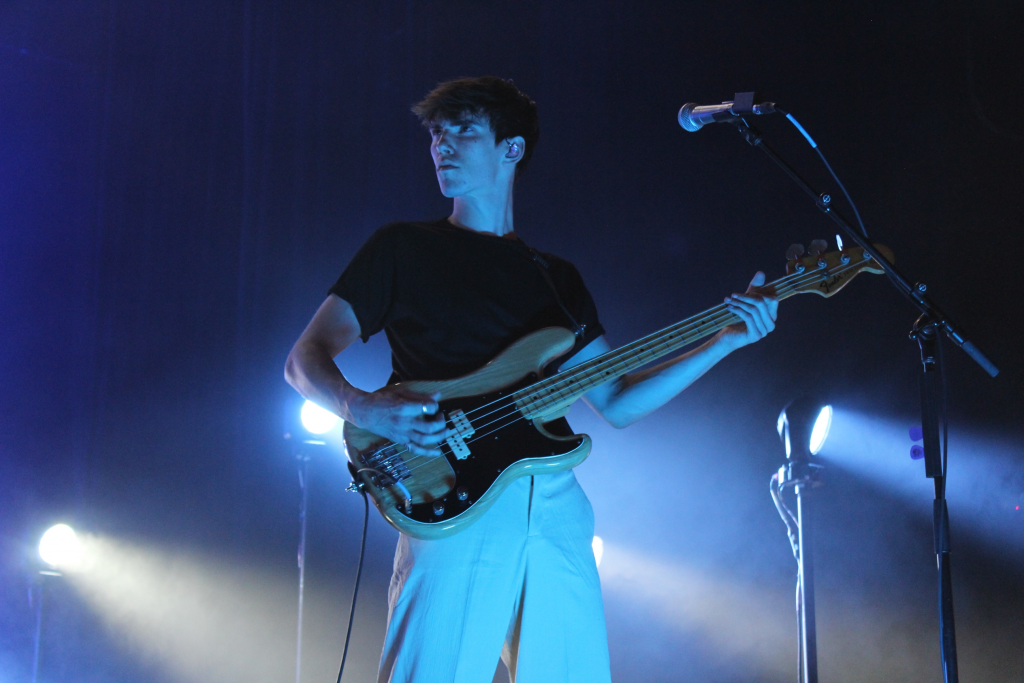 The band opened with fan-favorite, "South", an oldie from their house party days. During the breakdown, the theater resounded with hundreds of people screaming the song's refrain "You go down south, south". From an old favorite, they immediately transitioned to a new favorite – a track off their latest EP Wasteland, "Yippie Ki Yay". In startling contrast to South's classic indie-rock sound, Yippie Ki Yay features Luppen hollering auto-tuned vocals during the bridge: "I DON'T NEED A FUCKING GUILT TRIP." Hippo Campus' ease of oscillation between acoustic and electronic sound worlds is partly due to Luppen's extremely versatile vocal palette. Trained in a variety of genres from rock to opera, Luppen maintains incredible vocal control and power across a plethora of styles.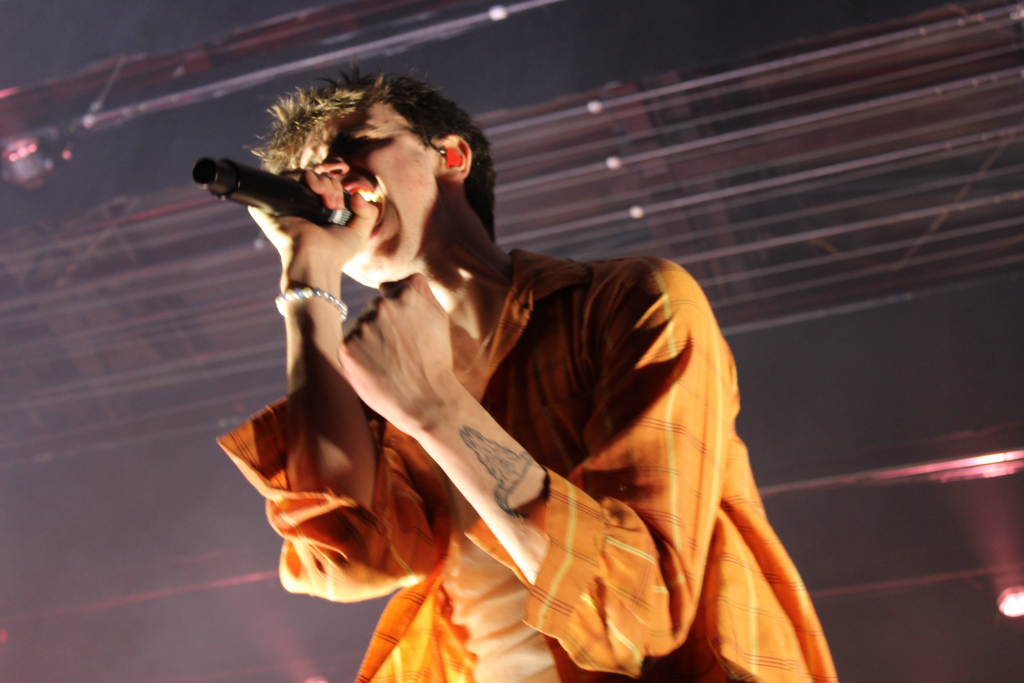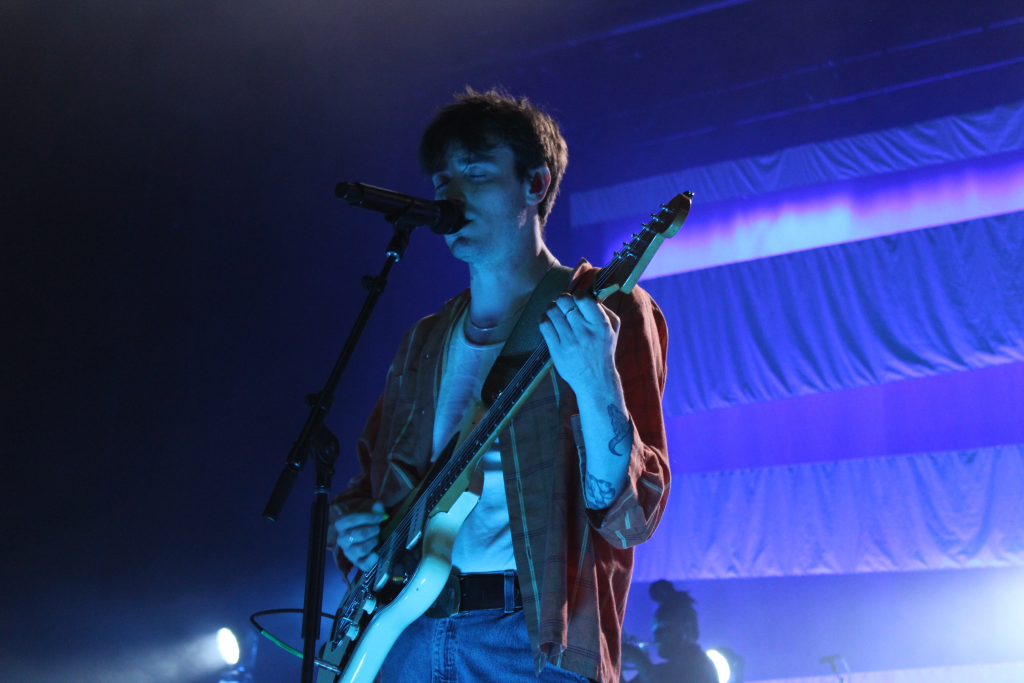 Highlights of Hippo Campus' set? Their satirical track "Sex Tape" off their EP Good Dog, Bad Dream (2021) was an unexpected crowd favorite. Referencing a lyric from the song, "Thank God for all the Christian mothers", Luppen introduces the song (in autotune): "Happy Mother's Day. This one goes out to all the Christian mommas. It's kind of a weird song, but we love our mothers." The song is a hodgepodge of bizarre, mundane ramblings, "Made friends with a few friends of yours / I wouldn't take to them if it was any other situation / Heard your partner's got the hots for Dave / Cool, you love her, but you should probably just rethink that." I wondered what the white suburban middle-aged couple in front of me thought of that one – but kudos to Hippo Campus for attracting a diverse audience. Having had my teen years soundtracked to Hippo, I was surprised to see a significant number of adults in their 40s-60s in attendance.
Another highlight was my personal favorite, "Poems", an expansive, ethereal track off Hippo's debut album Landmark. Fans, including myself, had grown used to the studio version of this song, where Luppen's mellifluous voice floats over dreamy guitar and synth ostinatos. However, this live rendition was underscored with harder-hitting beats and bass, and accentuated with the jagged edges of Luppen's voice through auto-tune. By updating their older repertoire to fit their more experimental, electronic sound, Hippo Campus keeps their fans on their toes. Yes, they promised to "dish out hits", but even some hits aren't what you expected them to be.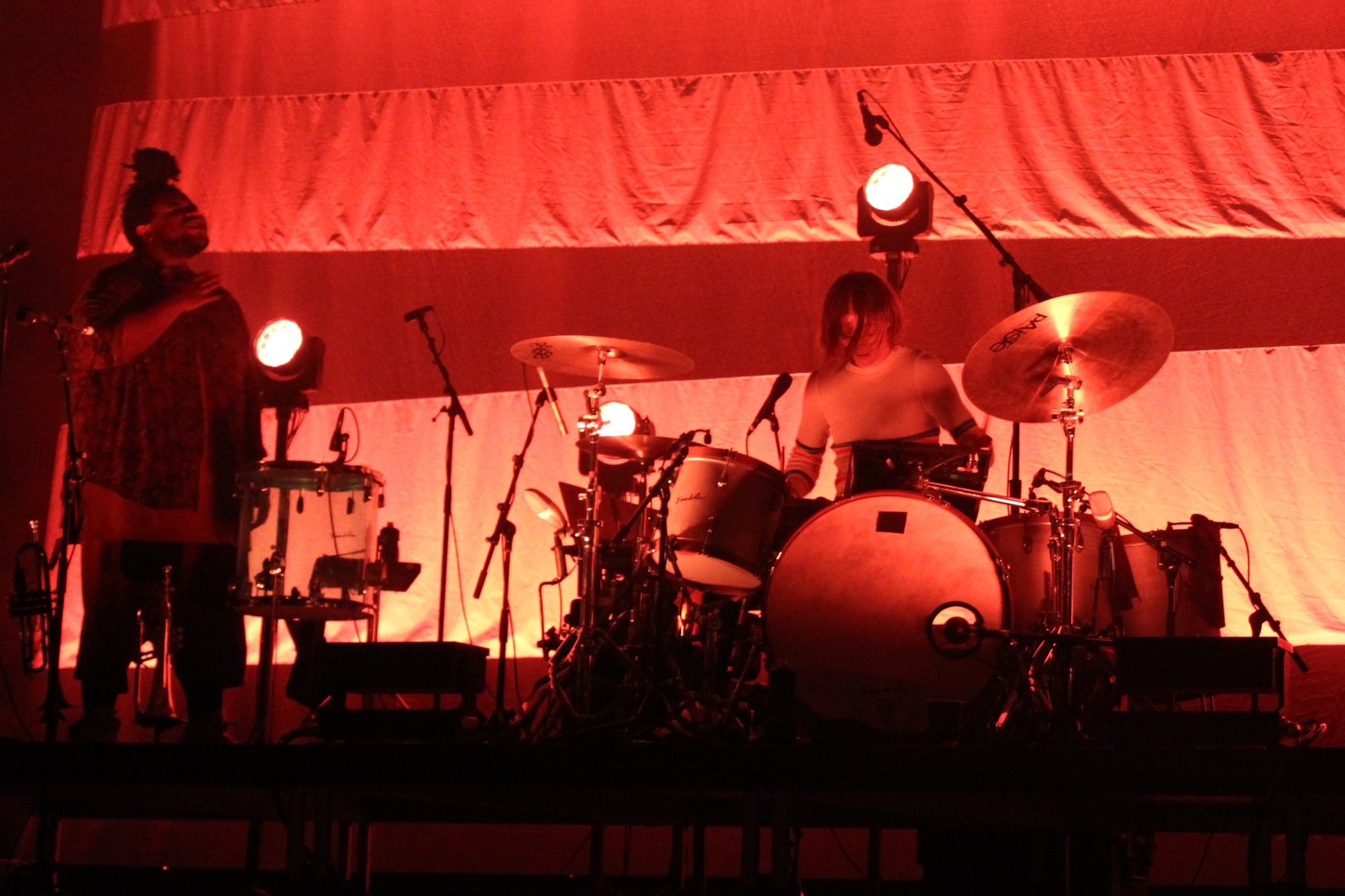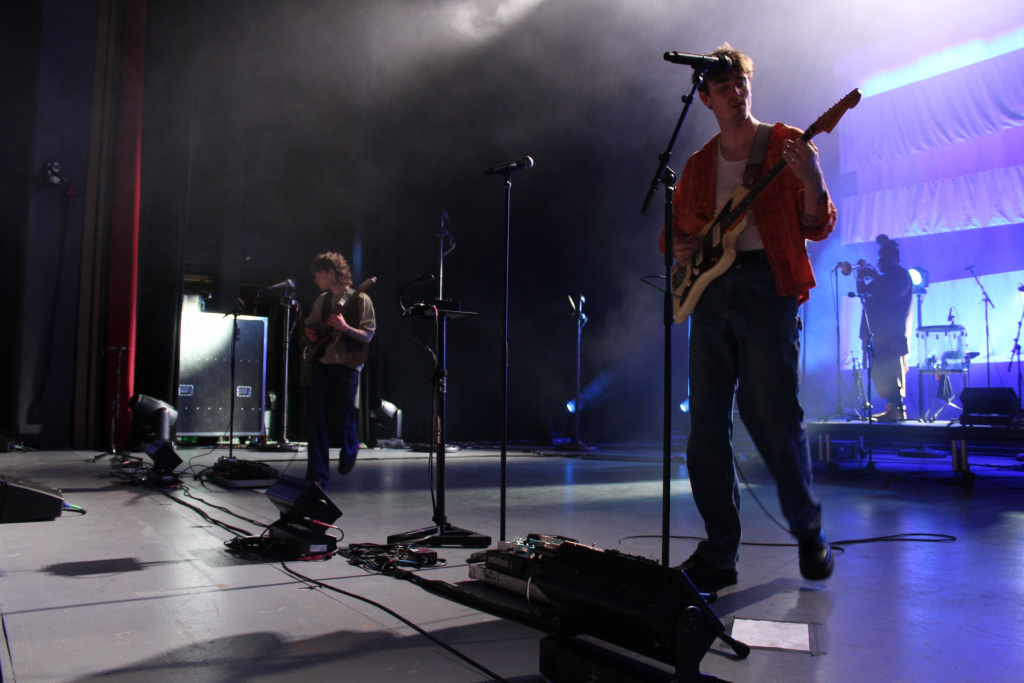 What indeed stayed the same to tried-and-true traditions was Hippo Campus' encore song, "Buttercup". As the track that introduced me to the band, it will always hold a special place in my heart. Screaming the song's head-banging breakdown alongside a mass of people was immensely cathartic: "I'll be fine, I'm alright, it's my body / Gonna stick to my guns like you taught me / Holy hell, I can tell that you hate me / Dying moon, keep me up, keep me waiting."
Ultimately, I enjoyed the concert so much because I do not hold Hippo Campus to any certain expectations. Each member of the band is extremely talented at their craft (check out their solo projects under Lupin, Brotherkenzie, Mono Moon, Whistler Isaiah, dzjackson). I trust them as individuals and, of course, as a highly-geled collective to continue creating compelling art, whatever direction that may take. Old music? New music? Bring it on – I'm all ears.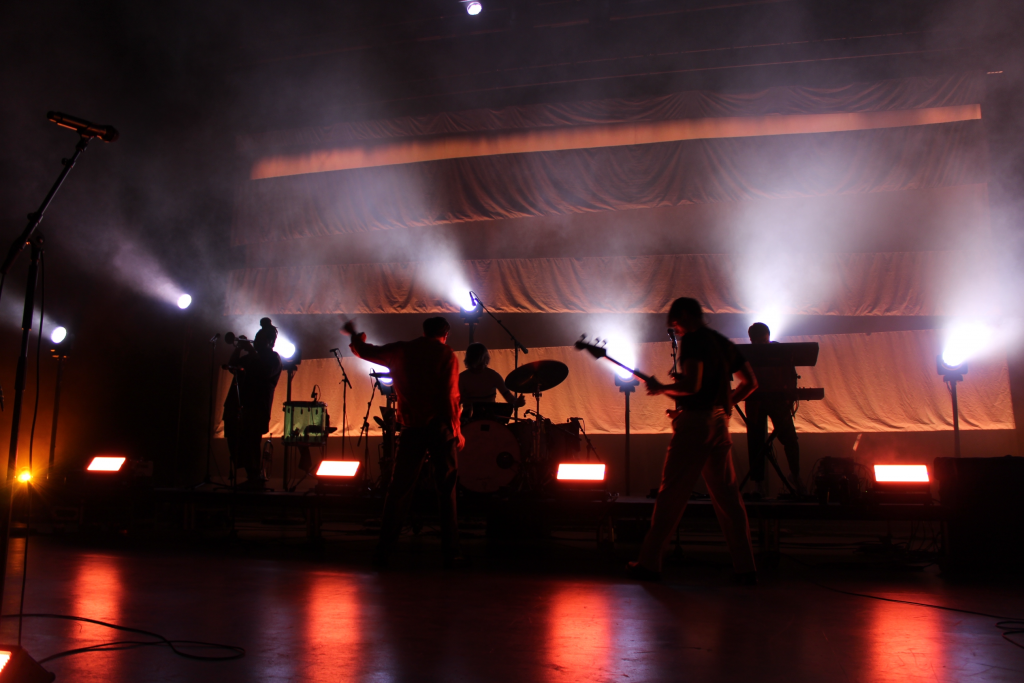 Take a listen Hippo Campus' latest EP, Wasteland.