This interview has been edited for clarity and brevity purposes
I wake up disheveled from a night of habitual party-hopping in the simplicity of my college neighborhood, wracking my brain for details of the mischief I got into the night before. I check my phone frantically for the time and nervously anticipate the phone call in which I get to interview Grammy-nominated artist GAYLE. It has been a very exciting year for GAYLE, who, at nineteen, has commenced a stadium tour run as an opening act for both P!nk and Taylor Swift, two of the most prolific artists of the millennium. We often read headlines about young artists and take their age for granted, but when I talk to GAYLE, I gain more perspective on the reality of living through stardom and all the baggage it comes with at the precipice of adulthood. An age where many are unsure where to aim their arrow, barely starting to come into their own. The conversation flows freely and reminds me of my casual chats with my friends, and I try to imagine what it would be like if one of my close friends began to experience the beautiful turbulence of life on tour, navigating a career in the entertainment industry, and balancing so many responsibilities, topped off with the constant reality of a star's gravity at the center of the commotion surrounding them. The idea of the teenage dream I once had gives me a warm feeling, and talking with GAYLE elucidates some of the realities of this experience, one that very few people get to live. Fame is an unchangeable temporal phenomenon that transforms the lives of those it touches, and I feel impressed at how she seems to handle it. As I look at the questions I have prepared, I imagine sending an energetic charge of good luck to GAYLE, hoping that she is having as lively and exciting a time as she provides for her fans. My phone begins to announce its Marimba ringtone and I pick up.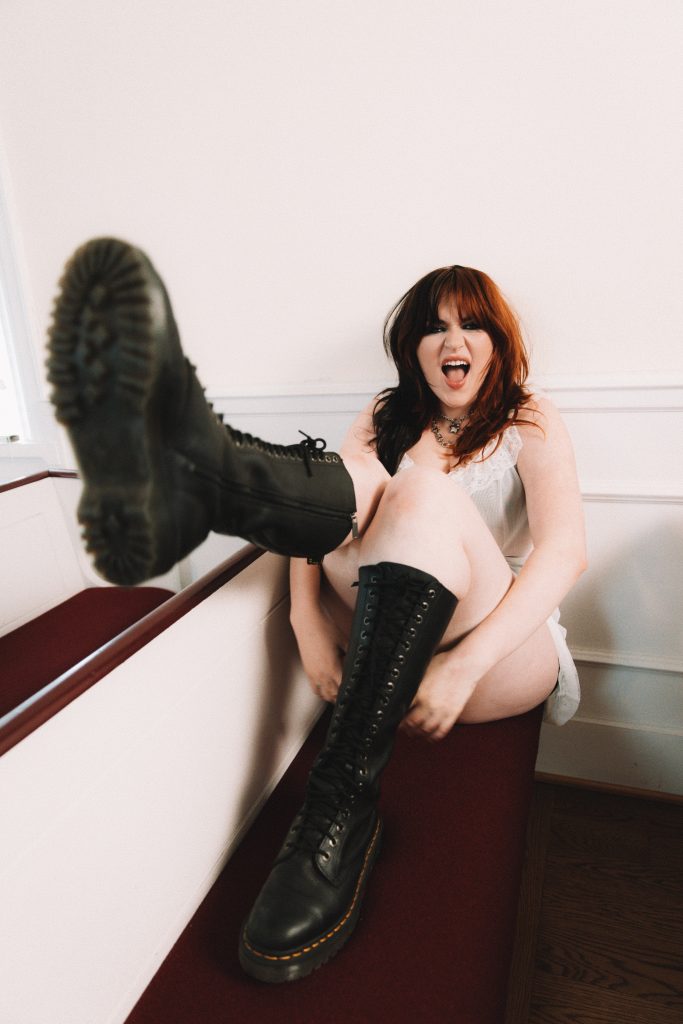 Ali: Hi!

GAYLE: Hi, how are you?

Ali: I'm so good. It's so nice to talk to you. I hope you're having a wonderful afternoon/morning.

GAYLE: I am, I hope you're having a wonderful afternoon/morning.

Ali: Thank you so much. I love the title of your tour so much. [Scared but trying] and I think you're doing amazing.

GAYLE: Aw, thank you.

Ali: But with that being said, how has the tour been?

GAYLE: Tour has been so lovely. You know, I've had just such an incredible past two years of my life. I've been so lucky to do things that I've just never done before ever in my life, but when you've never done something before in your life, it seems impossible and I'm not necessarily the most confident person in the world. It's really scary and intimidating walking into this year, especially as an opener and going to make my headlining run, I was really intimidated and scared that people wouldn't show up, but people have and they've been singing along to my songs. It's just been such a joyful experience. I'm currently in Dallas right now, and that's where I'm from, I get to play a show in my hometown, and that's so exciting for me.

Ali: I was just going to ask you if you're excited to perform in your hometown, what that's going to feel like. Do you have any people that you know who are showing up?

GAYLE: Yes, my mom is so excited. My mom invited all of her high school, and college friends like anybody that she's known is going to be coming here. A lot of my friends that I grew up like in elementary school with are going to be showing up today, so I'm very excited. Yeah, it was also so full circle for me because I was able to do the Arlington date with Taylor, and that was such an incredible experience getting to play the stadium that my family grew up going to. Even just getting to play this venue and to headline it's so it's so fun. It's wild.

Ali: It's so special. I wanted to ask you if there's anything from the team, with Taylor and the Eras tour that you have been inspired by and have taken to, like, have on your tour, and has there been any advice from her that you've taken to heart?

GAYLE: I mean, even her just letting me on to such an iconic tour was such a big honor, and that's not something that I take very lightly. I know she wouldn't just let anybody open up for her, so to be a part of the selection of incredible artists that have been able to be on that tour was just inspiring for me as a whole. I mean, her kindness throughout the whole entire tour, it was such a kind thing to just see a kid play the NSAI awards. And then for her to let me on her stadium tour, just completely ridiculous. Her energy and her kindness have just been really, really inspiring to me and she's such a powerhouse. I even sang with P!nk, you know, like going on tour with her over the summer, I am so grateful. She's such a badass and her strength and her power are so inspiring, for both of those women. You know, they're both such badasses and so powerful and independent, and it's cool to get to see and to get to open up for them, and very inspiring when walking into my own headlining tour.

Ali: I wanted to ask you if you had any pre-show rituals that you just have to do
before every show?

GAYLE: I probably chug a bottle of Vitamin Water, honestly, and then I do my warm-ups. I do a lot of random runs. I sound like a crazy person. Also sorry, I'm getting into Uber so my bad for the noise!

Ali: Take your time.

GAYLE: Then my band and I, we start with like a little whisper and we go "123 fuck, 123 fuck!" and then we just get louder and louder. My band and I probably, flip each other off and yell at each other at some point.

Ali: Well, that's good. That just boosts morale a little bit.

GAYLE: Exactly. Exactly.

Ali: You've been on such an amazing trajectory from such a young age. How are you able to stay grounded through it all?

GAYLE: Oh, gosh, I think I'm just so insecure, I literally can't acknowledge anything that I've done with my life to be completely honest, I've been going to therapy for the past year, and that's been helpful with just like, with my insecurities, and helping myself be more confident, and just kind of standing more in my power, you know. I think I have just really been like, driven by my passion and love for music and being able to do that. And I guess that's the thing that's been keeping me grounded just being able to make and create music and perform consistently.

Ali: That's amazing. You know, I was just listening to "I don't sleep as good as I used to", and I mean, it's just so like, poignant, it feels so real and raw and honest to what you're going through at the moment. So I wanted to ask you if you could describe the production/songwriting process for it and if there were any memorable moments.

GAYLE: Yeah. So I wrote the song with my best friend, I wrote 'abcdefu' with her, I wrote 'ur just horny' with her. I was working with one of my favorite producers to work with Reed Berin, and we did 'butterflies' on the Barbie soundtrack. And 'kiddie pool' together, he did an alternate version of 'abcdefu'. These are some of my favorite people to make music with. Last year, we kind of sat down and tried to make some music. It was honestly about this time last year like October kind of fall time, I believe, and we wrote two songs that day, and we wrote half songs, and I was on tour, and I was talking with my band. We're talking about how we just like couldn't sleep, like it was just so hard for all of us to fall asleep. We're talking about how easy it used to be when we're little and I forget who said it, but somebody said, "I don't sleep as good as I used to", and I was like, oh my god, that's a song, that's a song, that's a song. My friend and I actually, Sarah and I wrote a verse in this random session, we wrote a couple ideas with this guy. And we had no clue how to tie the first verse into anything because we just had 'I rolled my first joint on a Bible made for kids/ Said the dinosaurs all died for our sins', and we had no idea how to tie that into anything. Then I heard the phrase, 'I don't sleep as good as I used to' and I was like, oh my god, we should tie this person into this concept, so then we brought it in and wrote the song. I just was like, loving, like rock music and was inspired by My Chemical Romance and Wet Leg when making this song. I was just particularly writing music that I thought would be fun to play live, so I was kind of preparing for the tours this year when I was writing last year. Yeah. And that was just a song I adored and made with some of my favorite humans.

Ali: I wanted to ask you how you're settling on the themes for the album.

GAYLE: So I'm still working on the album. I was supposed to put out an album this year, but with the touring, I feel like I'm a perfectionist. I wanted to try my best on these tours because I've never played stadiums before, and it was like my first time doing that. I've also never made an album before and I felt like I couldn't be great at trying to do the tours I was doing and trying my best to make a great first album. I decided to focus on my touring and put out singles this year. I'm honestly not entirely sure if any of the songs are going to be on the album. I'm going to be writing for the album earlier next year, but I can say that chaos is planned to be a very, very big theme in this project.

Ali: I'm so excited. I wanted to ask you what your relationship is like with social media specifically TikTok.

GAYLE: I think my relationship with social media changes every single day. I kind of see it as a double-edged sword, where it helps you connect with people who think like you and can help you connect with people and create really beautiful friendships and conversations. It also can dehumanize people and can make them cruel, angry, and vindictive, and so I think it's intense on both sides and I was just trying my best to sit in the middle with all of it and be grateful for everything it's done in my life. At the end of the day I am a music maker and not a social media influencer, you know, I'm on social media because I love music and because I love people. That's really why I am on social media and that's kind of my relationship with it I just see it as a tool to help connect me with people who listen to my music so I can talk to them and connect with them, and just kind of show my personality and show who I am as a person. So other people can't make assumptions.

Ali: Absolutely. I wanted to also ask you if you had any advice for upcoming artists.

GAYLE: I would say it's really, really hard, but anything is possible and nothing's going to be perfect.

Ali: That's really good advice. Um, do you know what you're going to be for Halloween?

GAYLE: I don't know what I'm going to be for Halloween, we have a travel day on Halloween, I think we're going to be in like Minneapolis. I think I'm going to convince my band to pull up to some like, random neighborhood, and see if we can get away with trick or treating, but I'll probably be like a skull, a skeleton, something that's easy to do with makeup like a cat or like, devil or something. I think it'll be fun.

Ali: I wanted to ask you if there's been any, like, sounds that you've been gravitating towards. I know you said you're really into rock influences right now. Has there been any kind of studio equipment/instruments other than guitar that you've been gravitating towards?

GAYLE: I mean I'm in love with bass. I think bass is like, the best thing ever. I've been passionate about 808s recently, in my music and how to, like incorporate them. I'm very particular with drum sounds, you know because in my music there's a combination of doing electronic drums and live drums and kind of knowing when to put what where and when. And I'm particular about room sounds with vocals. I'm very, very passionate about stacks and doubles and panning and all of that. I would say that's been a lot I've also like, been in love with Frank Ocean, SZA's album was incredible. I'm, really, really in love with 'The Record' by Boygenius that record is godly, like just wow, the lyricism in that record is just so so inspiring. Obviously, 'Midnights' has just been an album that has been on repeat this year.

Ali: I want to thank you so much for your time, I hope that you're taking care of yourself on tour. You are so bright, and we just need you to take care of yourself and give us the beauty of your art. So thank you so much for talking with me today. I hope you have a wonderful show.

GAYLE: You're so sweet. Thank you so much. I really appreciate you taking the time out of your day.
Ali: No thank you!
GAYLE is currently on her scared but trying tour, performing @ El Rey Theatre on 10/25/2023.