Photos by Chloe Gonzales
8:10 PM
Public transport card? Check. Camera from a decade ago? Yes. 70s fit? Debatable.
Lady Apple Tree is someone who I've been aching to see ever since she opened for the indie rising star Alice Phoebe Lou. Well, technically she was supporting the opener that night. But she stepped up for a rendition of The Lovin' Spoonful's "Didn't Want To Have To Do It" and I couldn't resist doing some Instagram stalking to find out more about her. It's the culmination of these events that brought me to tonight's intimate venue, celebrating the singer's debut EP.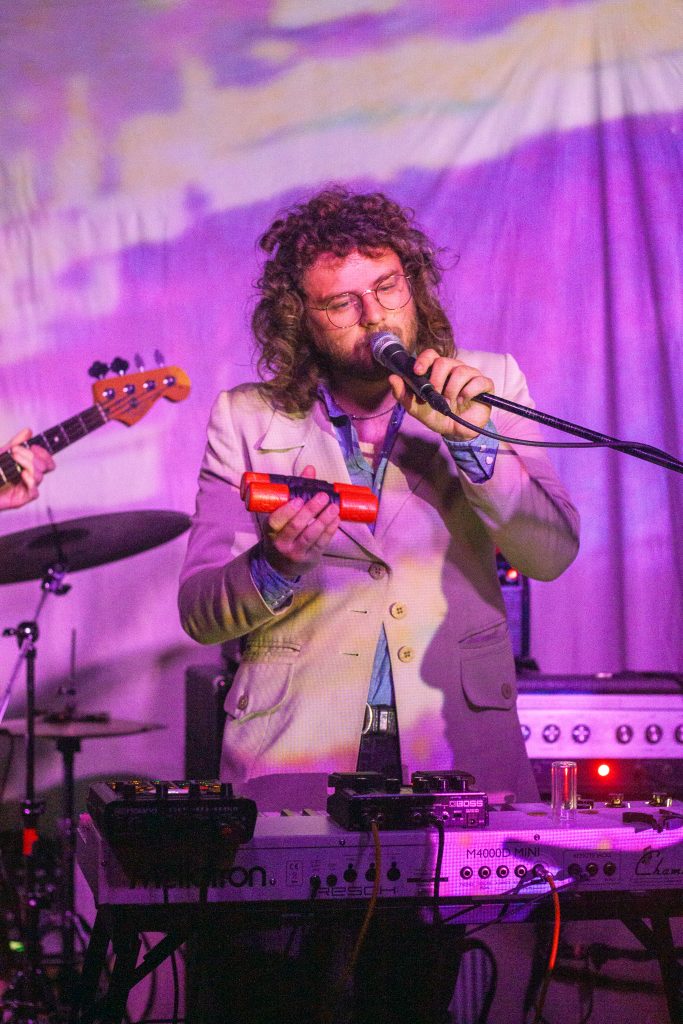 My friend and I dash to the bus stop and head towards the concert venue.
8:30 PM
We are greeted by a half lit neon sign saying "ghis hen" and figure we are at the right place. Upon entering, one wouldn't expect to find a concert there. In fact, you look around at the ambient lighting and see a well-established Chinese restaurant, with a performance on the side. We make our way to the performance room, and we couldn't help but admire the cool DIY set-up. Inside, the stage is lit up by a projector with a spectrum of colors floating around. It feels like a really nice house show, an experience I personally cherish. We wait amongst the growing crowd for the opening act.
8:50 PM
Musicians emerge from the audience, instruments in hand. The distortion from the speakers signal the beginning of the opening act, Franky Fox, whose performance surpasses my expectations. While Lady Apple Tree sounds reminiscent of 70s folk, Franky Fox fits a completely different genre, and we love it. I feel like I am hearing a clusterfuck of bands like Radiohead, Animal Collective, and Of Montreal. The set is filled with transitions by distortions & feedbacks of instruments, audio recordings, and knobs turning – we never knew what to expect, but in a good way.
9:45 PM
The set concludes and we quickly resume our conversations amongst ourselves. My friend and I struck up a chat with the folks next to us, engaging in the typical small talk that college students often engage in (Name? Major? Wow, that's so cool!) Remembering who we were here for, I ask how they found out about Lady Apple Tree. "We actually heard her on the radio!" one of the girls replies. It takes me by surprise, especially thinking about how we tend to discover artists now primarily through algorithms and social media. While waiting for the artist that's influenced by music from the past, it was cool knowing that both of us stumbled upon her organically, just as people might have "back in the day."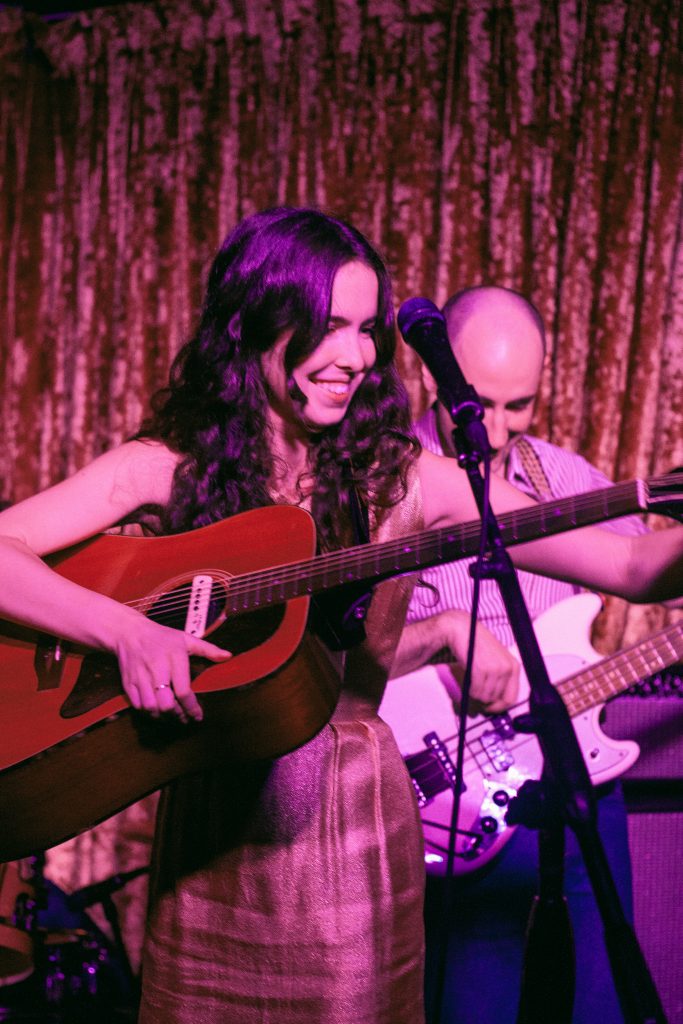 10:00 PM
SHE'S HERE!
Lady Apple Tree graces us with her presence on stage, donning a short golden dress and cradling a guitar in her arms. She greets us warmly, expressing her gratitude for our presence tonight. The band starts up and soon we are treated to her self-titled song "Lady Apple Tree." I hum along, singing the chorus, "I'm only but a wanderer!" It's one of my favorites from her EP, and it transports me to the prairie, invoking a sense of journeying through America.
10:10 PM
The band plays the first note to "Silver Hands" and I silently squeal. A girl behind us chuckles, saying "It's my favorite song too!" Lady Apple Tree starts to croon out her lyrics, accompanied by delicate string plucking. The tambourine adds a layer of enchantment, and I softly clap my hands to its beat.
10:59 PM
Towards the end of night and the end of her EP, anticipation builds for the final song of the evening, "Didn't Want To Have To Do It," the first song that she introduced to me and the world. The band starts to begin but then a voice from the back calls out, "You can't play it, we have a curfew." The audience collectively groans and gasps; after all, the song would only take two minutes! Lady Apple Tree, her band, and the venue owner engage in conversation, trying to persuade them to allow for just one more song. Audience members pipe up, supporting the band. I had hoped that this would have been a moment where the audience rallies around and the band plays nonetheless (a "everyone cheers" ending.) Nonetheless it was less exciting, with the set concluding there. I suppose this checks off the final box of a house show: getting shut down.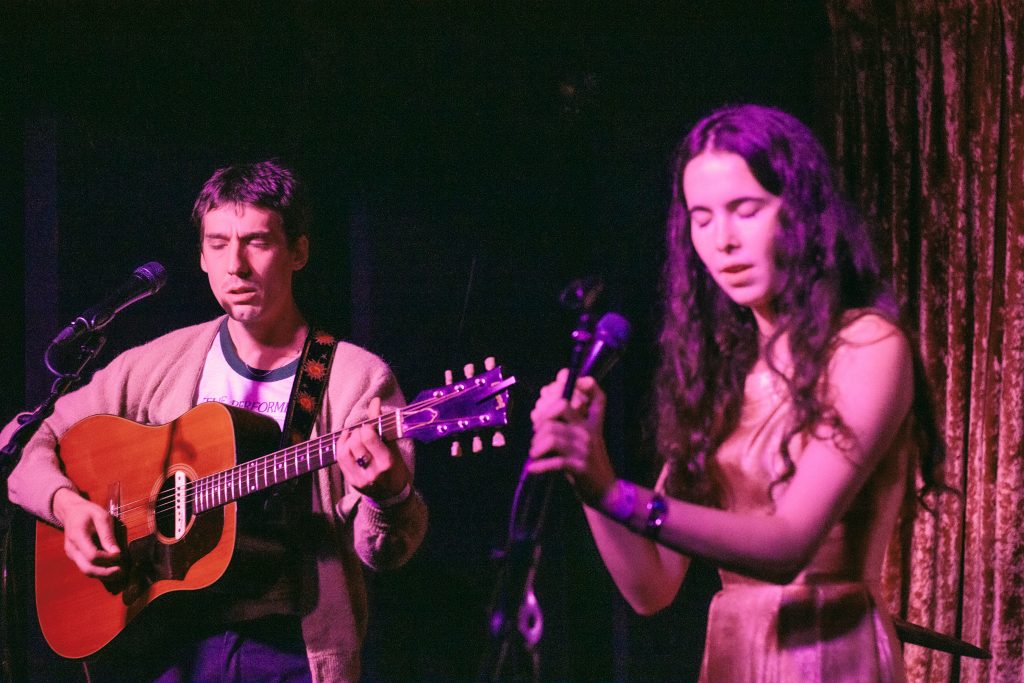 11:05 PM
The night ended on a high note though. Lady Apple Tree converses with audience members, discussing the event and receiving praise from excited fans. It was cool to see how intimate the concert was – moments like these are a rarity. My friend and I conclude the night by buying merch and walking out, humming the tune of "Didn't Want To Have To Do It."
Check out Lady Apple Tree's new EP below:
Gallery