After taking a 50 minute bus ride from Westwood, I've arrived at my destination: Macklemoreville, CA.
Tonight, Macklemoreville is conveniently located within the Hollywood Palladium. This is my first time at the Palladium. I'm very impressed by the venue. It's beautiful and everyone here is ready for a show. I stop by the bar to grab a quick margarita. I hadn't planned on buying one, but shit it was 99 cents! Just kidding, it was 23 dollars. Nevertheless, nothing can drag me down as I head to the floor.
As the lights dim, the crowd erupts. From the first moments of the show, it's clear that Macklemore has attracted an energetic crowd. Macklemore wastes no time getting into the groove. He starts rapping with purpose and precision. It's immediately obvious how seasoned of a performer he is. He's accompanied by a fantastic band and two incredible dancers.
To get the crowd fired up, he plays his mega hit "Thrift Shop," for the second song in his set. Needless to say, the crowd goes berserk. It's at this moment that I can tell we're in for a treat; Macklemore really knows how to put on a show. I'm blown away by how energetic his presence is. He is all smiles and already has the crowd in the palm of his hand. He doesn't ease off the gas as he also plays "White Walls" and "Same Love," early in the set. Macklemore's setlist is all killer, no filler.
Perhaps Macklemore's energy was a bit too contagious as early in the show, he responds to someone being punched in the crowd. He kindly asks the offender to leave. This makes it clear just how gifted Macklemore is at speaking. He skillfully deescalates the situation and knows just what to say to put the crowd at ease. If Macklemore never made it as a rapper, I believe he could have been a successful motivational speaker. He exudes charisma and spreads words of encouragement and love.
I'm also blown away by Macklemore's technical rapping ability. He sounds nearly identical to his recorded work; I spot no mistakes in his delivery. His years spent working his way up from the rap underground have paid off as he is an incredible performer. He gives his all in his performance. At one point, Macklemore even kindly tells us to put our phones away. He exclaims that no video or tiktok can truly capture live music. Live music only exists in the moment and we in the crowd are lucky enough to share this magical moment with Macklemore.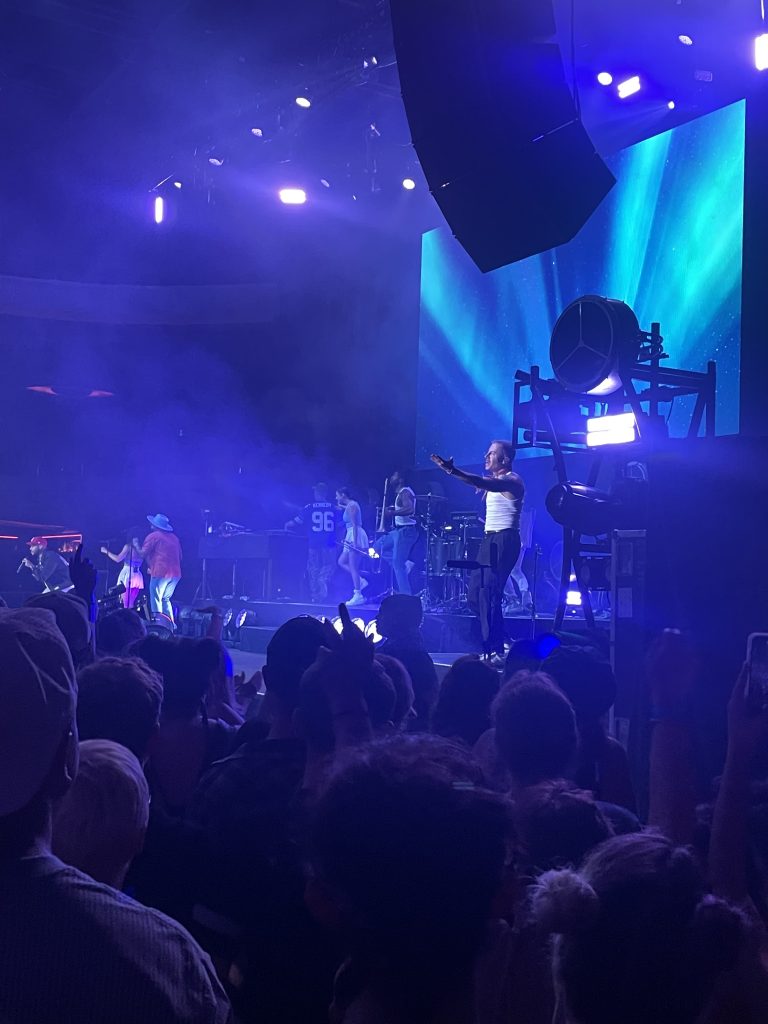 Macklemore turns it up another notch when he plays the track, "Downtown. "Downtown" is truly one of those songs that was made to be performed live. The song has always sounded like it could be in a musical, so it's right at home on a stage. This song is just pure bliss live; everyone in the crowd screams out the chorus. This is easily one of my favorite concert moments ever.
As the show winds down, Macklemore plays one of my favorite tracks off of his new album called "1984." 1984 is a pop-cut reminiscent of the 1980's. Macklemore is no stranger to making fun dance tracks as this song flows smoothly into one of his oldest hits, "And We Danced." I actually wasn't familiar with this track until I had listened to it on the bus ride over to the Palladium. On first listen, it immediately stood out to me as it was just chalked full of personality. Macklemore just has fun on this track and even sings the chorus, something that he rarely does. This song is an absolute party live. I can see why he's kept it in his setlist for all these years. The song also provides the perfect transition into one of my favorite tracks, "Dance Off," featuring the incomparable Idris Elba. "Dance Off," is just as it sounds, a song about a dance off. Macklemore kills his performance, rapping immaculately all while doing choreographed dances. At the end of the song, Macklemore randomly selects two audience members to come up on stage to have their very own dance off. Macklemore picks his two people, one of which is a girl who couldn't be much older than 10. They're each given 30 seconds to show the audience their moves as the beat plays in the background. They both absolutely destroy their dances and it's just a blast to see. At the end of it, they're both declared winners. Everyone's a winner at a Macklemore concert.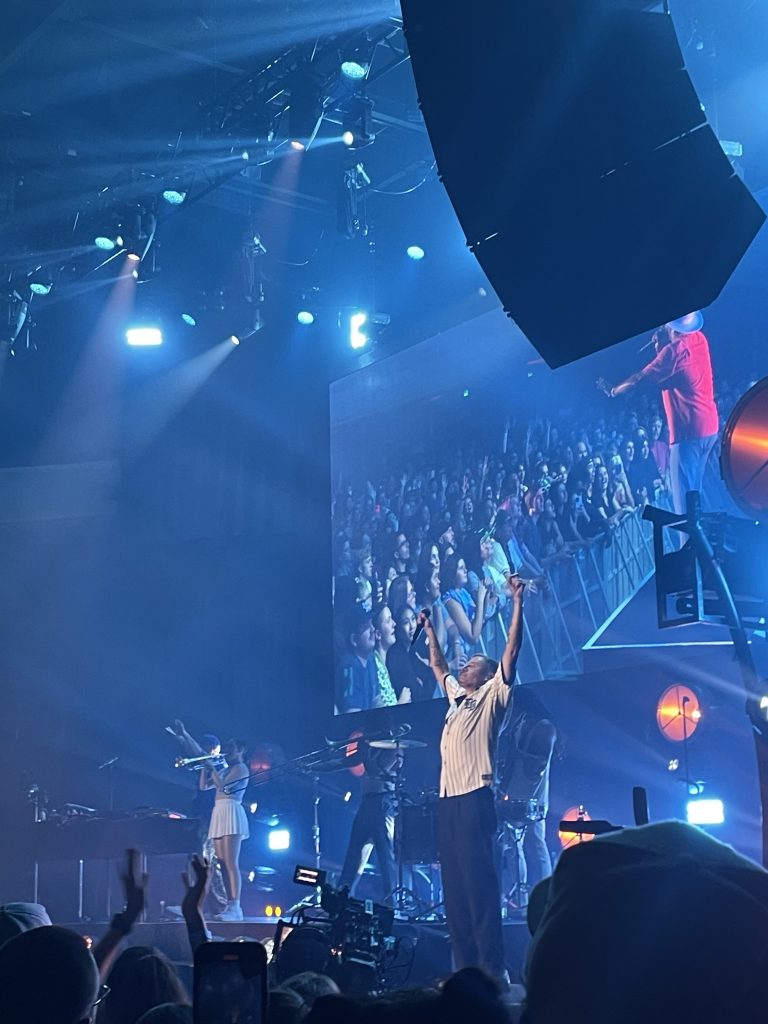 After leaving the stage, Macklemore comes back for an encore. He closes out the show with his undeniable classic, "Can't Hold Us." The ceiling barely held us as we jumped all throughout this track. Being able to close with such an infectious, anthemic track is a gift to the crowd. Macklemore leaves us on an immense high.
To be honest, I didn't really know what to expect going into this show. I'm a fan of Macklemore's but I had no idea how his live show would be. I actually considered not going to the show because I had a pretty tiring day. Thankfully my sister, a fellow Macklemore fanatic, was eager to accompany me and gave me that extra motivation to go. Needless to say, Macklemore shattered all of my expectations. I'm immensely glad I got to see him. If you have any interest in Macklemore at all, I highly encourage you to catch him on his next tour. His show is about so much more than just the music. It's about community, it's about love, and most importantly, it's about having fun.