Leah Sokol
Have you ever imagined getting a private concert in the comfort of your own home? Although the El Rey Theatre doesn't quite offer the luxury of my living room couch, Blondshell's intimate performance evoked a similar sense of intimacy. Preceding the headliner, Suki Waterhouse, Blondshell exceeded her title as "opener." Never before have I seen a crowd so enthusiastic about an opening act. Once the main lights dimmed, it was clear to me that this performance was not a mere obligation to rush through: the venue was filled with exhilaration, as the cool curly blonde took the stage. Living up to the excitement in the room, Blondshell commanded the audience's attention and affection with her relaxed demeanor and easeful stage presence.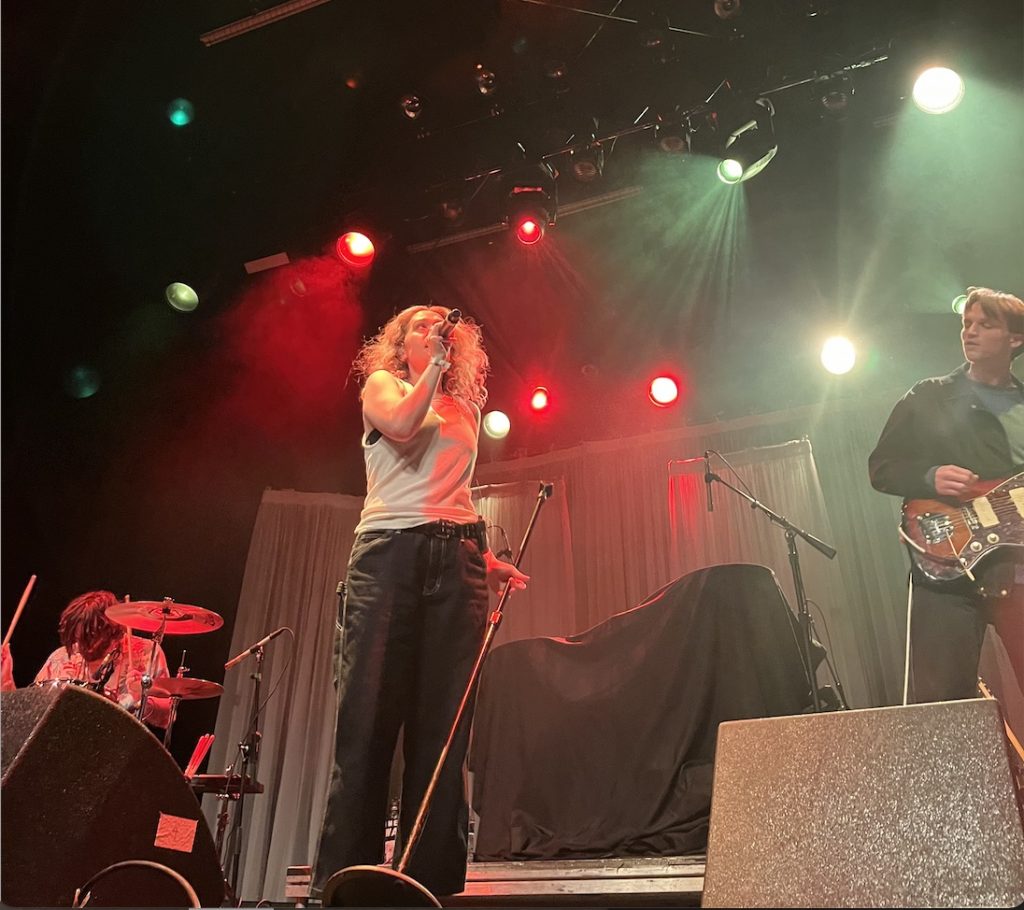 A loose white tank and baggy jeans were the artists' clothing of choice, adding to her natural onstage comfort. The New York City native showed Los Angeles the true art of street style. Moving around the stage with fluidity, Blondshell epitomized the casually cool girl that we all wish to be. As she bent over her back, onto her knees, and down towards the audience, Blondshell's effortlessness was intoxicating.
Angsty guitar rhythms ushered in Blondshell's first song, Veronica Mars. The blunt nature of this song mirrored her gritty stage presence. Above heavy drumming, Blondshell's lyrical simplicity is painstakingly blunt: "Veronica Mars / 2004 / I am disturbed / (Gimme Shelter) / It's a big apartment in New York." Her entrancing performance conveyed the sense of isolation that comes with uncovering the more "disturbing" sides of growing up.
"Olympus" was similarly noteworthy in its melodrama and starkly honest lyrics: "I wanna save myself, you're part of my addiction / I just keep you in the kitchen while I burn / Burn (x4)." Blondshell's compelling voice had a chilling echo effect. As she repeated the lyric, "burn" in a delicate falsetto, I could almost see flames creep into the concert space.
Perhaps the most touching aspect of her performance was Blondshell's conversational nature. Between songs, her powerful voice subdued to a comforting, soft tone, in which she spoke to the audience as one would speak to a friend. When a fan called out a niche detail about her dog, she excitedly responded by sharing her love for nights in, dog sitting. A subsequent shoutout to her grandma in the crowd compounded the previous sense of wholesome simplicity.
Blondshell's raw and immersive sound resonates with my generation's culture of candidness, and might be reflective of communication in the age of technology. Along with the crowd's enamoration with this opening act, they also appeared undeniably connected to her. Blondshell is an emblem of casual coolness, and I have no doubt that her music will continue to reach a growing fanbase.