Mau P @ Night Trip, Academy LA
As LED screens blared the statement "House Music All Night Long", dancers and bass shook the pavement. However, when the clocks struck midnight, the whole venue stood still, and so did the music. Suddenly, the crowd was engulfed in a shower of red lighting, as the stereos projected a soulfully sung phrase "People let me into the summit". This was the dramatic entrance of the emerging house heavyweight, Mau P, kicking off his Los Angeles debut at Night Trip, Academy LA.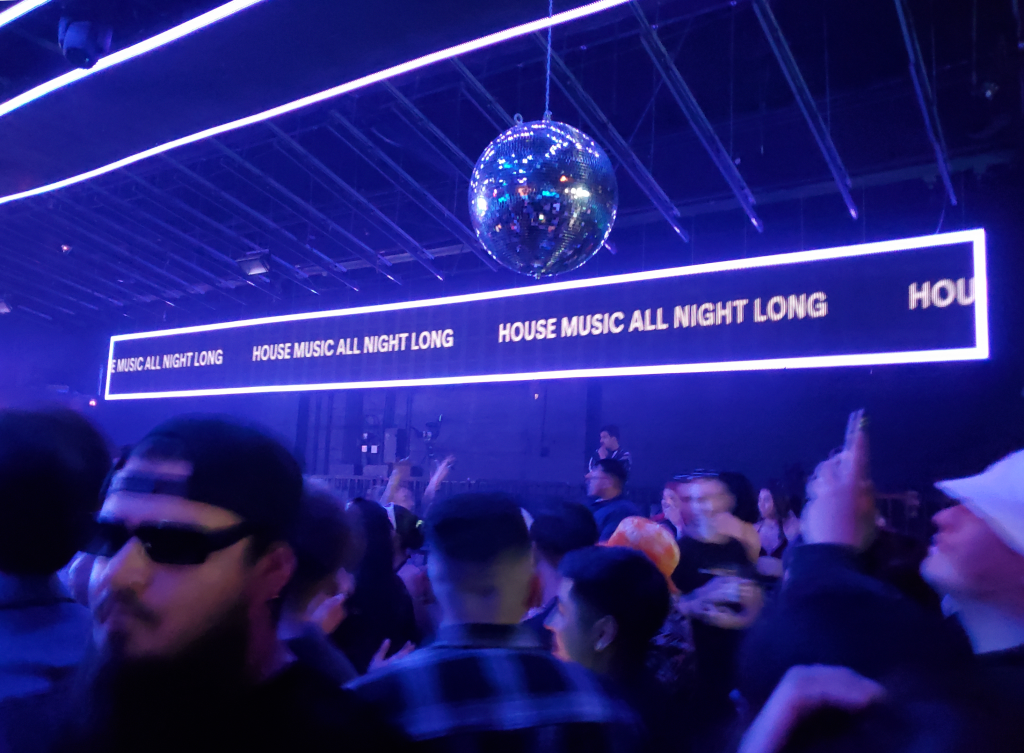 Mau P, a fairly new title to hit the dance/electronic music scene, is making huge waves as he wraps up his sold out show in LA and continues on his North American Tour. As of today, the DJ/producer/singer-songwriter from Amsterdam, Netherlands, only has two released songs under this alias. However, make no mistake to judge him now based on quantity, for his quality of output speaks for itself.
Last year, his debut single "Drugs From Amsterdam" took the world by storm garnering millions of streams and topping charts across Beatport and Billboard Dance. Now at the beginning of this year, he has just released his second single "Gimme That Bounce" for the first time on Insomniac Records and things are looking promising. As of today, the song already has two million streams on Spotify and is being well received across dance floors on his current tour. Here in LA, everyone seems to be aware of this growing success, as anticipation fills the air before his presence is made. This is the night we get to taste the true flavors of Mau P's creativity and determine for ourselves if he lives up to the buzz behind his recent successes.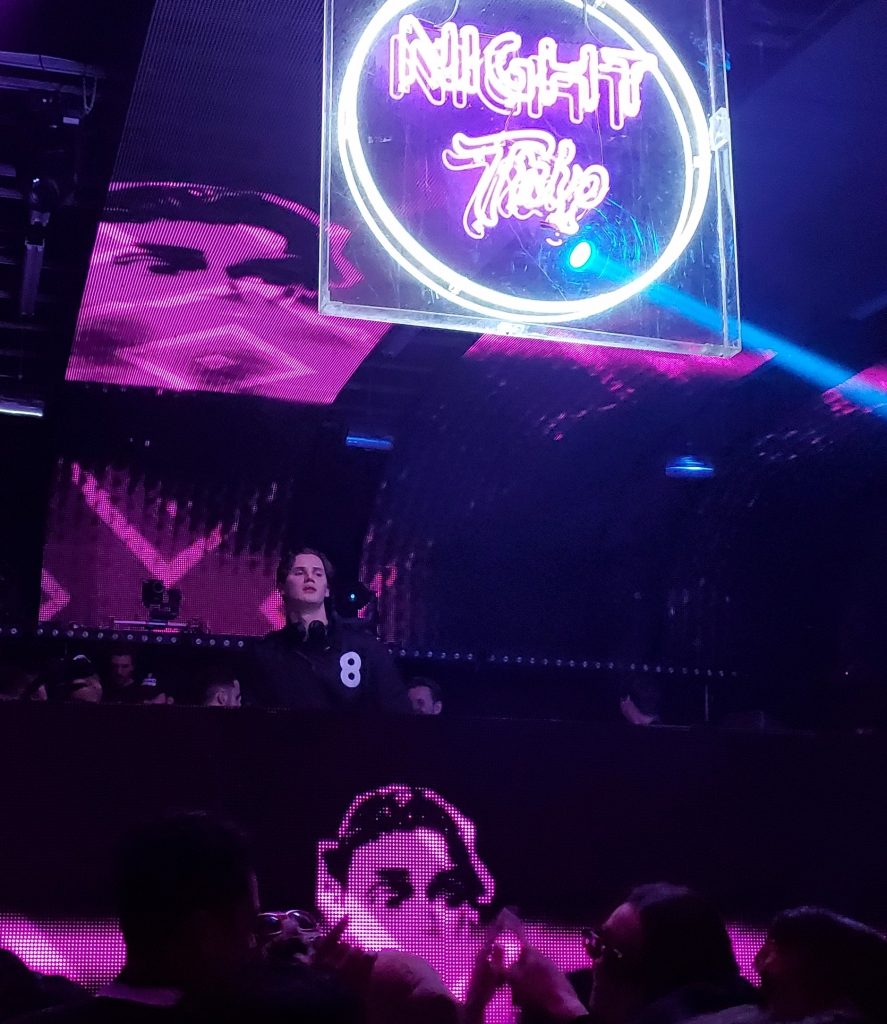 Flashing back to Mau P's dramatic entrance, it seemed to me that he was zeroed in on the old saying "the first impression is the lasting impression". After the soulful vocal passes to introduce Mau P at the helm of the DJ decks, he sets in motion the sound of a single organ note. This note, full of vibrato and a rich sonic quality, sustains a pleasant flutter throughout the air, yet keeps the crowd guessing due to its ambiguous rhythm. Then, before the crowd can further question the suspense, Mau P immediately anchors them with a bass and iconic house-styled drums. However, the audience knows this is no invitation to fully dance just yet, as the organ fades, passing on the responsibility of sustaining anticipation to the steady bass rhythm. Alongside the bass, musical and environmental intensity builds. The drums hit harder, the venue lights flash quicker, the crowd gets louder, and the instrumentation gets fuller. Mau P gazes over the crowd with a smirk on his face and hands raised in the air, and before the audience knows it, the music climaxes into one of the biggest beat drops of the night. Everyone in the building goes wild, while collectively yelling "woot woot" on beat, as CO2 cannons blaze from the ceilings and the solid venue lighting is sporadically dispersed amidst the crowd. From this point on, it was evident to me that Mau P's first impression on stage wasn't going to be the only lasting impression of the night.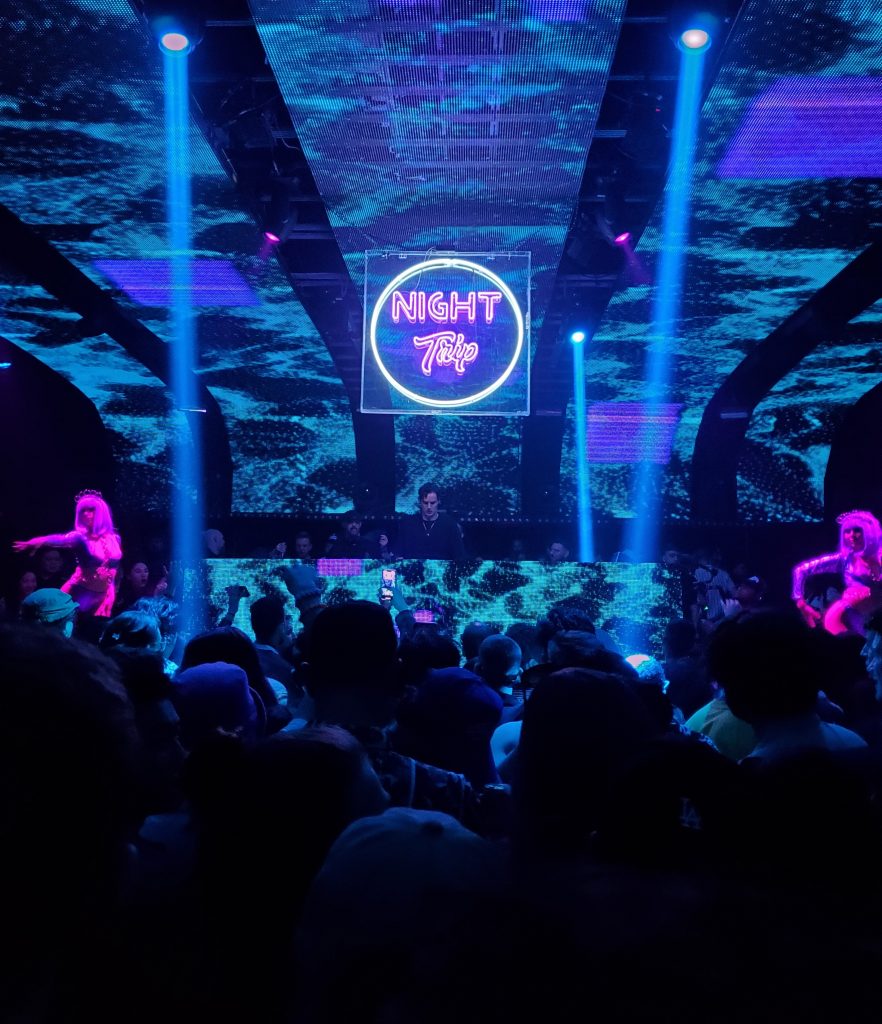 Steady into the night, Mau P flexed refined musical taste and professional DJ skill, as he ebb and flowed between groovy dance tracks and club bangers. Watching him deliver this performance was nothing short of amusing. From his basic use of balancing frequencies and beat matching, to his more complex use of song phrasing and harmonic mixing, Mau P was sure to color each DJ technique with his own unique style and creativity. Part of what really made that style and creativity stand out was the persona he displayed on stage. From the frequent stank faces he would wear at the splash of a beat drop, to the wholesome dance moves he would hop into between mixes, Mau P was not afraid to hide the fact that he was genuinely having fun.
In addition to this colorful side of Mau P, he also complimented it with a confident and cool side, as he would easily collect himself to seamlessly mix into the next parts of his set, while occasionally going for a quick drink or smoke when time warranted it. On top of this all, it's worth mentioning that the natural amusement created by Mau P's performance was also amplified by the venue's large LED panels that covered most of the ceiling. These panels boasted a myriad of colors, images, and effects that warped, distorted, and evolved with the beat of the music and venue lighting. This visual aspect, combined with Mau P's musical prowess, created an immersive environment like no other.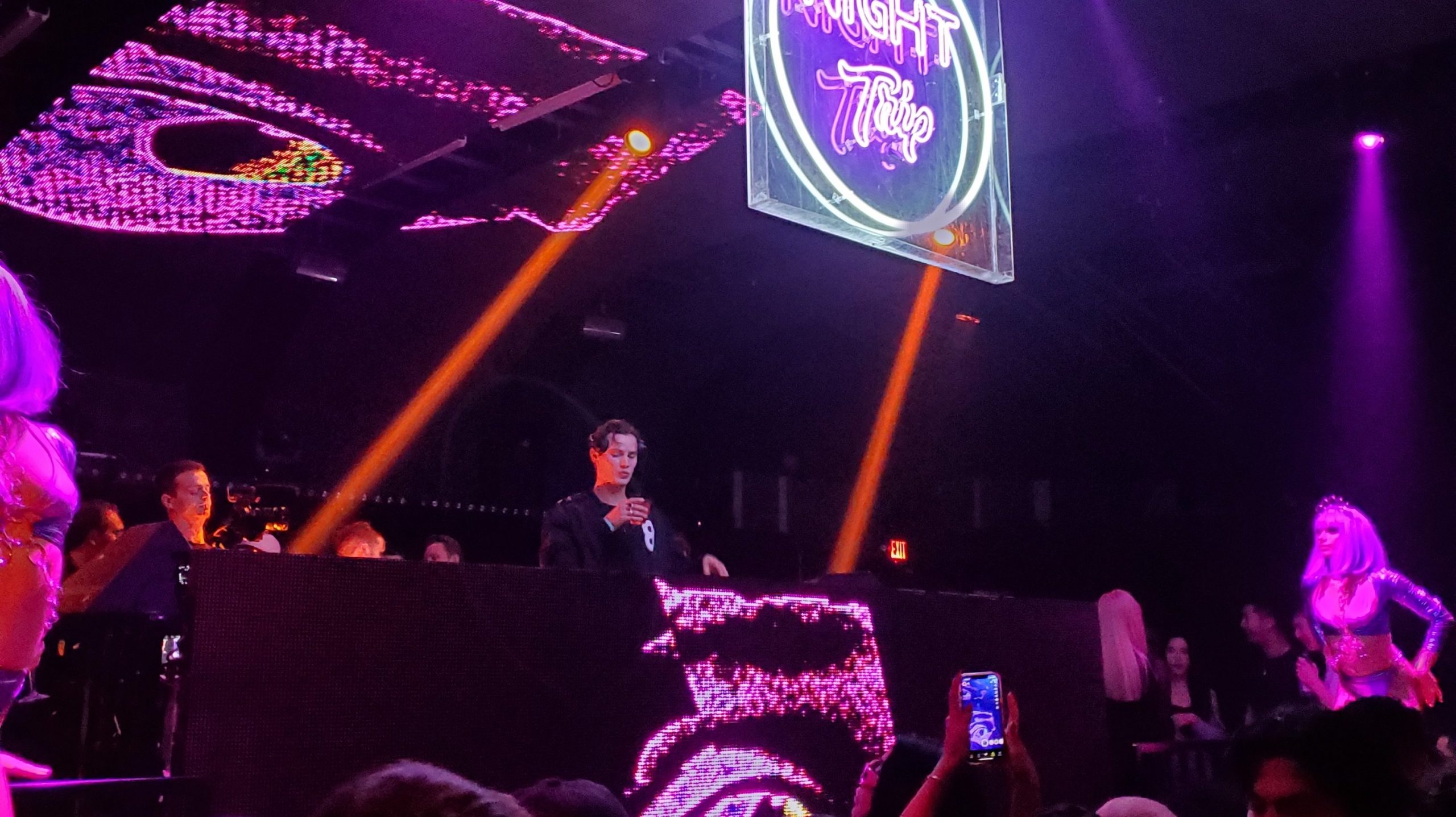 In regard to Mau P's DJ set as a whole, he showcased his ability to push the boundaries and stand out amongst others through his unique interpretation of hit songs and original songs into his set. Of the many hit songs Mau P played, two of them were classics, and were perfectly adapted to fit his high energy house style throughout the night. These included "Roses" by Outkast and "Pump Up The Jam" by Technotronic.
But the real show stoppers of the night were the extravagant presentations of his original songs "Drugs From Amsterdam" and "Gimme That Bounce". Mau P decided to showcase both songs in that respective order, however he also decided to spice things up by bridging them together with a house remix of Lil Uzi Vert's popular song "Just Wanna Rock". Needless to say, the crowd was on a rollercoaster ride of energy throughout this three-song journey and it wouldn't be a proper concert review without highlighting the experience.
Starting with "Drugs From Amsterdam" , Mau P introduces it by not fully playing the song outright, but by occasionally sneaking in the word "Amsterdam" from its chorus into a different song. Upon first detection of the word, the crowd goes wild. Immediately all phones, hands, and drinks are raised up into the air, as Mau P chops and mixes in the famous phrase "Off my face" with "Amsterdam". Then Mau P finally gives the people what they have been waiting for the whole night, the chance to echo the full phrase "Off my face don't know where I am, 'Cause I got my drugs from Amsterdam". A flurry of excitement fills the space because the audience knows this is only the beginning of a wild ride. And indeed they were correct, as Mau P eventually kicks off the full length song with a monstrous build up of the word "Amsterdam" and stuttering snares. Throughout the song an intense depiction of trippy visuals fill the venue's LED panels, which includes a warped image of Mau P's face, Amsterdam city life, pills poured over a bed of flowers, and a snapshot of someone's eye. It was obvious that Mau P did not disappoint, as the audience's energy continuously grew and eventually reached a high point when the crowd sang out the notorious five note synth lead that appears at three minutes and forty seconds into the song.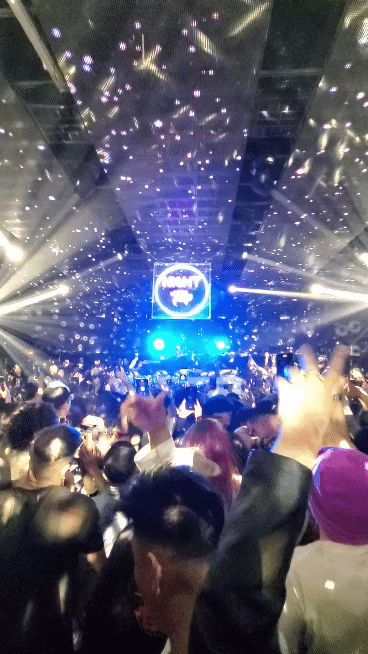 Nearing the end of "Drugs From Amsterdam", there was much anticipation as to what Mau P would play next because it seemed impossible to build upon the high energy that was just established. However, Mau P knew exactly what to do in order to exceed expectations, as he played the familiar introduction tune of "Just Wanna Rock" by Lil Uzi Vert. At this moment in time, everyone in the crowd shouts "Ohhh" in amazement. Mau P looks back at the crowd, smirks, and nods his head to confirm that this switch up really just happened. Soon afterward, the song breaks down into a groovy house remix complimented by a pulsating, rainbow-colored, smiley face on the venue's LED panels. The crowd was ecstatic, but nothing could prepare them for the moment when the first indication of "Gimme That Bounce" was initiated.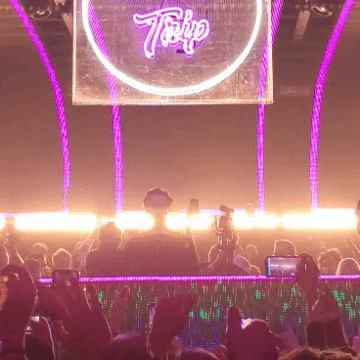 In my opinion, "Gimme That Bounce" was the most intense song of the night. The sound and visual experience was fantastic, but the physical experience was what left me speechless. Nearing the end of the song, Mau P was preparing the audience for the last beat drop by cutting all the bass frequencies from the song's build up into the drop. As some may know, it is these bass frequencies that are responsible for the large thumping sensation one feels when the drums or bass play. As a result, I expected not to feel this thumping sensation until the initiation of the beat drop, however, this was not the case. It was at this moment that I realized that the premature thumping during the build up of the song was not a bass or drum, but the people in the venue collectively jumping in anticipation for the beat drop. Mau P did such a great job in working up the energy of the crowd, that everyone in the venue was jumping and, as a result, shaking the whole ground beneath us, well into the end of the song. At that moment, it became very clear to me that the song wasn't playing around when it requested bounce, because that is exactly what it brought that night.
All throughout the night, Mau P continued to unleash high energy tracks complimented by his entertaining performance. While this was my first time witnessing Mau P in action, it quickly became apparent to me that Mau P was one to approach his shows with a clear sense of purpose and sincerity. The engaging gestures he acknowledged the crowd with and the constant effort to make the musical experience exciting, left me craving more. While I would have liked to hear Mau P personally engage with the crowd through a microphone, I don't think it was the biggest problem of the night, especially when considering how it could probably interrupt the flow of house music for the audience. From a holistic viewpoint, I believe Mau P and his team went above and beyond to create a memorable night in LA, and I am excited to see where he takes his career next well after his North American tour.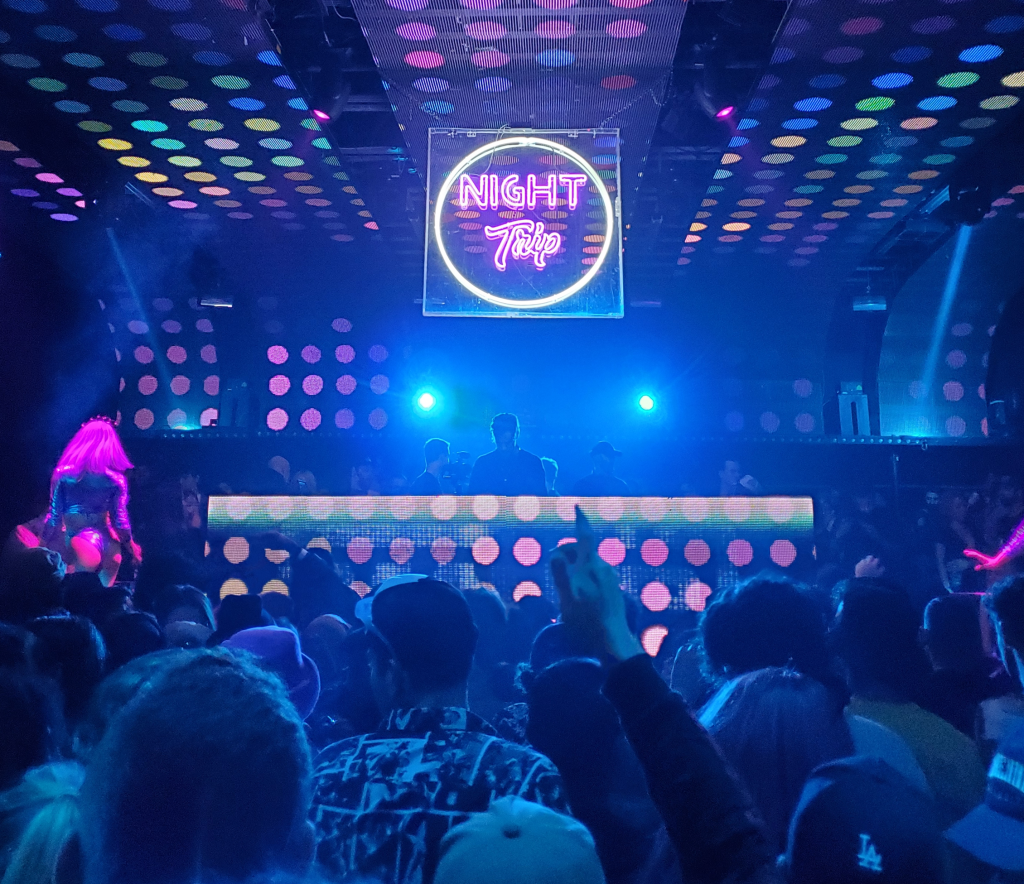 In addition to this review, I also had the pleasure of sending a set of interview questions to Mau P after the show. I have provided his responses to the questions below.
Antonio: Have you performed at Academy LA before? What did you think of the venue as a whole and how did it complement your performance? How was the audience's energy/response?

Mau P: Yes it was my first time performing in LA and damn Academy is something else. The quality of the venue and production level is next level. Throughout the night the vibe felt perfect and the crowd absolutely went for it during my set so I'd say overall it was an amazing debut in the City of Angels.

Antonio: Overall, outstanding performance. From our perspective it's flawless, as a result, I was wondering what goes on behind the scenes during or before the performance that is vital to making it run this smoothly that we, as the audience, don't often realize or get to appreciate.

Mau P: Thank you so much, that really means a lot to me. Honestly, I freestyle every set that I do. I feel like as a DJ your sets should really depict your vision on music but also your history. The crowd should be getting a full look into who you are and what you stand for. So what happens behind the scenes is that I'm just constantly looking for new music or I make edits and mashups of songs that I love. Besides my own preparations there's so much that goes into pulling this all off, people have no idea. I have a team that includes a manager, booking agent, public relations representative, content creators, radio pluggers, advancing agents, there's too many to name. It's really a team effort and without all of them putting in the work we wouldn't be where we're at right now.

Antonio: What did you like about DJing alongside Martin Ikin and Jaded?

Mau P: They're both super talented and it was great fun to go back to back with Martin! I'm sure I'll be seeing them around over the next couple of months.

Antonio: The very next day after this show you played in Miami, Fl. What was it like quickly transitioning from California to Florida?

Mau P: Being able to play at Space in Miami is a massive dream coming true. Never did I think I would be playing in the temple of techno, let alone this quickly after starting the Mau P project. It was a different show because at Space I played an extended set of like seven hours which was a challenge but really awesome. I even got to go back to back with Lee Foss, who we released Drugs From Amsterdam with on his Repopulate Mars label.

Antonio: As you continue your tour, what are some things that you are specifically looking forward to doing or that we should keep an eye out for?

Mau P: I'll be back in the US for a run of shows next month, looking forward to that! I'll actually host my first-ever Miami Music Week show, which is going to be a huge one for me. There's a Drugs From Amsterdam' remix dropping soon from one of my all time favorite dj's..

Antonio: Best of luck with everything going forward and thank you for sharing your art with us!
Special thanks to Noah Simon for making this review and interview possible.
Photos by Antonio Estrada.