Wallice @ Lodge Room [12/6/22]
"LA is my favorite show ever," Wallice says. Up on stage, she towers over a sea of cowboy hats, unif jackets, and Tik Tok inspired fits. Tonight, the Lodge Room is a Gen-Z mecca, where hundreds of Zoomers are gathered to see Indie-Pop darling Wallice.
Although Los Angeles native Wallice Hana Watanabe has yet to release a full album, she has managed the impressive feat of selling out the Lodge Room. Her debut single "Punching Bag," released in October 2020, was an instant hit, garnering over a million streams and acclaim from music publication Pigeons & Planes. Her success has only grown from there, opening for Still Woozy and Wallows, and is now signed to UK label Dirty Hit. Her somber lyrics, laced between dreamy synths and bright guitar progressions, seem to have struck a chord with a generation growing up in an uncertain world.
As I enter the venue and make my way towards the front, I catch glimpses of fans and overhear moments of conversation. Some fans try to guess the order of her setlist, while others plan out when they are going to take their BeReals. At one point, a fan says, rather loudly, "F*ck Clairo!" when discussing their concert experiences. Even though I would bet that most of the concert-goers tonight had a Clairo phase, that is all she was to them: a phase. Now, Wallice is the moment. It is yet to be seen whether she will be situated in this one moment, along with the other Clairos of the world, or if she will break the indie-pop barrier and remain in mainstream pop-culture consciousness, along with the Lordes and the Charli XCXs. This is my mission to resolve tonight.
When her band comes on stage, fans scream their names. They play an intro melody, and Wallice comes on stage. Starting with "90s American Superstar," an uptempo track inspired by vintage films and past rock stars. Although she commands the stage, she seems to be holding back. Her reserved performance serves to ease us into the night, seeming to say "Just wait, we will get there eventually."
It isn't until after she addresses the crowd for the first of many times during the night that she starts to hit her stride. During her third song of the night, "Wisdom Teeth," she jump-dances around the stage in between lyrics. At one point, she takes a BeReal on a fan's phone. Her band plays into the fun too; her bassist, Caleb Buchanan, cracks jokes in between songs. Fans eat up their every move, singing along to each and every lyric. Her playful banter with the crowd sets a fun, youthful tone for the night, where you can't help but enjoy yourself.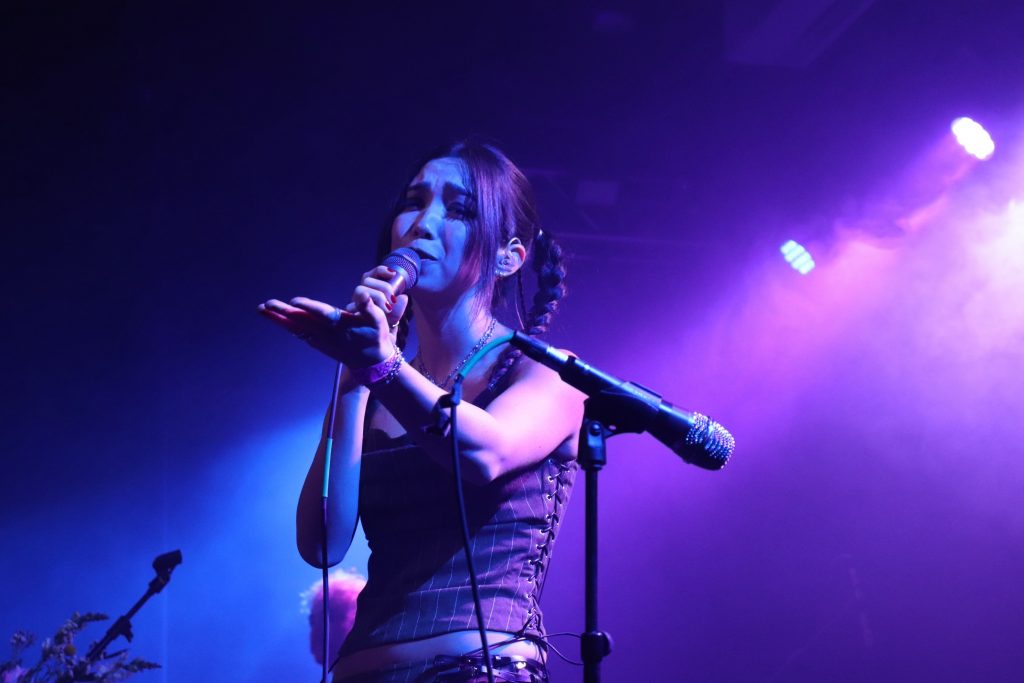 After finishing "Wisdom Teeth," she tells us that she is finishing up another EP. Since tonight is her favorite show, she decides to play us some unreleased tracks. A sense of intimacy and camaraderie sets in at this moment; tonight, we are friends getting an inside look.
"So I just released a new song last week."
Everyone in the crowd already knows this; they reply, "Japaaaaaaan." She eases into the beginning chords for the track. Somber melodies indicate that this will be the most heartfelt part of the night. Caleb takes out his phone and shines his flashlight, and fans follow, waving their phones back and forth to the rhythm. At the end of the track, Wallice tears up, expressing gratitude for each of us in the crowd.
The mood shifts back to its lighthearted vibe as she brings out her friend, Fronkie, to play sax for the rest of her set. She launches into an indie-pop cover of Gwen Stefani's "The Sweet Escape," introducing an element of childhood nostalgia into her set. Even though Wallice has been labeled as an indie artist, this pop classic is consistent with tonight's youthful tone.
During "Headache," she and her band go all out, as they launch into intense power chords while she screams her heart out, collapsing on the floor. The song ends, and she gives the rest of her band a much needed break. She plays an acoustic version of "Punching Bag," along with her guitarist Callaghan Kevany. The track holds sentimental value; even if a fan has other favorites, there will always be a sense of love for the track due to its impact on her career.
In true December fashion, Wallice and her band – now accompanied by friend and musical collaborator marinelli – play "Last Christmas," delivering a modern day rendition of the jolly holiday classic.
"Merry Christmas everyone!"
Even though she doesn't play an encore, her last two tracks, "funeral" and "23," prove to be a fitting end to the night. The former she says is "her favorite song she has ever made," and the latter is her most popular song, a fan-favorite. They all say thanks, her band plays an outro, and she bounces off stage. After the show, she ends up greeting fans and signing merch.
In an interview with NME, Wallice said, "I believe that each album or EP should have a solid running theme or concept." Although it's not entirely clear if she holds her shows to this standard as well, her show had an overarching vibe of fun, playfulness, and whimsy. Even though her lyrics relate to some of the problems Gen-Zers face on the day-to-day, her performance isn't defined by the sentiments she sings about. Instead, she uses the show to have fun and enjoy life in spite of the many things we face. Her music characterizes the new generation and is situated in this particular moment, but her ability to perform unapologetically and her commitment to her sound gives me the feeling that we will be seeing her around.