It's still light outside as I am heading into the venue, so the red light of the "Roxy" sign hasn't yet started to drip onto the sidewalk. I appreciate the lengthening of the days lately, and this is my first Sunday of the year where the night hints of summer. I grab my press pass and am offered a wristband. "Oh, I probably wasn't going to drink tonight," I say to the usher. It's starting to throw me that I'm occasionally assumed to be 21, considering I feel as if my 18-year-old form was fossilized by the pandemic. I first heard Magdalena Bay in March 2020, and I don't want to admit that was over three years ago.
I drift into the venue to meet a crowd that's starting to congeal around the hip-level stage. I had a little bit of a late start, so the crowd has clotted more than I would like. Trying to stealthily squeeze between people makes me feel very conscious of my own presence. I find myself tapping strangers and making unintelligible gestures while trying to stand up for myself. Caught between a couple wearing "Top Dog" and "Bottom Dog" shirts, I lock eyes with a camera twice the size of mine. I'm not sure if I should make myself look bigger and make loud noises, or if I need to play dead. Moving slowly sideways, I finally make it to the stage and stay low. To the two people that let me crouch in front of them for the first three songs, thank you.
The lights drop. Conversations abruptly transform into cheers. Three figures enter from stage right.
YOU'RE LISTENING TO, MAGDALENA BAY, MINI MIX, VOLUME 1.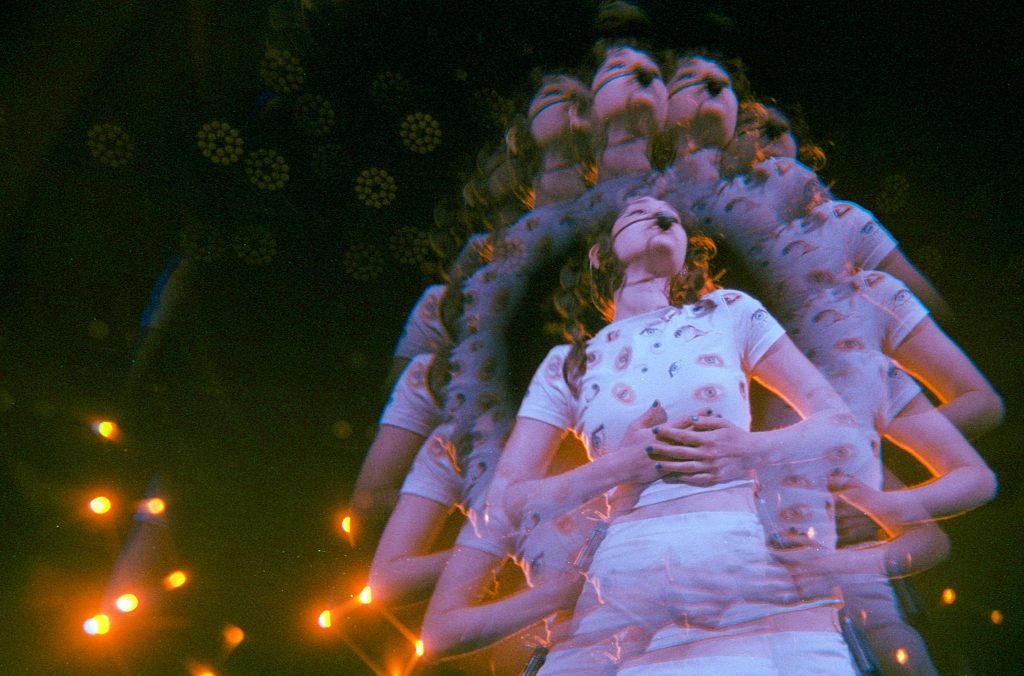 I had the privilege of seeing Magdalena Bay twice this week; tonight at the Roxy, and on May 16 in Royce Hall. I have been a fan of theirs since that fateful month in 2020, but I became an avid listener of their album Mercurial World last year. "You Lose!" became my second most played song of 2022 (only one play short of "Liz" by Remi Wolf, in case you were wondering). I am eager and ready to see the same show I had seen on Tuesday. But to my surprise, tonight is prepared with all three mini mixes, as well as a few bonus tracks from their other albums, whereas at Royce only the third volume had been performed.
Seeing mini mix vol. 1 live is my first time hearing it in its entirety. Following the structure of the album, the show started with "Afternoon in Heaven." Aptly named, the song floats over me with light electronic twinkles and synth that would guide you to the gates of paradise. My high-school level Spanish starts failing every other verse in "El Dorado," but the plucky guitar with contrasting reverb drowns out my personal linguistic frustrations. "Turning off the Rain" doses with digital nostalgia, the tonal beats in the background falling as droplets. "U Wanna Dance?" and "Nothing Baby" both kick off with gritting bass, crushing into "Mine," a cosmic ballad to blast through the end of this first volume.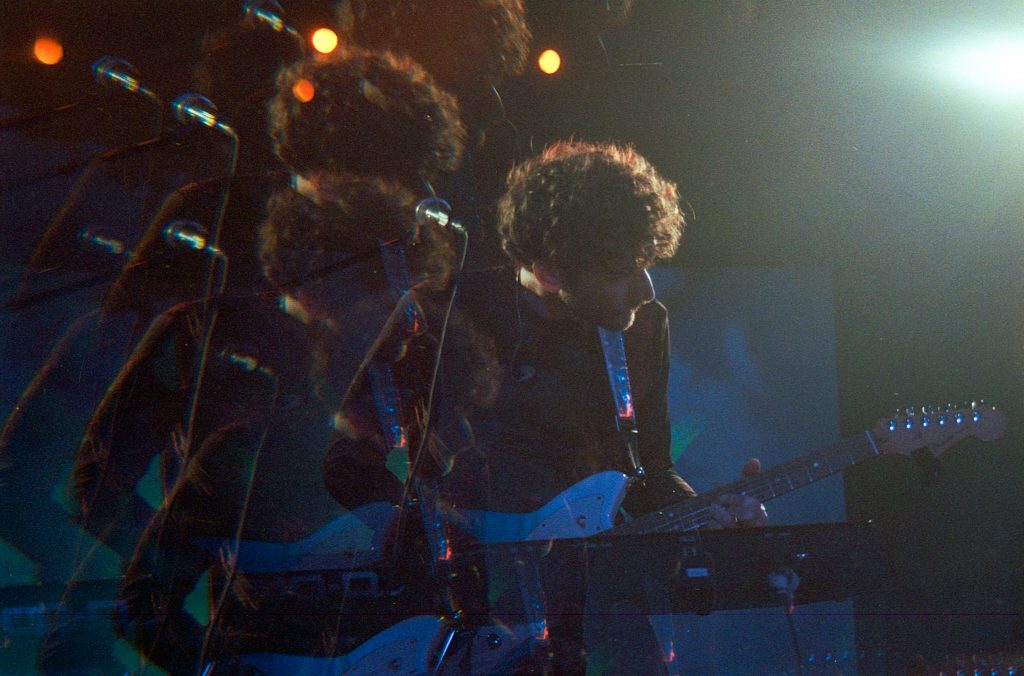 Somewhere between "U Wanna Dance?" and "Mine," I left my uncomfortable squat at the front of the crowd and braved the knot of people behind me. I clamored to find a new place more towards my left, settling just in time for vol. 2.
"Live 4Ever" starts off mini mix vol. 2 a little slower than its predecessors. The show then quickly picks up with "I Don't Want to Cry Anymore," clearing the air with strong synths and vocals embrittled with echo. "Sky2Fall" has a level of 80s nostalgia, and this energy carries into "Body." "Woww" and "Hideaway" close out vol. 2. It is here that lead singer Mica stopped to talk to us for a moment, sharing how fun it was to prepare this set of older songs to perform again. The show was originally intended for one night only, but because of the complete sellout on May 19, they decided to add another show tonight.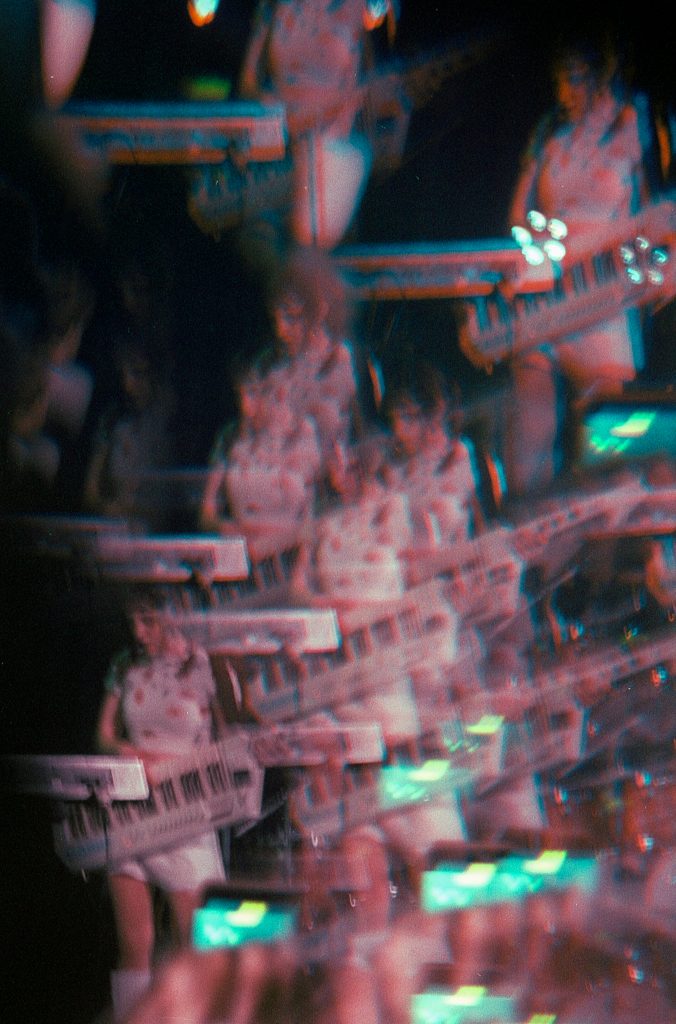 Mini mix vol. 3 is the first part of the show where the songs performed in Royce reappear. A key element of their performance is the projection of their music videos onto a screen behind them. At Royce, this screen was colossal, and I was miles from the stage. But here at the Roxy, the venue is much smaller, but this allows me to see their performance much more clearly. Thus, I had not really been paying attention to the images playing behind them until I began to recognize them from Tuesday. "Slug Song" becomes a wet slap to the face, with 5-foot-tall slugs projected behind them. This song is an extended version of their original mini mix intro, a nice motif to pull us through the various albums. "EXO" leans a little rockier than their other stuff, but "2 Wheel Drive" pulls us right back to the world of electronic glitter, all the while I watch the two of them bike on the screen behind them. During "Top Dog," I finally realize the bit the couple at the start of the show was going for. The screen is filled with the Windows desktop imagery and CGI dogs out for a walk through the hillside. Wonky synths match the silly things I am watching on the screen, and I can't help but laugh a little. This is all interrupted when two giant tongues start boxing in a ring, the accompanying video for "Tonguetwister" staying with the humorous tone. "Wandering Eyes" mesmerizingly lulls the crowd into an intermission.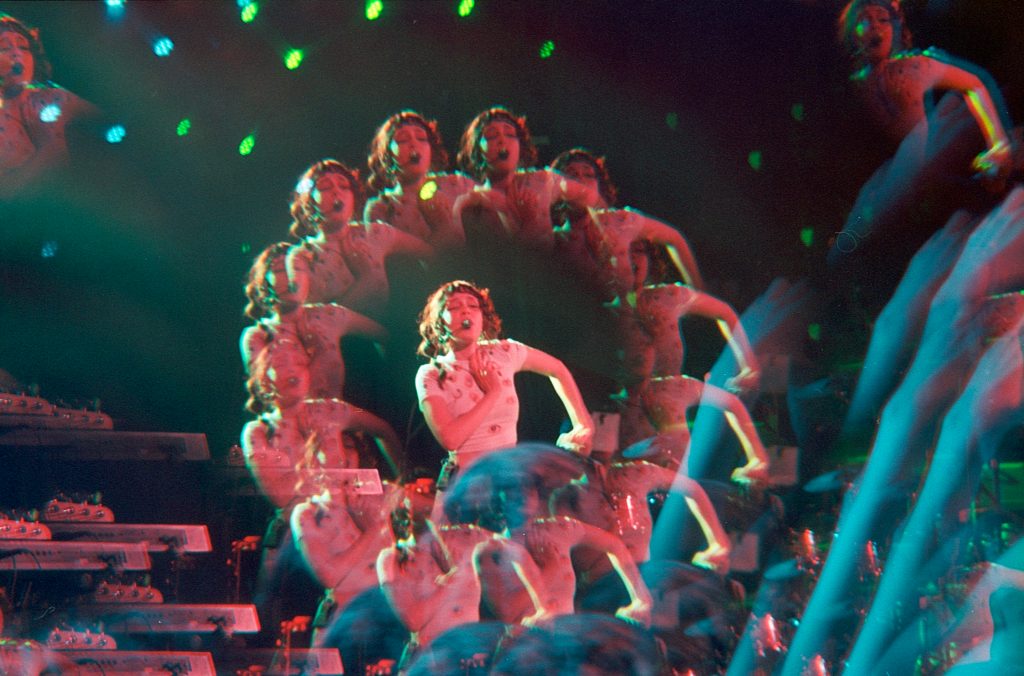 I wish I had the thought to take a picture of the intermission imagery, because there is some funny stuff happening on the screen, but I am caught up in conversation with a kind girl who came all the way from San Diego for the show. She brought her boyfriend, but he is too tall to respectfully participate with us at the front of the crowd. She says, "I hope they play 'Killshot,'" and I assure her there's no way that song would slip by. So the two of us eagerly wait for the next set.
We get an outfit change for "Mercurial World." "You Lose!" slays as always. "Hysterical Us" bounces with a catchy beat, surf guitar and bubbly tones. "Venice" was the first song I knew by Magdalena Bay, featured in my March 2020 playlist. It withholds the sands of time, staying bumping.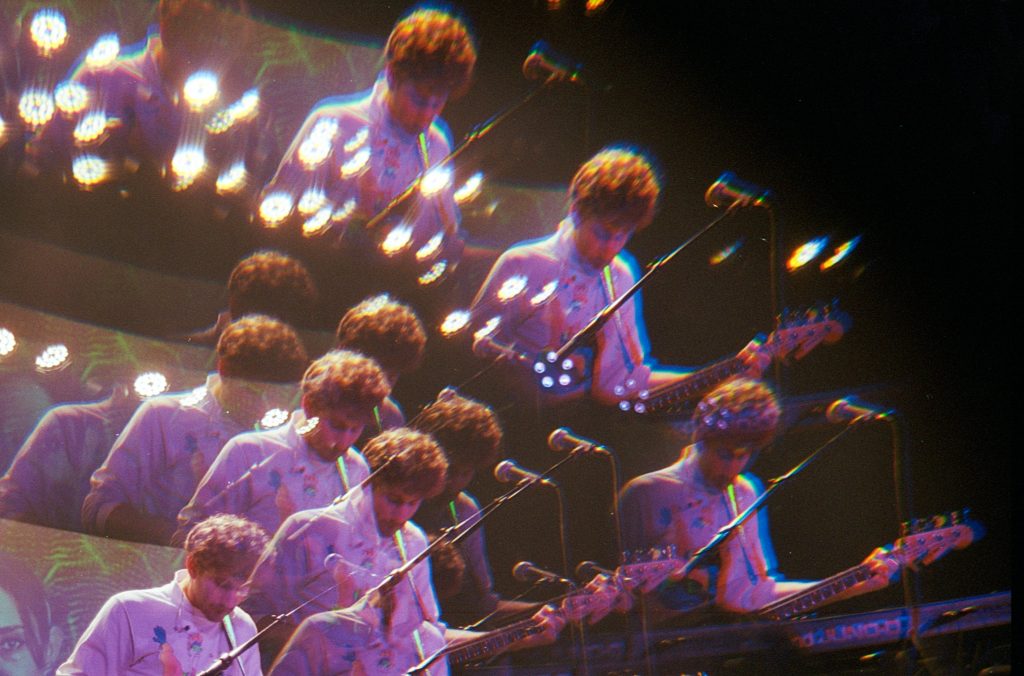 I re-found Magdalena Bay in April of 2022, coincidentally the same month I got into UCLA. Somehow, Mag Bay just sandwiched my life of Before and After the life of lockdown. The end of what was and the beginning of what is. And what a great way to end my first year at UCLA, seeing them on campus and then at the Roxy.
"Secrets" lights the place on fire with its harmonic digital horns. "Chaeri" was another song on my April 2022 playlist, but it always felt second to "You Lose!" Seeing the song live is a totally new ballgame. Mica calls for crowd participation, and a collective chant rings against the walls of the Roxy. The song just takes on a whole new character live, the instrumental bridge imbued with character with the bolster of the audience, and I am so glad to have seen it through this new lens. "Halfway" throws us into another video-game-like soundscape, the audio crunching beneath my feet in 8-bit. During the extended outro of "Halfway" Mica crouches in the corner, and it is unclear why she has collapsed. When she rises, she is wearing a bunny mask, which she performs "Follow the Leader" in this animatronic character. Luckily for my San Diego friend, "Killshot" comes next. "Dreamcatching" is fittingly hypnotic, ending the show with "The Beginning."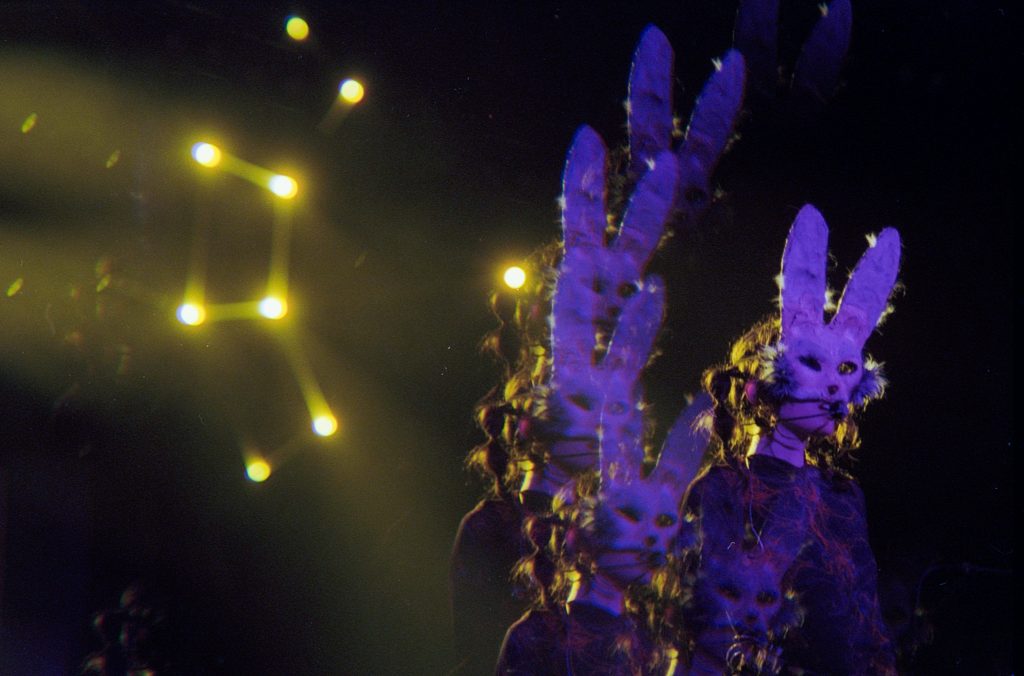 I already loved Magdalena Bay's music before heading into tonight, but what changed today is my understanding of them as artists. They play with concepts of digital landscape and futuristic ways of being, but doing so in a way that doesn't take themselves too seriously. Yes, both Mica and Matthew are incredibly talented, but they also choose to sing backdropped by boxing tongues and Nintendogs. And getting to hear 29 songs by a single artist is one hell of a show. Thanks, Mag Bay <3.
Photos by Skye Schoenhoeft. Shot on Portra 800 🙂