Photos by Angela Kan
There are a million different places a person can go to on a Friday night in Los Angeles. However, it seemed that everyone arriving to the YouTube Theater that Friday was a part of a community that wouldn't be anywhere else other than Melanie Martinez's Portals tour. Upon arrival, my friend and I were immediately faced with fans dressed in otherworldly costumes – body paint, prosthetics, and all. Unknowingly, this was just the beginning of the immersion into another universe that Melanie's shows can transport fans into.
If you haven't heard of Melanie Martinez's music before, a quick Google search regarding the Portals tour may confuse you. The first image that appears is a pink alien-like creature surrounded with whirling trees and mushrooms. This celestial character is actually the artist herself, baring a new persona in alliance with her new music. The entire premise of her theatrical album Portals is to emphasize the ideal of life after death and grief. In creating this character, she hypothetically kills the previous version of herself as an artist. In fact, Melanie even released a track-by-track guide to fans about how she hopes the album is perceived: "It was important for me to show the immortality of being a human with this record—to give people hope that there's life after death."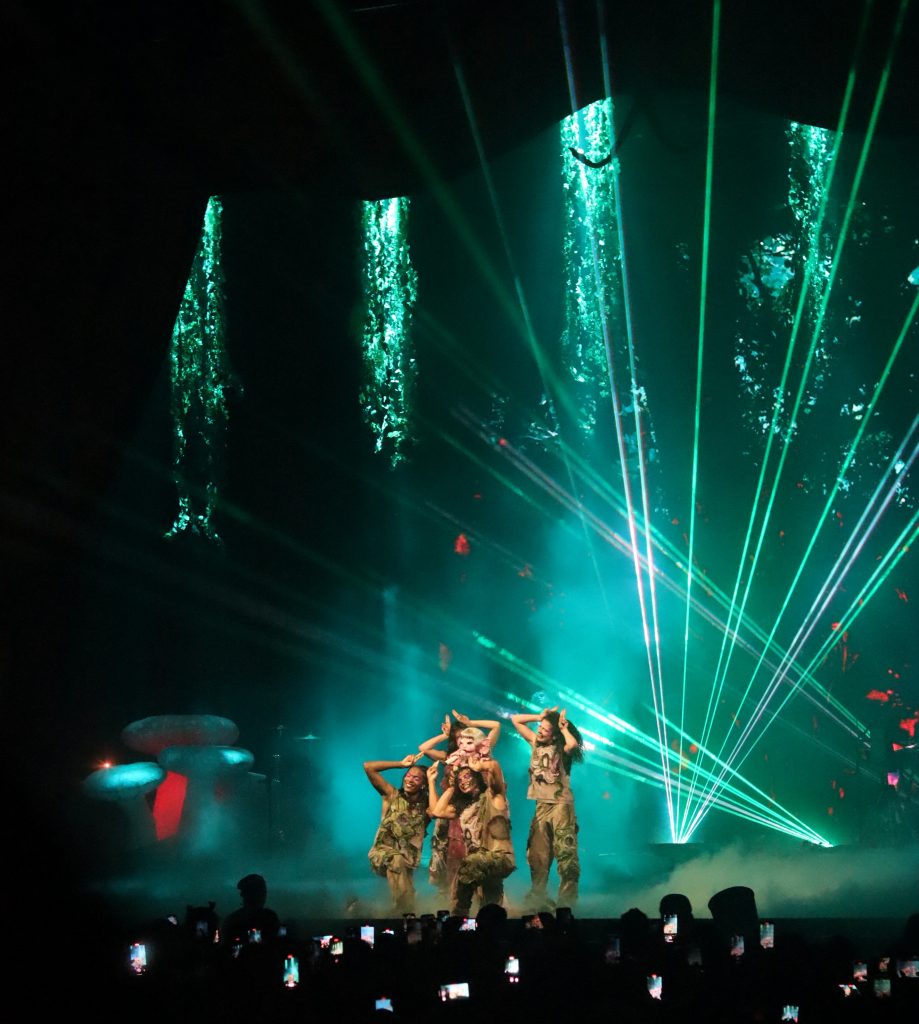 The understanding of this concept is crucial when attending her tour. While many may be familiar with her previous hits such as "Cry Baby" and "Mrs. Potato Head," they should not expect these songs to be performed at her new tour. That era of her life has is over: when you enter the Portals tour, you are instantly transported into a new, whimsical afterlife that the album describes.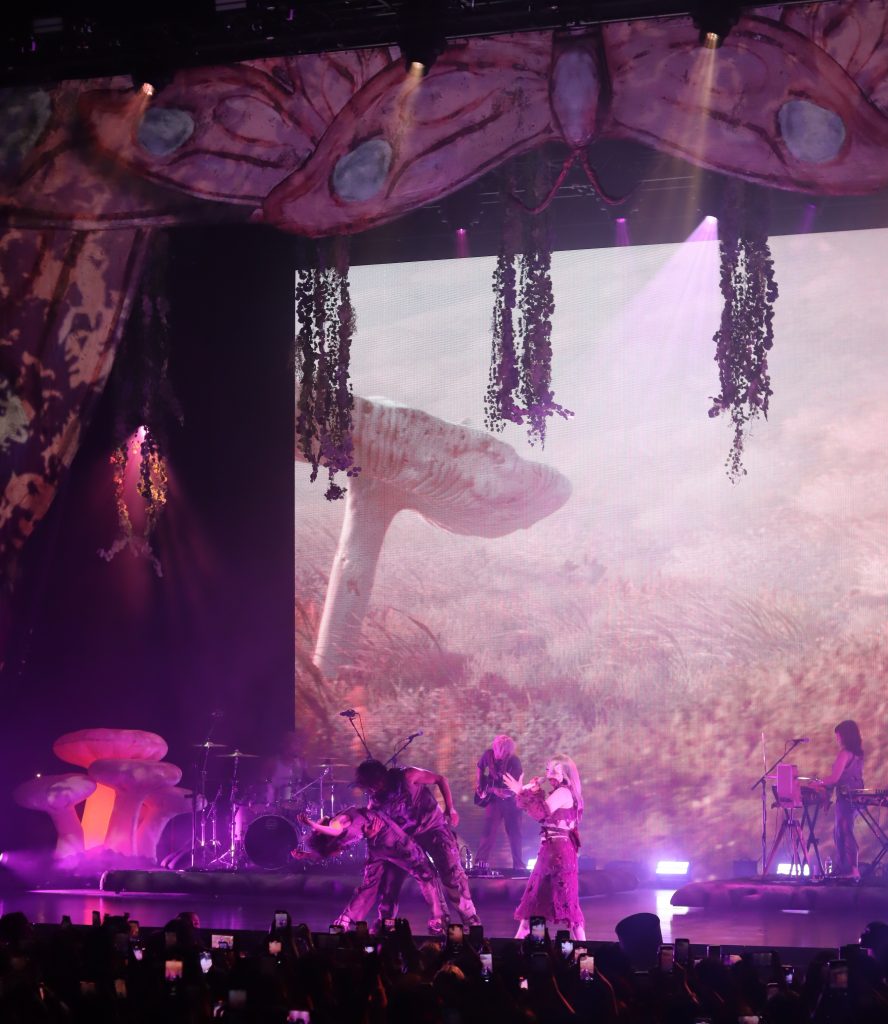 Upon our arrival, the stage was dressed in drooping vines and inflatable mushrooms covering the floor. This swampy, magical atmosphere was further enhanced by dedicated fans of all ages dressed in their own iteration of a creature that would inhabit this "afterlife." However, when Melanie took the stage, dressed head to toe in her creature's prosthetics and realistic makeup, all the attention shifted onto her.
She opened the show with "DEATH," Portal's opening song, and the crowd's energy was infectious. Behind me, a group of young girls were cheering and screaming every lyric of the song. Not a single body in the room was immune to the infectious energy, dancing and cheering in the theater as the set went on. It felt like watching an alien superstar from another planet. From the stage production to the five backup dancers surrounding her, the very first song had me fully captivated by the world the tour – and its mastermind, Melanie herself – was able to create.
Fans cheered as the lights and stage transformed throughout the night to set the scene for each song. A particular highlight for me was the song "SPIDER WEB", which prompted a giant web to descend on stage, with dancers using this elaborate prop as part of their routine. Behind this stage was a quartet of violas and violins accompanying the artist. The crowd was in a constant trance, always given something enchanting to look at – whether it was the set change, dancers, or the visuals, something was always there to help bring the illusion of this afterlife alive.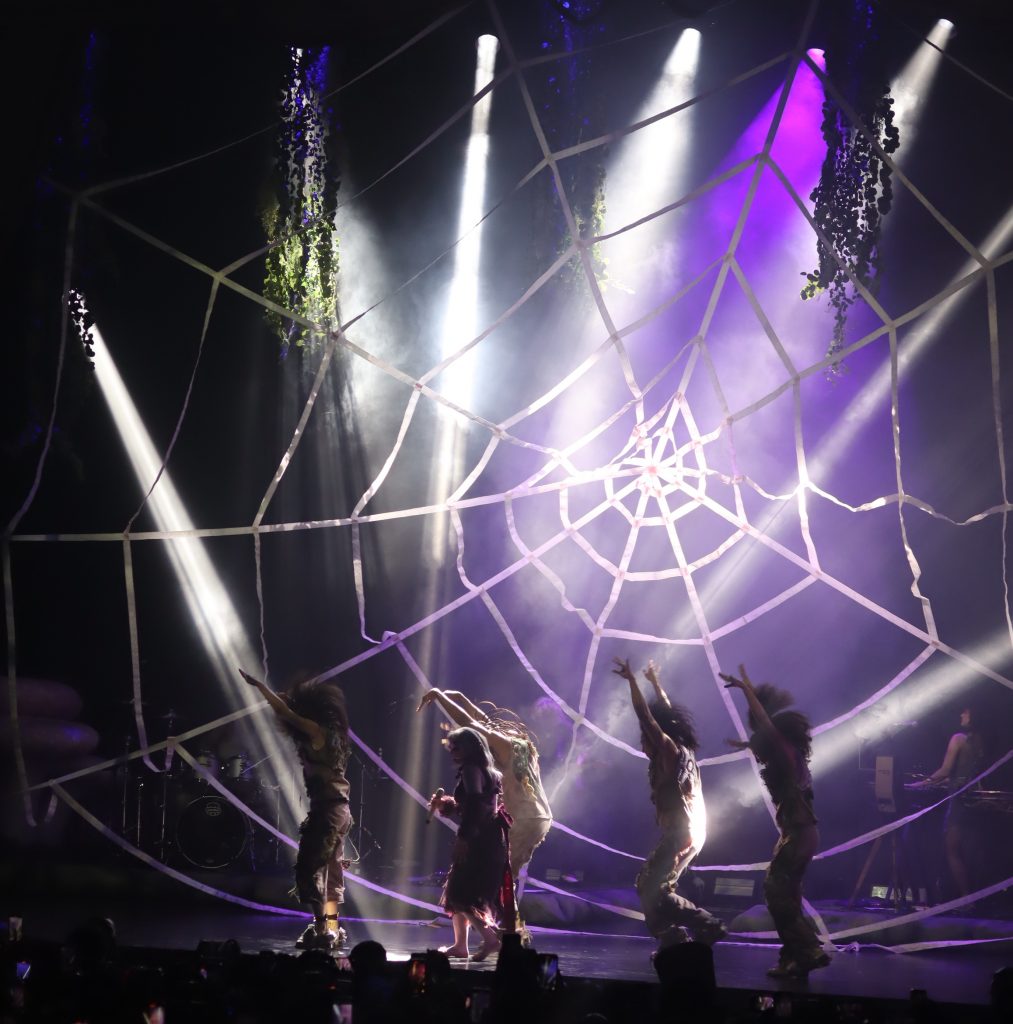 One thing was clear the entire night – this character Melanie had created was so much more than just a concept for the new album. She had separated herself from her previous work to present an entire new storyline on her album and live in performance. Her stage presence had everyone captivated – even a few skeptical moms near me accompanying their excited children to the show.
After a few catchy songs and lively dancing, the final songs before encore quickly approached. For what the show lacked in length, being a little over an hour long, it more than made up for with its narrative and energy. Melanie's exit while singing "WOMB" had the crowd buzzing, and butterfly-shaped confetti rained upon the crowd. Everyone around me, including myself, reached up quickly to grab a piece as a remembrance of the experience we all had shared. While I came into the show as a bigger fan of her older work, leaving, I had a newfound appreciation of the perspective she was able to create in such a short time.
Melanie returned to the stage with her dancers to finish out the night with three songs, one fo them being "MILK OF THE SIREN," and spared no expense with her energy. The night ended in a high, as she interacted with the crowd in appreciation of them accepting and taking part in this incredible afterlife she had created. Until the end, the crowd was jumping and screaming; there was never a lack of energy in the grand theater.
With the last song coming to an end, Melanie thanked the crowd for their passion and wished everyone in the crowd a safe and happy Pride month. Fans in the crowd passed a transgender pride flag forward, and Melanie happily brought it onto stage. It was the perfect end to a night of music telling a story of transformation and acceptance.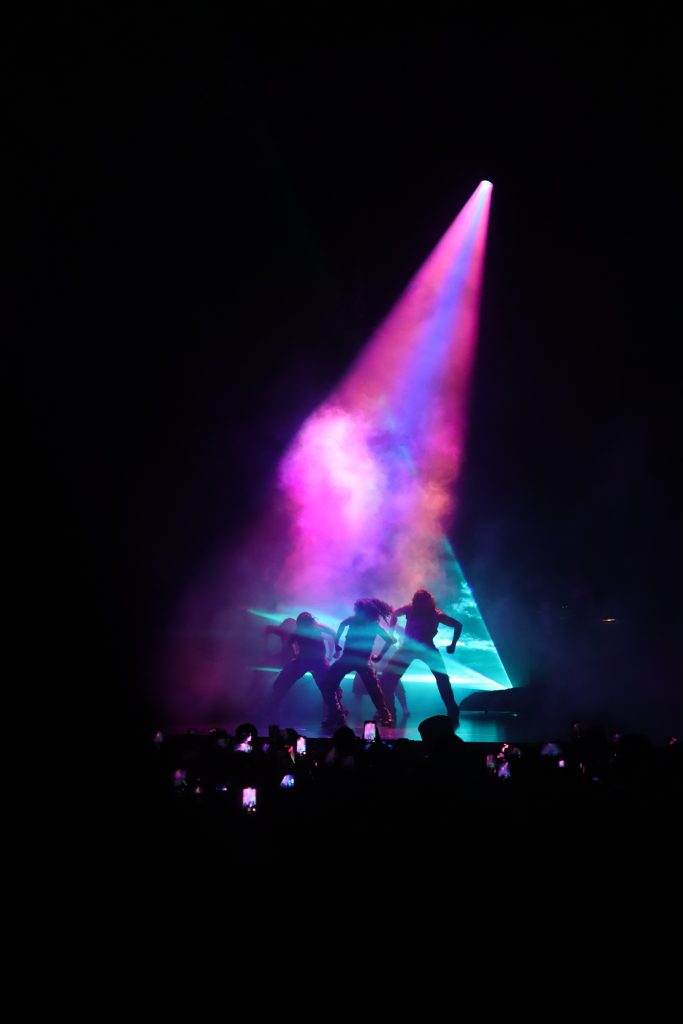 Ending the show on a high, Melanie and her dancers exited the stage, leaving fans still entranced from the world they had just experienced. While leaving the venue and re-entering reality, I realized that this was more than just a concert – it was a portal into the realm of Melanie Martinez's creative mastermind and world-building abilities.