Photos taken by Luna Seng-Lay
In the middle of Koreatown, boxed inside the neon lights of The Wiltern, we waited on a carpeted floor between a pair of ornate art deco walls with gold details and a purple glow. A bouquet of bucket hats, bandanas, and overgrown hair swerved and bobbed while a murmured chorus of talk about lost weekends filled the house. It was a solid turnout for a Monday night show. A diverse group of folks inched toward the empty set of instruments organized on stage. They shuffled their dirty canvas sneakers, polished Doc Martens, and Pantone Nike SB Dunks back and forth as more and more people walked in. One tallboy followed another tallboy. Vape and smoke clouded the air. A dark hand caressed their partner's red flannel shirt. Queer couples wrapped their arms around each other. Many turned up with a keffiyeh around their necks, collars, and shoulders. A simpatico feeling united the crowd long before we heard the music. We were at a Noname show. Her bars demand inclusivity. So it was crucial that everyone in the concert felt empowered to express themselves in the shared space she created for us to come together.
Ever since she appeared on Chance the Rapper's Acid Rap ten years ago, Noname has carved out a unique position for herself in contemporary hip hop. In many ways, she continues the tradition of conscious rap exemplified by artists like her fellow Chicago native Common. Her background and experience in slam poetry inform her detailed, robust, and clever lyrics. Noname's flow is calm, intelligent, yet equally passionate and unpredictable. She can be a storyteller, an activist, a gossiper, and a cheerleader. Her mixtapes and albums have been released to critical acclaim, with enviable write-ups on The New York Times and Pitchfork. Yet, as her name suggests, she avoids branding, corporatization, and unnecessary capital. There is no Noname website or merchandise. She self-releases her records. The closest thing to industry she has is her book club, a radical effort of creative social organization which brings people together throughout the country to read anti-imperialist and anti-capitalist texts by people of color. Noname is not interested in self-promotion, but in communal celebration. The Sundial Tour is emblematic of her finest ideals.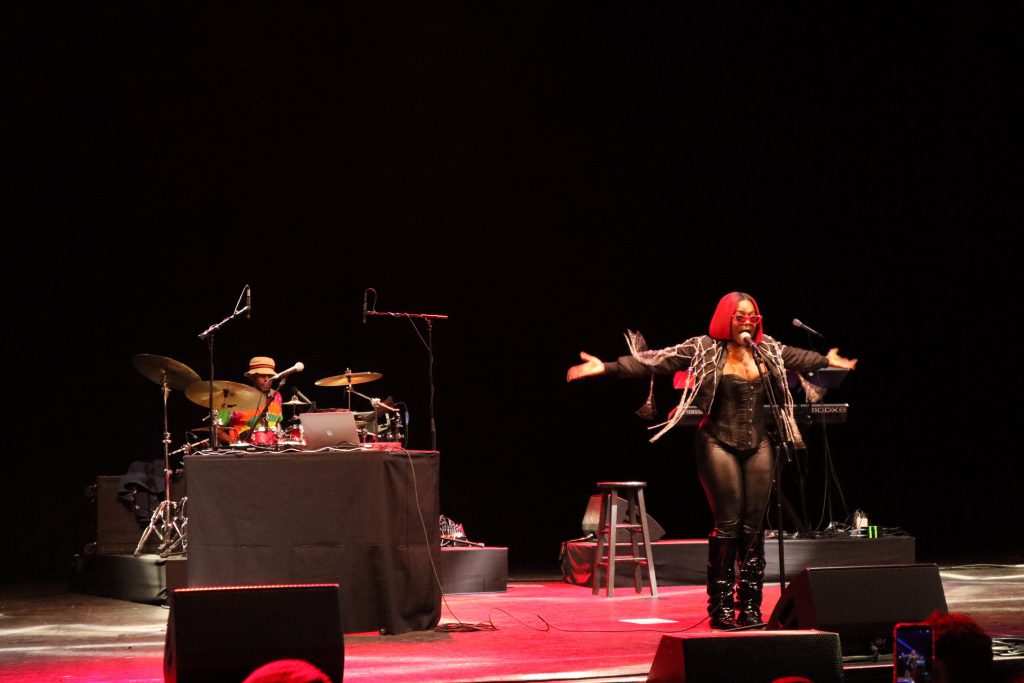 Black experience and feminine expression are central to Noname's aesthetic. Her concert at The Wiltern presented a wide spectrum of performance by Black women. STOUT, the opening act, is an eclectic dance-grunge tour de force. Accompanied with a drummer and a set of turntables, she walked on stage with fee-fi-fo-fum energy that addressed the crowd with unique power. She was all leather, accessorized with red framed cat-eyed sunglasses and a blinging net around her jacket. STOUT introduced herself with a series of dreamy loops which floated over moody drums to create a clattering, broken house music. Her improvised vocals elevated the session to the heights of performance art.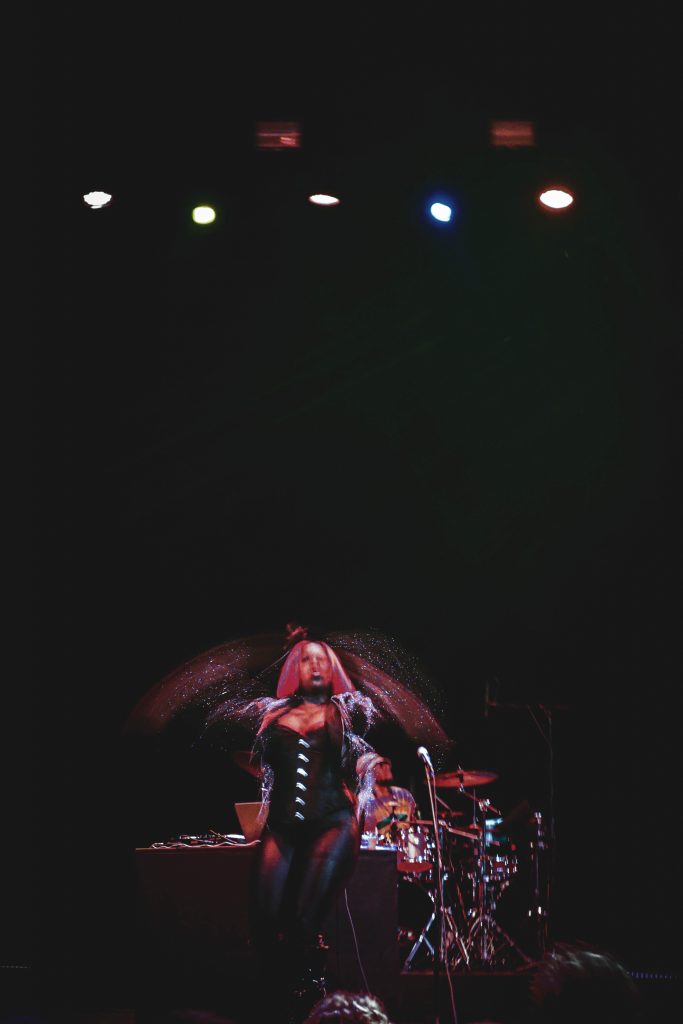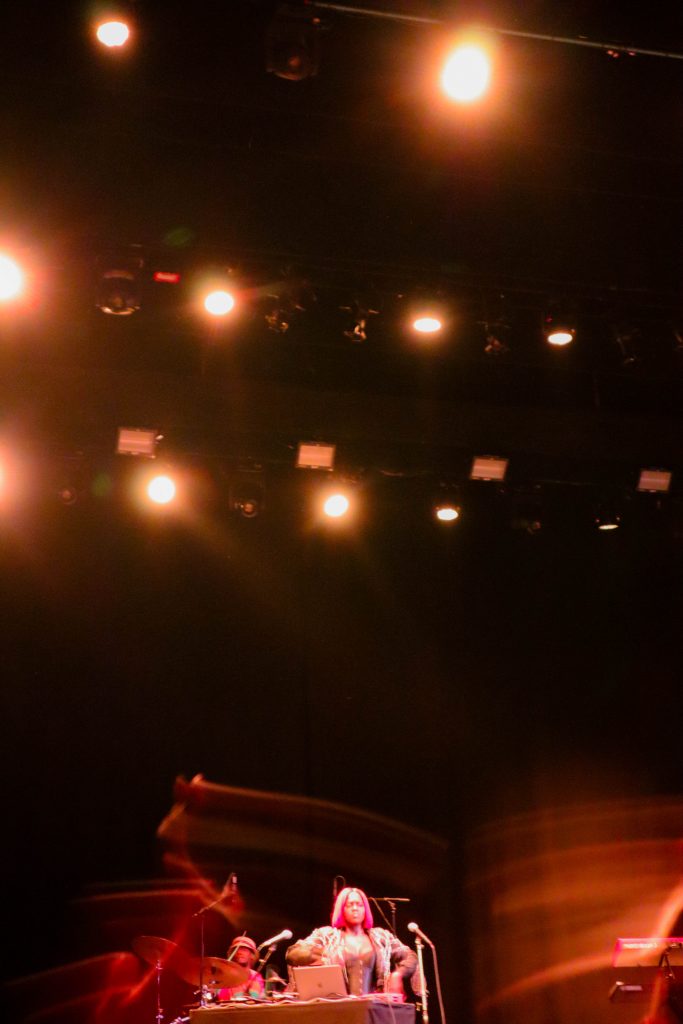 To change course, STOUT took off her glasses, shed the jacket, and told everyone she was Fela Kuti. She was emphatic. Was it a joke? No. An EDM version of Fela's "Zombie" blared off the turntables with deep bass and inspired drums. The venue turned into a club. STOUT delivered the anthemic funk with a strut. When she started to vogue on stage, the jumping crowd exploded into a singular, consummate, high-pitched shriek.
"Zombie" came to a close and STOUT asked us all: "Are we oppressed?"
And though the crowd was a bit unsure at first, we came to the conclusion that yes, we are oppressed. We begged for freedom. Thankfully, STOUT delivered not just through verbal assurance, but by a catharsis of epic proportions. The turntables distorted into blaring guitars and the drums went haywire. A cover of Nirvana's "Smells Like Teen Spirit" seized over The Wiltern. Reminiscent of prime Iggy Pop, STOUT performed the nineties hit with pure physicality. She trampled and split and raged. She took us into her hands and remodeled us into headbangers.
When STOUT left the stage, the crowd was abuzz. During the intermission, after the stellar disbelief wore off our faces and words, we caught up with strangers about piercings, tattoos, and Studio Ghibli movies. Thirty minutes passed in a blink. The lights dimmed and the band picked up their instruments to play Noname's signature blend of soul-jazz. Silence took over the air. We looked out for the rapper with a careful eagerness, as if we were expecting the emergence of a rare bird from a dense thicket in the wild.
Noname walked out of the shadows from stage left, her eyes wide open. She was as awed with us as we were in awe of her. A wave of applause swelled across the venue. Noname, with a charmed smile on her face, scanned all levels of The Wiltern and welcomed the crowd with a genuine warmth. It was like she had opened the front door to her home, and invited all of us in. The backup singers harmonized and she swiftly transitioned to the verses of "black mirror." The self reflective intro track to Sundial hints at self-preservation, womanhood, and friendship—then dismantles gender constructs and celebrates socialism. It's the archetypal Noname track, and includes some of her most memorable couplets like, "Gender is dimension two/ We live in dimension four," which was echoed in a roar by the crowd, with our arms sky high in a wave.
Noname live is part concert, part poetry reading. Dressed in red, with knee high boots and a graphic baseball cap, she delivered a performance that is indicative of her measured intelligent flow. She calmly paces back and forth around the stage to center herself to each person in the audience, and encourages everyone to rap alongside her. During "namesake" we were the chorus. In "hold me down," we held her down. In "toxic," we validated that she could do bad "all by her lonely."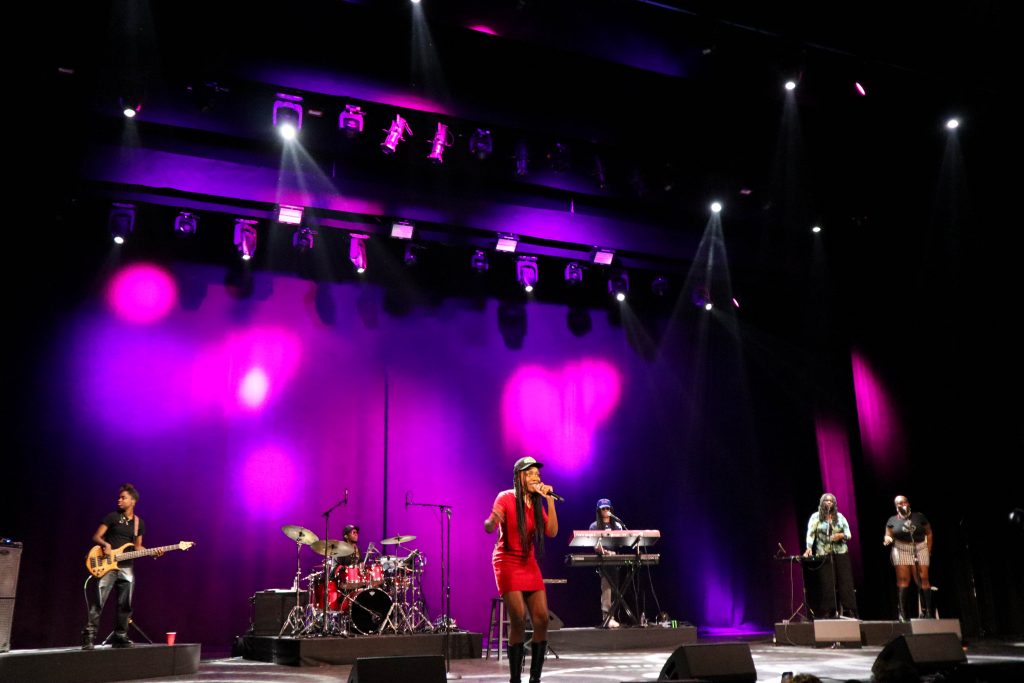 Throughout the show, Noname stopped the music to calibrate the performance. She interrupted herself now and then to make a joke or revamp the energy. She took her time between songs to introduce her bandmates, and even sang Stevie Wonder's "Happy Birthday" to her bassist Brooklyn. Most memorable was when she paused and hushed the crowd to plainly say: "Free Palestine." We all shouted, "Free Palestine!" She said again: "Free Sudan." We all shouted, "Free Sudan!" Noname confirmed what everyone was feeling in these days of conflict, chaos, and war. Our desire for liberation, reflected in her socialist lyrics, was shared in this politically amped call and response. She followed it up with the elegiac "Don't Forget About Me" from Room 25, a song which candidly meditates on loss and the fragility of human life. A solemn reminder that the brutalities of 2023 impact and displace real lives with real families, friends, and memories.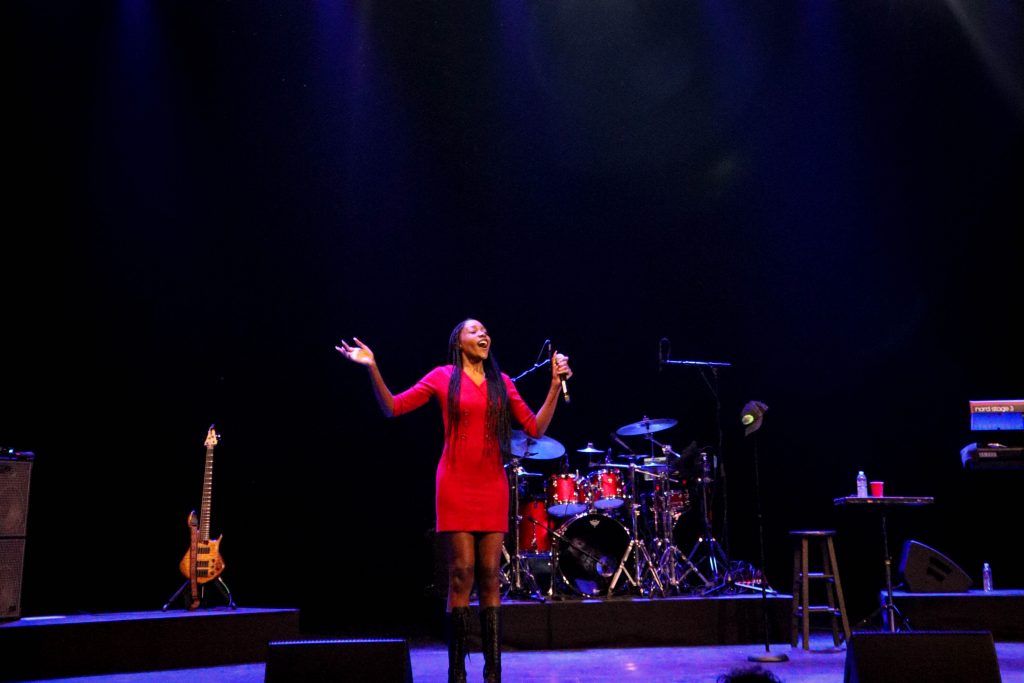 Noname performed on November 6th despite recovering from an illness. Towards the end of the show, she was emaciated and coughed between songs but she finished in stride. By the time she and the band left the stage, we were louder than a freight train. Noname repowered for an encore and picked up the mic to perform her two best known tracks: "Diddy Bop" and "Shadow Man," both a cappella. The crowd burst into flames when the familiar flow left her lips. It was a choir. We rapped the quick parts, we sang the slow parts, all in unison because we were all family in the radical utopia of Fatima Nyeema Warner.