Photos by Chloe Gonzales
I wouldn't say that love is at the forefront of my mind these days, but when I listen to Faye Webster's music, it's the only thing on my mind. You know that feeling you get when your crush smiles at you? Your face slowly flushing, the hot blush blooming across your cheeks, a garden of delusions sprouting up in your head? Faye's music is exactly that, indulging in all the warmth and hopelessness that comes along with loving another person. The Atlanta musician, known for her music that blends R&B, jazz, and folk, is here at the Novo tonight for her Fall tour.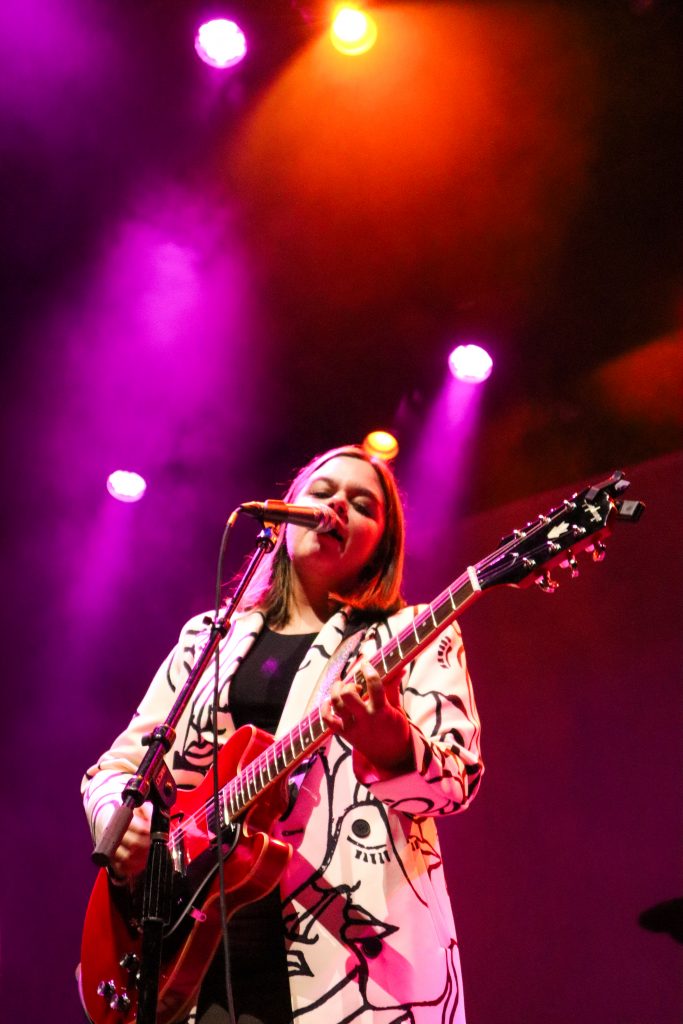 As I make my way in the venue doors, I hear a rich voice singing from the speakers outside. Like a sailor to a siren, I shift mindlessly through security to find the source. Turns out it's the opener, Venezuelan-born, Miami-raised artist Maye, who entrances us with her jangling guitar riffs and kaleidoscope-hued synths. Clad in a white trench coat with abstract faces printed on it, Maye is magnetic on the stage, playing a fiery-red electric guitar and jamming with her fellow guitarist bandmate, their interplay dynamic and vibrant. Her song "My Love" is especially mesmerizing: with its reverb synths and slow-tempo chorus, the music submerges us in a sensual, underwater dreamscape. Maye finishes her set with "Tú," a soothing, romantic bossa-nova song that leaves the crowd grooving, stuck in perpetual sway long after she's exited the stage.
After a brief break, Faye's entrance is announced with a regal horn fanfare. Plumes of smoke cloud the illustrated backdrop, a jagged rock that features Faye perched atop, surrounded by flames. The real Faye emerges from the smoke, opening with "But Not Kiss," one of her latest singles. "I want to sleep in your arms –" she sings, her gentle guitar strums luring us into a false sense of security. "– But not kiss," she finishes, the drums and piano line bursting out of the chorus like a jack-in-the-box. The crowd lets out a cheer as Faye sings her song of contradictions, of both wanting someone and wanting to forget them.
Faye then transitions to songs off of her past albums, I Know I'm Funny haha and Atlanta Millionaires Club. While "But Not Kiss" speaks to the frustrating aspects of love, her next song, "Better Distractions," is an ode to the earnest parts, as she repeatedly asks her lover, "Will you, will you, will you, will be with me?" As simple as the question is, isn't there something so vulnerable about asking someone to come over and take up your space?
Similar to "Better Distractions," Faye's other songs capture the act of loving in a spectacularly ordinary way: looking back twice at a lover after saying goodbye ("The Right Side of My Neck"). Apologizing to them for falling asleep first ("In A Good Way"). Leaving a light on as a substitution for their warmth when they're gone ("Kington").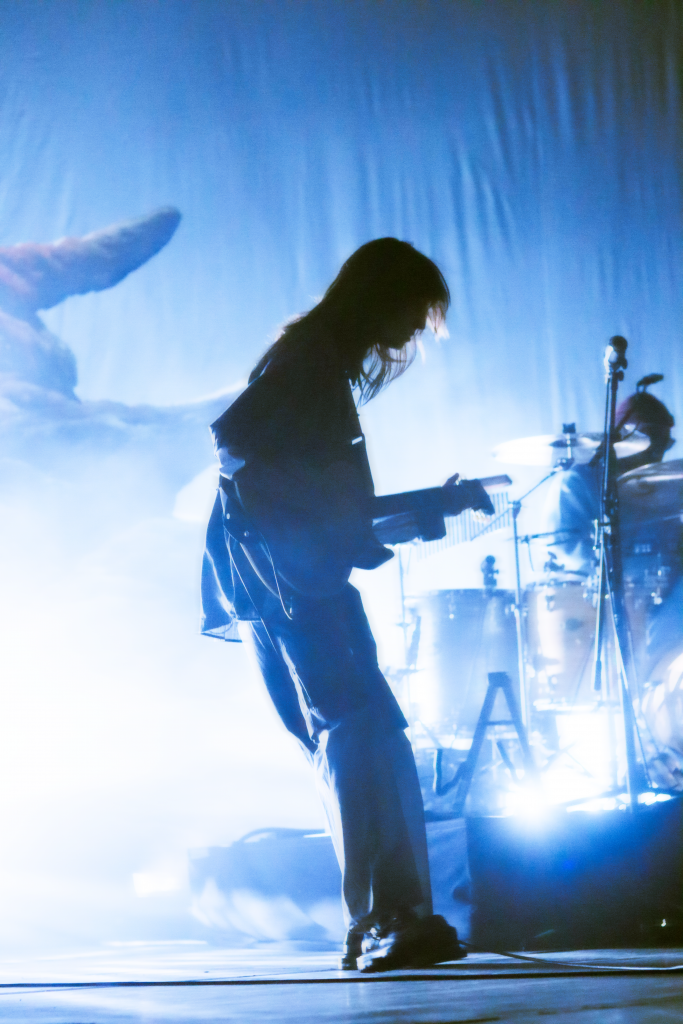 She embeds these tiny moments into her sound: drums as relaxed as Sunday morning, plucked strings as bright as sparklers, and basslines as playful as a merry-go-round, maintaining momentum with each round. And then her signature lap steel guitar hits, its twangy melodies satiating the eardrums like brown-sugar barbeque sauce glazing over dish, and I know it's over for me: I want to live in Faye's subtly sweet soundscape and I want that warm, head-over-heels feeling those songs bring me for the rest of my life.
Spoiler alert: those warm fuzzy feelings don't last, because next on the setlist is "Jonny," a sit-down-on-the-shower-floor type of sad song. With her eyes closed, completely lost in the performance, Faye fixates her mind on Jonny, a past lover who didn't feel the same. "This wasn't 'spose to be a love song, but I guess it is now," she admits, begrudgingly finding remnants of love in the memories that haunt her. She cherishes both love and heartbreak within the same breath, dutifully paying full price for both sides of the coin. Playing piano to accompany the spoken-poetry ending of the song, her theatrical delivery shifts from pleading to angry to accepting:
The band plays a cacophony of sound to close out, and we hear the glistening whoosh of a shooting star passing by.
Between songs, Faye is soft-spoken and charming, thanking us for coming out to see her and the band tonight. She introduces Pistol on lap steel, Annie on keys, fiddle, and piano, Charles on drums, and Noor on bass. She shouts out her brother, Jack, who has been helping with the tour, and the crowd chants his name when he makes a guest appearance to upkeep the stage.
Though Faye's direct interactions with the crowd are rare, she reveals her personality through other routes: at one point, her and her band play a cover of Pokémon song "Eterna City,"(she's mentioned the game being "my favorite thing in the world, other than my boyfriend") a mellow, playful tune that sees the stage flooded in cyber green lights, much like the iconic Nintendo game's plastic Gameboy cartridge. And when a fan offers Faye their Minion hat, she gleefully puts it on, looking absolutely delighted.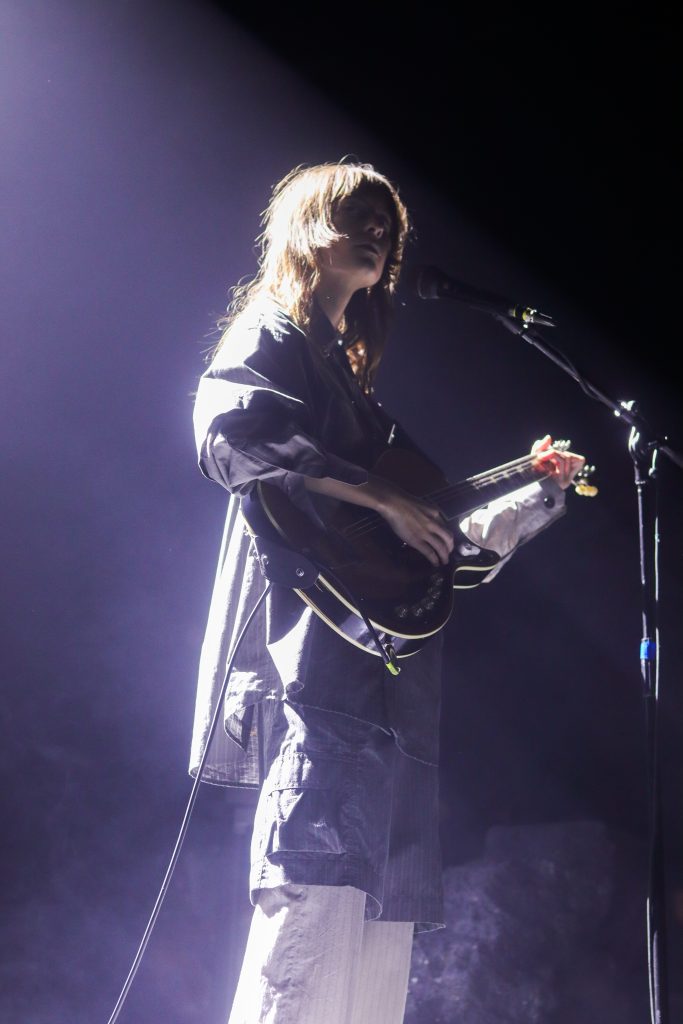 Webster rocks out the end of her show with "Cheers," the lights flashing, her shaggy hair rustled from her head-banging as she exits the stage. But we all know she isn't done: we chant "encore!" enough for her to return and play two more songs, one of which is fan-favorite "Kingston," a silky, jazzy, love song. "Kingston" chronicles the hazy, love-struck stages of a new relationship: it's a flower slowly unfolding, it's a sleepless night, it's a dream that you don't want to wake up from. The swoonful tune takes hold of the crowd, and I notice as the couples around me embrace (and even kiss!) each other during this final song.
In contrast to this moment, I think back to Faye's song "Jonny," and what she meant by "the sorrows of love's slow passing." Isn't that sad, how love has an expiration date? Whether we can admit it to ourselves or not, our love for others will pass, due to time, or will, or circumstance. Likely some inevitable combination of the three. The person whom we love right now might not be with us in the next year, or month, or even day. We might spend the rest of our lives aching in their absence. But tonight, everyone in this room is with one another and they are so, so in love. Tonight, Faye reminds us that that love is passing – but it's in the very slowness of the act that allows us to savor its sweetest moments.
Check out Faye's latest single "Lifetime" below!
Gallery