As Outside Lands ushers in its 15th year anniversary, this year's three-day experience is joined by an ever-evolving diaspora of over 250,000 eager festival goers. Located within fog-blanketed meadows and towering cypress trees, San Francisco's Golden Gate Park offers the perfect backdrop for this year's distinct melting pot of music, culture, and art.
It's a quick stroll from the Polo Field entrance to the Lands End stage, where you might want to catch headlining acts like Kendrick Lamar, Foo Fighters, and ODESZA. If you're looking for a hilltop respite from the festival chaos, you might head over to the neighboring Sutro stage, pairing the sunken meadows with the mellower sounds of Ethel Cain and Alex G.
Before you race across the park to catch Mild Minds at Panhandle or Lana Del Rey at Twin Peaks, you may have some trouble deciding from which of the countless food vendors to grab a bite from. Whether you choose dungeness crab garlic noodles or queso birria tacos, your stomach will surely thank you (though your wallet might not).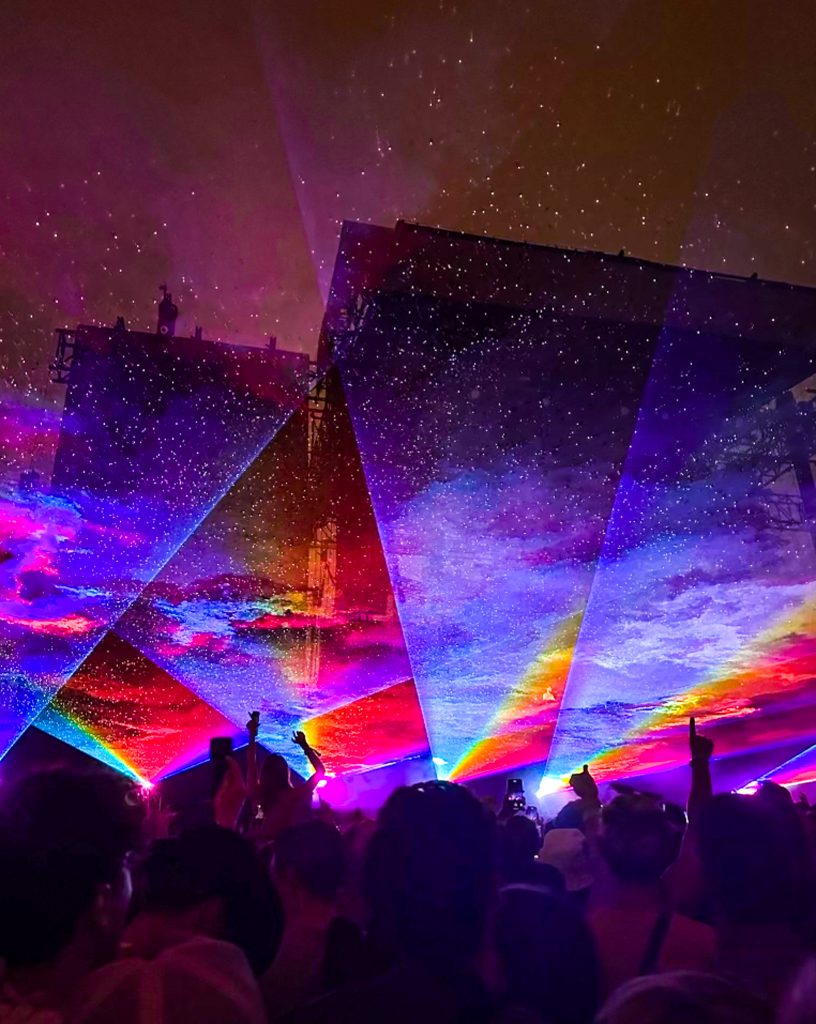 If you're still not satisfied, don't worry – you can just as easily stop at Wine Lands for a glass of Napa red or Beer Lands for a Bay Area brew. Every corner of the colorful festival grounds is designed to dazzle. Hanging between forests of emerald green are thousands of string lights and flower ornaments. Walk past a towering neon windmill and through the Mclaren Pass, and you'll be sure to see ginormous pink Mushroom statues and vibrant street art murals spanning across the park. In fitting San Francisco fashion, you might even want to stop at the flowering Grasslands, a unique cannabis wonderland that seamlessly curates an elevated and ~ relaxed ~ musical experience.
Even with this unique array of attractions to choose from, music still stands strong at the heart of Outside Lands. As a festival that prides itself on its consistent commitment to a diverse assortment of sound, a universe of music can be heard not only from the park's four stages (Lands End, Sutro, Twin Peaks, Panhandle), but also throughout various other spaces across the grounds. Head over to Dolores' open-air dance club, where you can wholly celebrate the beauty of queer and trans culture.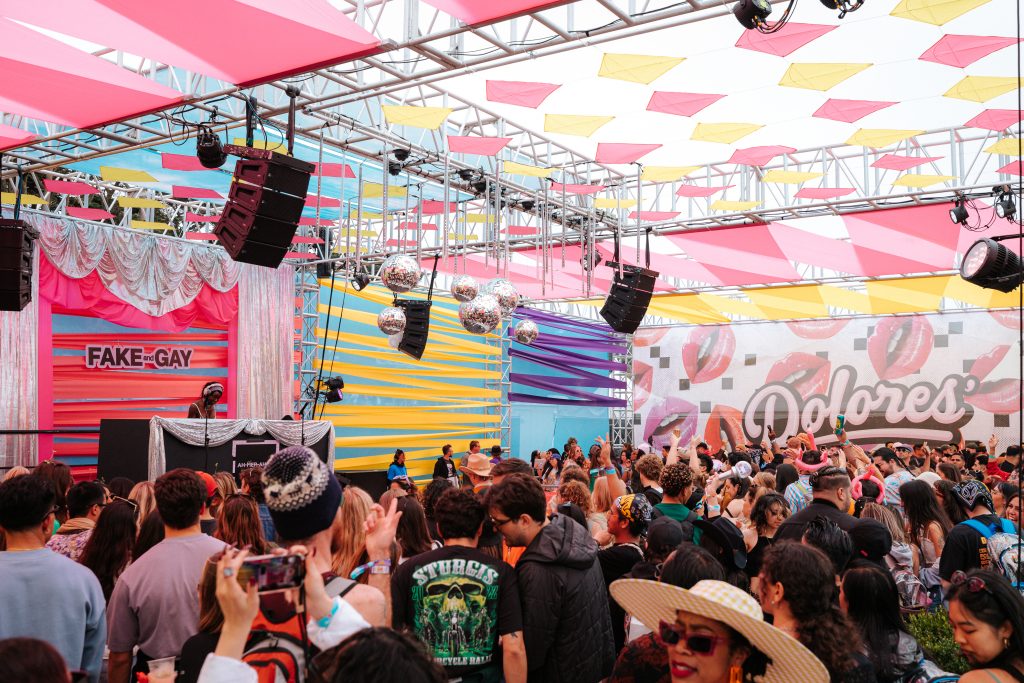 Stop at the Toyota Music Den, where you can catch Poolside's daytime disco or other acts that you may have missed the first time. Finally, don't forget to take a spin at the beloved SOMA tent, where you can catch Disco Lines both figuratively and literally bringing down the stage with his electrifying house set.
Even fifteen years in, Outside Lands remains an all-encompassing experience unlike any other. And not just because of San Francisco's unpredictable summer weather (a word of advice: skip the Coachella bikini, bring a jacket). As we wrap up the summer with one last musical hurrah, here are some of our favorite sets we got to see at this year's Outside Lands: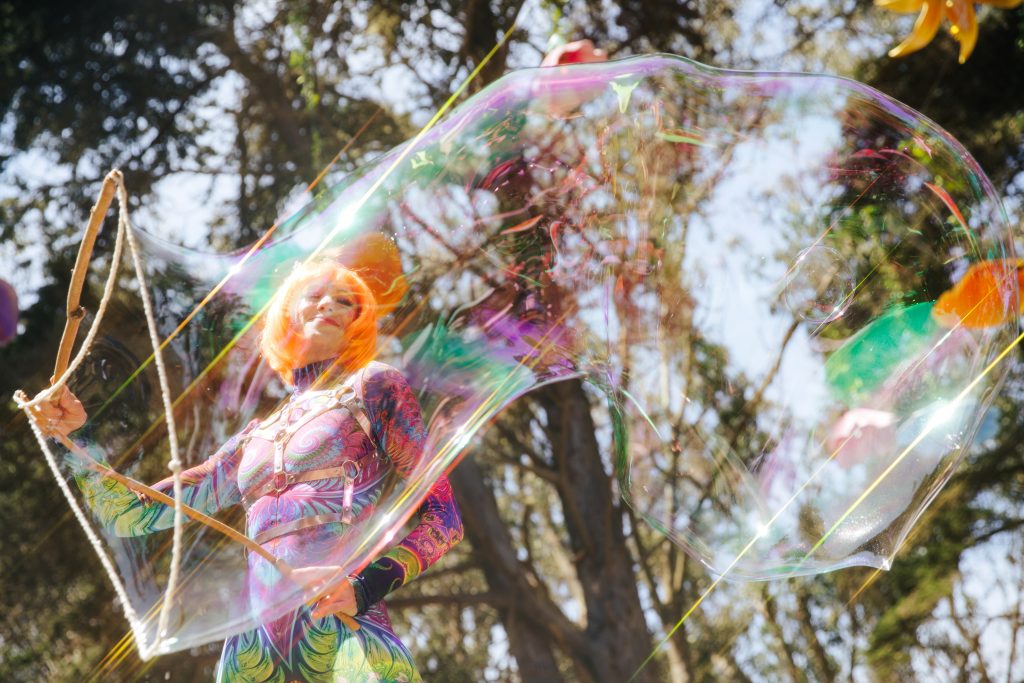 [Click here for Disco Line's interview]
[Click here for Poolside's interview]
~~~~~
Lana Del Rey
~~~~~
The crowd that Lana Del Rey attracted at Twin Peaks for Outside Lands Year 15 reflected in full force the four-year and three album wait her fans have endured since she last graced the stage. Lana fully packed any space from which her performance could possibly be witnessed. Fan-favorite "Pretty When You Cry" rocked the audience, as Lana delivered shockingly beautiful live vocals while lying flat on her back.
The famous opening lines of "Norman f*cking Rockwell" left the lips of thousands resulting in an unbelievably cathartic release of "God damn man child, you f*cked me so good that I almost said I love you." Lana even kept the pauses between songs interesting with the beyond iconic "Ride" monologue fully immersing the crowd in the Americana mythos of Lana Del Rey, and giving everyone the chance to hear perhaps her most iconic quote "I am f*cking crazy, but I am free" in full festival volume. Though not her first time at Outside Lands, we can only hope this won't be her last as her unique blend of bold yet dreamy pop is a match made in heaven with the woodsy, laid-back spirit of the festival.
~~~~~~
Lil Yachty
~~~~~
Lil Yachty's recent stylistic shift toward neo-psychedelia and away from the trap bangers he gained popularity put the Atlanta artist in an interesting position going into his set at Land's End stage on Sunday. Lil Yachty's live set seemed to acknowledge these opposing sounds by splitting the performance in half beginning with his expected rap hits like "One Night" and "iSpy" before shifting into the hypnotic synth-scapes of his newest album Let's Start Here. While these two sides of his music may have attracted different crowds, Yachty proved his stylistic experimentations are no reason to hold him back on delivering a fully enthralling show. In fact, this variation within his set led to one of the most interesting performances at Outside Lands 15, taking the crowd from moshing to swaying like no one else could. Whether you came for the classics or something new, Lil Yachty surely did not disappoint.
~~~~~
Maggie Rogers
~~~~~
If one of music's most prolific producers is speechless after hearing a song, you know that artist is going to make it. Maggie Rogers is undoubtedly a testament to this phenomenon, as the indie-rock superstar first shot to fame after a clip of Pharrell Williams' reaction to Roger's "Alaska" surfaced on the internet in 2016. While she was merely an NYU student at the time, her illuminating main stage performance at Outside Lands not only proves how far she's made it, but also how much further she will undoubtedly go.
In fitting San Francisco fashion, a cool breeze and silver fog blanketed the day-two Polo Field. Despite it all, any semblance of bad weather seemed to figuratively dissipate as Rogers graced the stage with flawless vocals and enthralling energy. Alternating between songs from her debut album Heard it in a Past Life and her 2022 album Surrender, Rogers was nothing short of a supernova on stage as she began with "Overdrive" and "Give a Little." The sonic electricity from wavy synths and warm guitar notes weaved seamlessly with her soft yet powerful delivery. As she floated into fan-favorites "Love You for a Long Time" and "Alaska," Rogers dominated every inch of the massive Lands End stage, grooving her body to each drum beat and reciprocating the overpowering energy from the equally overflowing festival grounds. Before closing with sultry songs like "Lights On" and "That's Where I Am," Rogers even delighted the crowd with a too-short rendition of Whitney Houston's "I Wanna Dance with Somebody." Through every second of every song, Maggie Rogers was a highlight among an already-stacked lineup. To speak of her undeniable stage presence fails to truly do her talent justice. While Outside Lands may have come to a close, Maggie Rogers is clearly here to stay.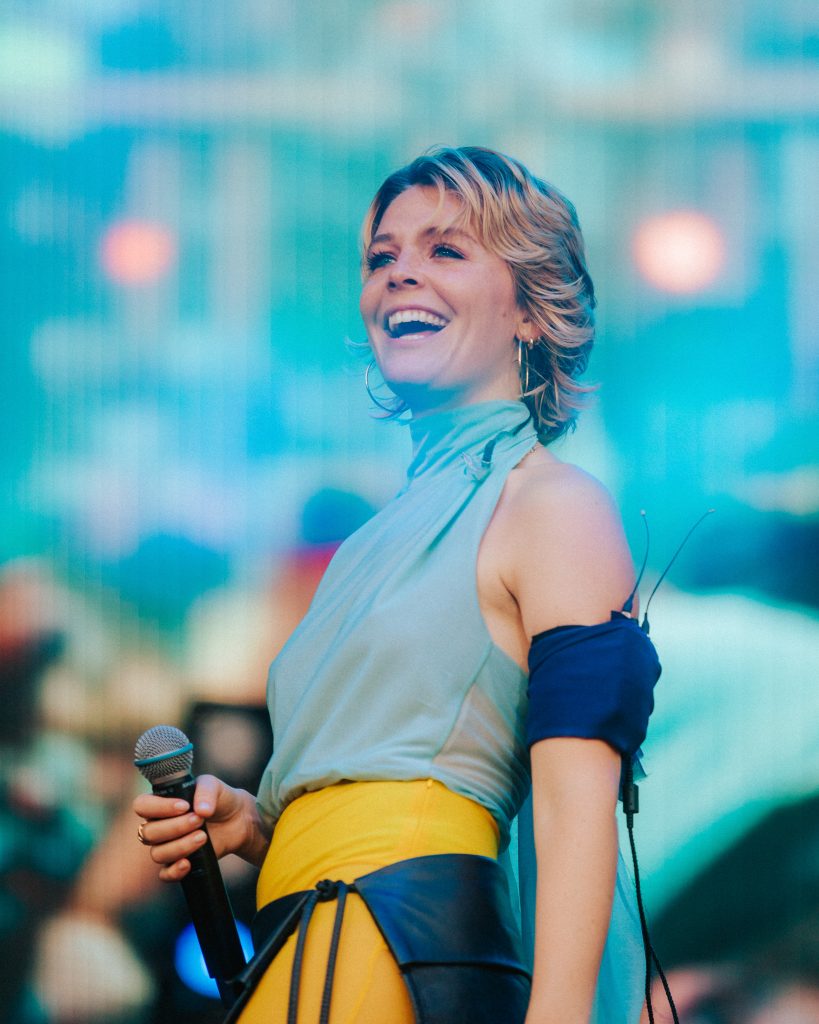 ~~~~~
L'Imperatrice
~~~~~
House music has deservedly risen in popularity in recent years. Seamlessly curated through the distinct sound of kick drums, techno beats, electric synths, and more, the evolution of house has been nothing short of impressive. Standing at the forefront of this vast musical sphere is French nu-disco band L'imperatrice. Carving their own special space within a universe of sound, L'imperatrice redefines the overarching category of house into a dreamy disco dancefloor, wholly unique to themselves. As the six-person powerhouse group first graced the Sutro stage, Golden Gate Park was suddenly no longer just Golden Gate Park. Rather, as the band dominated their performance with groovy tracks from their 2021 album Tako Tsubo, the crowd was seemingly transported to the daytime discos along the French Riviera. Songs like "Anomalie Bleue" and "Peur des Filles" curated a perfect 70's Europop vibe, bringing notes of Jazz, R&B, and yacht rock along with it. All in all, L'Imperatrice's performance was yet another standout among standouts, as they ambitiously experiment with sound and push the boundaries of disco fusion.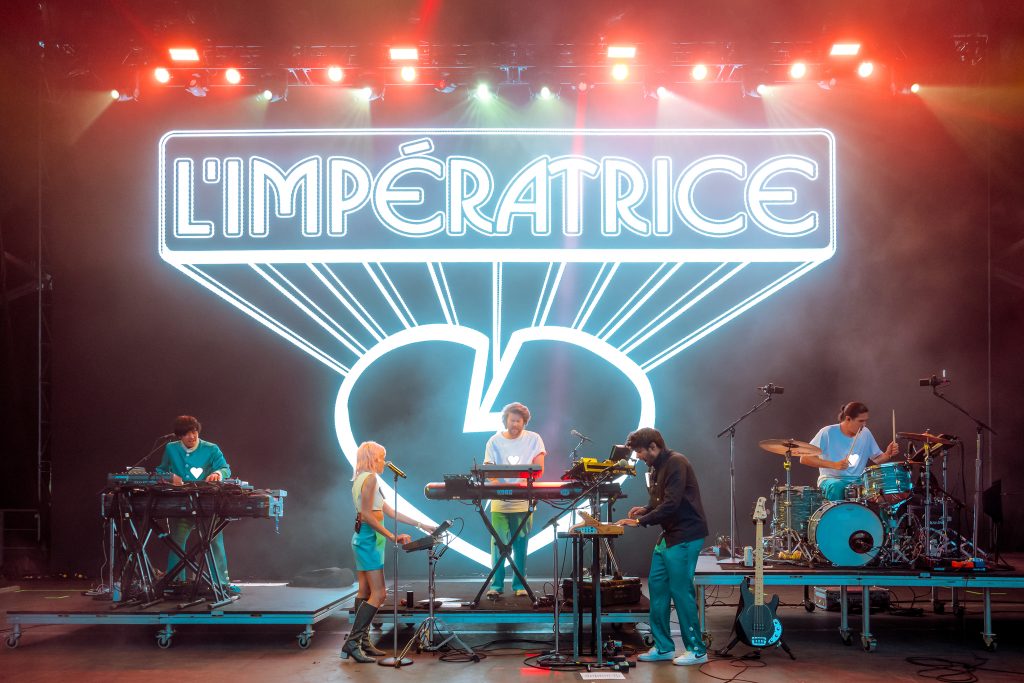 ~~~~~
The 1975
~~~~~
A flask, a cigarette, a microphone. Matty Healy proved his expertise at juggling these three essential tools at The 1975's headlining set Sunday night. Anthemic hits like "The Sound" and "Love It If We Made It" ripped through the crowd, turning Golden Gate Park into a beautiful dance party send-off to an amazing festival. The 1975 made any potential bittersweet feelings post-festival depression impossible with their unique blend of syrupy pop hooks and head-banging rock n roll. More recent hits like "About You" also made the setlist, amplifying the feel good vibes of the bands show even further as the crowd screamed along, "And I'll miss you on a train, I'll miss you in the morning," as a very fitting description of the band's send-off slot. As their set came to a close, The 1975 pulled one last trick out of their sleeve with "People" serving as a fitting scream-it-all-out send off to a marvelous final performance to a wonderful festival weekend.