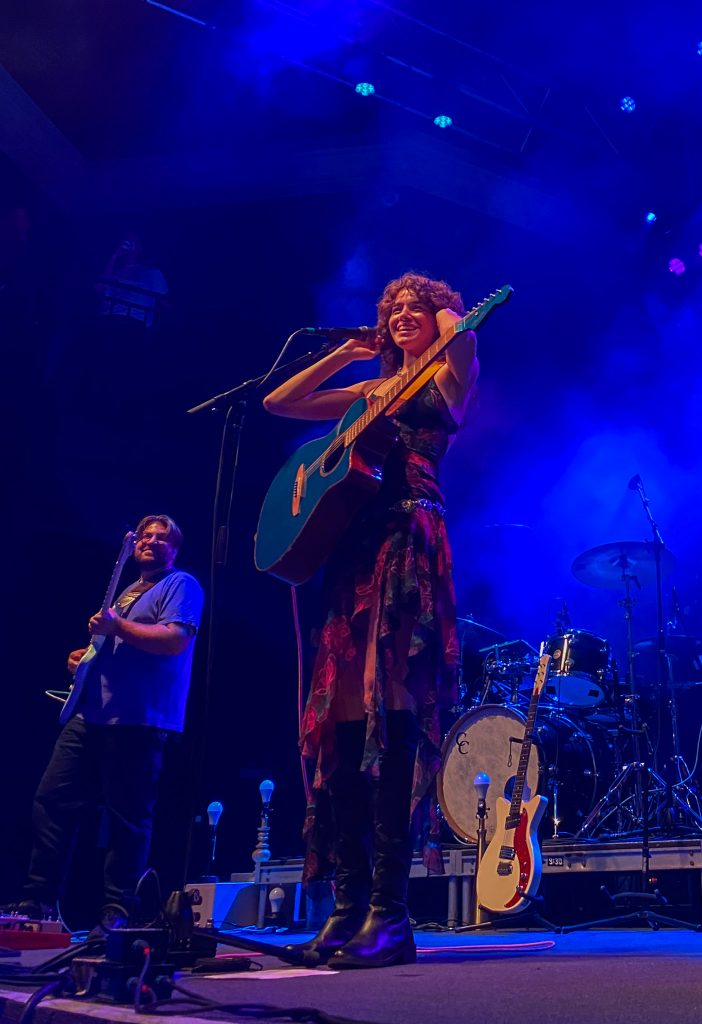 The 9:30 Club is Washington D.C.'s legendary haven for music lovers, and tonight Yoke Lore and Girlhouse added their names to the list of historic musicians to perform here. I walk in to find its mezzanine and floor adorned with friends and lovers, all bound by their affection for both each other and this unique music. Lauren Luiz, also known as Girlhouse, set the tone for the night with her ethereal voice.
Girlhouse is impossible to ignore. Sporting knee-high boots and a swanky turquoise guitar, she turns heads (and keeps them there). Her lyrics are true to her, and her storytelling obviously resonates with the crowd. She is a striking blend of eclectic charm and irresistible melody and her music is catchy. She ends her performance with "Concussion," and her enchanting way of elongating the last motif casts a spell over everyone. It serves as an unforgettable bridge, ensuring that her name remains in the forefront of everyone's minds, and it seamlessly guides the audience from the opening act to the eagerly anticipated performance by Adrian Galvin, known by his moniker Yoke Lore.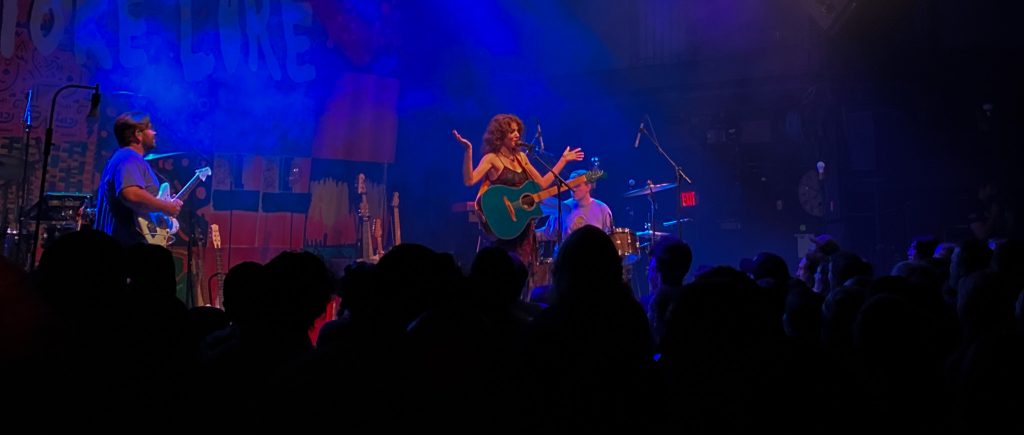 We are here to experience Adrian's genuine emotion and his striking release on-stage. Around me, people sing, laugh, and everyone holds onto their people. Yoke Lore's lyrics serve as an invisible thread, drawing people ever closer to one another while reminding them of the best part of life: the company.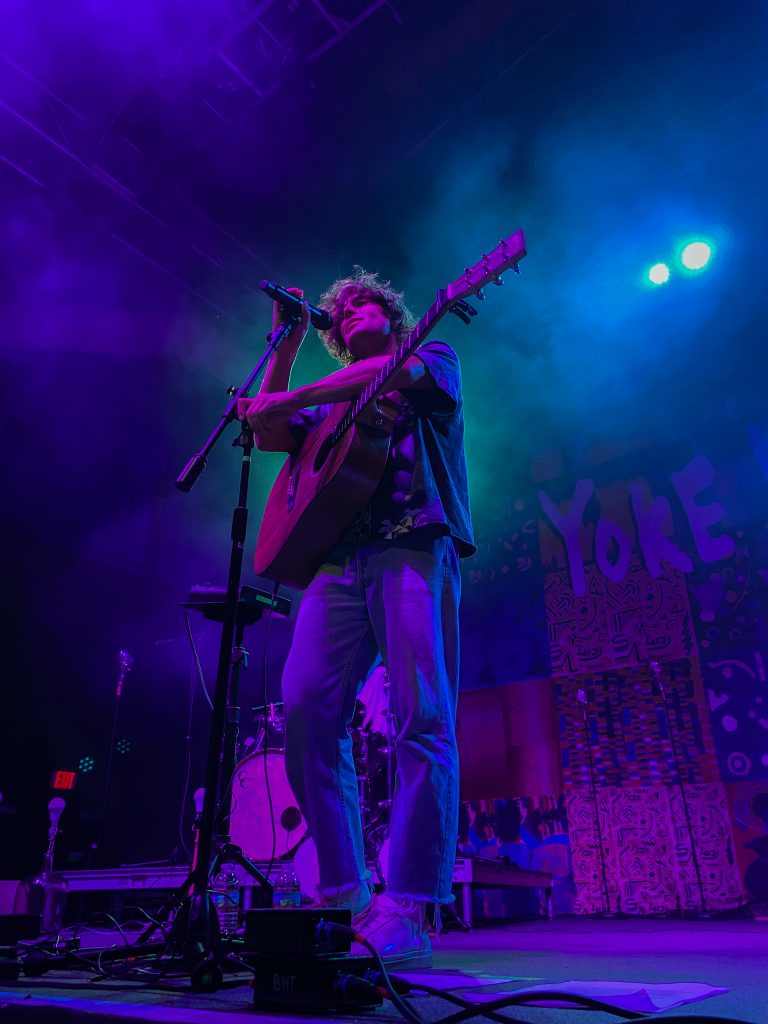 My view was obscured by the tallest man I've ever seen and his girlfriend. You might think this unfortunate, but their love was so big and beautiful that it only enhanced the experience. They twirled and they laughed and they danced. Just a month after their wedding, the couple proudly displayed a sign that said that their first dance was to the song "Beige."
The highlight of this performance, for me, was the writing he shared with us in between songs. With his poetry, he granted us a deeper look into his inner world, and it enriched our understanding of both himself and his lyrics. I only wish that he would not rush through those sacred words. The crowd clings to them; vulnerability attracts people, and it is precisely this quality that makes Yoke Lore so magnetic.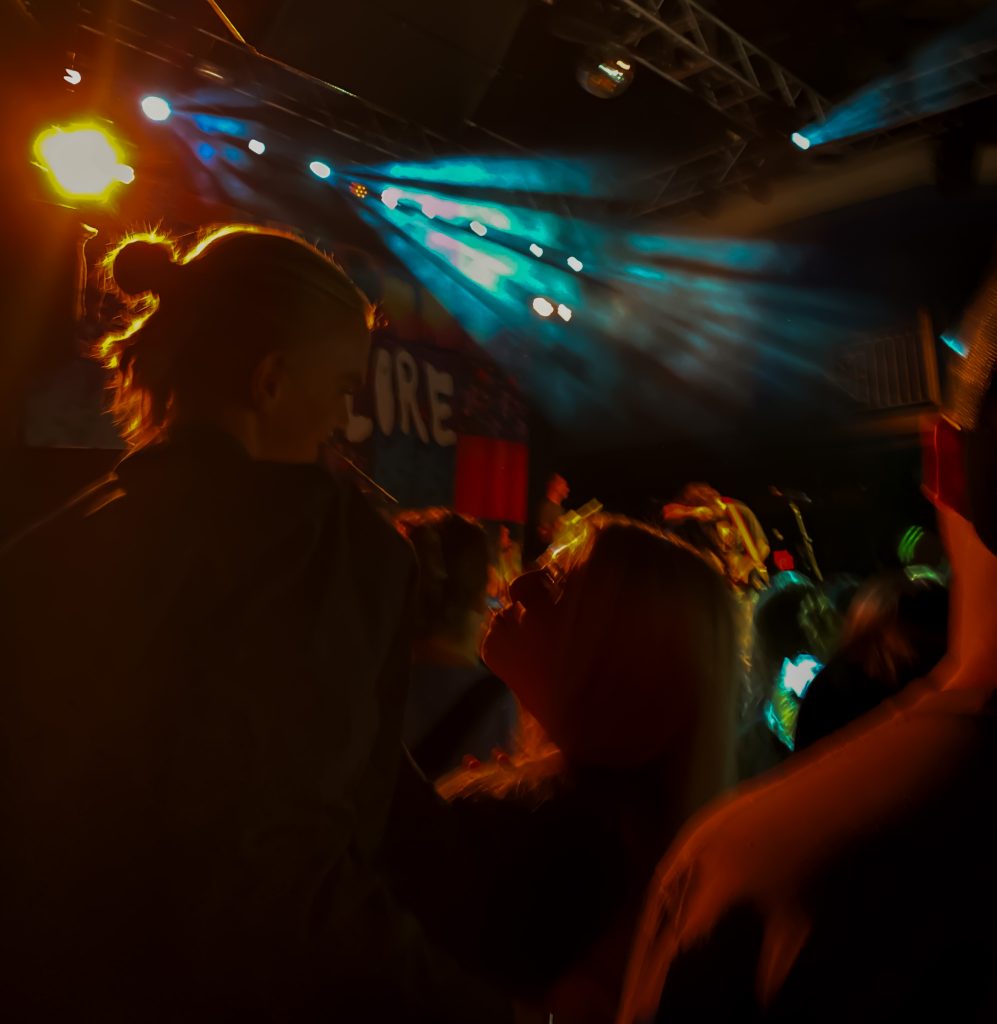 After the encore and a collective rendition of "Beige" that sent chills down my spine, Adrian shared a book recommendation: "Still Life with Woodpecker." He said that throughout the book, the same question is asked ceaselessly, but never answered. In a song he plays exclusively for live audiences, an homage to the author Tom Robbins, Adrian poses the same question but withholds the answer. How can we make love stay?
I found that his movements, a blend of frustration and beauty, mirror our own struggle to reconcile the impermanence of love with our desire for stability. Adrian's artistry reveals that while we may not ever tether love in its unchanging form, the pursuit itself holds a kind of fleeting permanence — a paradox that he captures in his song, Tom Robbins. How can we make love stay? "Ask this question every day until the day you die, and your life will be a whole lot better," Yoke Lore promises.