Ripped fishnet tights, barely-there mini skirts, distressed t-shirts, the lowest of low-rise pants hanging loose from exposed hip bones. Grunge didn't die in the '90s; it's alive in "Pretty Sick" and I've never felt so simultaneously out of place yet at home.
It was 7:45pm; Thursday evening; and a line was already extending down Hartford Street. A birds-eye-view would reveal tops of heads restlessly bristling, shifting nervously in anticipation, a veritable rainbow of shades, colors, tones. Standing at the back of the line, I couldn't help but feel exposed, decrepit, old? At 20 years of age, the abundance of youthful energy was almost suffocating; as couples filed past towards the end of the line, cracked cement became runway, putting on full display an aesthetically homogenous array of material personality. Dare I say I was intimidated? Intimidated by a crowd which seemed to average between 15-18 years-of-age yet clearly, proudly belonged to a cohesive alternative subculture celebrating all things distressed. But at the same time, I felt an irresistibly pull, entranced by bleached eyebrows and baggy cargo pants; I wanted in.
And "in" I got, as we were ushered into the cramped lobby of the Teragram Ballroom, past an already-forming line of eyeliner-ed men and women, onto the dimly-lit GA Floor. The crowd's youthful impatience manifested in the chanting of "Pretty Sick!" before the opening act graced the stage, coupled with ill-timed screams in response to…nothing? Nonetheless, when 9pm rolled around, the opener, "Rocket" was met with the excited shouts of those eager for Pretty Sick, their complacency in a prolonged delay the product of knowing Pretty Sick had contributed in delivering "Rocket" to them; in return, "Rocket" delivered.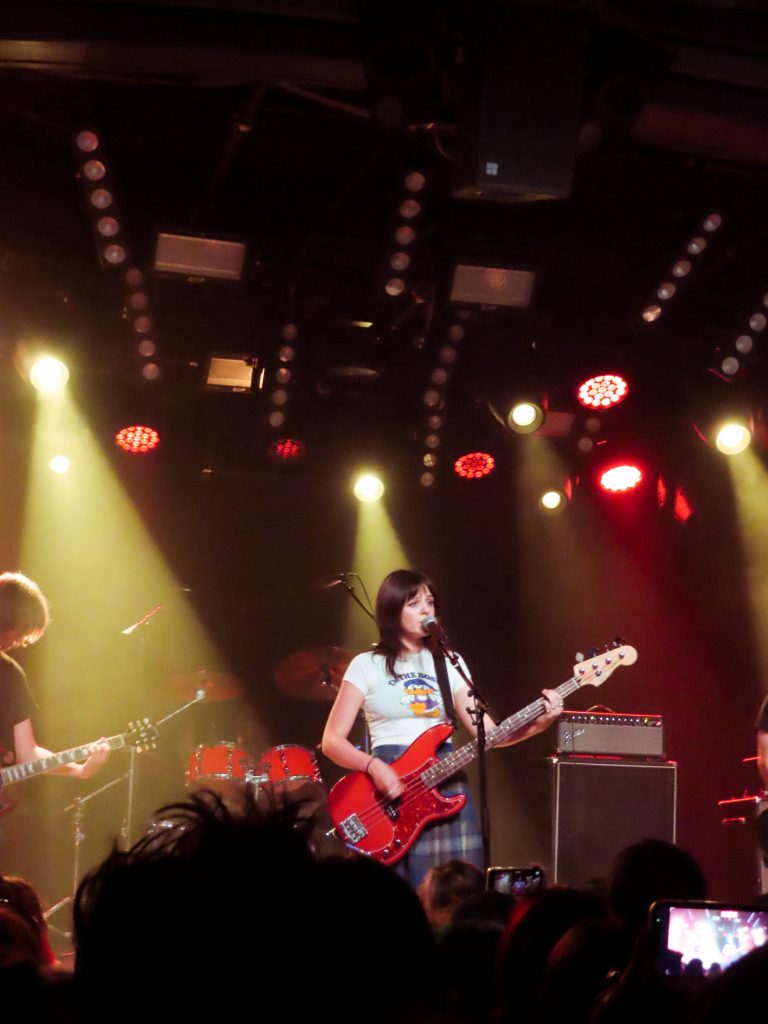 With frontwoman Alithea Tuttle on bass and vocals, Cooper Ladomade on drums, Desi Scaglione and Baron Rinzler on guitar, the alt rock band juxtaposed angelic vocals with distorted guitar tones and ferocious drumming. Besides matching mullets and Tuttle's effortlessly-cool donning of a long plaid skirt and baby tee reading "I'm the Boss" above Donald Duck's scowling face, what truly stood out was the group's instrumentation. I was captivated by Ladomade. Alternating between gazing out into the audience during slower moments and veritably attacking the drum kit in an aggressive frenzy, face contorted, mouth open, during intense solos, Ladomade was fascinating to watch. Not just to watch but to hear; in "Normal to Me," Ladome's ferocious playing invaded Tuttle's suspended vocals, breaking up the fuzziness emanating from the guitars and bass with a clear, unforgivingly bright fill. That's not to say Scaglione and Rinzler didn't have their moments on their respective guitars, nor that Tuttle's entrancingly soft voice was overtaken by Ladome's talent. Rather, the blend of talented musicians worked in cohesion, producing a unique rock sound digestible to a generation raised on indie, yet alternative enough to nod to 90's grunge/alternative rock; with only 3 singles on Spotify released in April of 2022, the young band is without-a-doubt on the rise.
At 9:38pm, Rocket exited the stage. In their absence, the crowd was once again plunged into the black hole that was the waiting game, where time stretched and shrunk, and enthusiasm swelled; a wave where Pretty Sick was the wind exerting tension over an audience-turned-ocean's churning surface, sculpting a bubbling wave nearing its climax.
Shortly after 10pm, a vociferous audience was finally met with Benjamin Arauz; shrouded in shadow, yet whose guitar growled fiercely, reverberating throughout the smoke-hazy chamber and in the chests of hundreds of anxious teens. Arauz was soon joined by drummer Eva Kaufman, the pair illuminated by a deep blue light as Kaufman pounded out a simple rhythm, the groundwork for Sabrina Fuente's impending entrance. An icy shock of pigtailed hair, white ribbons dangling from a blood-red bass, underwear on display beneath a sheer black slip, Fuentes had arrived. And the audience went berserk. At the first intoxicating taste of Fuente's sickening bassline, luxuriously deep tones turned the bass cliche–"you won't notice it until it's not there"–squarely on its head, which the audience appeared to appreciate in shrieks of unconstrained glee. Launching straight into the lead single "Allen Street," a precursor to the release of Pretty Sick's 2020 album Deep Divine, Fuente's edgy, at-times gritty, screamy, baritone vocals detailed a late adolescence spent navigating downtown New York, the frustrations and complexities of a disillusioned teenage romantic.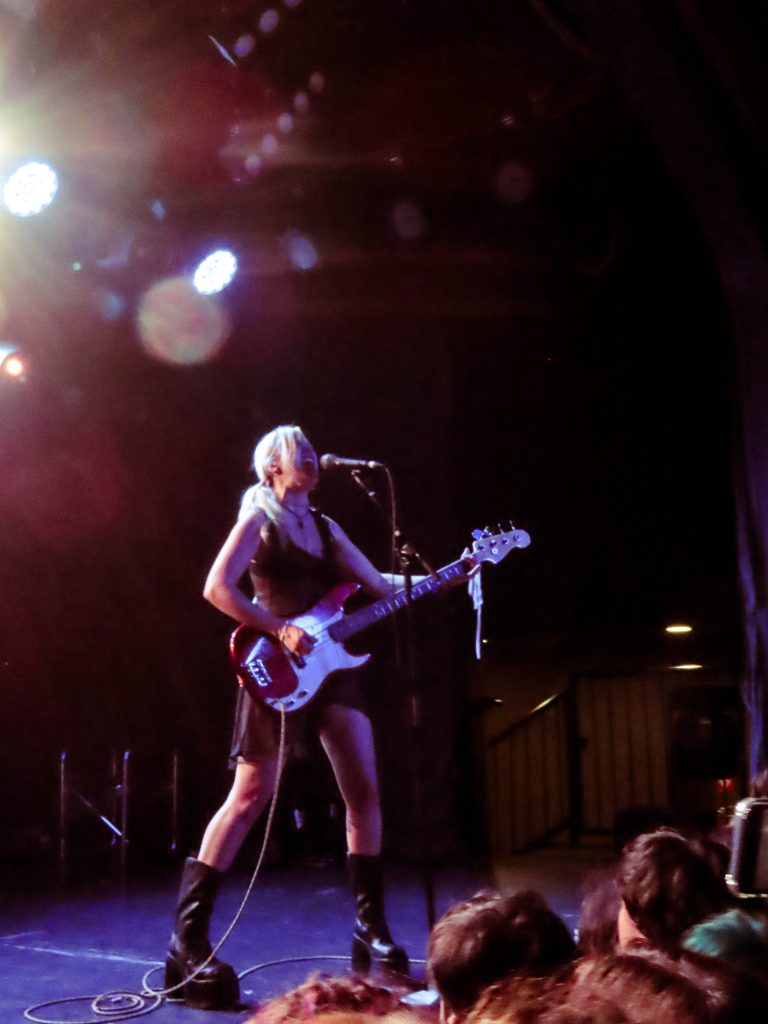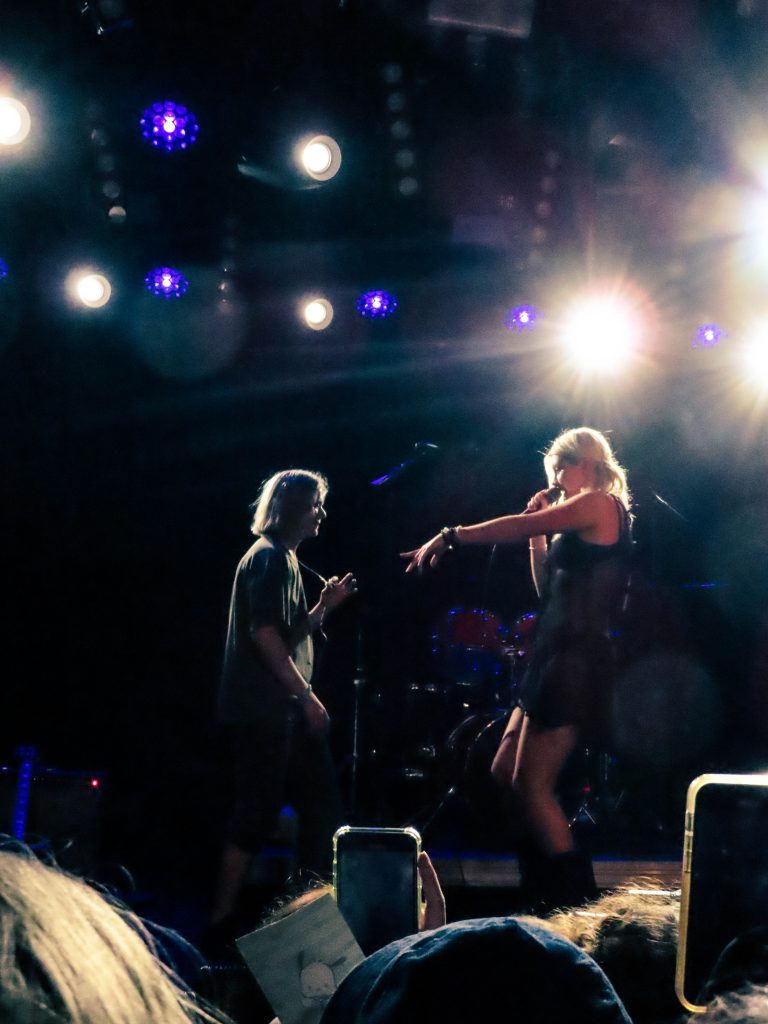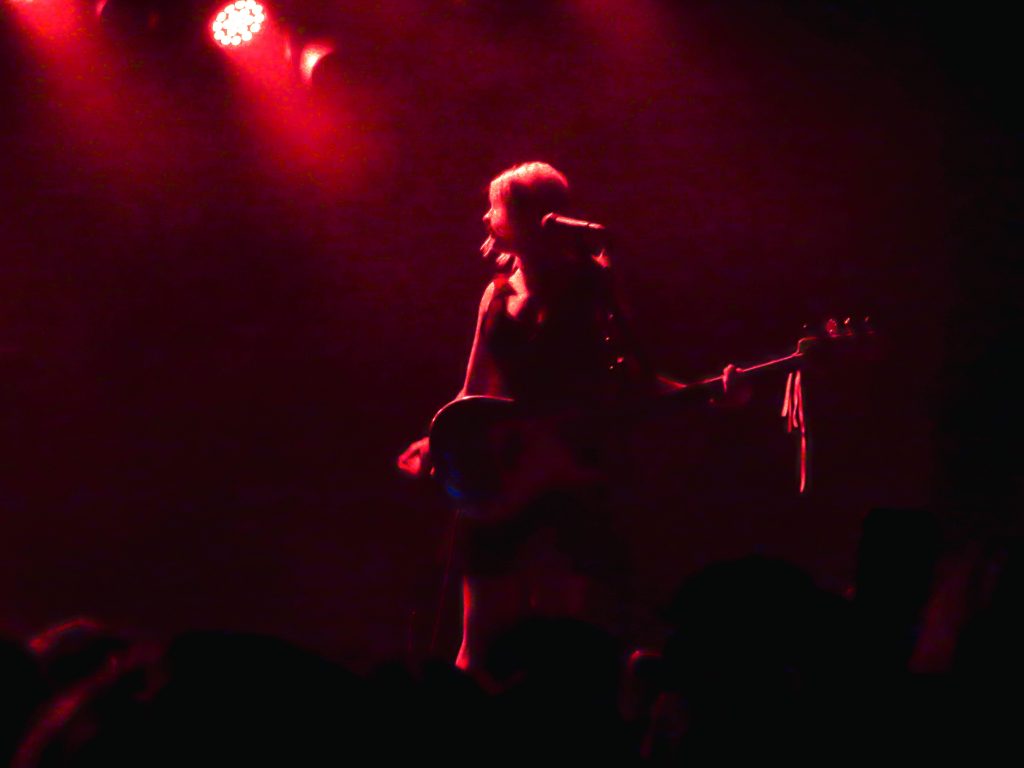 Pretty Sick's career began long before the release of their first album in 2020; at just 13, Fuentes, backed by Eva Kaufman and Ella More, became Pretty Sick in 2014. Embracing the DIY ethos that has infiltrated subcultural music production since the late '60s, the premature group, having met at band camp in New York, was introduced to the recording studio as a prize for winning a battle of the bands. In a testimony to the juxtaposition that is a Catholic-school upbringing within the vibrant, permissive New York City, the band's early work is colored by biblical allusions and rock'n'roll angst. Now, touring with back-and-better-than-ever Kaufman and new-addition Arauz, the band's shift from safer, hazy indie rock to experimental, raw, grunge rock is put on full display in a setlist of hits from the band's every epoch.
Back to the Teragram. Following her explosive entrance, Fuentes lost no momentum, barely allowing her audience to catch their breath before launching into the bass-heavy "Black Tar," a song from the band's newest release, Makes Me Laugh Makes Me Smile. Putting Fuentes' vocal and instrumental technique on full display, the slowed-down lamentation detailed a stifling unrequited love: "Even when I sleep, I dream of you/Covered in a thick, black layer of tar/I can't breathe, but I feel so warm and smooth." Powered by the growl of Arauz's guitar was a sped-up "Devil in Me," the aggressive, carnal song working the audience into a moshing frenzy, the first casualty being a crowd-surfer failed by a distracted audience. Amidst the chaos she had created, Fuentes remained the essence of cool onstage, strategically elongating verses to draw out the audience's tension while simultaneously exhibiting her own mastery of fluctuating pitch. "Heaven," off the same album as "Black Tar," began with Kaufman keeping time on tom-heavy drums and ended with Fuentes screaming "I need you I need you/But now I regret it" to an audience who needed little encouragement in mirroring the raw energy that was Arauz and Fuentes' explosive duet. In the same vein was "Human Condition," another new(ish) release heavily reliant on Fuentes' sharp, nasally bass whose crux was Fuentes' rapid shouting of "They got you convinced that ignorance is bliss in/ Some ever-changing mind erasing human condition."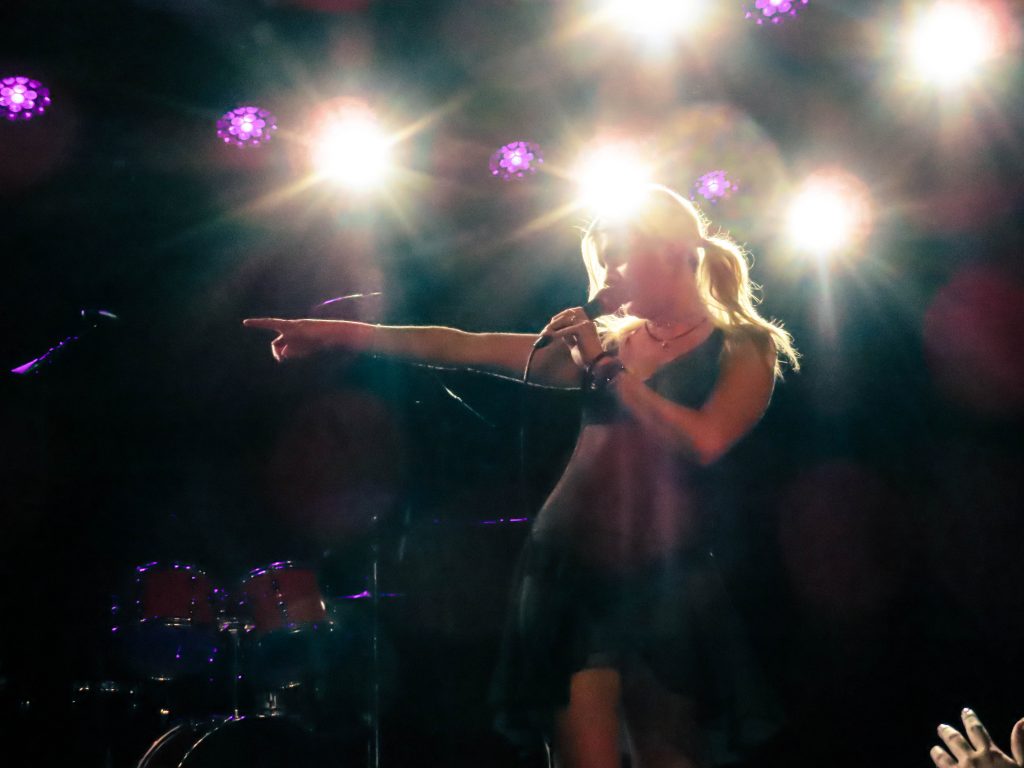 Finally entering the realm of their top 5, "Telephone" needed no introduction; Fuentes' simple hand gesture was enough to set the inexhaustible crowd off–4 minutes and 16 seconds of unadulterated glee. It's not hard to pin down what exactly made this song so special. Certainly the relatable lyrics detailing an angry, one-sided phone conversation between Fuentes and a former lover played a role. But more likely it was once again Fuentes' basslines that pulled at the heartstrings, creating an undercurrent of angst so incredibly satisfying when paired with the song's disturbed lyrics. Up next were "Superstar" and "Angel Landing" off of Deep Divine, the former a solemn self-callout, the latter a defensive expression of frustration within a relationship which re-riled up the audience from where "Superstar" had left it. Echoing Courtney's Love tormented shrieking in cult classics "Violet" and "I Think That I Would Die," Fuentes raspy impassioned screams, in her own "Drunk" brought Love to the teragram, reviving the spirit of grunge where raw emotional expression was celebrated, not tamed for ease of consumption.
"Physical," deemed a rarity at Pretty Sick shows by Fuentes herself, offered the band an opportunity to reset while Fuentes bathed in the artificial, derealization-inducing backtrack, singing about selfishness and loneliness while encouraging her band members to join her in dancing on stage. It was a wholesome break where, at the edge of the stage, glowing from an ethereal white light, Fuentes grasped the extended hands of straining fans, a goddess.
"PCP" and "Dumb." The band's closing picks. New and old, "Dumb" being Pretty Sick's No. 1 song on Spotify, responsible for a large portion of the band's audience, "PCP" a product of what that audience has given Pretty Sick the opportunity to create. And yet "Dumb" was just as vibrant as the band's newer creations, with Fuentes slowing the tempo, bringing it back up, including her audience in the chanting of "Are you gonna always be hanging around;" a chorus of voices sparred, clawing over one another for the chance to be picked up on, to be the one to convey to Fuentes just how impactful her lyrics could be.
Just a year or two older than the average audience member, Fuentes was a magnificent manifestation of the DIY music production central to early punk, diverging from the hegemonic relationship between idolized, unreachable musician and listener with a relatable aesthetic and stage presence. Pretty Sick is grunge for a generation eager to escape the boredom and monotony of a chronically-online upbringing, who seek an outlet to release the pent up tension that is youthful dissatisfaction, yet are socially conscious enough to apologize when the pit gets too aggressive. A generation raised on cancel culture and filters, the line between fiction and reality perpetually blurred, who for once just want to experience something real. In many ways, grunge and Gen Z are mutually compatible, a symbiotic relationship where creative expression is unhindered by social pressures; a haven from the norms and confines of media consumed behind a screen.

So while some critics have deemed Pretty Sick's creations "unoriginal," in that they too-closely emulate grunge bands past, I feel as if they may have missed the point. Pretty Sick is bringing grunge to a new generation, a generation seeking an outlet to resist a spoon-fed mainstream, an agenda historically adopted by alternative youth cultures. So what if Fuentes borrows sounds or techniques from those who pioneered the genre she takes inspiration from; yes it has been done before, but not for this audience, not for this social climate. While the mainstream has seen to the birth and death of various underground cultures, the heart of these movements persists, the inextinguishable fervor undeniably apparent in the Teragram Ballroom, all thanks to Pretty Sick.
Listen to Pretty Sick's Debut Album: Makes Me Sick Makes Me Smile