Photos by Luna Seng-Lay
While we sat in Los Angeles traffic, I told photographer Luna that this particular show was exciting for a host of reasons. This was only her second hardcore show with her first being the one I took to her a couple weeks prior. So while she didn't necessarily understand why, she saw my excitement and let me go on a tangent.
"Look at this lineup!" I ranted, "The culture!"
Right now, it is an exciting time for hardcore as a subculture and every band on tonight's lineup reflected a different aspect of that excitement.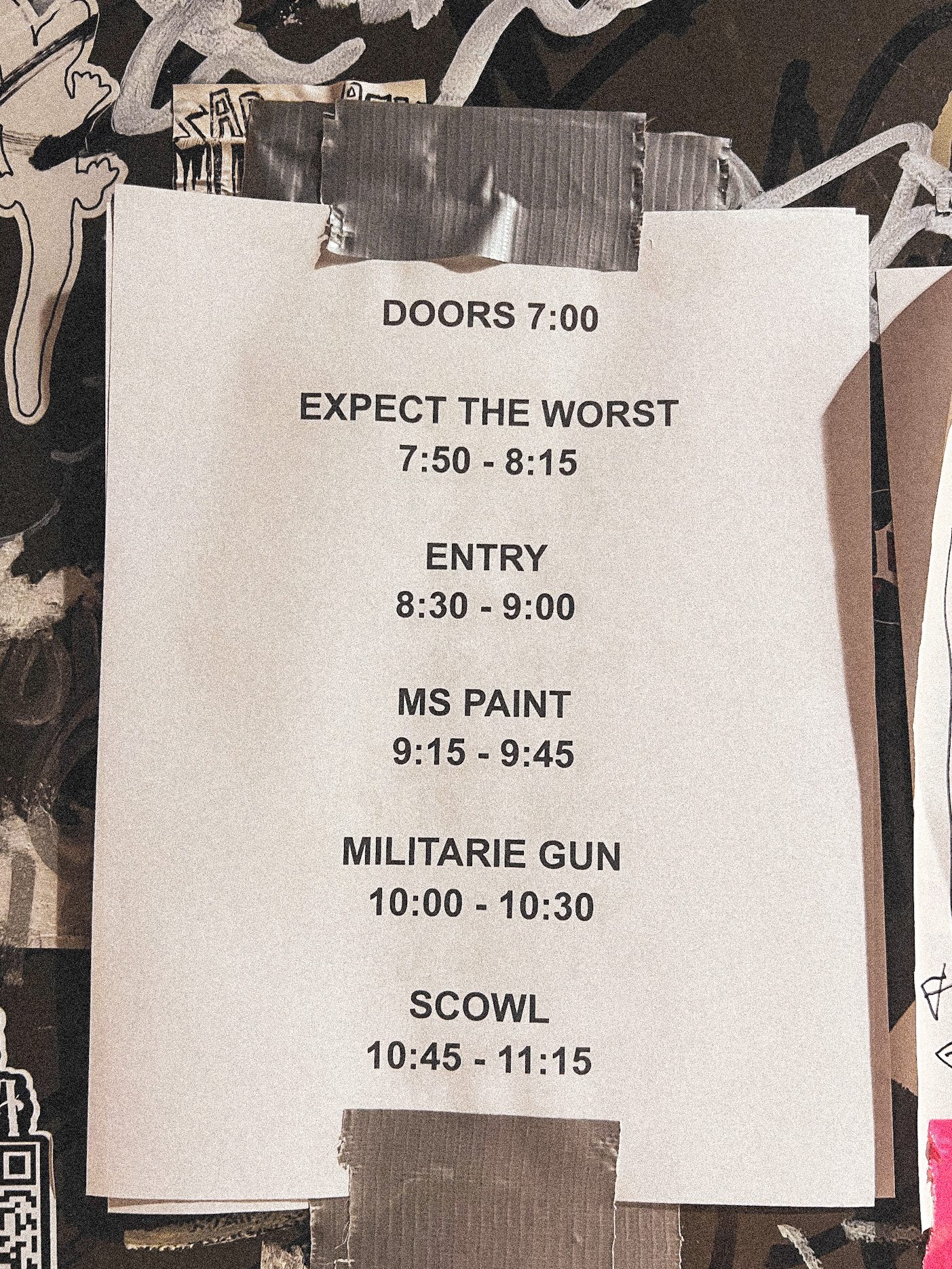 It's a Scowl headliner tour supported by Militarie Gun, with MSPAINT playing this section of the tour and Expect the Worst opening for tonight's show at 1720 Warehouse in Los Angeles.
Each band on the bill has its own place in the current hardcore scene. Scowl and Militarie Gun are two of the biggest bands in the subculture, finding success both within the scene and outside of it. MSPAINT is a new band making waves with their unique synth-punk hybrid debut LP. And Expect the Worst is a new supergroup project formed by veteran members of well-known bands.
To understand the excitement, the genre has to be explained. Historically, hardcore is a subgenre of punk but in a simpler sense, the sound is a combination of punk and metal. There have always been bands that have left those boundaries but their success has always been a niche one. But in recent years, the spectrum of what genres a hardcore band can dabble in is the widest it's ever been.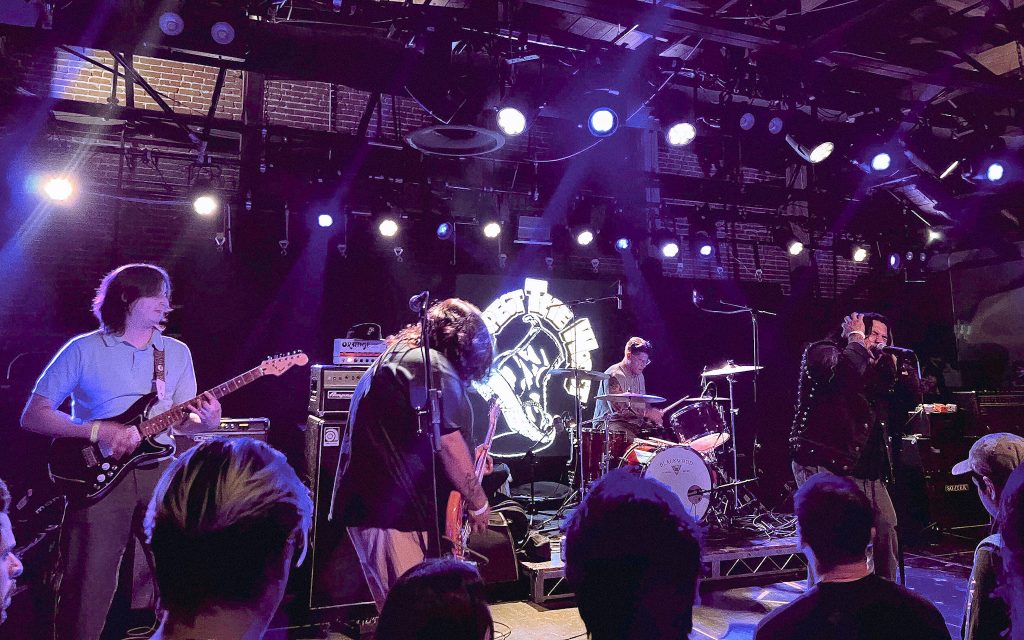 With the opening act Expect the Worst, you had that classic hardcore punk sound, the idea of what people unfamiliar with alternative music would consider a punk act. They did what all great openers do, provide foundational audio appetizers of what the night will be.
The second band, Entry, which was not on the original bill but a pleasant surprise, took the sound all the way to the other end with a heavier and grimier D-beat and Powerviolence sound that made it impossible to look away from. Like a shot of liquor or a loving punch in the face from an old friend, they came in fast and heavy and exacting. Their impact could be seen in the crowd as from the first note they played, a small circle pit formed and bodies began to crash into each other.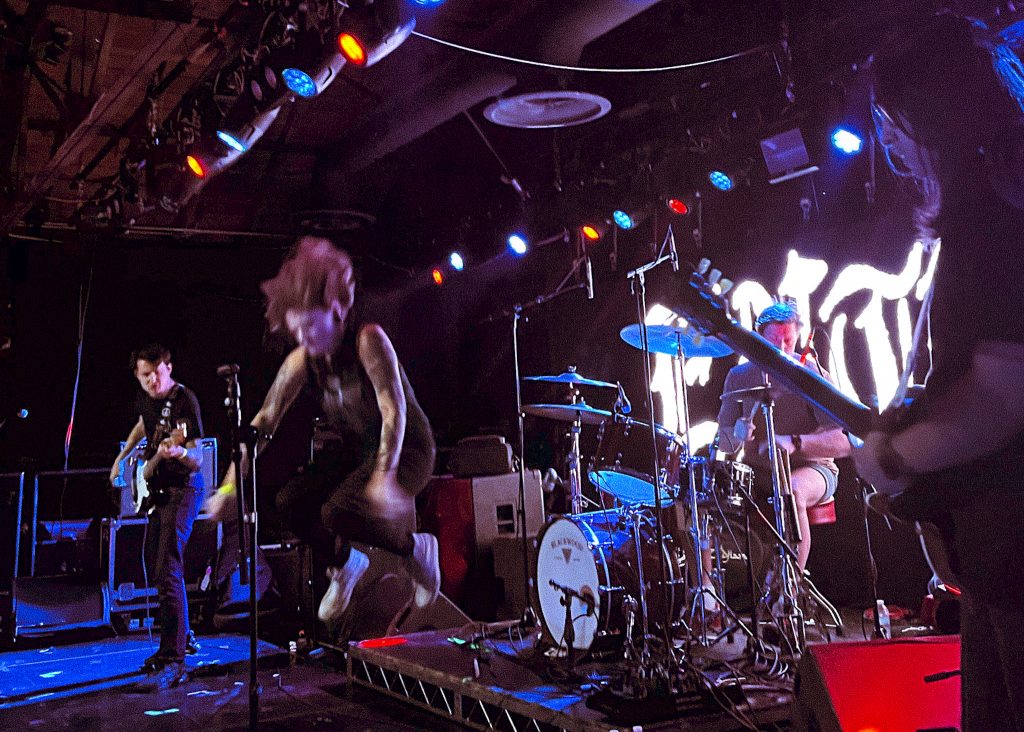 While talking to fans before and in between sets, MSPAINT was easily the most anticipated band. MSPAINT is doing what all great pillars throughout the history of the scene have done: experiment. With their 2023 debut album Post-American making waves, there were plenty of fans who were obsessed with their new sound and eager to finally see them live. But even for those who had not heard their music or of the band in general, it was apparent something amazing was going to happen the moment they took the stage.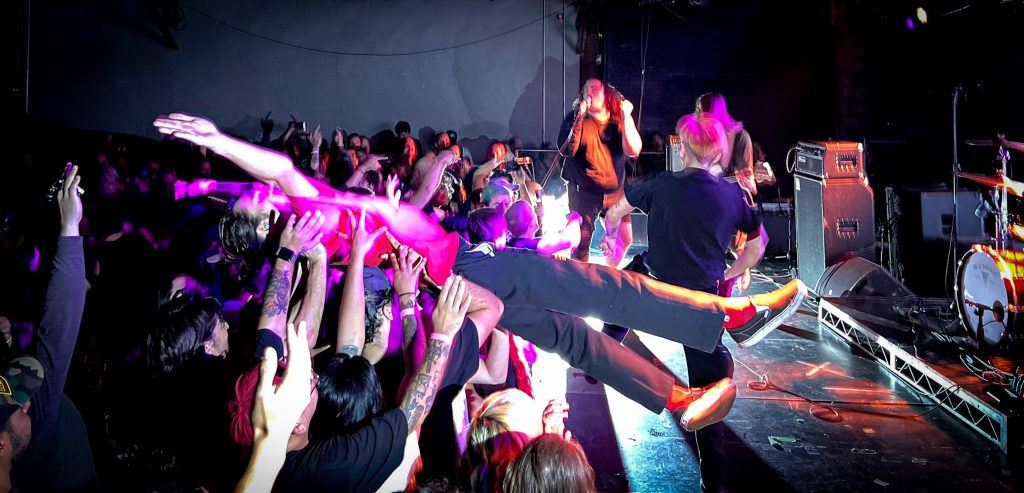 Rather than a typical band led by a guitar, MSPAINT is led by a synth. This unique quality alone made MSPAINT stand out. Their set filled the warehouses with a sci-fi synth-punk atmosphere. And with singer Deedeee's rhythmic screamed flows, there was a clear dystopian quality to the soundscape they were creating. It was unapologetically hardcore and brand new.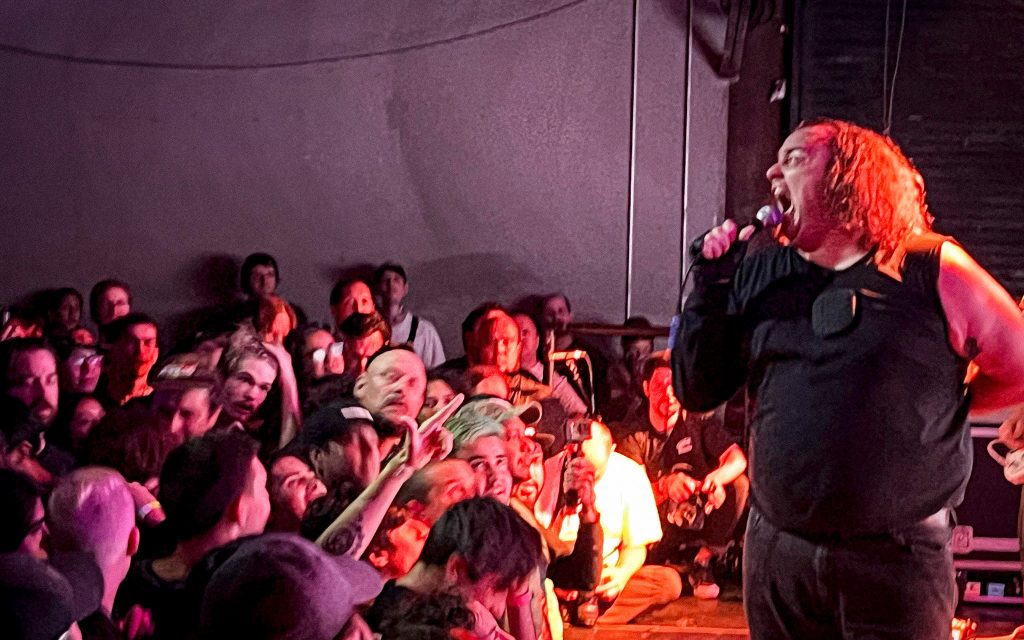 One song in particular, "Post-American", was a beautiful amalgamation of their musical presence. With a droning synth melody and a slow steady-handed drum beat, you could see the crowd getting comfortable in a slow sway until a drum fill cued singer Deedee to scream the chorus. Right away, the gentle sea of bodies began crashing into each other and screaming along, "Burn all the flags and the symbols of man!" By the end of their set, MSPAINT proved to all of us that we need more synth in hardcore.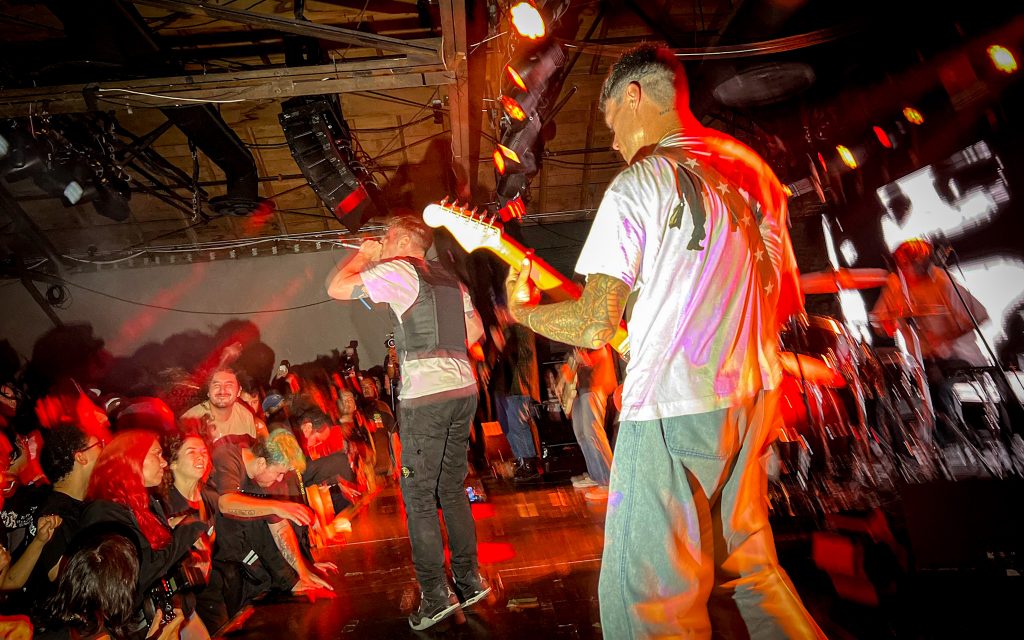 Started as a Covid-Quarantine solo project by multi-instrumentalist Ian Shelton, Militarie Gun has paved a new way as a full band. They have been able to accomplish what was until recently seen as impossible, a perfectly balanced sound of pop and hardcore. With irresistibly catchy songs and energetic performances, a Militarie Gun show is like a spark in a firework stand. It's explosive, it's beautiful. You really don't need to know their music at all to be an immediate fan when seeing them live. In fact, a few people I talked to stated that they hadn't heard their music but each had a friend who said "Trust me, just go."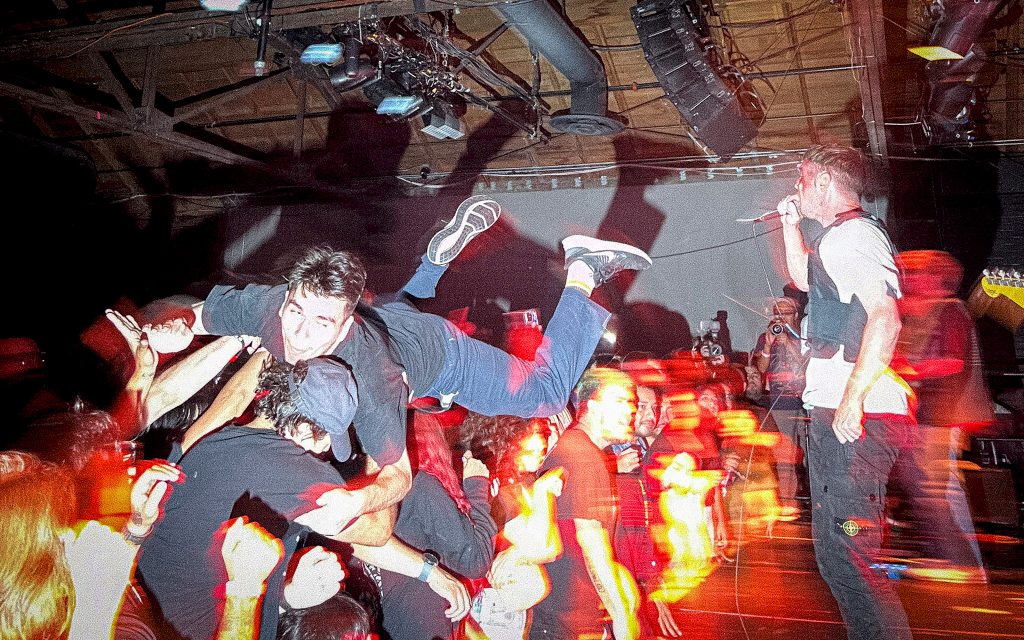 With a recently released album, Militarie Gun had a new arsenal of sound for the audience. Throughout their entire set, bodies were jumping onto and off the stage in a circular motion. Singer Ian Shelton matched the energy as he jumped around in a MG-branded bullet-proof vest and bruised face special effect make-up he donned in their music video of "Never Fucked Up Once."
On one of their earlier hits "Ain't No Flowers", the band came in fast and set the crowd off as usual. But the most memorable part was halfway through the song when the riff slowed down. Shelton falls forward and screams "Ain't no flowers!" before shoving the mic into the crowd for them to scream "When you die!" Another pivotal moment in the set was with one of their newer songs  "My Friends Are Having a Hard Time." With its gentle riff and hard pounding rhythm, the song brought an emotional beauty to the room as the crowd sang along, "It used to hurt bad, it used to hurt bad, man. Now it seems that I'll be just fine."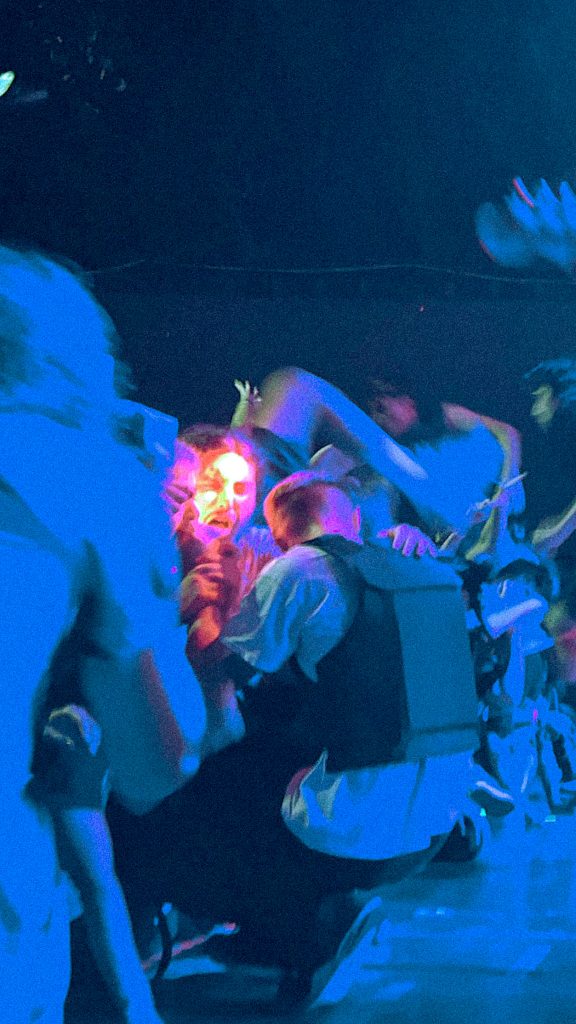 It captured Militarie Gun's ability to hold every soul at a sold-out hardcore show with sounds not necessarily equated with the genre.
By this point of the night, a large majority of the crowd was mostly drenched in sweat and physically exhausted but nowhere near done. We all stood outside in the cool air, not to escape but in preparation to dive right back in as Scowl was next.
Of all the bands, Scowl was the one to expand their sounds to the furthest reaches of music. From their early EP Reality After Reality, they had Oi! Influenced traditional hardcore songs. With their first LP How Flowers Grow, they began to experiment with songs such as "Seeds to Sow" having a saxophone-led new wave sound. But it's with their latest EP Psychic Dance Routine, that their sound became more danceable without compromising any of the grit they're known for.
Up until then, we had all been at a hardcore show but when Scowl came on, it was a goddamn party. With literal confetti and all. But confetti alone is not what makes a party. It's energy and Scowl had a treasure chest of different energy for the crowd. With her green hair, dress, and white gogo boots, singer Kat Moss was an otherworldly entity ready to lead the crowd on an adventure.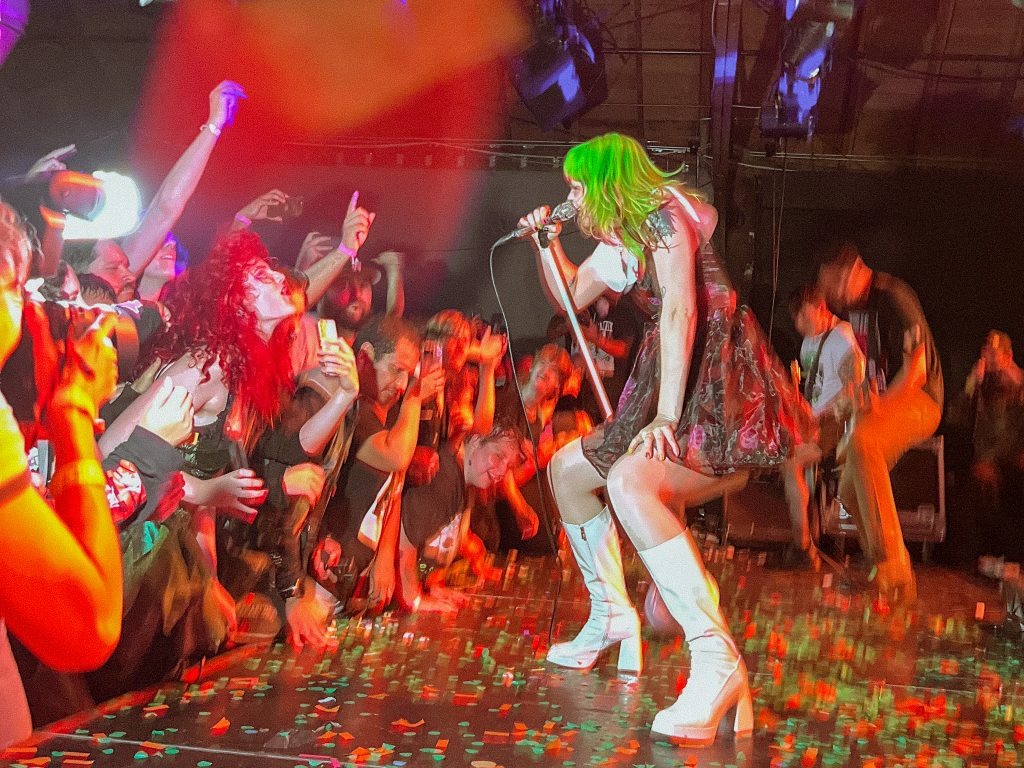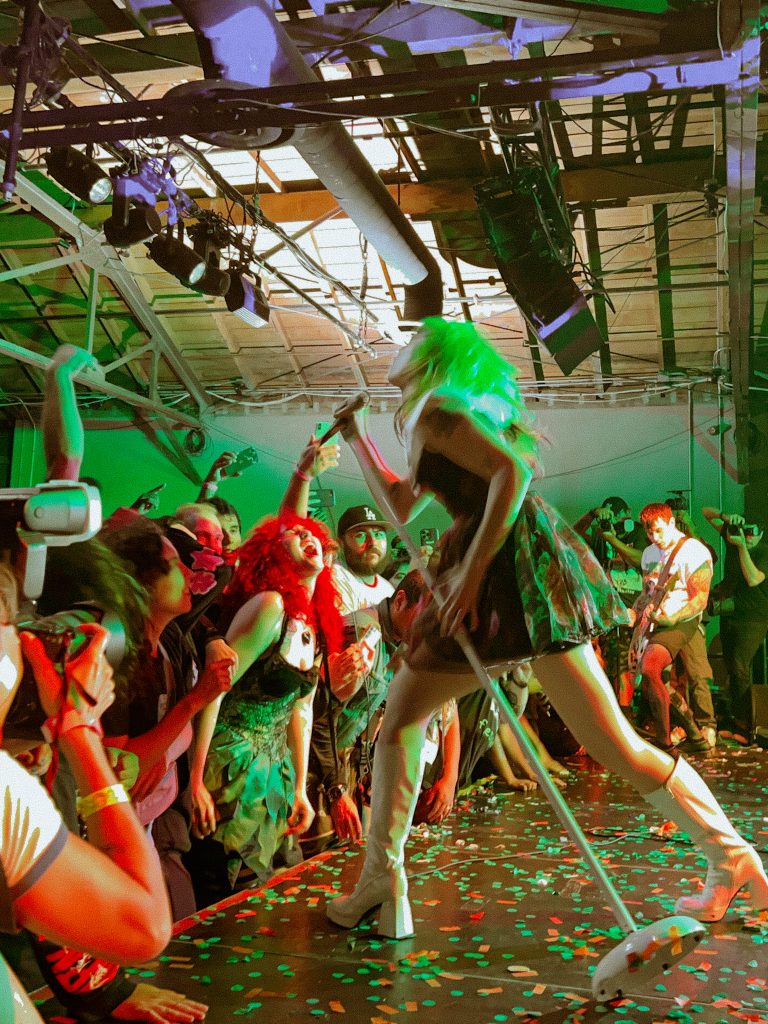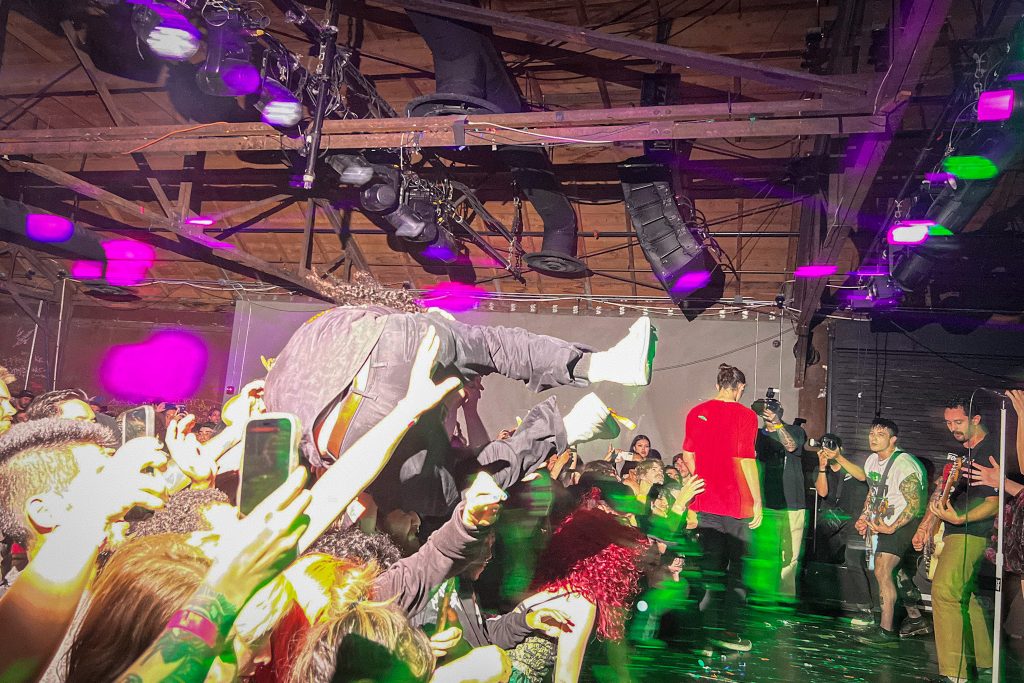 What was most apparent about their performance was that the diversity of sound didn't leave any awkward pauses or alienate any part of the crowd. Instead, it gave the crowd different opportunities to showcase different energy. Long gone are the days where the only moves you can whip out at a hardcore show are two steps and spin kicks. It's 2023 and when Scowl plays, you can dance however you want.
Early songs and fan favorite "Retail Hell" brought a frenzy to the warehouse. While the band played fast and gritty, Kat led the crowd to scream a working-class anthem with her. "What's thе point of persistence, what does it all mean? When my point of existence is measured only in green." In screaming along, there was clear invigoration in the crowd of people, many who most likely spent the earlier half of the day at a soul-crushing minimum wage job. Later on their newer songs like "Psychic Dance Routine," singer Kat Moss sang melodies of self-reflection and empowerment over a grunge-pop sound that was impossible to resist dancing to.
A good hardcore headliner is a band that can extract the extra mile from an already physically exhausted crowd. A great hardcore headliner doesn't give you any pause to question if you can go any longer; they leave you panting and wanting more and that is exactly what Scowl delivered.
Without delving into the whole history of punk's evolution into hardcore, all I'll say is that hardcore as a genre started in the 80s as a reaction to a nihilistic and mindlessly aggressive punk scene. Unfortunately, by the 90s, hardcore had been rightfully stereotyped as an outlet for straight white male aggression and rightfully so. Going to shows in the early 2000s was a more volatile experience due to a macho militancy in the sound and an exclusivity in the culture and people.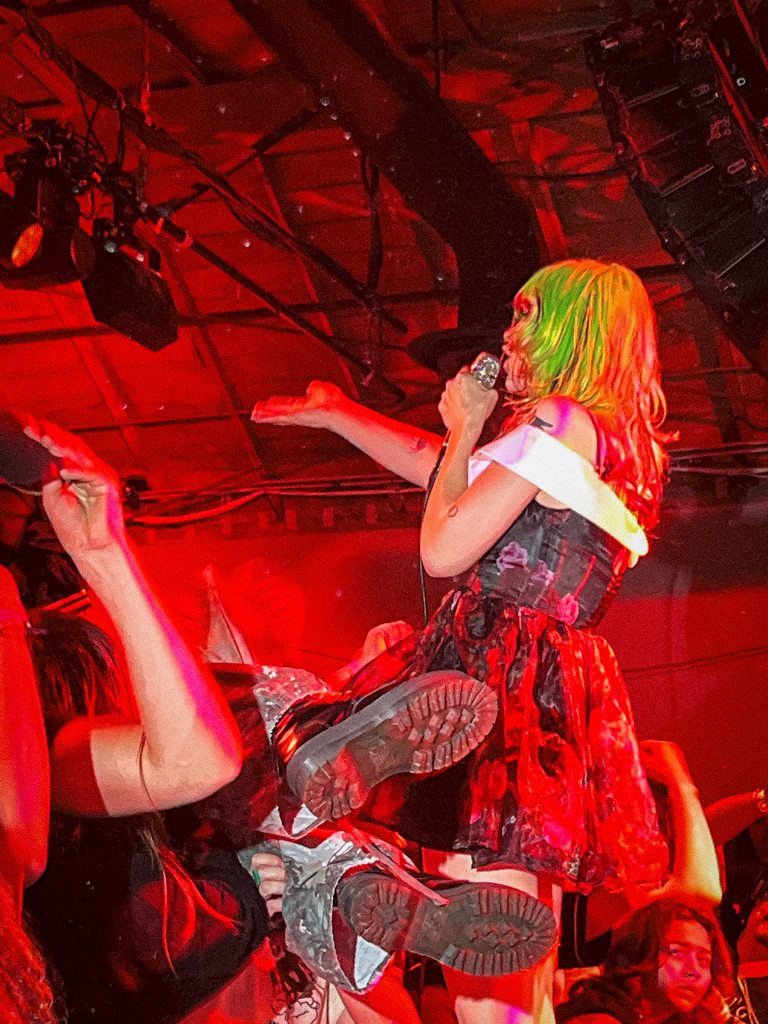 But in the last decade, I've witnessed a beautiful evolution in hardcore. At this show, two interactions brought immense joy to me. One was Akram, an early to late 30's hardcore "kid" like myself who recalls the scene a generation ago and finds excitement in what's happening now.
Another was someone from my past. Eugene, a dongseng (little sibling in Korean), from my early youth in the Korean Catholic community, had recently discovered the scene. It's been over 10 years since I've seen him and he was the last person I'd thought to find at a hardcore show. But there he was, tatted in a BlackPink shirt and taking every chance he could to get in the pit, onto the stage, and into the arms of the new community he's joined.
Call it postmodernism. Call it post-postmodernism or metamodernism (These names are getting a little silly). I would say it's Gorilla Biscuits walking so that Turnstile could run. Regardless of how you want to look at it, there is a surge of inclusion in not just what a hardcore band can sound like, or look like, but what the fans can as well. This show was proof of what I've always found beautiful about hardcore, its malleability or the flexibility to be molded freely without breaking.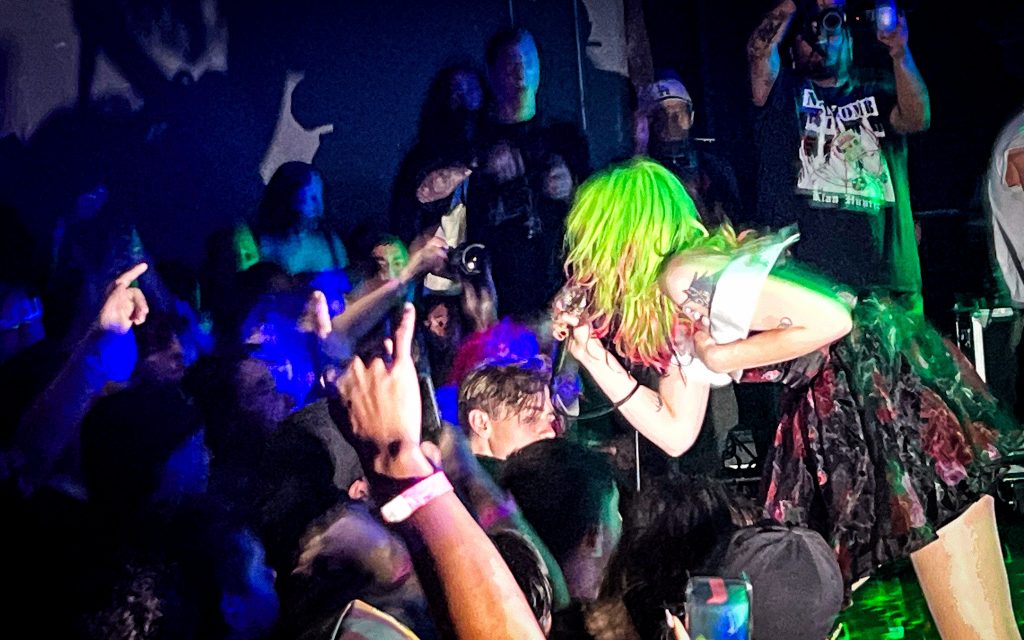 Some might find that statement inaccurate. Those who are only just learning of the scene would say it all sounds the same. Those who have existed in adjacent scenes or long left the scene would rely on stereotypes of pretentious purists. And the said "purists" would draw a thick line excluding groups they don't consider hardcore based on the direction of sound.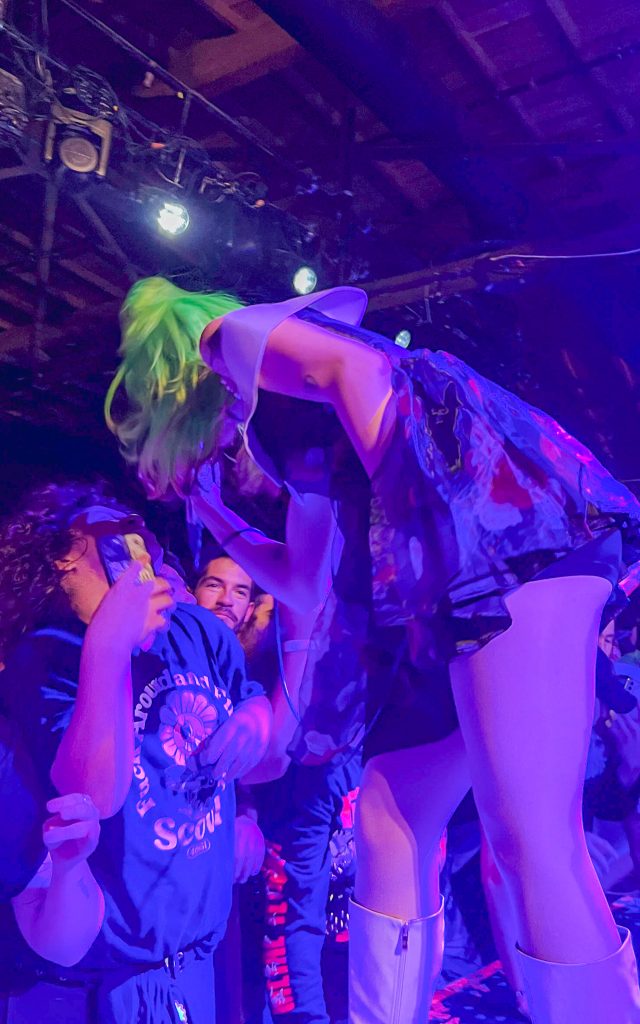 To the first group, I would say go to a show. Ask a friend in the scene to take you to a show, a real friend. To the second group, I would say go to a show. That exclusive militancy that you might recall from a bad experience is fading. To the "purists", either don't let your age show or do your research.
Pioneering hardcore bands like Bad Brains, a black Rastafarian band, brought the term PMA (Positive Mental Attitude) to the scene with their 1982 song "Attitude." Bands like Dead Kennedy's and Black Flag who mocked nazis and mindless aggression and promoted contemplation of politics and self-reflection. And so in my personal opinion, hardcore was rooted in an inclusive attitude. And at this show, there was clear proof of a new evolution in hardcore. Not entirely a new makeover of the culture but a reclaiming of the genre's original roots by the hands of a more vibrant and diverse youth. 
Drenched in sweat, walking down Skid Row adjacent warehouses, I rephrased my statement to Luna, "It's an exciting time for hardcore."