Do you remember your indie phase in high school? Were you ever obsessed with artists like Wallows, Dayglow, or Boy Pablo? With these artists blasting in your car along with your A/C in the summer, driving towards your friend's house or part-time job. Or as you experienced your first love and shared playlists with friends who you don't even talk to anymore. Maybe you're still in it… or maybe you have yet to dive into a world filled with lyrics of growing pains and catchy hooks. No matter what stage you're at, Wallice invites you to experience her world, filled with the highest of highs, lowest of lows, and everything in between as she faces the fearful yet unavoidable reality of growing up.
The night of the concert, I arrived at the El Rey Theatre, standing alongside an endless line of mid-20's fans around my age, doused in glitter and band tees, ready to enter Wallice's world. Outside of the venue sat flashing lights of blue, orange, and green, all screaming TONIGHT: WALLICE – 7/22 . Originally a single-screen movie theater, El Rey now has transformed their hardwood floors and red velvet curtains into an official Historical-Cultural Monument, hosting artists from a range of genres and countries.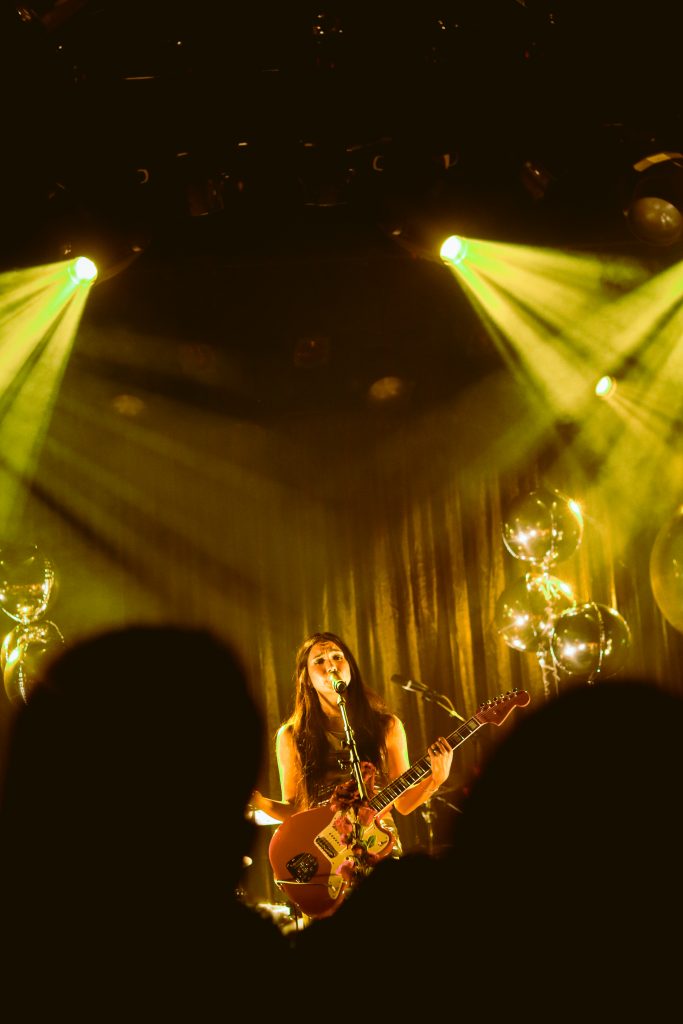 Soon, the curtains open up and Wallice appears wearing an eye-catching silver two-piece and a big smile. She immediately greets us with "Disappear," a song that Wallice says is about being overwhelmed and feeling indecisive. She plays her guitar and dances among her three bandmates on stage as we cheer them on. In between songs, she takes a pause to tell the audience that this is her biggest concert in Los Angeles, the city that she was born & raised in. She was grateful that we could give her the opportunity – I could see it as a full circle moment, making a mark in her big hometown. We then dived right into "Punching Bag."
We then dived into "Punching Bag" – the same song that introduced me to Wallice. Automatically I was cultivated by it. Dreaming of someone who will never love you as much as you love them. This struck a chord with me – and apparently everyone else who heard it too – as it took off during the pandemic on Spotify's "Lorem"  – a curated playlist dedicated to showcasing popular artists alongside up-and-coming talent from genres such as indie, hip-hop, and alternative pop. "In my right mind less than half of the time / I can be a punching bag / Listen to your white lies and pretend it's alright / Oh, don't be such a drag," the crowd sings and I am in awe about the effect that this song has had on all of us – being delusional or trying to make yourself feel like a situation is okay to now screaming about our shared experience.
The lights changed to blue and white, calling to the same colors as her EP, "90's American Superstar" – A concept EP poking fun at LA's entertainment industry. Wallice asks the crowd for a set of cowboy hats and I glanced around, noticing that this seemed to be a running joke with her fans. Eager to give away their hats, fans lift them up and stretch out their arms in hopes of it reaching the star-spangled stage. Wallice collects a handful of hats for her and her crew and then dives right into her next song, "John Wayne", a callback to the late actor, and a callback to the era of the wild west and American Cowboys. A perfect example of a Hollywood actor, Wallace sings, "Put on your cowboy boots / And start day drinking gin and juice" as her and her band look at one another and dance with one another.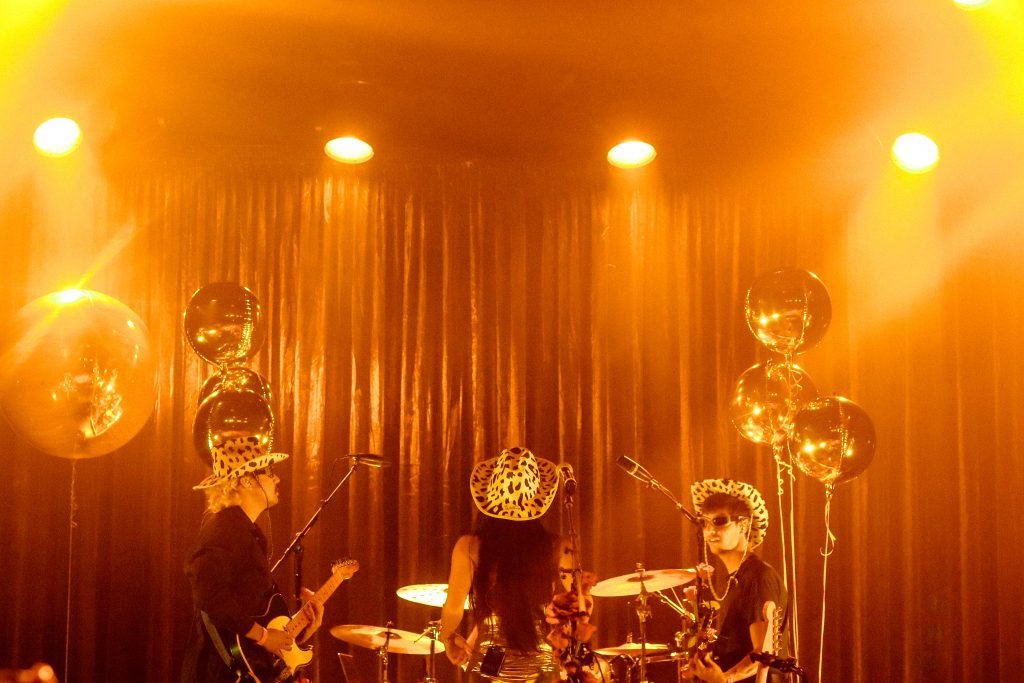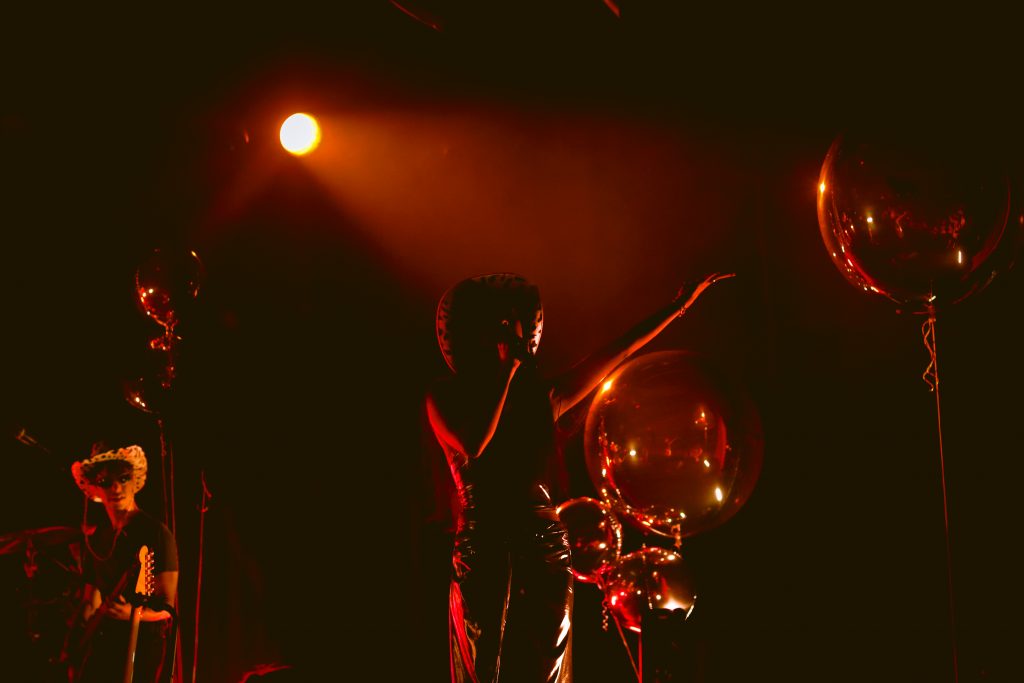 Towards the end of her set Wallice invites Nico, singer of tonight's supporting act Nitefire, to come back up on stage. Also born and raised in Los Angeles, Nico accompanies Wallice as they sing "Just Like Heaven" by The Cure. It was cute seeing the dynamic they developed along the tour, crooning the lyrics together with ease and letting each other shine in moments of the song.
To end the night, Wallice tells the crowd that she is going to play one of her favorite songs "Funeral", which quickly became one of my favorites as well. "'Cause we're dancing at my funeral / I wanna rock and roll, oh / When my body leaves my soul / The crowd's gonna lose control," the crowd screamed along with Wallice as we jumped up and down with balloons flying around.
While my indie phase was strong in high school, Wallice rejuvenated my indie dreams and showed me that indie is here to stay. Even while talking about her funeral, it's clear that the artist is here to stay, helping us go through our future breakups and soundtracks for our drives. So regardless of your feelings of indie, give her a listen and she might just spark your interest for the genre with her relatable lyricism and unique voice.
Photos by Chloe Gonzales.