Photos by Isabella Appell and Siena Wong
As I stood in line, eagerly awaiting entry into The Fonda Theatre, I couldn't help but admit that this wasn't my usual scene. Neon yellow hair, upbeat music, and everything pink, Tessa Violet was the epitome of my concert nightmare. 8:00 pm rolled around, however, out ran Violet and my opinion on pop was perpetually changed.
Known for her amorous lyricism, Tessa Violet is no stranger to embracing female sexuality. Exploring this theme throughout her North American tour, MY GOD!, her high-powered energy and unconventional stage performances have helped her curate a fan-base willing to travel across the continent for her. Incorporating bold outfits and sensual lyrics into her music, Tessa Violet does not stray away from the nonconformist.
Upon entering The Fonda Theatre, I am pleasantly surprised. I had previously seen this venue set up for movie screenings, but am delighted to see it is transformed into a spacious concert hall- big enough to accommodate hundreds of fans while still preserving an intimate atmosphere.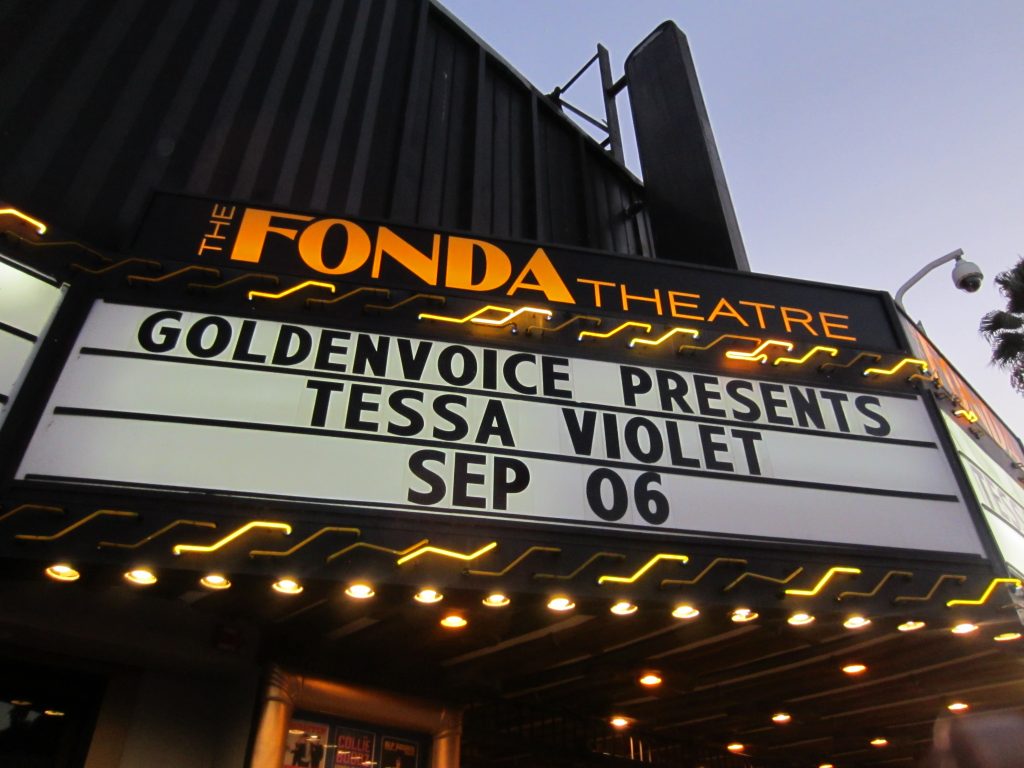 As I position myself at the front of the stage, I can't help but immerse myself in the unique atmosphere that Tessa Violet's concerts never fail to create. Formerly known as MeekaKitty on Youtube, she first captured fame with her captivating lip-sync videos and whimsical vlogs. This signature blend of her digital roots and live performance becomes evident as throwback pop anthems like "Fergalicious" by Fergie and "Boys" by Charlie XCX reverberate through the venue's speakers, elevating the anticipation for Violet's show to a fever pitch.
Contrary to my expectations, the audience is a diverse mix, spanning from kids as young as 12 to adults eagerly awaiting the experience alongside their partners. Despite having followed her for years, I am pleasantly surprised by the crowd's demeanor, which remains remarkably composed and respectful, a rarity at concerts, making me feel surprisingly safe.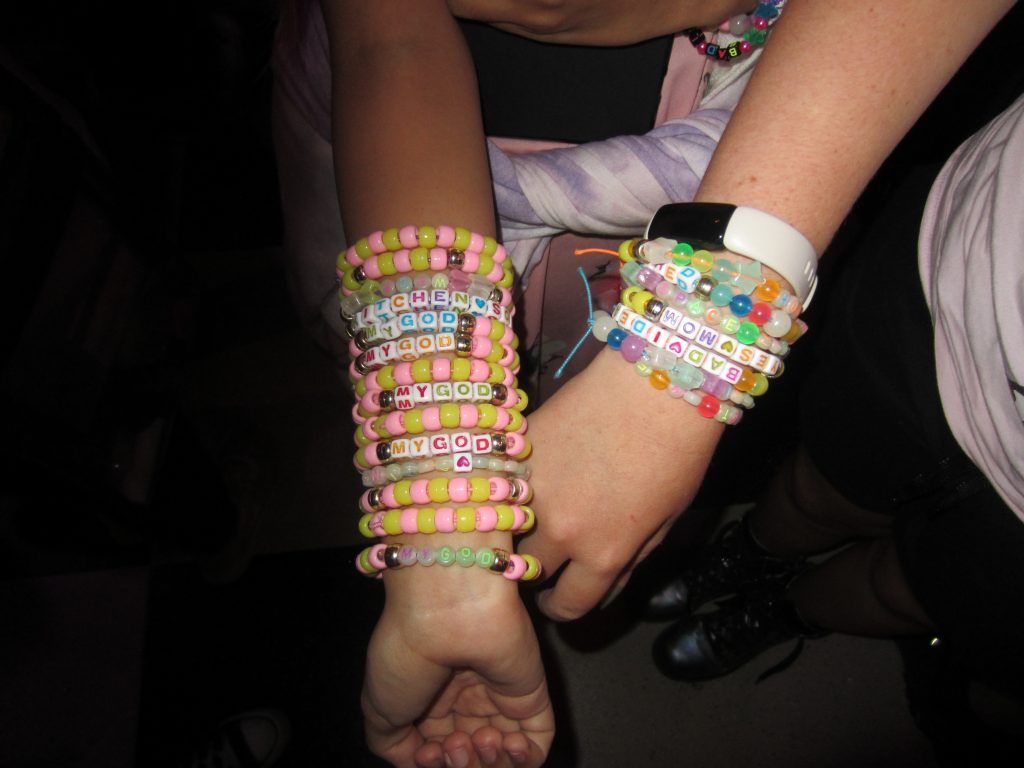 Opening the show was queer icon Frances Forever, or Frances Garrett, known for their hit song "Space Girl". Garrett starts off slow with "Depression" and "Cry Inside My Car", both bubbly yet emotional ballads about struggling with mental health. As they transition to "My Condolences to Myself", the theatre is enveloped in a mesmerizing blue ambiance, transporting us into the song. As the crowd begins to sway, it's just Garrett, the mic, and their fans. Garrett's emotional connection with the crowd deepens, particularly during the heart-wrenching chorus.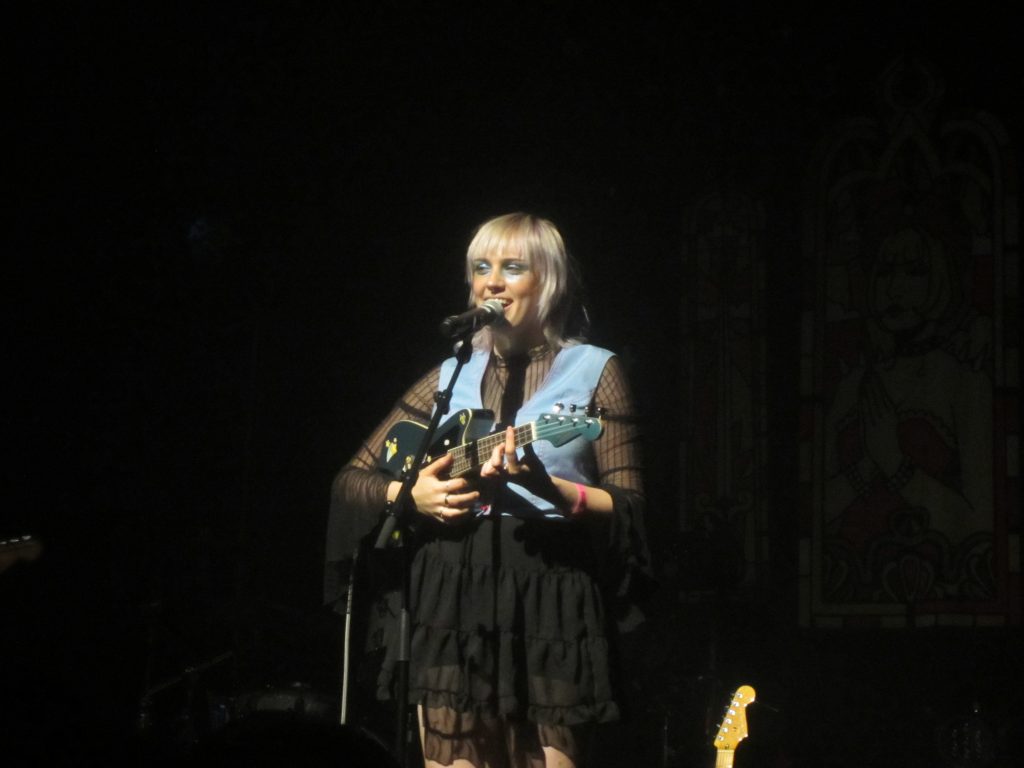 The set progresses, shifting from the sharp guitar riffs of "Monica Gives me Lockjaw", an unreleased song, to the emotional complexity of "Paranoia Party". As they leave us both amazed and confused, rainbow lights spotlight Garrett and they end with a fan favorite, "Space Girl", a "cute gay song" created to help people escape reality for a second.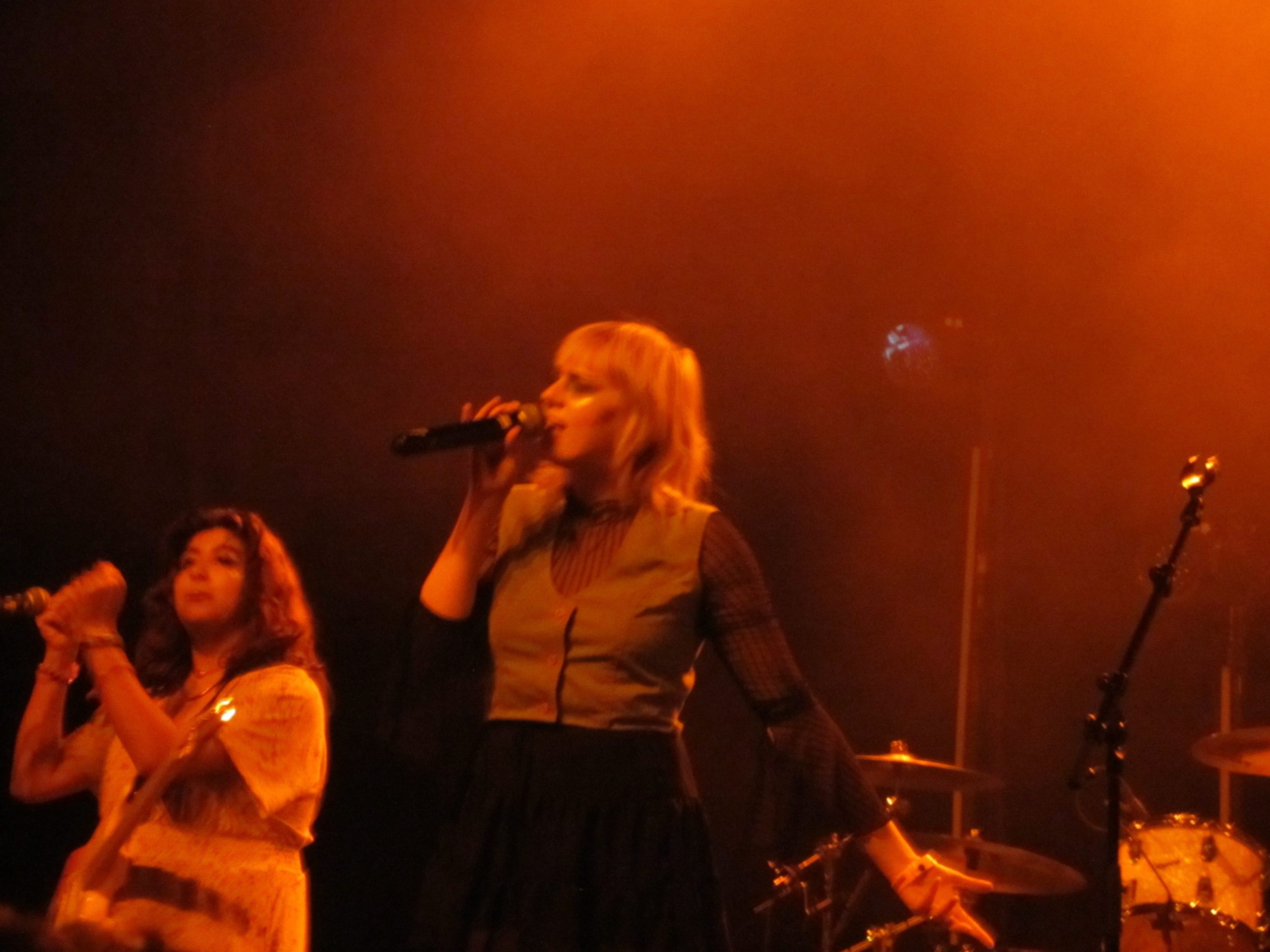 As Garrett exits the stage, The Fonda Theatre plunges into darkness, building anticipation for Tessa Violet. Suddenly, vibrant strobe lights pierce the darkness accompanied by a foreboding musical intro, rising smoke, and the explosive appearance of Tessa Violet herself. In the backdrop, one couldn't help but notice what she refers to as "the church of Tessa Violet". This clever choice of imagery resonates with her music, where she artfully draws parallels between her own desires and the divine, evoking themes of heaven and angels. Dressed in a fluorescent pink brasier with iridescent wings, she twirls and dances to the guitarist's electrifying riffs while launching right into "YES MOM". Violet's confidence radiates on the stage as she engages the crowd, handing them over the microphone, a staple in her shows. As she sings, "hey-oh-hey-oh", they scream back even louder "hey-oh-oh-oh".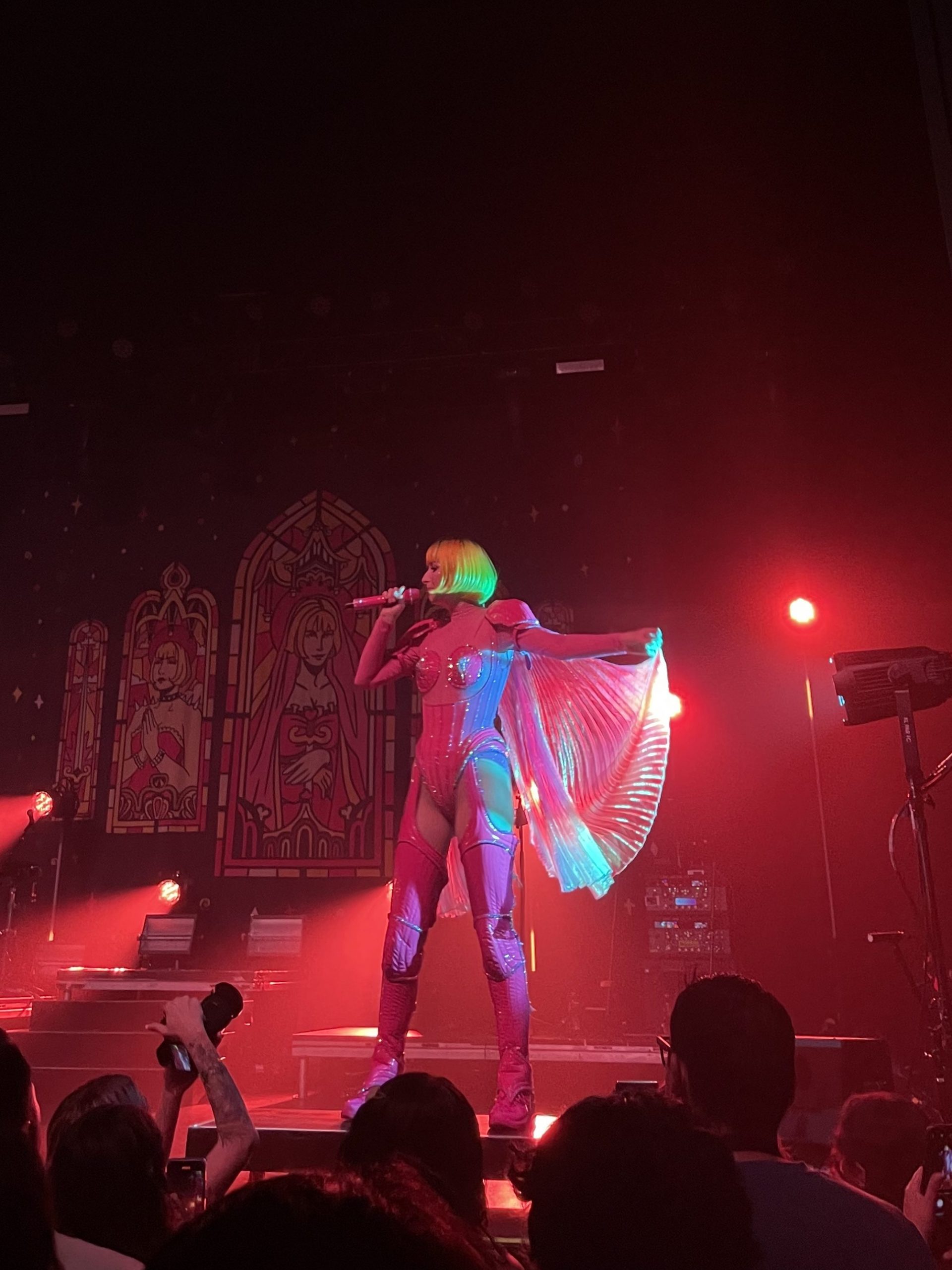 Taking the time to acknowledge her close friend Frances Forever, she invites them back onto the stage to perform their joint track "Play With Fire". Garrett expresses their genuine fondness for the experience and their fans before launching into a familiar "hoo hoo hoo" chant, a cherished ritual that has become a hallmark of the tour.
As Violet stands alone on the stage once more, she asks fans what they are grateful for, personalizing her dedication for each song. From loved ones to partners to the concert itself, Violet ensures that each fan feels seen and appreciated.
As Violet makes her way through her setlist, she seamlessly transitions from pop princess to rock star. Her hit song "Bad Bitch" is a standout moment, as she introduces the "Golden Goddess", a gold-finished guitar that sends the crowd into a frenzy. Violet shares her own insecurities while still reinforcing the message that perhaps she really is "a bad bitch" after all. In this very moment, it strikes me how deeply inspirational Tessa Violet's music truly is. Her ability to create a space where creativity thrives and dreams are passionately pursued becomes abundantly evident, leaving an incredible mark on the crowd and me.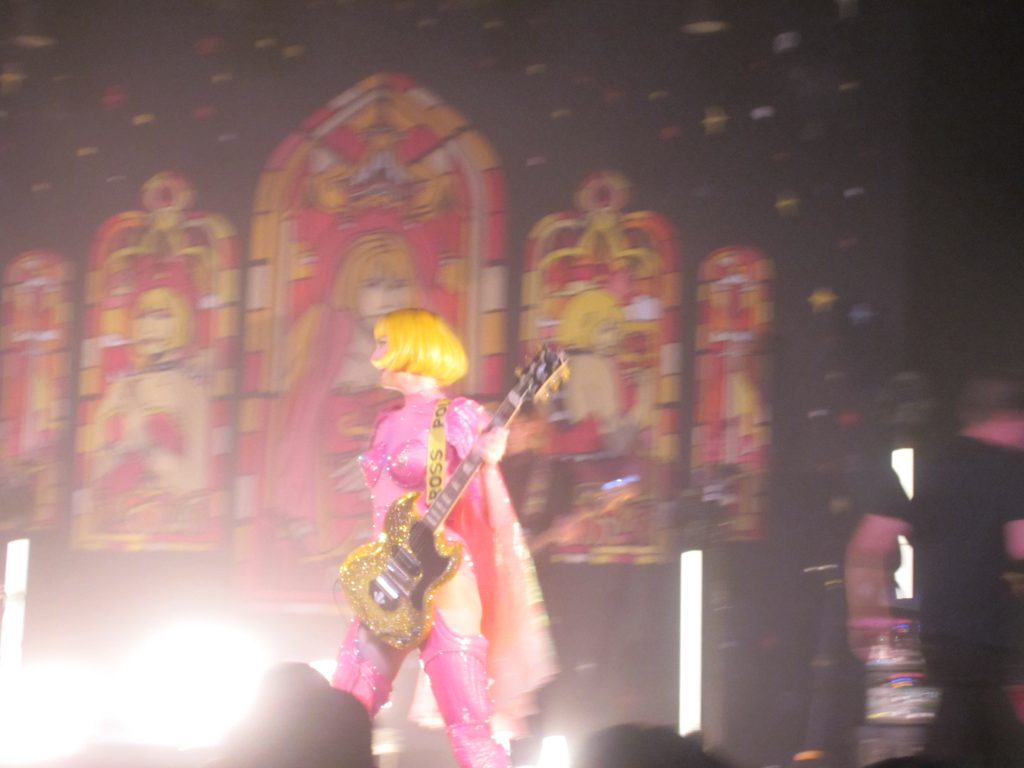 Maintaining a consistent air of anticipation, Violet intermittently leaves the stage, creating an aura of uncertainty. Coming back to an entrance of flashing lights, a dazzling yellow latex ballgown and a sparkly hat, she ends the set with "My God!" and "You Are Not My Friend", conclusively proving that pop music can be extraordinary and that Tessa Violet is undeniably a rockstar.