Sharon Van Etten, Angel Olsen, and Julien Baker at The Greek Theater
Photos by Samantha Smithies
As we pulled into the converted parking lot in Griffith Park, Sam and I saw the groups of identifiably indie fans trekking up the hill, making the pilgrimage to pay respects to some of the most established women of the scene: Sharon Van Etten, Angel Olsen, and Julien Baker. 
As we filed into the Greek Theater, a different voice could be heard from the stage. Quinn Christopherson, a small indie-folk singer-songwriter, performed his upcoming album. Though he has fewer than ten songs released, Christopherson has secured himself a place as an up-and-comer in the indie scene after winning NPR's 2019 Tiny Desk Contest. His success feels inevitable when watching him perform.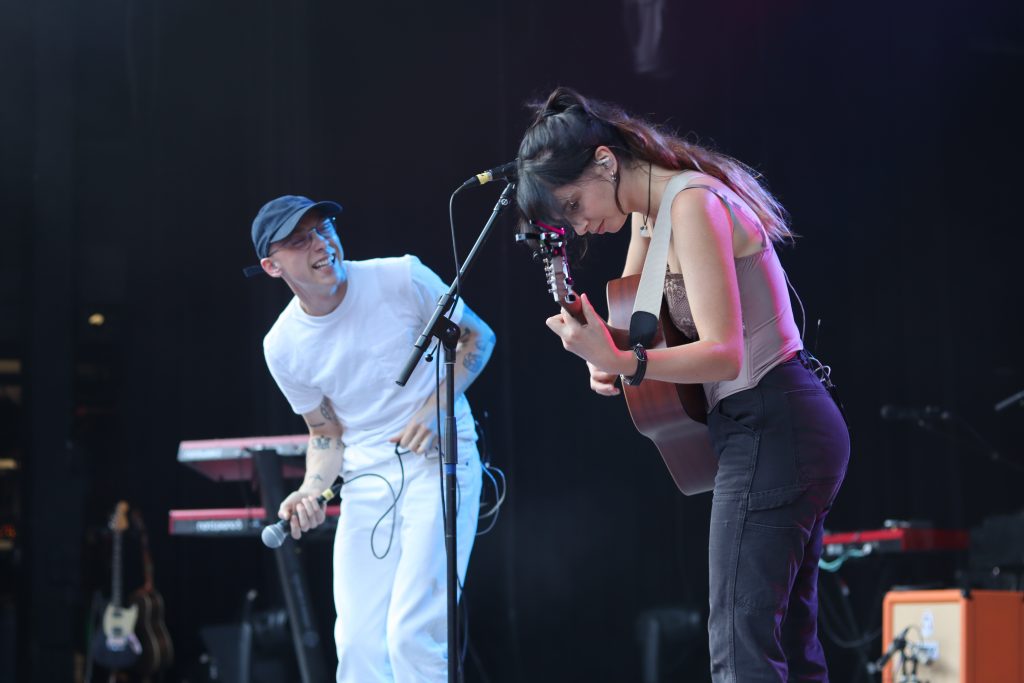 Chrisopherson was supported by a singular guitarist and a backing track, but nevertheless filled the Greek's large stage with his sound. The sleeve of tattoos on his arms peaked out of his white T-shirt, as his hands fidgeted with the mic cord. Any nervousness only amplified the endearing quality of his performance, aided by how heartfelt Christopherson's songwriting is.
He explained, "My family has been stories forever. This is how I tell stories," before launching into his song, "Loaded Gun."
After singing one of his songs from his 2021 EP Bubblegum, he explained, "When I wrote this I didn't like who I was, I like who I am today."
After Christopherson's set, he wrapped up his own mic cord and exited the stage, the crowd filling up with more fans, many with mullets and band tees. They yelled excitedly as Julien Baker entered alone.
"Hello everyone. My name is Julien and I'm gonna play you some songs."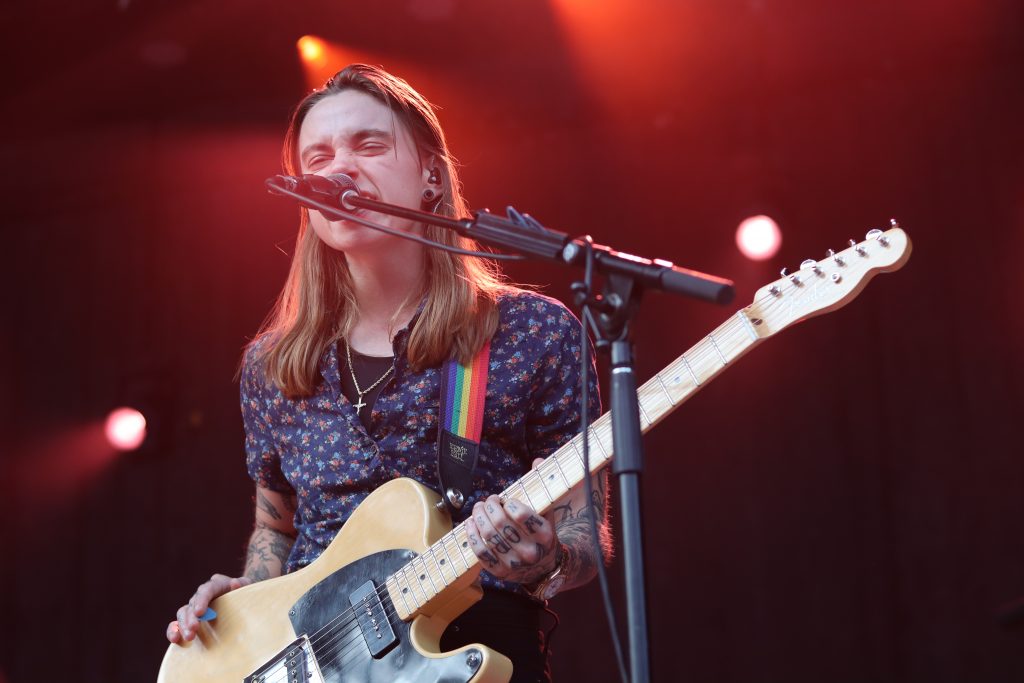 As she began the first verse of "Sprained Ankle," her band entered behind her, filling out her vocals with their alt-rock sound. Her tattooed hands strummed her guitar, which was slung around her with a rainbow strap. Her gold cross necklace peaked out from her half-buttoned shirt. As she belted, "Take me and tear me apart," the emotion erupted from her small frame.
When she pleaded, "When are we gonna call if off?," she seemed to be looking for answers as she moved around the stage. She fell back from the mic whenever she was not using it, creating an image of someone falling vulnerably into the unknown.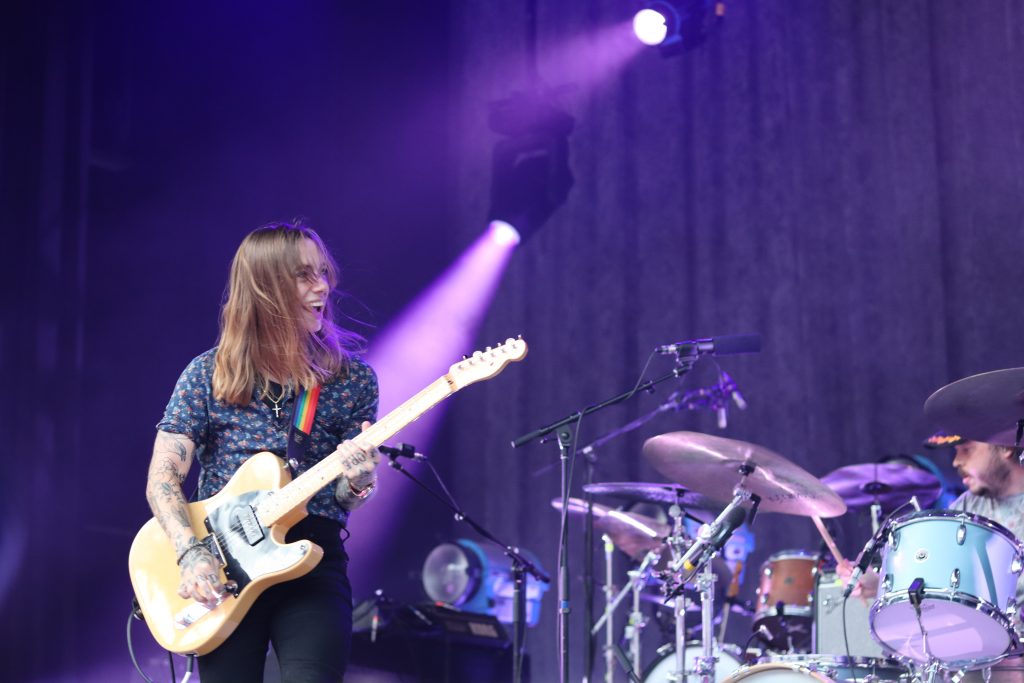 After Julien's set, a representative from the organization A New Way of Life came onstage to explain that proceeds from the night's show would go toward re-entry programs for women and girls coming home from incarceration. With $1 from each ticket donated, the Wild Hearts Tour had raised over $50,000 for A New Way of Life.
As the sun set, the amphitheater's seats, now almost all full, were filled with excitement. The lights came up again, now illuminating Sharon Van Etten who walked slowly towards the mic center stage. The crowd rose to their feet as the first notes of "Headspace." They were glued in as she repeatedly sang, "Baby don't turn your back to me," chanting along with her.
Though the tour was marketed as a triple-headliner, it is clear that it is Van Etten's brainchild. She explains, "I'm joined by the best songwriters of our generation," her voice filled with pride and joy.
Van Etten epitomized the concept of commanding the stage; she strutted back and forth, making every inch of the amphitheater hers. She stroked the face of her guitarist and then kissed her bassist on the forehead. When she crouched down at the edge of the stage, it felt as if she was performing a solo for each individual member of the crowd. As she sang, "Come Back," her teeth bared and her moppy hair fell in front of her eyes. Her voice pleaded the titular line over and over as the backing instruments fell away. The audience could feel her hunger.
After the song ended though, Van Etten's energy softened. She shared stories of her son about to start kindergarten and how the lows of pandemic isolation inspired her latest songs. She prefaced her song "Mistakes" with: "This is where everyone has permission to dance badly with me." She took every guitar break to try out a new ridiculous dance move, as she sang "See my body ache, my body shake" before finishing her set.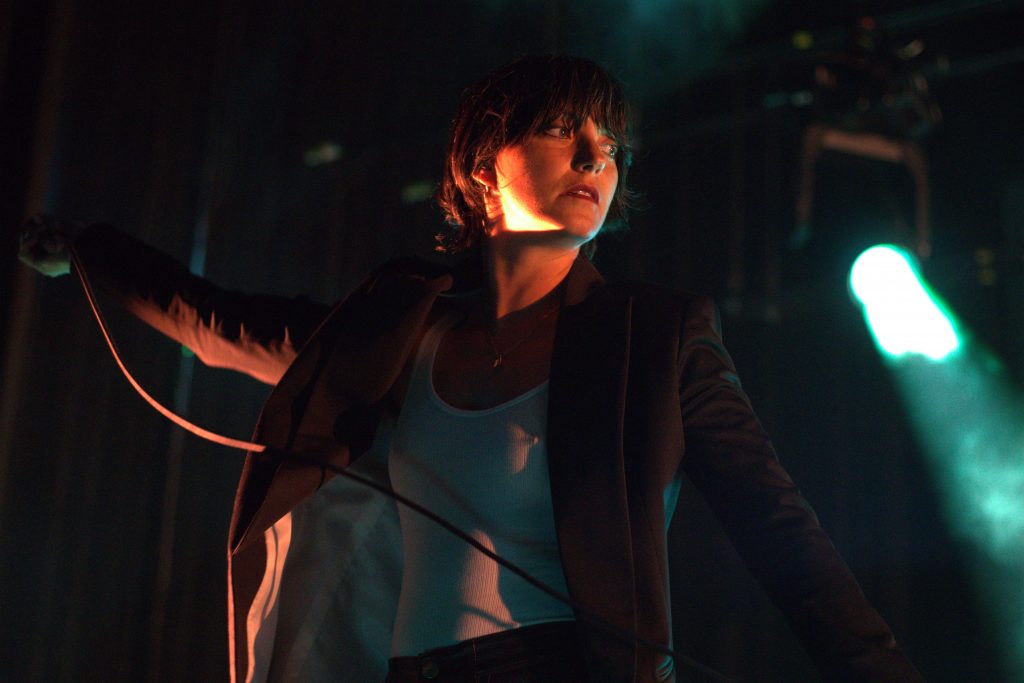 After a brief break, the crowd filed back into their seats, many now with drinks or merch in hand. The lights dimmed and suddenly the stage was full of people in brightly colored monochrome outfits, led by Angel Olsen, decked out in a bright yellow jumpsuit and a guitar covered with a floral design. She launched right into a song from her 2022 album Big Time. Though her voice sounded light and airy, her pain was felt as she sang, "Did all you asked of me/And I was just a kid."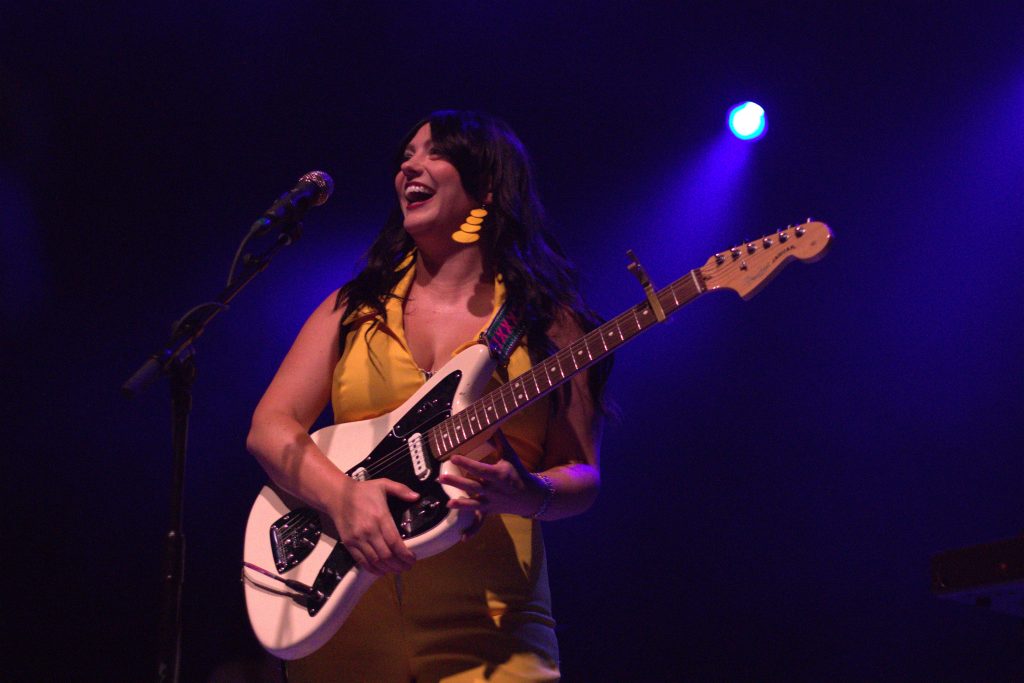 Though Olsen's poignant songwriting often focused on painful feelings, that hurt felt distant as she performed, clearly ecstatic to be in front of a crowd again. She giggled between sets and smiled as she interacted with her six-part band and the audience. As she belted, "I'm loving you big time," it felt more directed toward her love of music than any individual person.
Between songs, she explained how grateful she was to the crowd. "I have an autoimmune disease, so I get how dangerous this can be, but I also know it's so important." The tour, which she described as "the best ever," seemingly breathed new life into Olsen, an energy very palpable as she performed.
After Olsen finished her set, she returned to the stage accompanied by Van Etten. As the two performed their song "Like I Used To," they felt deeply connected to each other and to the audience.
For all four performers of the night, something spiritual occured as they took the stage and shared their voice with the crowd. They navigated the tension of returning to live performance after so long away, but what stood out was a clear sense of gratitude for all those who shared in this communion of music.