When tapping into the ever-evolving tastes of Gen Z, Atlanta-based duo Coco & Clair Clair's eclectic Y2K sound is nothing short of genius. In the last few years, Y2K aesthetics have dominated social media, and Coco & Clair Clair's brazen pop-rap sounds straight out of the early 2000s. Their satirical mean-girl lyrics float over their simple but irresistibly catchy breakbeats and MIDI synths, evoking a nostalgia for the bygone times of MySpace and flip phone ringtones. I've loved Coco & Clair Clair since my freshman year at UCLA, so when I found out they were touring their debut album, Sexy, I was highly eager to get press access to their LA concert at El Rey on March 25.
On our drive to the venue, I recalled a moment from the past that felt serendipitously connected to the present. It was the final week of my intern quarter at Radio, just over a year ago, in Winter 2022. Here, I got to enter the station for the first time and immediately gravitated towards the polaroid wall of Radio's guest artists over the years. Sam, intern manager at the time, asked me, "You talked about Coco & Clair Clair in your interview for Radio, right? They actually came here a few years ago." She shows me a polaroid on the shelf of the duo. Just seeing this photo was already Christmas for me. A year later, I had a press pass to their concert. As an international student who came to LA for the music industry, surreal moments like these make me most grateful to be here.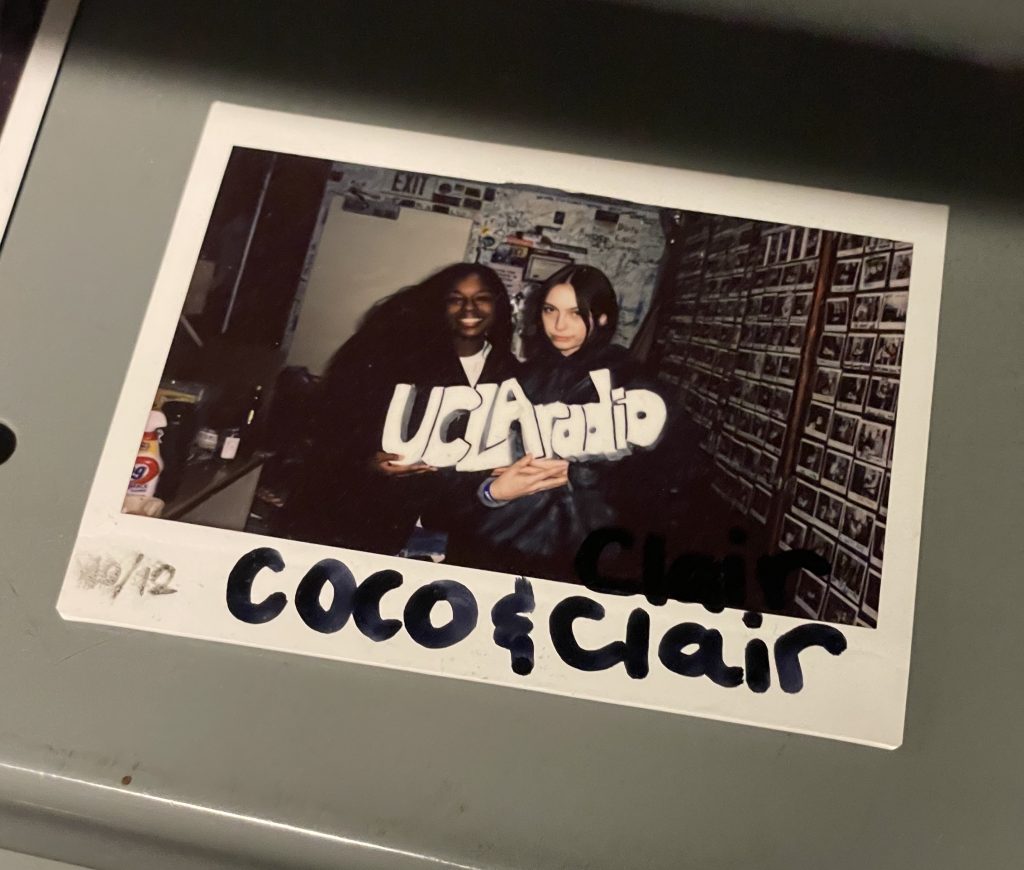 As we walked into El Rey, I took in the familiar sights of the concert hall. Even though I'd only been there once before, its retro decor evoked a nostalgic warmth, from the red velvet curtain to the ornate chandeliers. Having seen Charlie Burg at the venue a few months earlier, it was interesting to see how the audience's demographic changed depending on the artist. The lights dimmed as the clock hit 8 pm and we hear, "Are you guys ready for grandma?".
I, in fact, was not ready for grandma. The connotations of his artist name are entirely at odds with his rebellious, youthful sound that lives somewhere between 2000s indie rock and experimental electropop. As the second opener, accompanied by a drummer and guitarist, grandma's music provided a refreshing contrast to Raven, showing another side of the hyperpop spectrum. As grandma began his set, an LED panel attached to the front of his synthesizer started to flash with slogans: "ANGELHOOD – VAPES – GUITAR" (referencing his recent EP, Angelhood), "lily graves on lead guitar @lilygraves," and "NEVER ENDING PSYCHOLOGICAL WARFARE," to name a few. With a mop of hair and dressed in a white shirt, black tie, windbreaker, leather pants, and rain boots, grandma looked like a mismatched, hyperpop-ified version of the early Beatles, sharing their boyish heartthrob appeal. My suspicions were proven correct when he whipped out a trumpet solo, met with hysteric screams from the crowd. During his final song, grandma jumped off the stage, leaning into the audience to fire them up; then, with a finger to his lips, the whole room immediately fell quiet as he whispered his final line, "The thing about forever is I only want it with you." With his disheveled allure and musical range, it's not hard to imagine grandma as a headliner in the near future.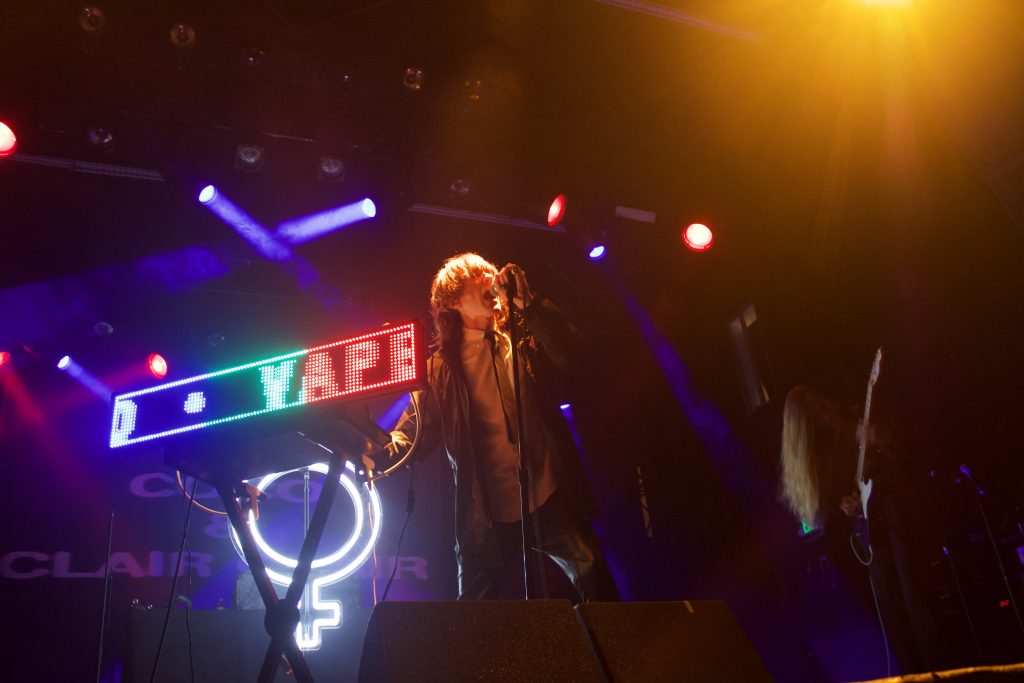 When Coco & Clair Clair came onstage at 9:30 pm, even though I had a whole hour and a half of openers to mentally prepare, I still couldn't believe it. Screams filled the room as the duo, dressed head-to-toe in black and wearing sports sunglasses, positioned themselves on either side of the stage. As the first track, "Bad Lil Vibe," started playing, I noticed Raven was DJing the music at the back of the stage. After playing "Bad Lil Vibe" on The Bins last quarter, it quickly became one of my favorites, but hearing it live was a different experience altogether. Collectively screaming, "Your receding hairline is somewhere in a ditch!" provided much-needed catharsis after the most grueling finals week of my UCLA career. When introducing another favorite, "Crushcrushcrush," Coco said, "It's about having a crush on someone ugly." A favorite line: "You kinda look like a duck / But a bitch might start quacking." Their ridiculously satirical lines are unforgettable; song after song, I was surprised by how many people knew each track word-for-word. The duo's hit song, "Pretty," had the most significant reaction, whose lyrics perfectly encapsulate the messy, maximalist attitudes of Gen Z: "If I die tonight, I'ma make it look pretty." This anthem carried me through my freshman year at UCLA whenever I felt unsure of myself being in a new school and country. The song epitomizes the duo's undeniable, aspirational charisma and confidence, and being surrounded by a room of people chanting it a year later was an incredible full-circle moment. Another highlight was their cover of Lana Del Rey's "National Anthem," a pick that truly showed that Coco & Clair Clair knew their audience. Their final song was another hit, "Pop Star," followed by a mixed-bag encore decided on the spot with the audience: an old favorite, "TLG," a cover of Oasis' "Champagne Supernova," and another favorite, "Sims 2". Coco & Clair Clair might be big enough to sell out El Rey, but they still take requests as if they're playing at your local backyard gig. Their short setlist left us wanting more, and I left knowing I'd be back for more. Coco and Clair Clair's reign of hyperpop is just beginning, and I couldn't be more excited for what's to come.
Concert photos by Renee Rubanowitz