Knocked Loose @ The Belasco [4/21/22]
First thing's first, I need a quesadilla.
Greesy, cheesy, and disgusting—I made my entrance.
The music blasting through the venue a couple hours before the opening act went on was a clear sign that I was going to need some extra energy to get through the night.
While I had dabbled into the punk music scene as a seventh grader, my taste did not surpass Patti Smith, the Sex Pistols, or Nirvana (which does not even qualify as punk rock).
I was a poser attending the show that night but you would not have known by looking at me because I played the part perfectly. I had adorned myself in black boots, black cutoff shorts, and a tattered flannel. And, before the opening act went on, I even had some time to purchase a sick t-shirt — the evidence I needed to prove that yes, I was attending a punk concert and yes, I was enjoying it.
I will say it was not entirely the case that I was enjoying the concert in a traditional sense (i.e. bobbing along to the music), but I did learn a lot in the few hours I stood amongst the other attendees.
The sea of tattooed, muscular arms around me seemed to call out that no matter how much I tried to play the part of Punk princess, I fell short. They looked like they raced motorcycles down PCH just for shits. For reference, I can barely drive my Rav4 to go surf Malibu without my hands shaking. I would be no match for the other audience members in an arm wrestle, although I do pride myself on having super-strong surfing arms.
The opening act that night was Kublai Khan, a metalcore band from Texas known for their protest lyrics. Nolan Ashley, their lead vocalist, growled into the mic beside his band members adorned in muscle tees and trucker hats. Throughout their set, I did not know what the F they were saying, but I did know that I agreed after the Thursday I had.
"This shit's good this shit's beautiful we're glad to be here… show me who the fuck you're about," Ashley said.
I looked up to see someone dive off the stage and somersault into the crowd. When he landed in the pit of sweaty bodies, he tore off his shirt. The crowd embraced him.
The next opener was the band Movements, a post-hardcore punk band from Orange County, formed in February 2015. Their sound can be described as indie meets punk: a kaleidoscope of Sonic Youth and Peach Pit with a splash of Green Day.
I saw a petite young woman with high knee socks and a pleated skirt run up behind the band from stage right and take a leap into the mosh. I wondered if I should ditch my fancy camera and do the same.
There is something paradoxically beautiful about diving into the crowd. Something which is so dangerous is simultaneously the pinnacle of a trust fall.
"Yo someone lost their keys I'm gonna keep them up here," Patrick Miranda, their lead vocalist said. Somehow his kind and caring words contrasted the harsh sound of the band's music, so I was indeed surprised by his generosity.
Is the pit of a punk show the safest place to do something dangerous? If I jumped into the crowd would someone catch me?
Then the lights went black for the first time all night. Knocked Loose, the metalcore/hard core punk band from Kentucky took the stage. They were there to celebrate the release of their brand new EP, A Tear in the Fabric of Life.
Their set design looked like a gothic castle. Across the stage there were what was supposed to be red and black stained glass windows: one with a clock, another with a hand, the other with eyes. I wondered what each of these motifs represented.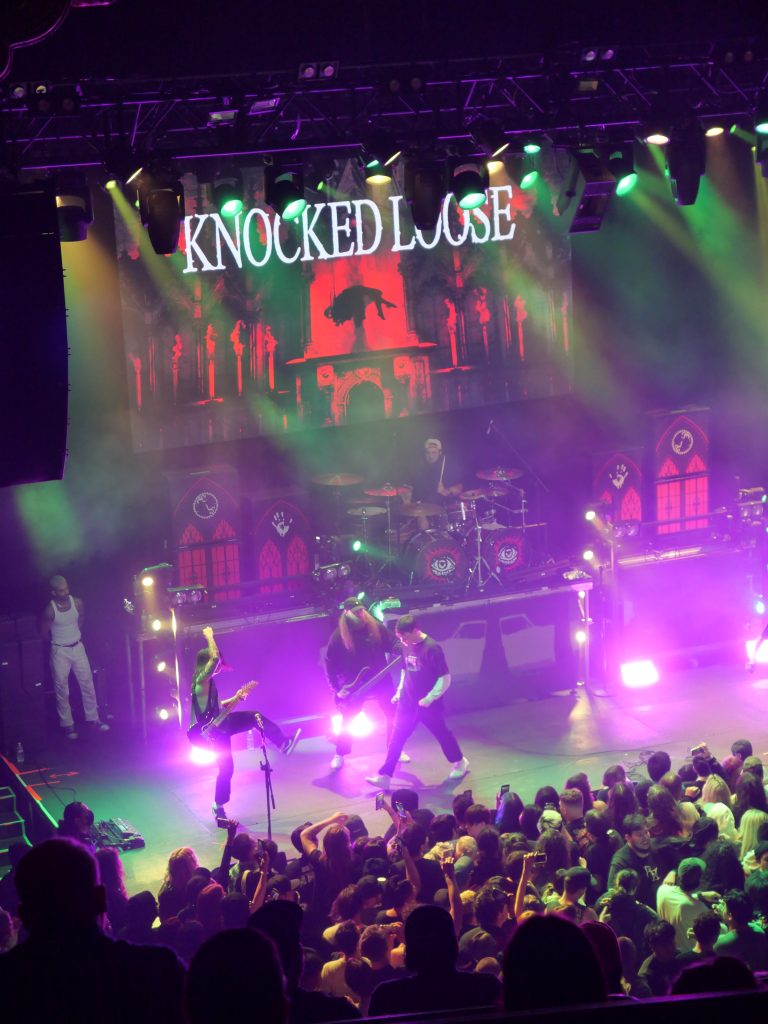 "Los Angeles don't fucking stand still, everybody move, let's go…" their frontman Bryan Garris shouted into the mic.
At that point, I really wanted to dive into the crowd.
"Get the fuck on this stage." It was a command. If I didn't do it, I would be a poser. Well, I was already a poser. I don't listen to punk rock. I didn't do it.
A guy with what I thought was paint on his face emerged from the crowd dripping blood. I'd never seen someone with a bloody nose look so happy.
"No fucking excuses," Garris exclaimed. At this point I was exhausted, but for their final song, I was not allowed to be tired anymore.
"Everyone start pushing the person next to you as hard as you can." This was a new world in which the authority was Knocked Loose and not the White House. Bryan Garris dedicated the next few songs against domestic abuse and to the LGBTQ community.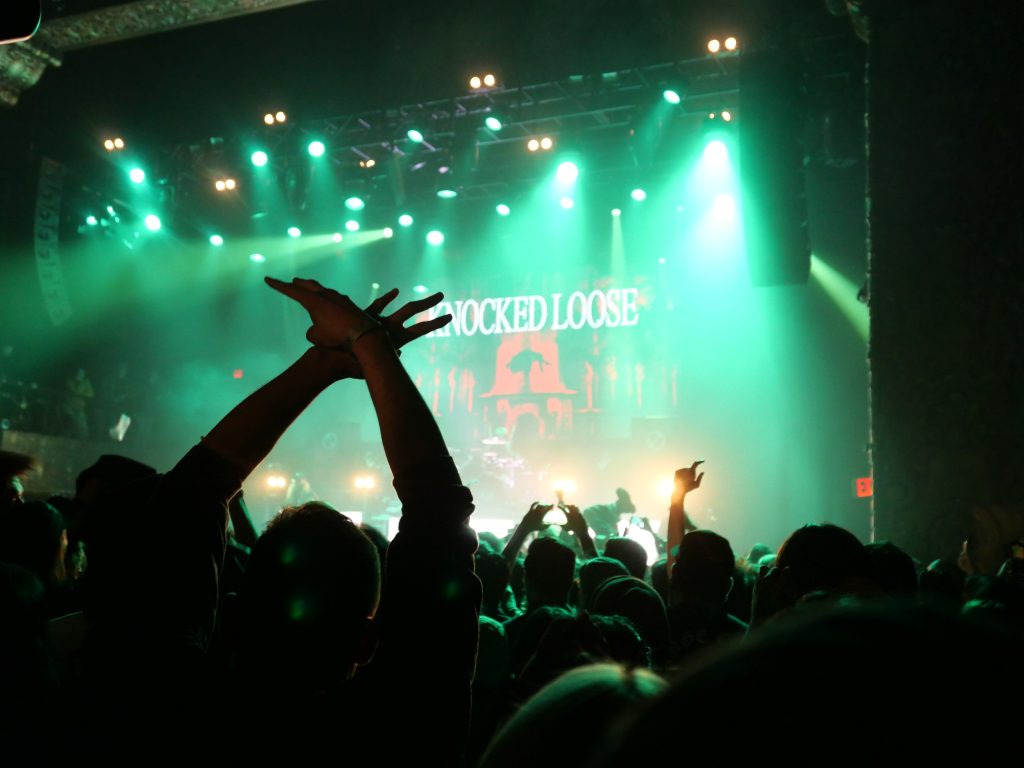 I don't think I could make out a single lyric for the entirety of the show, openers and all. But, as cliché as it sounds, the show was not about the lyrics — anyone in the crowd and the vocalists themselves could scream whatever they wanted and no one would know the difference. The music wasn't pretty and neither were the vocals.
Nonetheless, the experience was ubiquitous: togetherness, in all of its violence, the freedom to be angry together, and the feeling of safety which comes from collective rage.