Photos by Julian Bajsel
It's not everyday that you witness a concert crowd adorned in fairy wings, an unapologetic amount of cat ears, and… Oscar Mayer cosplay?
But on Tuesday, October 31st, the sixth night of Fred again..'s unprecedented residency at The Shrine—that's exactly what the average concert-goer witnessed. And it was incredible. 
On Halloween night, 5,000 energetic fans gathered to watch the London-based Fred Gibson, professionally known as "Fred again.." embark on an extraordinary quest: a run of concerts that, when finished, would set the record for the most consecutive shows ever performed by a single artist at the Shrine. It was a uniquely historic moment, memorialized by palpable audience enthusiasm and a soundtrack capturing the ethos of a post-pandemic world.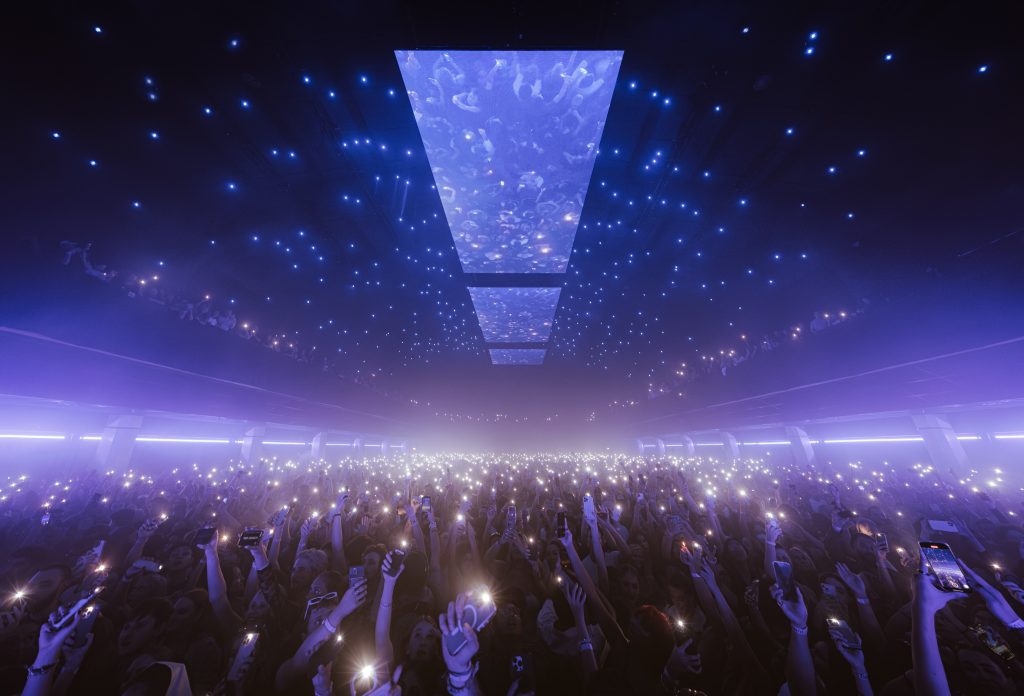 Before taking the stage, Fred again.. was preceded by electronic act I. JORDAN who started off the night with a DJ mix redolent of 2000's UK garage sounds. Carefully selecting songs that mimicked the crowd's gusto, I. JORDAN established a gradual, yet effective, sense of momentum throughout the evening, concluding their set with the hit song, "Admit It (u don't want 2)." Co-produced by Fred, the track culminated in a display of infectious energy, with chants of, "Admit that it hurts you" reverberating throughout the venue's historic walls. 
Following I. JORDAN's performance, restless energy permeated the Shrine. Juxtaposed against the venue's Moorish Revival style architecture, a sea of cheetah print and Nintendo franchise characters inching closer toward the stage's barricade made for an interesting backdrop. Finally, after forty minutes of anticipation, an LED screen showcased live footage of Fred leaving his green room for the stage. Opening with the emotionally poignant "Me (heavy)," Fred sang his heart out to a video compilation featuring some of his close friends, family, and collaborators.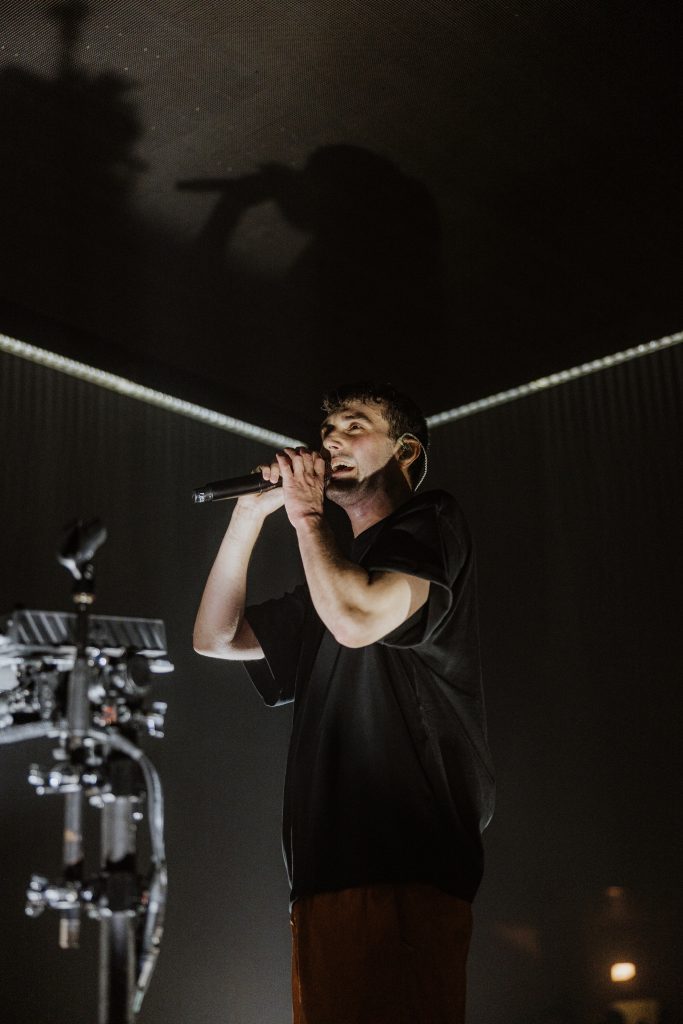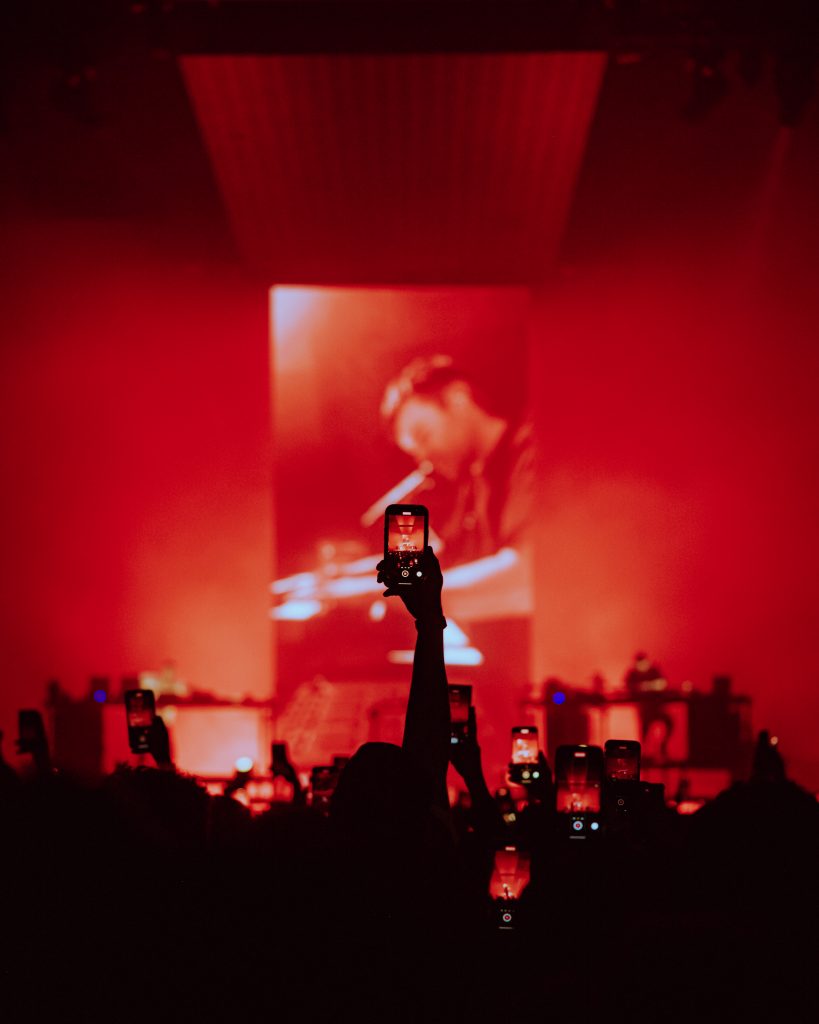 Unlike many of his electronic contemporaries, Fred again..'s music is emotionally salient, often emphasizing the importance of human connection in a post-lockdown world. For that reason, it felt quite appropriate that a colossal LED video diary became a critical focal point for the show—breaking down walls of emotional intimacy between Fred and his fans. 
As Fred proceeded into his second song of the night, "Kyle (i found you)," his friend and frequent co-performer, Tony, helped amplify the crowd's energy—eliciting a powerful call and response style of singing from the audience. Positioned opposite Fred on a different DJ stand, Tony helped mix the track with immense fervor, before Fred made his way to a second stage situated in the middle of the audience.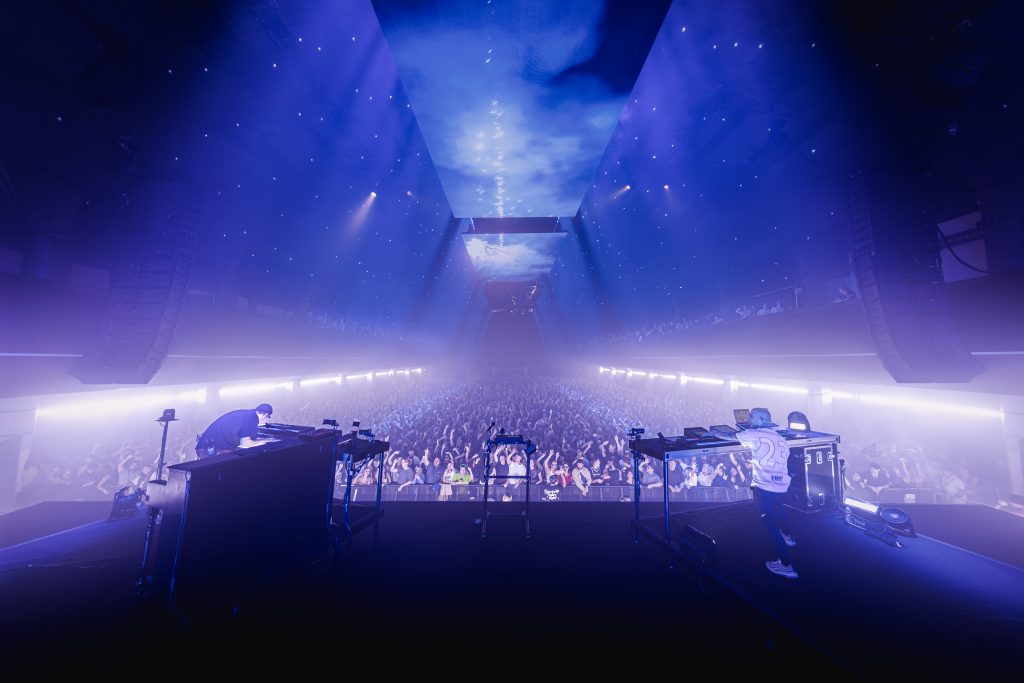 Part of Fred's strength as a performer is his ability to keep his audience engaged. In an unexpected turn of events, Fred, with the assistance of a few security guards, ran directly through the vibrant crowd, making his way to a striking CDJ setup. Curating a Boiler-Room-like experience, he unleashed a series of compelling bass and drum heavy tracks. The Los Angeles crowd adopted the ardor of a European techno club, mirroring the fast-paced cadence of tunes like "Jungle" and "Rumble," a collaboration with Skrillex and Flowdan.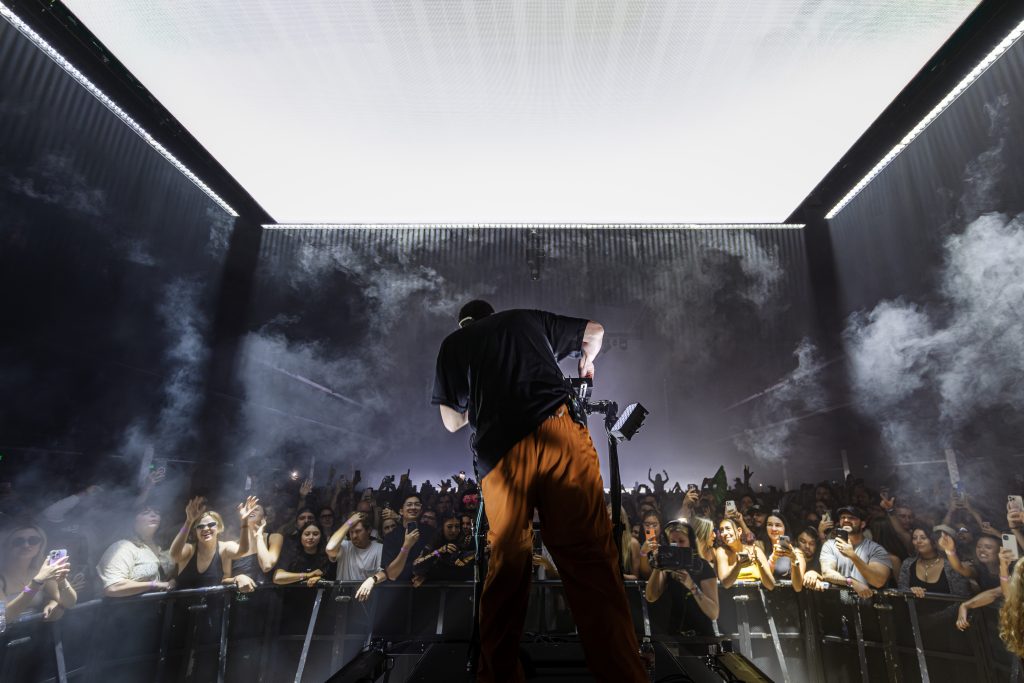 After returning to the venue's mainstage, Fred dialed back his techno-heavy tunes and shifted the focus back to his regularly scheduled programming. Using a synthesizer as his own personal drum kit, Fred reinvigorated the crowd by initiating the beat to the hit song, "Danielle (smile on my face)" featuring 070 Shake. As he looped the sound of his hand hitting the top of his keyboard, Fred (yet, again..), made his audience feel intimately involved in his musical process. 
As Fred approached the final leg of his set, it was just as engaging as the first. Employing a mix of sentimental tracks like "adore u," and high-energy songs like "Billie (loving arms)" and "Delilah (pull me out of this)," he exhibited the impressive diversity of his discography. He concluded the night with an impassioned remix of "Strong" and "Angie (i've been lost)," reminding fans they are not alone in experiencing feelings of aimlessness.
It is refreshing to see an electronic musician like Fred integrate synthesized sound with a narrative of emotional complexity. Despite an audience of 5,000 people, he managed to transform the vast walls of the Shrine into a seemingly small, intimate venue. Ultimately, Fred again..'s sold out show was a manifestation of the community he's built around his music: one which embraces passion, celebrates unfettered vulnerability, and radiates enthusiasm at every corner.
Listen to Fred again..'s latest single, "ten" below: