Father John Misty with the LA Phil @ Walt Disney Concert Hall [2/25/2022]
I awoke the next morning with Our Father on my mind.
Before my eyelids even opened, my head and heart were flooded with the bright lights and sweeping orchestral refrains of the night before. I was recovering from what I can only describe as a profoundly religious experience: Father John Misty accompanied by the LA Philharmonic, live at the Walt Disney Concert Hall.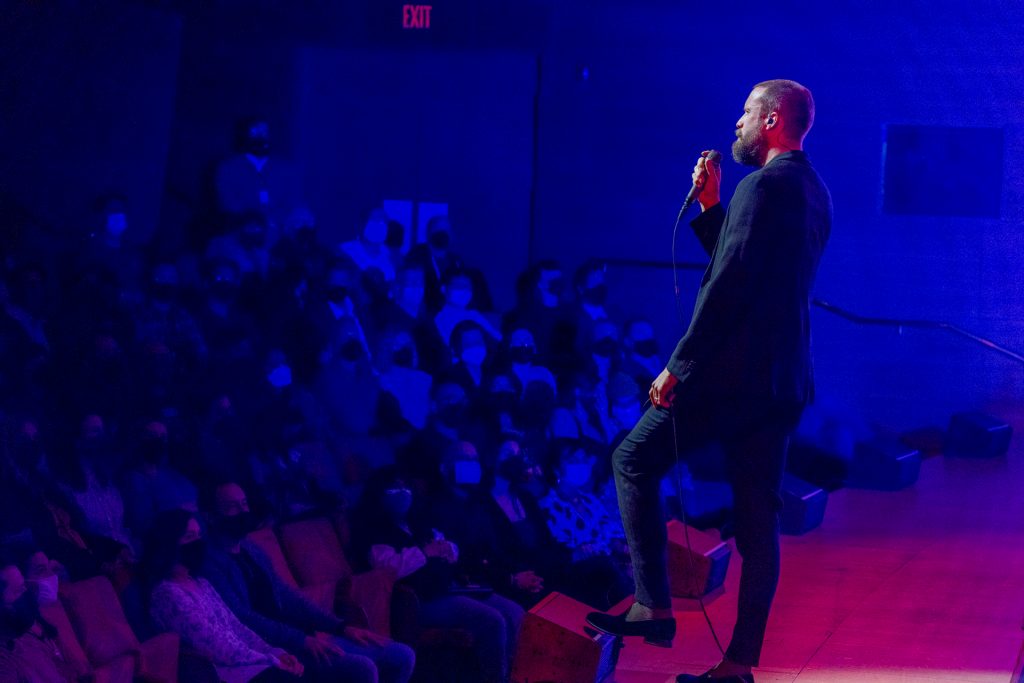 I texted my friend Lauren. On our ride back from the concert the night before we sat in silence, mulling over what we'd just experienced. Had we died and been reborn? I forgot my vocabulary, unable to find the words to describe what had happened to me.
My mind moving at a million miles a minute and yet somehow not at all. System Processing Error. Trying desperately to remember every small detail of the night, to memorize verbatim the few sparing quips and witty one-liners that the Father graced us with.
Is this what shock feels like? Have I been Saved? 
Father John Misty was born Joshua Michael Tillman to a devout evangelical family where he said he "grew up around Christian music, really terrible Christian music because my parents listened to it all the time." Although he initially wanted to become a Pastor because of his penchant for theatrics and limited worldview, he cut ties with his family when he dropped out of college in the spring of 2002 and moved out west to make music and find himself.
After a few years as a struggling artist releasing self-proclaimed "sad bastard music" under the moniker J. Tillman, he found mainstream success upon joining indie folk-rock legends Fleet Foxes as a drummer in 2008. He left the band in 2012, took psychedelic mushrooms on a road trip up the California coast, and has been releasing heartbreaking-yet-whimsical, desolate-but-joyous, unbelievably gorgeous music ever since.
Lauren and I weren't sure what to expect. We listened excitedly to our favorite tracks of his on our way there, chatting loudly about whether or not he would be visibly on shrooms as we transferred from bus to train. We pointed out every overly-dressed millennial couple we saw, joking that they were on their way to the concert as well.
Tillman's music has been known to attract a specific type of crowd. A very pseudo-intellectual, white millennial type of crowd. And while the Portlandia-era hipster of the Pacific Northwest with whom he found his footing was definitely in attendance that night, I was surprised to see a substantial showing from the silent generation, sitting with their hands folded in their laps, their posture harkening back to a time when hunching over your computer wasn't a requirement.
As I waited for the show to start, I looked around the expansive hall– an architectural marvel with massive golden organs that only added to the sermon-esque atmosphere– and heard the people behind me joke about the "subscribers coming out in droves tonight."
Huh? Was my first thought. Was there some kind of YouTube promotion thing for this?
My next thought was that my mind couldn't have been more obtusely Gen Z. By subscribers, my fellow audience members were referring to the patrons of the LA Philharmonic, which, under the direction of conductor Daniel Batholomew-Poyser, accompanied Tillman's performance of all his greatest hits.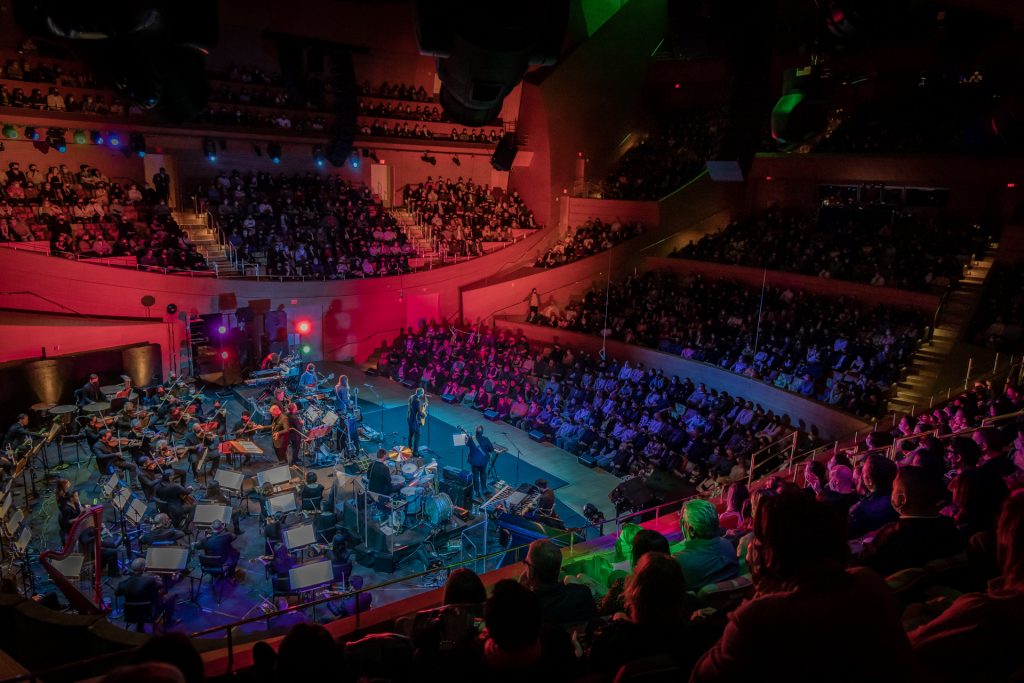 The lights go down. The piercing first note of I Love You, Honeybear starts, along with an LED-color show. As different sections of the orchestra begin to build up the hit song from his 2015 album of the same name, Tillman grabs the mic with both hands and earnestly sings us a love ballad.
I have chills. I know from the first minute I will never be the same, and I can't remember how I ever listened to his music without the accompaniment of a full orchestra. As the lights change with each note, displaying a dazzling array of colors that rotate throughout the room and hit Father John Misty's face in twenty different, ultimately perfect, ways, I think I'm starting to understand Tillman's 2012 shroom-induced revelation.
As the song ends with his loud humming, affirming that yes, "I LOVE YOU," the horns and the strings swell up and crescendo, ending on a thundering note of drums and saxophone and applause.
Is it too early for a standing ovation?
He smiles at the audience, moving onto the next song without a word. I wonder if his uncharacteristic silence is a product of his environment, if the multi-million dollar stage of Alaskan yellow cedar and imposing orchestra is making him reel in the more eccentric sides of his persona.
It isn't until after his next song, 2018's haunting Hangout at the Gallows, that he directly addresses the audience.
"I know what you're thinking," he says. Does he? Moments before Lauren and I had turned to each other mid-thunderous applause, our eyes wide, saying "this is so good" at the same time before turning back to stage, unable to bear the thought of missing out on even one second.
"I'm old now."
The audience laughs, and he immediately launches into Mr. Tillman, a song which seems as if it is written both in the third person from Father John Misty to Josh Tillman, and by Mr. Tillman himself. Both interpretations are, in a way, technically true.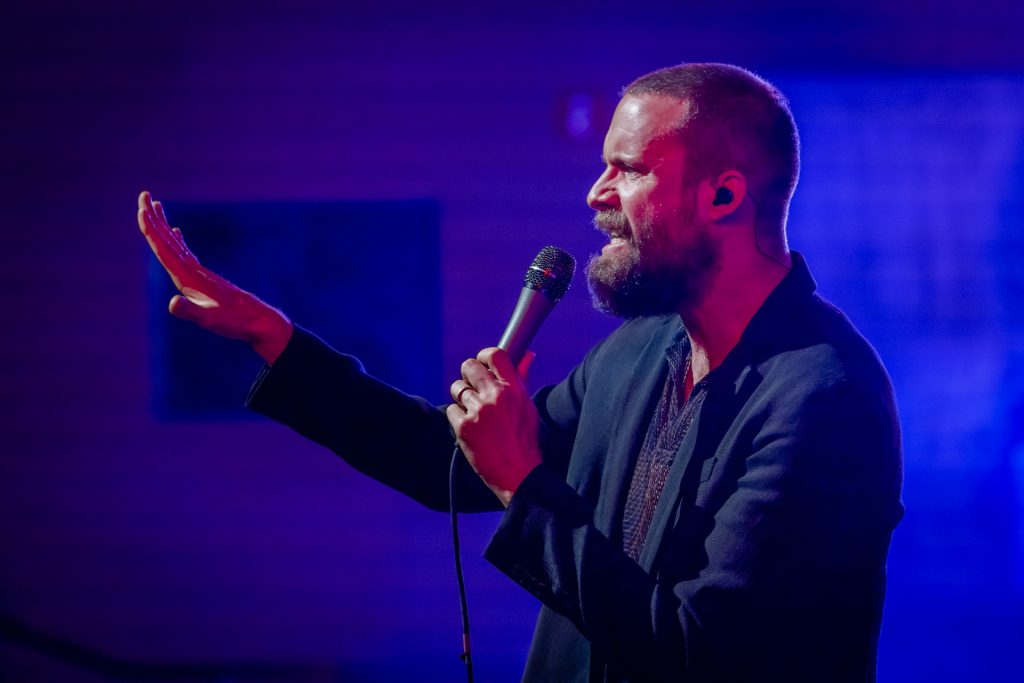 Mr. Tillman, good to see you again//there's a few outstanding charges just before we check you in…
Damn I'm feeling so fine//I'm living on a cloud above an island in my mind//Oh baby, don't be alarmed this is just my vibe//No need to walk around//No, it's not too bad a crime.
Dustin Downing on behalf of the LA Phil
Slightly infamous for his antics both on and off stage, I couldn't wait to hear what he had to say to us. This is the man who once walked off stage crying after a set where he lectured the audience about the "evil" of modern-day media consumption and asked them to "take a moment to be really fucking profoundly sad." A man who's said he loves "the exhilaration of feeling a pull quote come out of your mouth. The words just taste better." 
But with age, or perhaps enough psychedelic self-medication, Tillman seemed to be far more at peace than in years past. He spoke no more than a total of five minutes during the show, leaving the bulk of the run time in the hands of his lyrics and the LA Phil. Perhaps this new decade of life has brought him a certain clarity of mind.  
He dances up and down the stage for almost two hours, connecting the audience and the orchestra through himself. He waves and winks out into the crowd, giving thumbs up to eager fans and cracking jokes with the conductor. He plays his greatest hits and I can see people melt into the notes.
When I manage to tear my eyes away from the stage for a moment during Hollywood Forever Cemetery Sings, I can see everyone's heads bobbing side to side as they move as much as their seat will allow them to. I myself am leaning forward, as if straining my lower back enough will allow me to dissolve into his aura.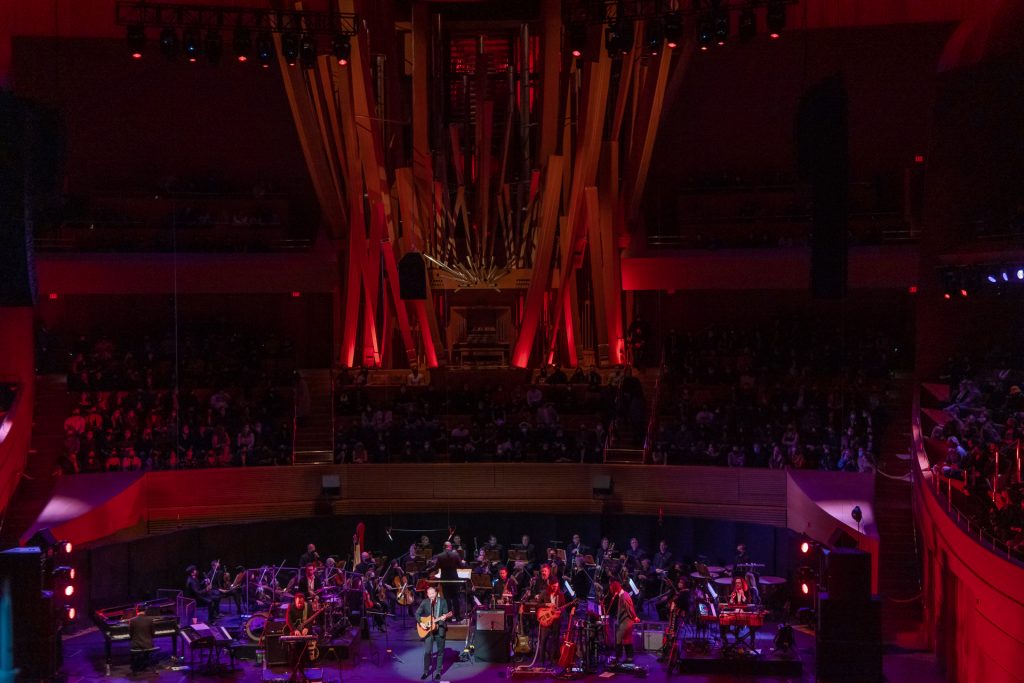 Before Holy Shit, his seventeenth song of the night, a loud shriek can be heard from the audience. He's just signaled the close to the performance by saying "Well. This is the end." He laughs, and hints that if we ask nicely enough, there might be more.
The standing ovation that follows the so-called 'end' lasts at least three minutes. As the LA Philharmonic walks off stage, I begin to panic that there won't be an encore, that the end really is here.
But he comes back out, with only the scaled-back accompaniment of his touring band. I miss the full orchestra, but Father John Misty is looking to take advantage of the now half-empty stage. He orders us all out of our seats and tells us to dance. He glides to the back of the stage, turning his back on the majority of the audience so he can sing directly to those in the orchestra view who have been looking at the back of his head the majority of the night.
His last song of the night, Date Night, is playing. Everyone is dancing. We're swaying back and forth, and I can't decide whether to burst out crying, hug the stranger to my left, or call everyone I've ever loved and tell them how much they mean to me.
I decide to try and live in the moment, to maximize these last few chords, hoping to stretch them out into infinity. As I walk out of the Walt Disney Concert Hall the same and yet profoundly changed, a Father John Misty pull quote comes to mind.
"I love duality. Duality is at the heart of my music. It's at the heart of my life."
Photographs taken by Dustin Downing​ at the Walt Disney Concert Hall, provided courtesy of the Los Angeles Philharmonic Association