Nestled in the heart of Los Angeles, the El Rey Theatre stands as a charming gem in the city's vibrant tapestry of music venues. This historic theater, with its iconic marquee and intimate ambiance, has long been a beloved destination for music enthusiasts and artists alike. The lights draping its walls are colorful and ethereal, like an oasis in the lukewarm night. We make our way in and wait for the curtains to draw. Dylan, the opening act, had an extra reason to celebrate as it is her 24th birthday. She steps onto the stage with a magnetic presence, exuding charisma and confidence that set the perfect tone for the evening. Dylan's energetic rendition of her song "Every Heart But Mine" immediately captivates the audience. The song's vivacious melody and heartfelt lyrics pull at our joyfully bruised heartstrings, creating a profound connection with everyone in the room. The standout moment of Dylan's set, however, arrives when she introduces "You're Not Harry Styles", a sly shoutout to an ex with an ego complex. This track is pure infectious energy, and it resonates with the crowd instantly. It is very easy to sing along to, and extremely danceable. As the curtains close and the lights turn on between setlists, we mingle and make some new friends, and my new friends teach me that if you wave with your hand to a squirrel, it will come to you! I am shown video proof of this strange natural phenomenon, and we all begin to do the move, agreeing to bust out our squirrel dance during GAYLE's setlist.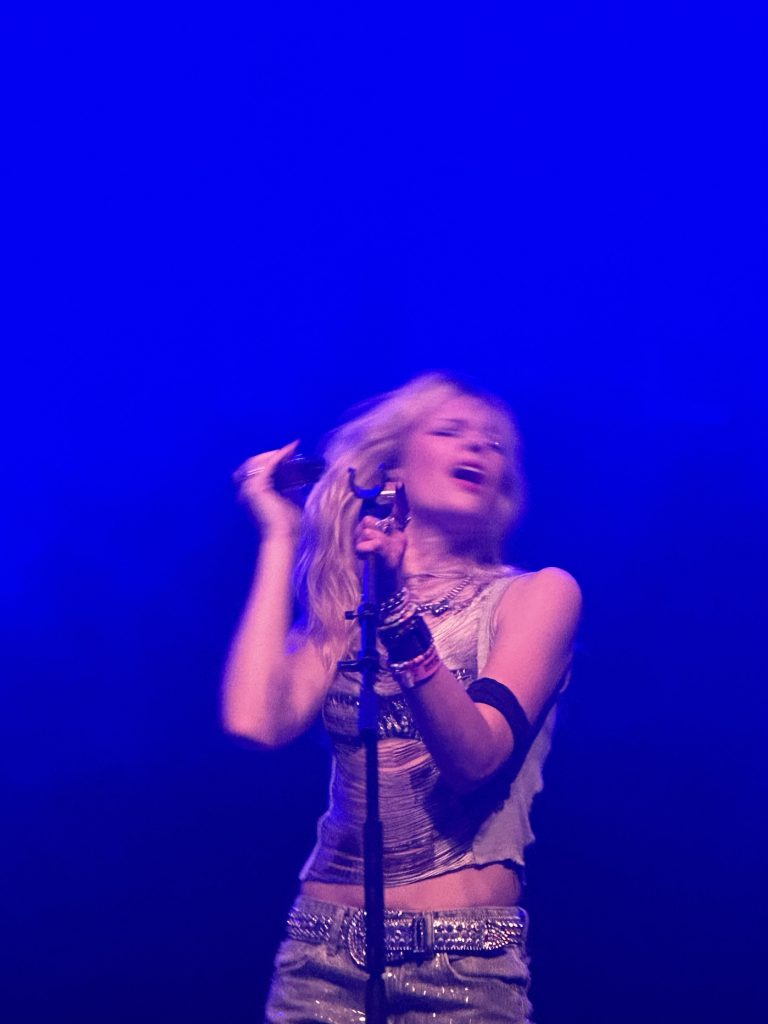 Now, it's GAYLE's turn to take the stage, and she's a vision of rockstar confidence in a lived-in leather jacket, black bra, and jeans. Her two-toned black and faded orange hair blends together as she thrashes and strums her guitar. GAYLE's bandmates, each with a microphone, add a playful dynamic to her set. It's like they're your witty friends at a lively dinner party, keeping the conversation going. Their banter and jokes create a sense of camaraderie, making us all feel like we're part of an exclusive gathering. She points out an audience member wearing an 'I (heart) Squirrels' shirt and we all look at each other and laugh maniacally at the odd synchronized squirrel-ness of our night. Her cover of Fergie's "London Bridge" is a thrilling reinterpretation, injecting a rock energy into the song. It's like watching a classic painting get a modern remix, and the crowd is loving every moment. GAYLE's take on Jason Derulo's "Wiggle" is pure camp genius. It's a fun callback to a different era of music, and a reminder of my middle-school days, but it does its job as we all follow along and wiggle. What sets GAYLE apart from many artists who attempt covers is her knack for putting a personalized spin on familiar songs.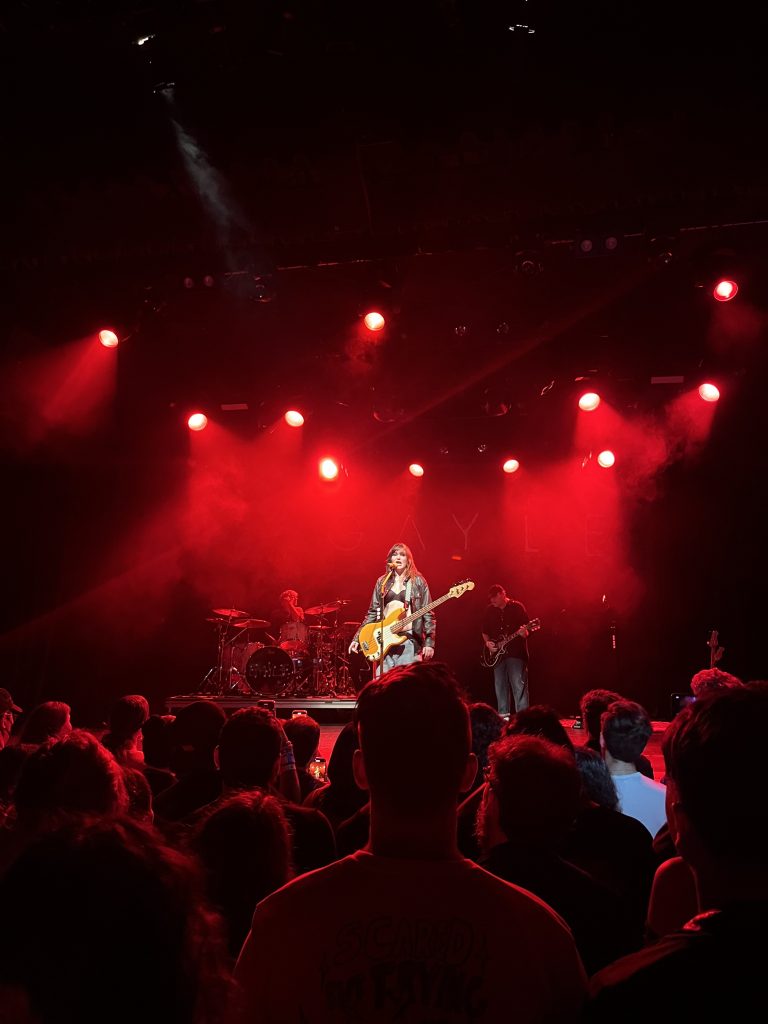 The night takes an intimate turn when GAYLE introduces a keyboard during her performance of "God Has a Sense of Humor", as a hushed reverence falls over the audience. It's a moment of intimacy in the midst of a vibrant show. But the night is not just about the music; it's an all-around celebration. GAYLE brings out a birthday cake and instructs the crowd to sing along, celebrating Dylan's birthday. It's a fun and heartwarming moment, adding a personal touch to the evening. She spends time making sure she makes eye contact with her fans, waving to us, blowing kisses, and airing hearts. Song intros linger like a mini-podcast episode with the band cutting GAYLE off at some points, and her disbelief at the crowd's engagement is bittersweet. I want to sit her down and make sure she knows people paid to be there for her, this is her moment, and she should know she's worth every second of it!
Still, the night's climax arrives with the two last songs – "ur just horny" and "abcdefu", and GAYLE's inner Sasha Fierce makes a triumphant finale. The crowd sings along with GAYLE, our voices blending in a shouty chorus. "ur just horny" is a kiss-off to cloying desire, and the crowd is all in, embracing the song's unapologetic energy. The infectious chorus has everyone chanting in unison, and the energy in the room is electric. However, it's "abcdefu" that leaves the most lasting impression. Its catchy chorus, unfiltered lyrics, and fun vibe exemplify the song's breakout success. We're not just singing along; we're belting out the words with sheer unabandoned fervor and frantically doing our squirrel dance. It's a moment of collective release, leaving us feeling empowered and energized. As the final notes of "abcdefu" fade into the night, we're left in a state of euphoria. GAYLE's music has become a conduit for our shared experiences and emotions. Here is to GAYLE's joy and to her recognition of her inner star power.