~~~
Goth Babe @ The Greek [7/15/2023]
Photos by Jeslyn Wang & Lauren Kim
~~~
Goth Babe can't help but take over the sun when he's on stage. 
At tonight's celestial show, The Greek Theatre is met with a galaxy of inflatable unicorn floaties, six thousand glitter-adorned fans, and an endless supernova of neon stage colors orbiting around. At the center of it all? Goth Babe.
Formally known as Griffin Washburn, the artist is ironically the antithesis of goth music. Yet, his moniker proudly announces the title nonetheless. When Washburn's not literally "Surfing in Iceland" or trekking "Alone in the Mountains," he's writing songs about it in his solar-powered studio. From headlining idyllic outdoor venues like Colorado's Red Rocks Amphitheatre to Los Angeles's iconic Greek Theatre tonight, Washburn draws from his nomadic experiences to produce indie-pop music as dreamy and wanderlust as he is.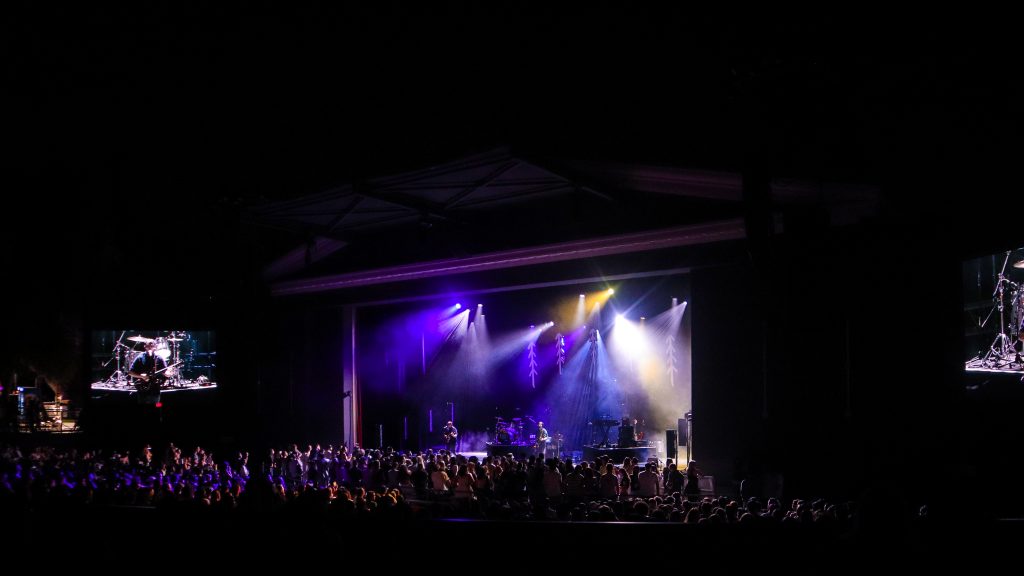 Tonight marks both the second leg and show of Goth Babe's Lola Tour, aptly named after the sailboat he occasionally lives off the grid in (because who can't relate). The vibrant summer sunset at LA's Griffith Park – paired with the cosmos-commanding Griffith Observatory and historic Hollywood sign – feels like the perfect landscape for the ensuing performance.
It was my first time ever photographing for a concert. And it showed.
[Read: I forgot my spare battery, and I forgot to finish actually charging my camera]
Anyways, upon overcoming dead-camera-gate, I finally took my place in the photo pit. Awestruck at my close proximity to the stage, I can hardly believe that I'd soon be less than an arms-width from some of my favorite artists. The fans surrounding me seem to reflect the same sentiment, as they all exchange jittery conversations bordering both disbelief and exhilaration for the show to come.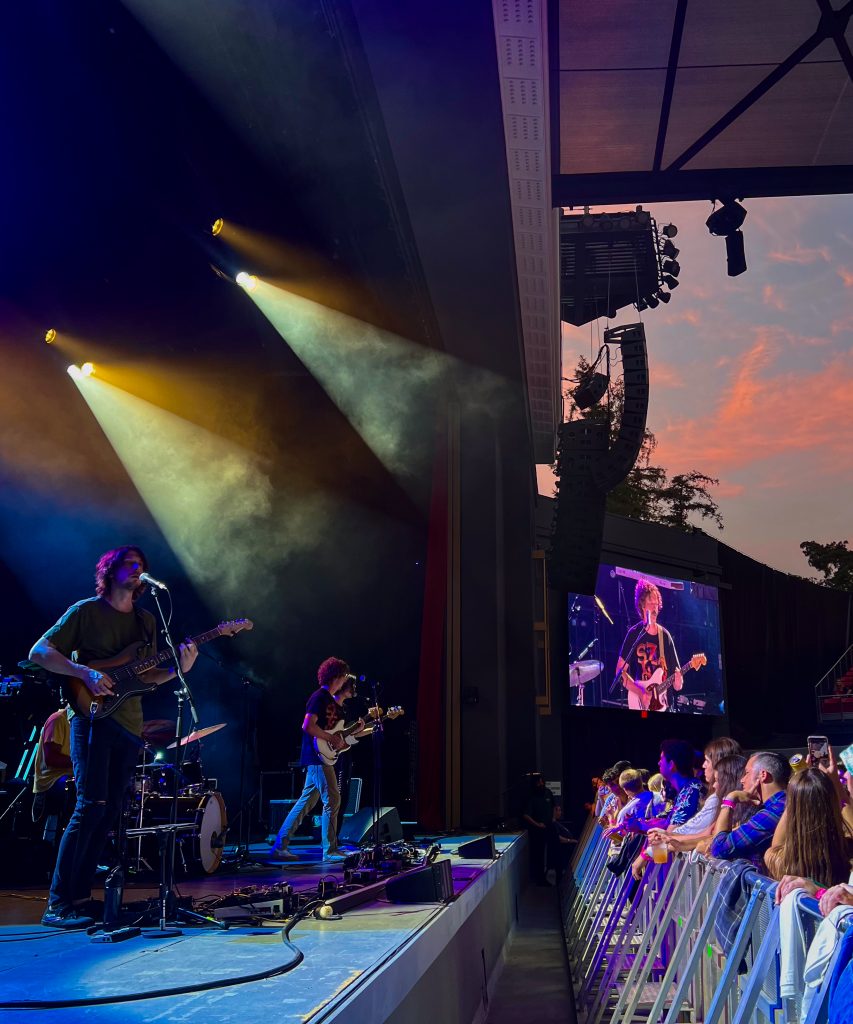 Promptly at 8pm, the opener Husbands graces the stage first. Fronted by Oklahoma city native turned Costa Rica resident, Danny Davis, Husbands has been a long time alt-indie favorite of mine.
Over the phone in an interview with him a few days ago, Danny had nervously chuckled at the thought of performing at a venue as formidable as The Greek. 
Now, that mere thought has transformed into fruition. As Husbands trickle onto the stage, my voice joins the cheers of thousands, shouting with an energetic fervor that can only be fueled by the knowledge that a night-to-remember was about to commence. 
If any nerves were felt by the band, it clearly wasn't seen by the crowd. As they command the stage with lively indie hits like "Mexico" and "She's a Betty," along with mellower, personal favorites such as "Burn the Witches," Husbands completely redefines the overarching category of beachy-pop into a sound uniquely special to their own.
Guiding the echoes of atmospheric synths are upbeat drum-dominated melodies, all seamlessly laced together with alternating acoustic and electric guitar harmonies.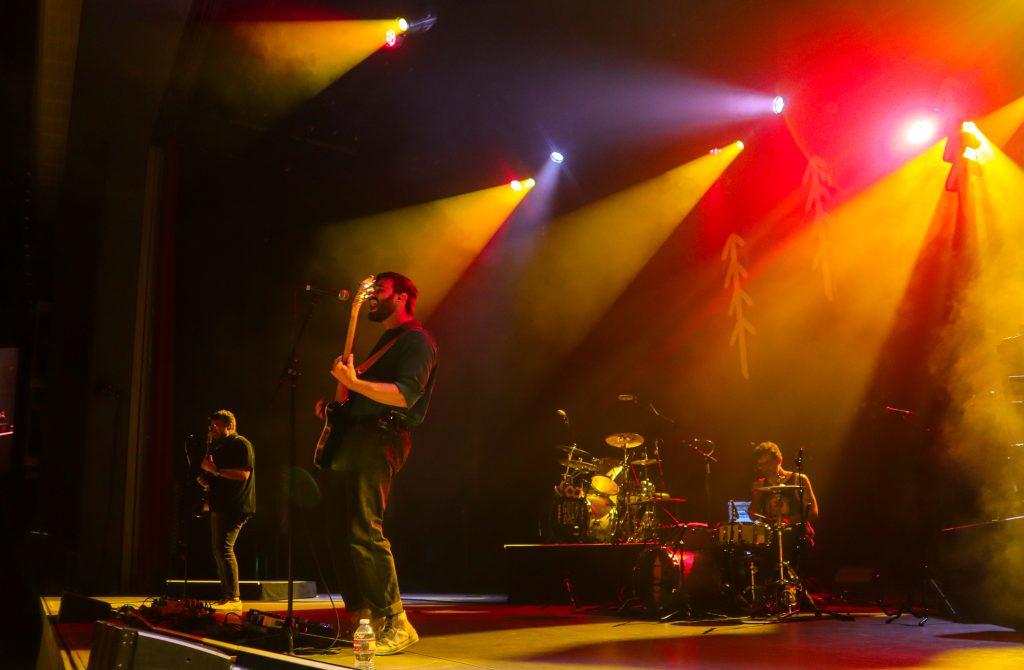 Following on the alternative-indie wavelength is the equally impressive duo, Max and Benji, better known as slenderbodies. Having only heard of them in passing, I eagerly await their entrance. Before long, the lights dim, and the duo traipses onto stage.
Blanketing the crowd with a sound reminiscent of Glass Animals and Alt-J, slenderbodies walks a fine line between electronic indie and R&B. Performing songs like "anemone" and "gray," the duo tiptoes between a hushed storytelling afforded by falsetto vocals and a distinct sound characterized by plucky guitar.
As slenderbodies finish their set, their goodbye shouts culminate the opening acts of the night. 
Though the music takes a break, the audience clearly doesn't. Any semblance of post-opener silence was quickly replaced by the crowd's ardent excitement for the headlining performance. As dusk settles across The Greek and fans race back to their seats, the dark evening paradoxically grows even brighter in energy.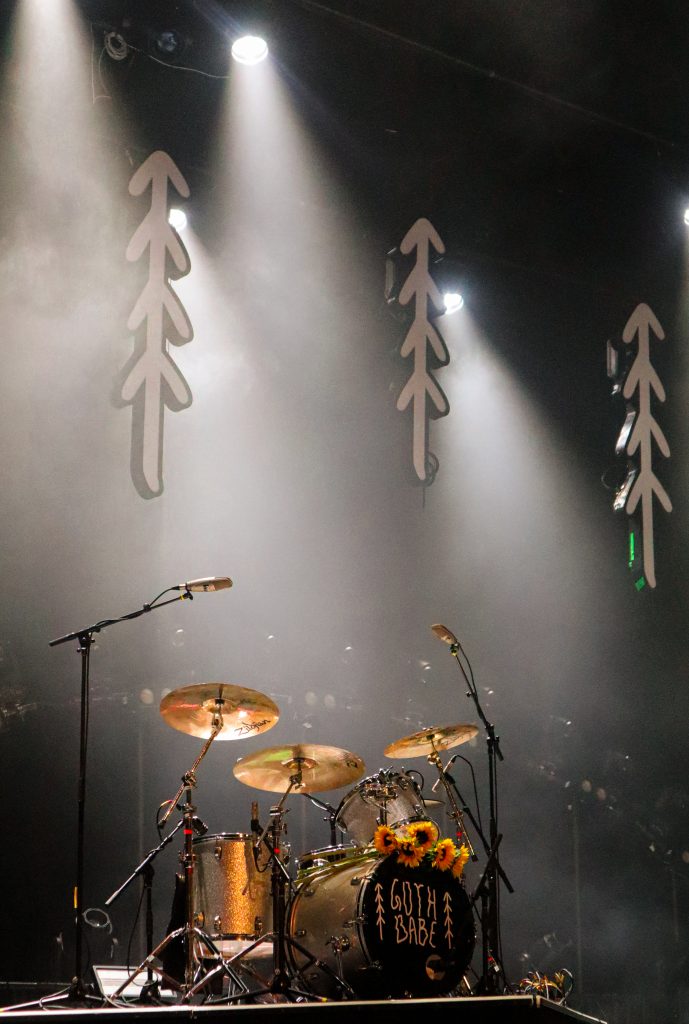 While taking a few test shots, I can't help but notice the odd simplicity of Goth Babe's set up. A guitar, a drumset, and a synth. For an artist whose music paints such an intricately vibrant canvas, you'd think his set up would reflect such sonic complexities.
Yet, it doesn't. Washburn, at his core, doesn't need more than himself to be Goth Babe. That's what makes him so special.
In the ever-changing landscape of music – and in a broader sense, the world – Washburn encapsulates the purest form of what it means to truly love art.
His music is simply his soul expressing itself. Choosing to remain steadfast as an independent artist, Goth Babe is an undeniable force in the DIY music scene. His intricate soundscape is a mere manifestation of his curiosity for exploration and a willingness to embrace the world's natural beauty.
In front of 6,000 people tonight, that fact is more evident than ever. 
Echoing synths. Pulsating bass. Piercing strums of an electric guitar. Goth Babe's vocals swirl around The Greek, but the artist himself has yet to appear – not yet at least. The first song of the night,"New Born Worlds," is purely instrumental and wholly fitting. Paired with flashing turquoise and soft lavender, the crowd roars in unison, curating the perfect build-up for his long-awaited entrance.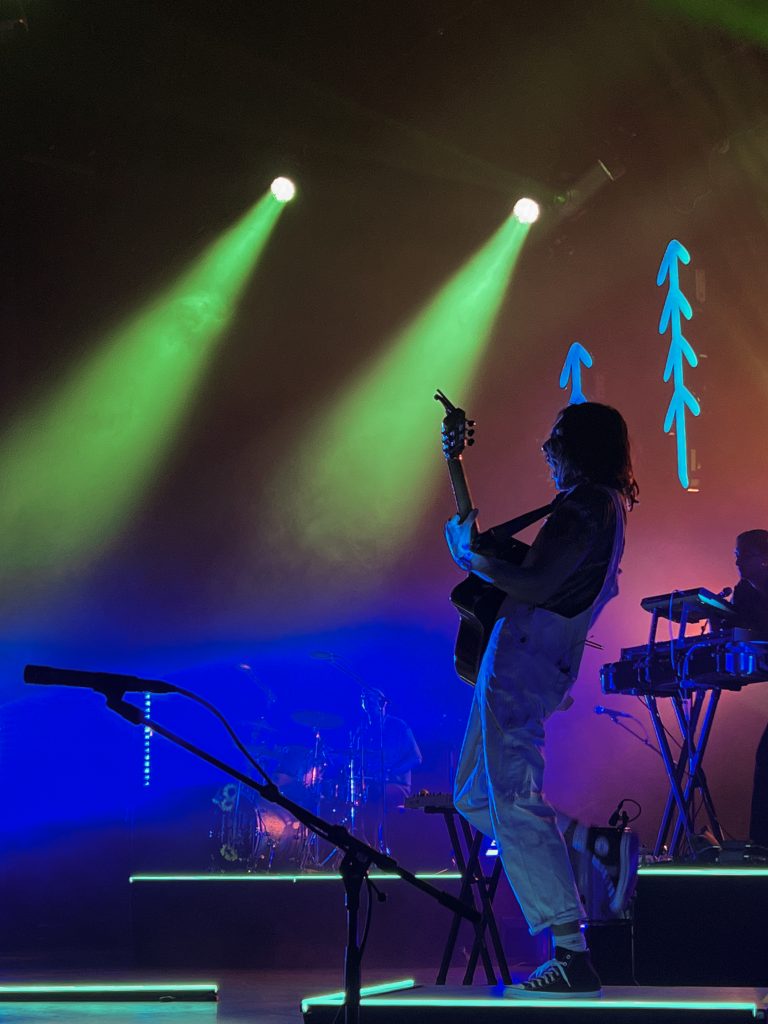 Almost seamlessly, "Moments / Tides" transitions into synthetic sound. Goth Babe sprints onto the stage, bringing a carnival of strobing colors and deafening cheers along with him.
Suddenly, The Greek is no longer just The Greek. 
As Goth Babe sings about "seizing all the moments and the tides," the venue instead becomes crashing waves and salty sea mist. Washburn is suddenly surfing along the Oregon Coast, bringing the crowd with him. "I Wanna Help Your Mind" plays soon after, and suddenly, Goth Babe "holds[our] hands and jumps into the sea."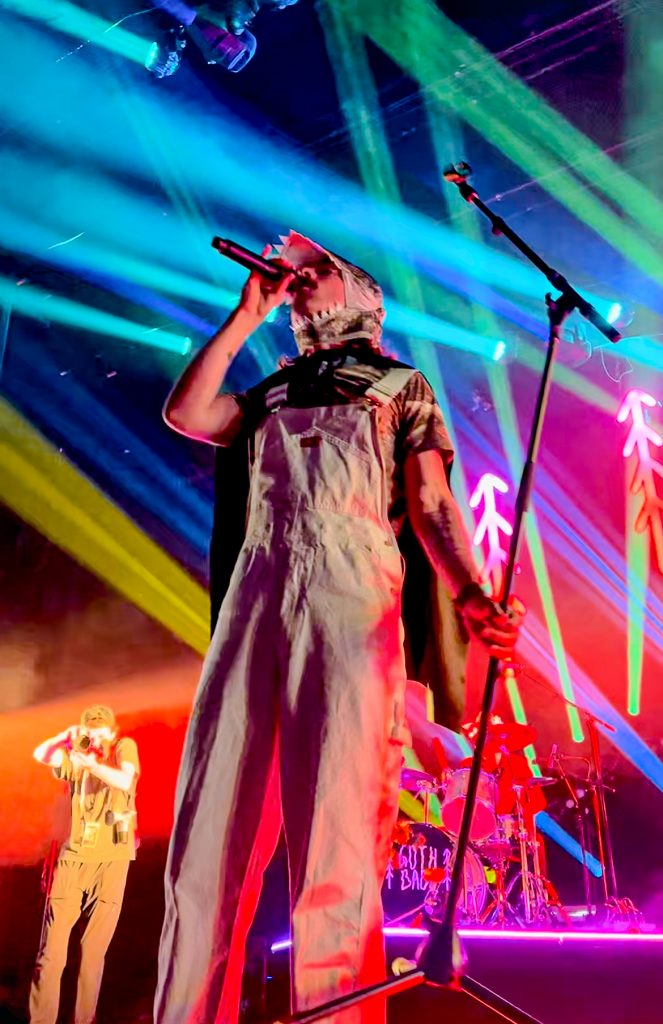 Next, we're "Alone in the Mountains," and coastal blue turns into towering forests of emerald green. In this song, Goth Babe takes the audience back to when he first started pursuing music, singing about how he was "sleeping in parking lots out of senior year / looking for a manager in LA / hoping [he'd] find a career." 
Wanderlust is the defining theme of not only tonight, but Goth Babe himself. 
One song after the next, this notion is evident, as he continues to transport us across his kaleidoscopic existence. From "sailing the South Canary" in "Canary Islands" to "looking at the clouds up high" in "Taking Over the Sun," Goth Babe pulls all the stops to put on a transcendental performance. 
Somewhere along the line, he even makes a wardrobe change, donning a shark cape over his silver overalls. Oh and how could I forget? He also starts throwing inflatable beach balls – and a unicorn floatie – into the crowd.
Goth Babe is just as unpredictable as he is energetic, leaping from one side of the stage to the next, jump-kicking at random beats, and thrashing his head as he shreds his guitar. Each song is also seamlessly paired with a light show of vibrant neon, showcasing any and every color both in and beyond the rainbow.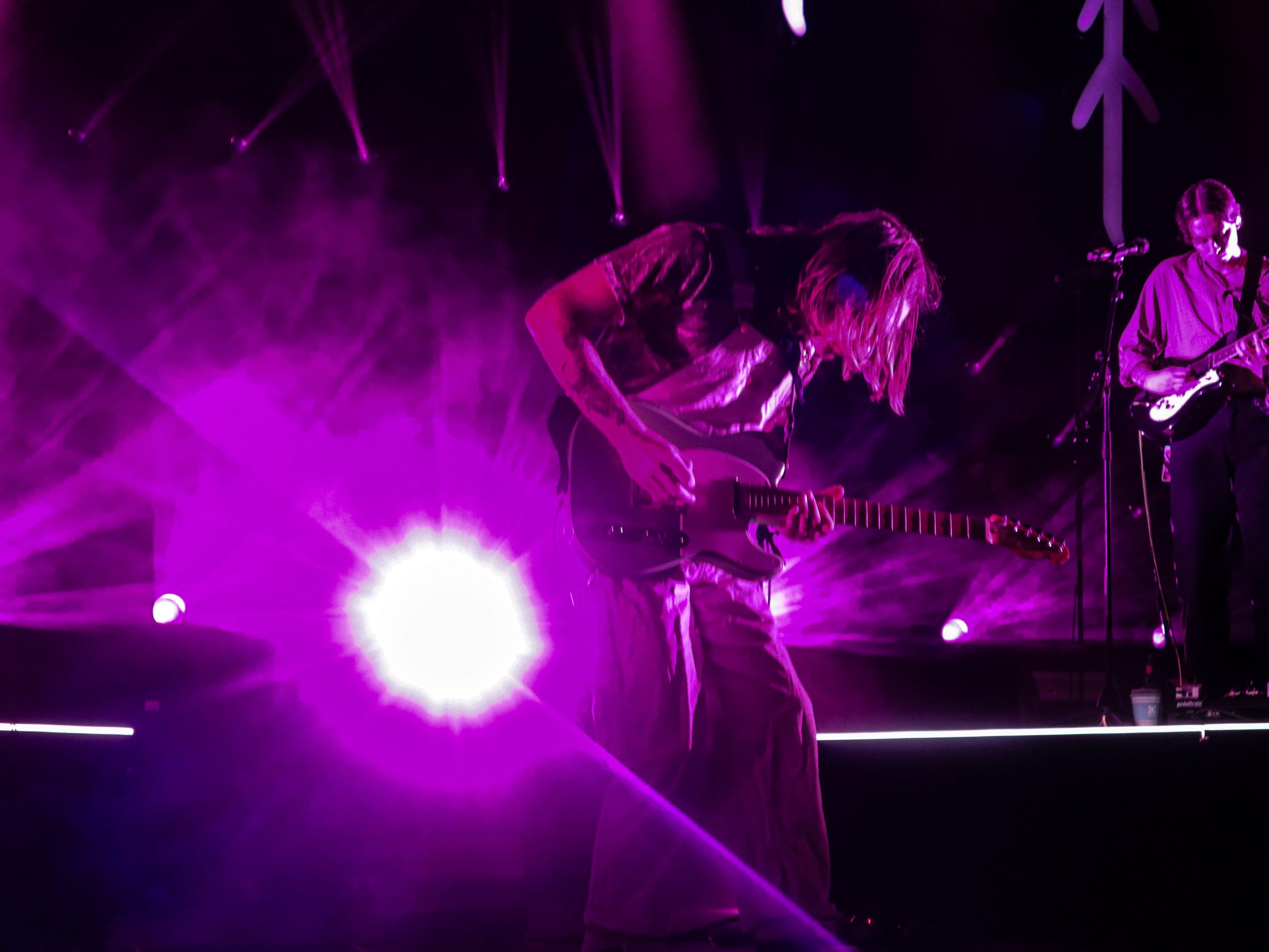 As the set nears its end, Washburn jokes about how he's now going to leave, wait for a minute, and come back for an encore. Even with the element of surprise gone, the crowd takes nothing for chance, shouting "ONE MORE SONG" in collective hope. 
True to his word, Goth Babe runs back out on stage to play fan-favorite, "Weekend Friend." While just one person, he somehow manages to turn a swarm of thousands into an intimate gathering. 
In typical Goth Babe fashion, he even ushers a group of girls to jump over the photo pit (nearly onto me) and have a personal dance party of their own on the stage. Sorry security…
In one night, and on one stage, Goth Babe has brought the sun, sea, and earth all to the audience. He doesn't just dream of a boundless existence, he lives it.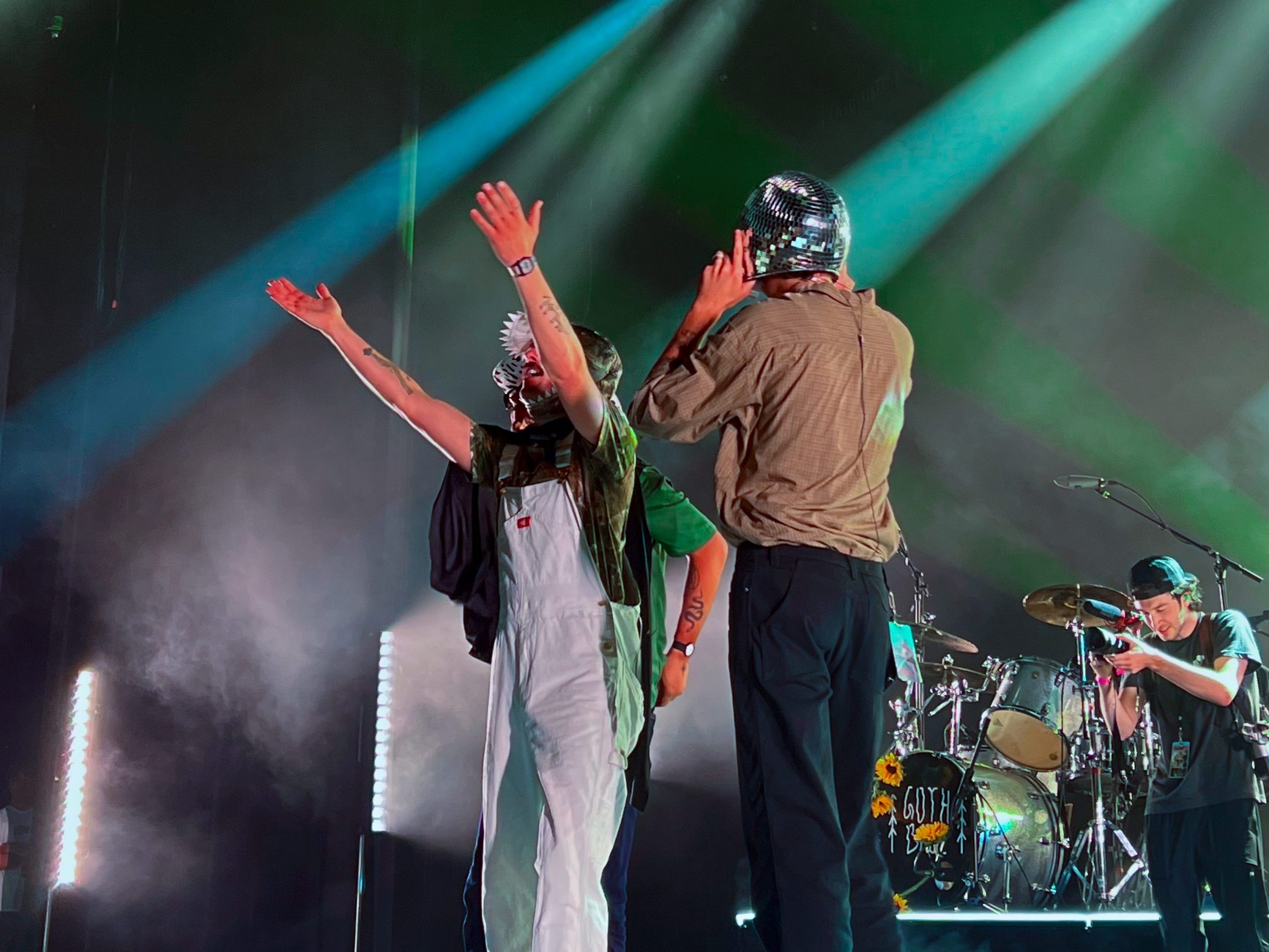 As the electricity of the final synth sizzled in the air, all I could think was:
"Where will he take us next?"