Cover Photo Credit : DIVISUALS
It's incredibly hard to summarize what Lightning in a Bottle is. The fest wears so many different hats and provides an experience unlike any other.
First off, Lightning in a Bottle is long; it's a five day fest. Its length, while at first seems overwhelming, is a major strength of the festival. It allows for a level of immersion that other fests can't reach. Since Lightning in a Bottle is by and large a camping festival, for the five days, everyone and everything lives and breathes the festival.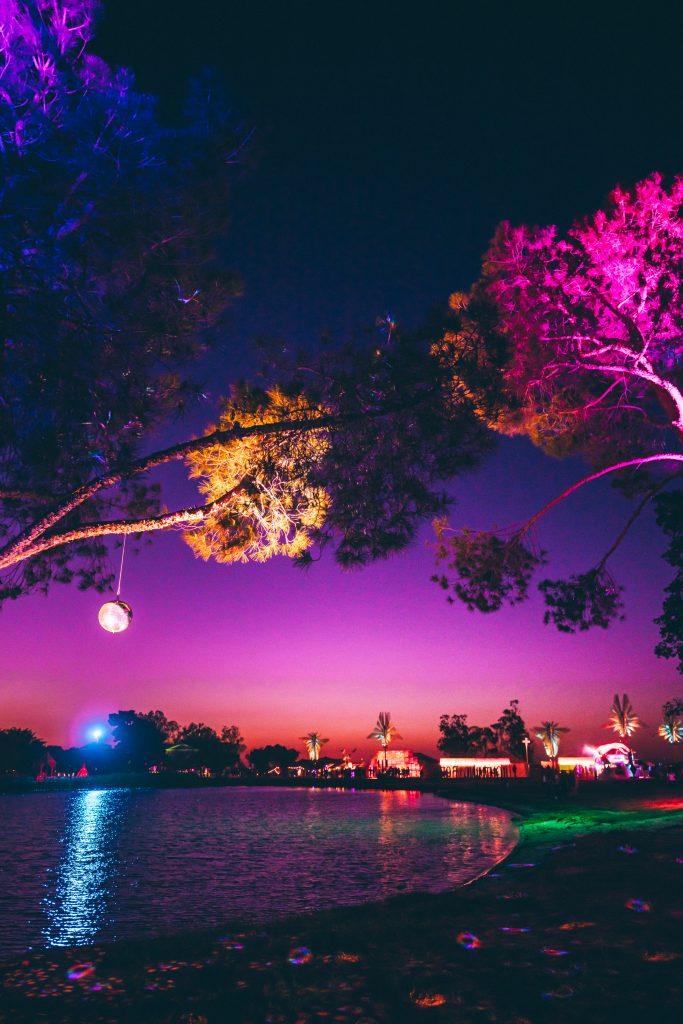 CREDIT: GETTINY
WEDNESDAY [DAY 0]:
I wake up at 7am, a bit tired, but eager to start the day. I'm attending the festival with my brother, Eddie, and his two friends, Alex and Chris.
The drive to Bakersfield from Los Angeles is a journey. Eddie picked me up around 9am. We escape the somewhat excessive pretense of the Westside of Los Angeles and head into the tranquil, austere beauty of the Central Valley. The trek to Buena Vista Lake is not a glamorous one. Once we exit the 5 freeway, we travel through miles of dusty planes full of dairy farms and oil refineries until we reach our destination.
After spending lots of time setting up our campsite, we're ready to check out the festival grounds. Wednesday seems to be a set-up day for the fest as the crew is still building several of the stages. Since full programming is not in effect yet, the grounds are incredibly uncrowded; we have the perfect opportunity to check out all the nooks and crannies of the fest. First off, the set up is beautiful. Buena Vista Lake shines in the middle of the fest amid the cool night air. Every inch of the place is brimming with personality. There are several giant, interactive art installations. We spot a giant green dwarf head and run to interact with it. The head has multiple swings hanging off of it. I hop on one and adore the beautiful sky.
After exploring for a while, we stumble upon the musical behemoth that is Martian Circus Live in 5d! They're an incredibly colorful jam band on an overly stimulating stage that play every night of the fest from 8pm to 4am. Their over-the-top energy and crowd interaction serves as the perfect introduction to Lightning in a Bottle.
THURSDAY [DAY 1]:
Thursday is when the festival really starts to pick up. Two out of the three main stages are still closed, yet today will see the opening of the vibrant Woogie stage.
What makes Lightning in a Bottle a truly unique festival is their emphasis on learning experiences. Their learning experience programming is in full effect today. After a hearty breakfast burrito courtesy of chef Eddie and chef Chris, we start our long trek to the festival grounds. We catch a very impactful speech by the Ashaninka Indigenous Amazonian Leader. His speech is grave and straight to the point. We need to start taking care of our planet and helping our youth. As he's delivering his powerful message, a nasty bass drop can be heard in the background. The sound bleed is very real at Lightning in a Bottle. However, the booming dubstep in the background does not take away from his excellent and encouraging speech.
Later on in the day, Eddie and I attend an event entitled "Movement Alchemy." I don't know what to expect. The workshop starts with everyone laying on the floor. Slowly, we begin to sway back and forth, pressing our bodies into the earth. The instructor, Frankie Tan, encourages us to examine where our bodies feel pressure. Eventually we sit up and soon stand up completely, all while attempting to interact with the earth below us in new ways. We then walk around the tent in a circle, we're encouraged to feel how the ground massages and interacts with our feet as we move. The workshop reaches its climax as we all begin to run and jump around the tent.
In many ways, Movement Alchemy is the perfect event to bring me into the world of Lightning in a Bottle. It's unlike anything I've ever experienced and it really breaks down any hesitations I may have had about the festival. Lightning in a Bottle is a festival that really requires you to let go of your ego and embrace the moment. It's a true judgment free zone, full of people open to new experiences.
After a day full of expanding my horizons and a hearty meal back at camp, I'm ready to get my dance on. I excitedly start the trek to see Purple Disco Machine. I've heard lots of good things about PDM online, however I'm not actually too familiar with their music. As we finally arrive at the Woogie stage, Purple Disco Machine is playing a very sentimental song to me, the Chemical Brothers' "Hey Boy, Hey Girl." I already know this set is going to be a fun time. Purple Disco Machine hits us with lots of groovy house beats and disco jams to ensure the dance floor stays moving. Also, the Woogie stage is just spectacular to look at. Giant rainbow colored, psychedelic mushrooms stand all around the stage and in the crowd. The colorful stage design accompanied with impressive lasers and lightning effects create a truly magical performance. Purple Disco Machine throws down familiar favorites such as "Don't You Want Me," "Enjoy the Silence," "Pump up the Jam," and "Funky Town." All in all, it is a non-stop dance party.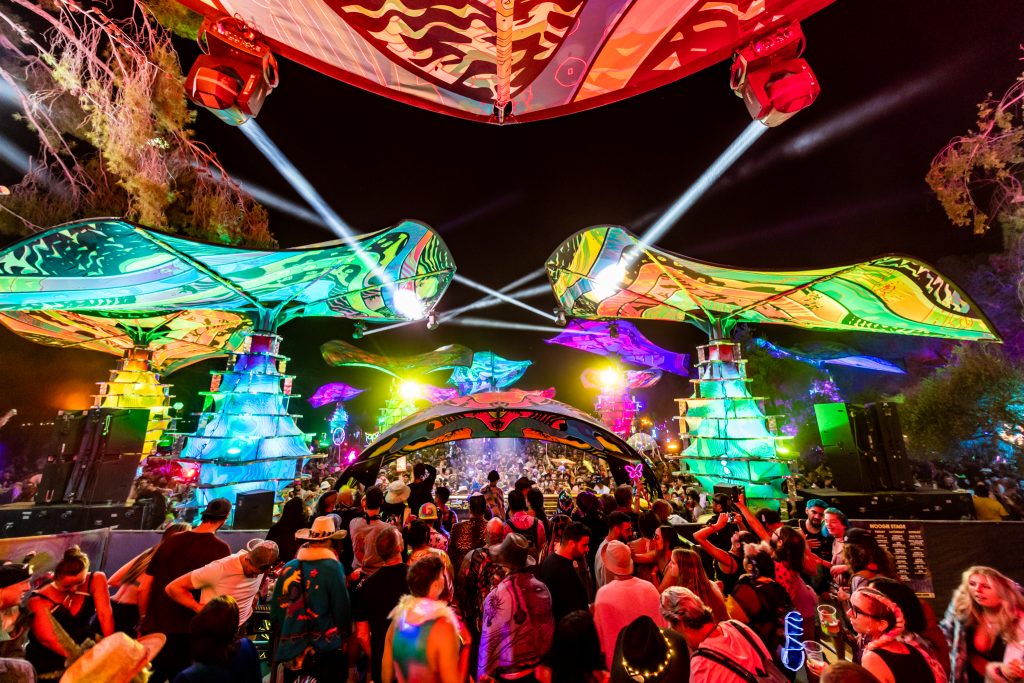 The Woogie Stage – CREDIT: JESS GALLO
Immediately after Purple Disco Machine ends his set, we book it to see Sharlitz Web perform at The Stacks stage. The Stacks is also incredibly visually impressive, as a stage with large wooden "stacks" placed throughout the crowd for attendees to climb and dance upon. Sharlitz Web drops some deep, dirty bass music that makes me thankful I've brought my earplugs. My ears feel safe as she wows us with her impressive dance beats. She plays an excellent remix of MIA's "Paper Planes," that sends me straight to cloud nine. Her set is my first proper live experience with bass music and really fills me with a deep appreciation for the genre.
FRIDAY [DAY 2]:
Seeking to conserve my energy for the rest of this behemoth of a fest, I spend most of Friday resting at my campsite. That is, until night time. After consuming a few beverages, we begin our walk to the fest. The first act we catch is MEUTE, an eleven piece techno marching band. Unsurprisingly, this set is unlike anything I've ever seen. MEUTE brings the pulsing beats of an EDM set combined with warmth and hype of a live marching band performance. Needless to say, the set is a blast. The set reaches its peak for me when they perform a cover of AWOLNATION's "Sail." Their songs are all instrumental, which gives me the great opportunity to belt out the lyrics myself. The set's incredibly high-energy and truly shows me how much fun there is still to be had over the next three days.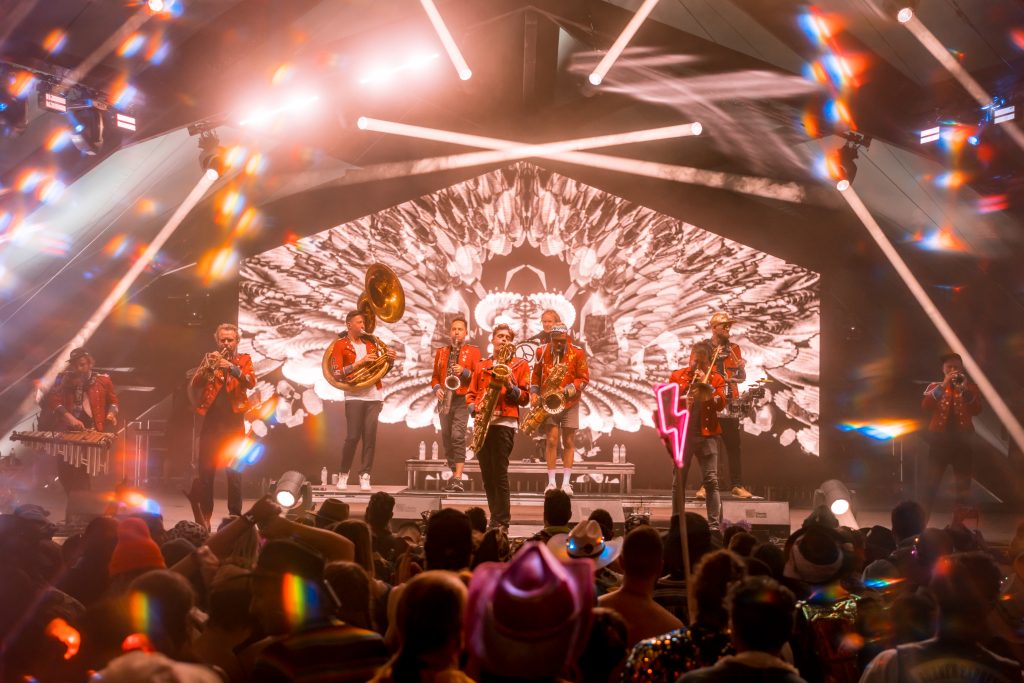 MEUTE at the Thunder Stage – CREDIT: DIVISUALS
Next up is 070 Shake. As one of the few artists I was familiar with before the festival, I'm very excited to check out her live performance. She's an incredible vocalist live and brings an immense amount of energy to the stage. For a few songs, she even encourages the crowd to create a mosh pit. I was not expecting to mosh at Lightning in a Bottle due to its emphasis on peace and love, but I'm all here for it. The gentle, cute mosh pit gives me a nice jolt of energy and really makes me appreciate 070 Shake's crowd interaction. She closes with an a capella rendition of her part on Kanye West's "Ghost Town." As a former Kanye fan, I'm ecstatic to hear this song live. 070 Shake's part on this song has always been the most impactful for me, so it is truly magical to hear her belt the song.
Following 070 Shake, we run to catch the Polish Ambassador at the Thunder stage. The Polish Ambassador lays down some insanely danceable beats. This set is the first of the festival that truly gives me a rave experience. I spot so many fascinating totems around me, my favorite being one with a stuffed baby Yoda on top. The lights and the aerial shade of the Thunder stage give the stage a more intimate, enclosed vibe than the Lightning and the Woogie stages. For all intents and purposes, the stage feels like a club booming with vibrant dance tracks. I feel very loose as I go feral to every song he drops. He ends the set with Matthew Wilder "Break my Stride." I absolutely love this song and enjoy dancing energetically until the set ends.
We catch a bit of Caribou on the Lightning stage after the Polish Ambassador. I'm a decently big fan of Caribou's recorded work, and much to my delight, his work translates very well live. He performs with a live band and his show is presented much like an indie-band performance but with the pulsing dance beats familiar with electronic music. His vocals are very smooth and subtle live. The band is tight and the vibe is nonstop. The mind-bending visuals help to enhance the performance. All together, Caribou puts on a very beautiful, danceable set.
SATURDAY [DAY 3]:
I start the day with a Kundalini Yoga workshop. This yoga gives me a level of mental clarity rarely felt in a festival setting, let alone in everyday life. Through mindful workshops such as this one, it is clear that Lightning in a Bottle is a festival like no other. It is a truly purposeful fest. Every installation, performance, and educational experience is presented to help the festival attendees become better, more appreciative people. The festival organizers seem to actually care about the well-being of their attendants, and not just their pocketbooks. The whole vibe of the festival is like one big family. Everyone seems to be here to have a great time and to appreciate the many gifts that life and nature have to offer.
We re enter the festival at night to see Mindchatter at the Lightning stage. Similar to Caribou, Mindchatter sings live with a soft, pleasant voice. His beats are creative and very fun to groove to and his visuals are extremely detailed, giving his performance much more emotional impact. His cover of LCD Soundsystem's "I Can Change," hits especially hard. Lightning in a Bottle seems to have a large crowd of millennials, and as such, most everyone can sing along. To close off the set, he covers Peter Bjorn and John's "Young Folks." This is the perfect song to close any show as everyone shouts the lyrics.
Later on, Mersiv spins some absolutely nasty bass music at the Thunder stage; I love every second of it. Drum and Bass legend LTJ Bukem follows Mersiv. LTJ Bukem' set is absurdly high-energy. There are almost no breaks to rest. The high tempo ensures that everyone is dancing and dancing fast.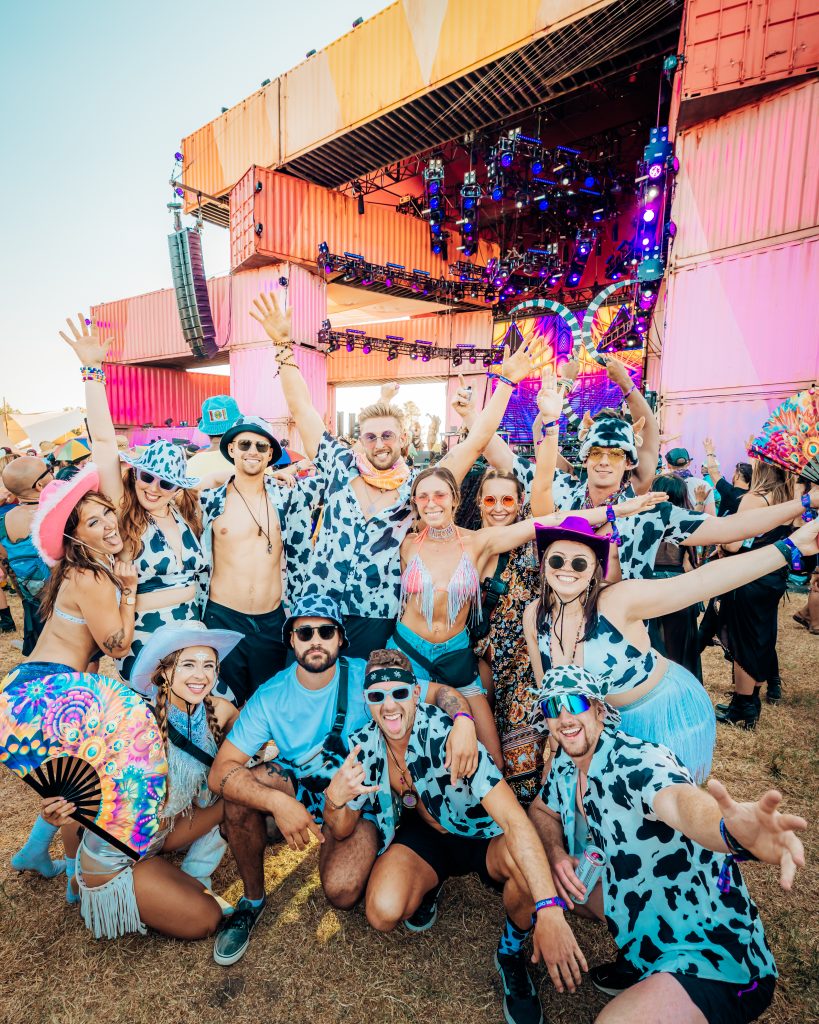 The Lightning Stage – CREDIT: DIVISUALS
SUNDAY [DAY 4]:
I start off my day in the festival with a true delight: Tobe Nwigwe's soundcheck. From the way he approaches his soundcheck, it's clear that he is a professional and a crowd pleaser. He exudes talent as he raps and sings for the fifteen or so of us in the crowd. He even takes a request from the crowd to play his song "FYE FYE."
Later on, Sampa the Great rocks the Lightning stage. She's backed by an amazing band to compliment her superb vocals. Her passion comes out with every line she sings, it's clear she wants to deliver her best performance possible.
After Sampa the Great, we rush to catch the end of Prospa's dj set. Prospa delivers an absolutely euphoric stream of music. Their song "Ecstasy (Over & Over)," has me levitating as they play it. The song has such a powerful party vibe that makes their performance feel like one of the most transcendental experiences ever.
I later run to see Tobe Nwigwe on the Lightning stage. Due to the quality of his soundcheck, his performance is unsurprisingly excellent. He raps every bar with purpose and class. His singing voice is also exceptionally smooth and his humorously honest lyrics provide for some small chuckles. His backup singers and band are all enormously talented and help to uplift the quality of the performance. I am blown away by how much heart and passion are present in this performance and by how enjoyable it is.
After Tobe, Rezz closes out the Lightning stage for the festival. Rezz is a professional. She plays her heavy-hitting, techno-infused bass music with style. The songs are all so powerful and make me forcibly jump up and down, bobbing my head. Luckily, we are in the back and I have ample amount of space to frolic and physically respond to every second of the music. Her remix of Rage Against the Machine's "Killing In The Name," is incredibly well executed. She takes the already aggressive track and makes it hit ten times as hard. Everything Rezz does, she does big. Her set is a perfect way to close out the main stage.
CONCLUSION:
Lightning in a Bottle is a truly unique experience. No other festival can come close in terms of the variety of things to do. There is always something new waiting behind every corner. All in all, the fest serves as a magical experience shared with amazing people.