The techno-house music that lit up the Wiltern last Thursday night featured no synths, mixing boards, electronic keyboards nor headphones; instead, a marching band supplied the sound.
The Hamburg-based music group, Meute, uses trumpet, marching percussion, saxophone, and other brass instruments to compose an incredible sonic experience for listeners that mimics electronic music with spectacular precision. Dressed in classic red marching band suits and snapback hats with dollar signs and pride flags, Meute mixes serious musicianship and synchronicity with a campy performance of contemporary techno music, leaving fans jumping and applauding at the unique explosion of sound before them.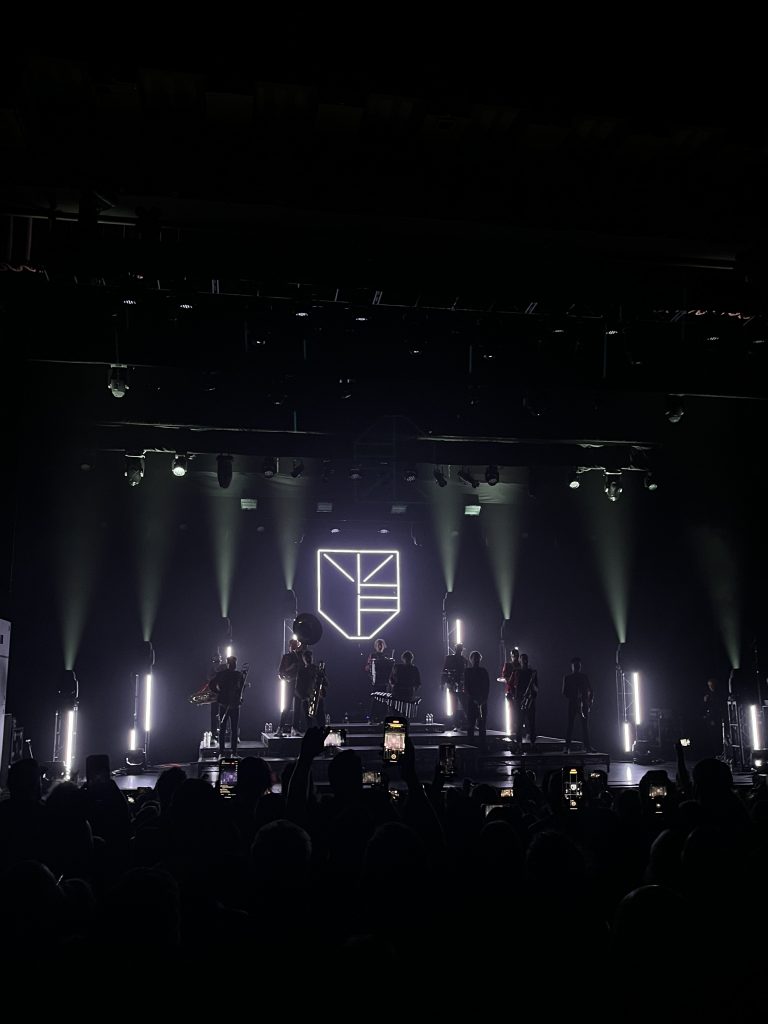 At first glance, the crowd flooding into the Wiltern appeared to be both older and more European than that of your typical LA electronic music show. Me and my two friends, both of whom had no idea what to expect when I asked them to join me at a "German house music brass band concert," scrunched our noses at the scent of mildew and stale beer (a lottttt of beer) that punctured the air in the GA section. To my right, a man in a kilt assumed his position at the barrier to the stage, while a lanky nine-year-old boy in Ray-Ban sunglasses sat criss-cross on the carpeted floor playing games on his parent's iPhone. In the VIP seating area, a yellow lab sat in its owner's lap. As the crowd filled in more, I had the sense that everyone was in on something special; Meute had captivated music lovers from all walks of life, who showed up eager to share the magic with their friends and families (and dogs).
The only person at the venue who actually seemed like your average EDM or techno lover was the opening DJ, who donned a neon pink wig and white cowboy hat as she played the same chord and beat for an hour straight. The inebriated couple behind us took to making out and dancing on eachother during this monotonous set, while the older man who had elbowed his way up to the barrier next to us commented, "how are you supposed to bop if there's no climax?". He looked burly, with a long white beard and leather coat, and his wife sported a fur scarf and salt-and-pepper curly hair that cascaded down her back. We asked them how long they had been following Meute, and they told us they'd seen them perform in Berlin years ago and hadn't stopped thinking about it since. As the opener's set came to a close, they assured us that Meute would be well worth the wait, and beyond whatever we'd imagined.
Our neighbors weren't wrong. The stage lights began to flash and the rich bass tones of a tuba vibrated through our cluster of bodies. Fluttering flute notes and saxophone runs grew louder as the band members joined one another on their different podiums. From the outset, Meute offered a type of goosebump-generating symphonic sound that transcended genres, building tension and anticipation throughout the nine-minute intro. As the instrumentalists lined up at the front of the stage, I noticed the diversity in ages and instruments before me, each member stepping and breathing in harmony. When the melodic introduction came to a close, the lights flashed red and a bumping bass drum took control of the room. Suddenly, we were no longer at the symphony or a college marching band's half-time show. We were in a European techno club, complete with a thumping bassline and crisp line of horns. The bandleader, Thomas Burhorn, took center stage for a trumpet solo, enrapturing the eager crowd before leading the band into another fantastic beat-drop.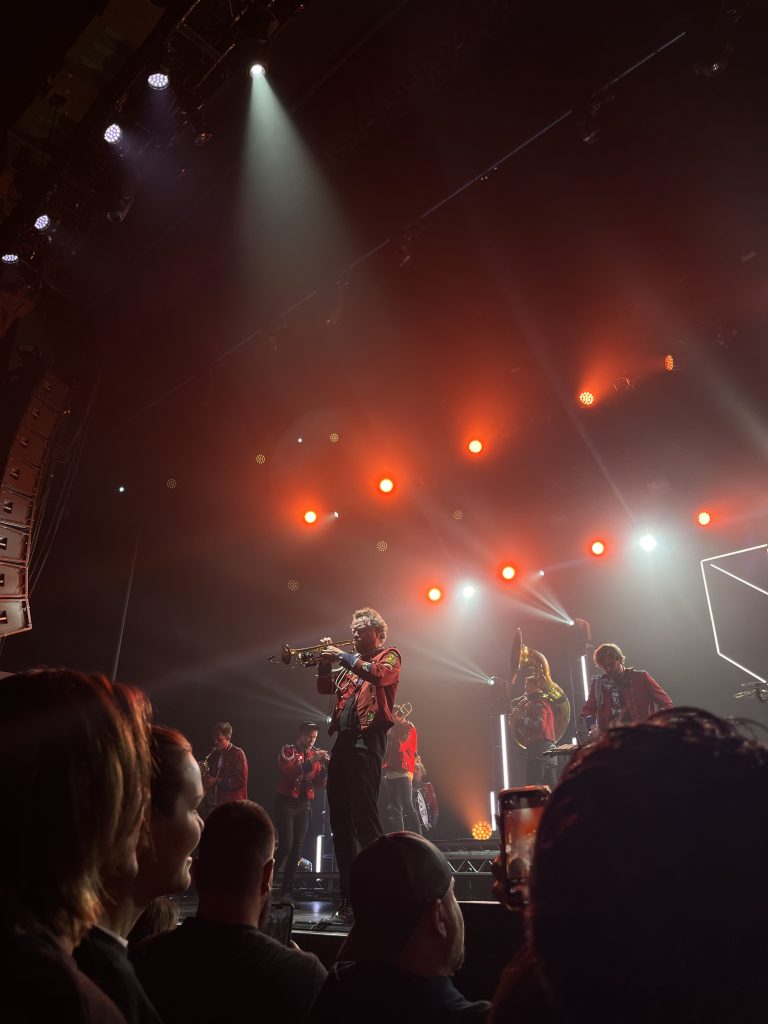 Having initially started as a cover band in Hamburg, Germany, the 11-person marching band was sure to incorporate some of their most popular techno covers into their high energy set. The main saxophone player, sporting a patterned flat brim hat that read Gay's Okay, played a beautifully haunting solo to start out Meute's techno take on "You & Me" by Flume, which had the crowd dancing and singing along despite having no singer on stage. However, in a later song, the very same sax player took hold of the microphone and added his raspy soulful voice to Meute's original, "Hey Hey".
The band's thrilling set continued with some of their greatest hits, "Peace" and AWOLNATION's "Sail," which was practically made for a live brass performance with its catchy horn-centric hook. The musicians often paired up as they played, as if in conversation with one another via their instruments. At times when one member wasn't playing, they'd run up to the front of the stage and lift their arms up, livening the crowd and gleefully basking in their energy.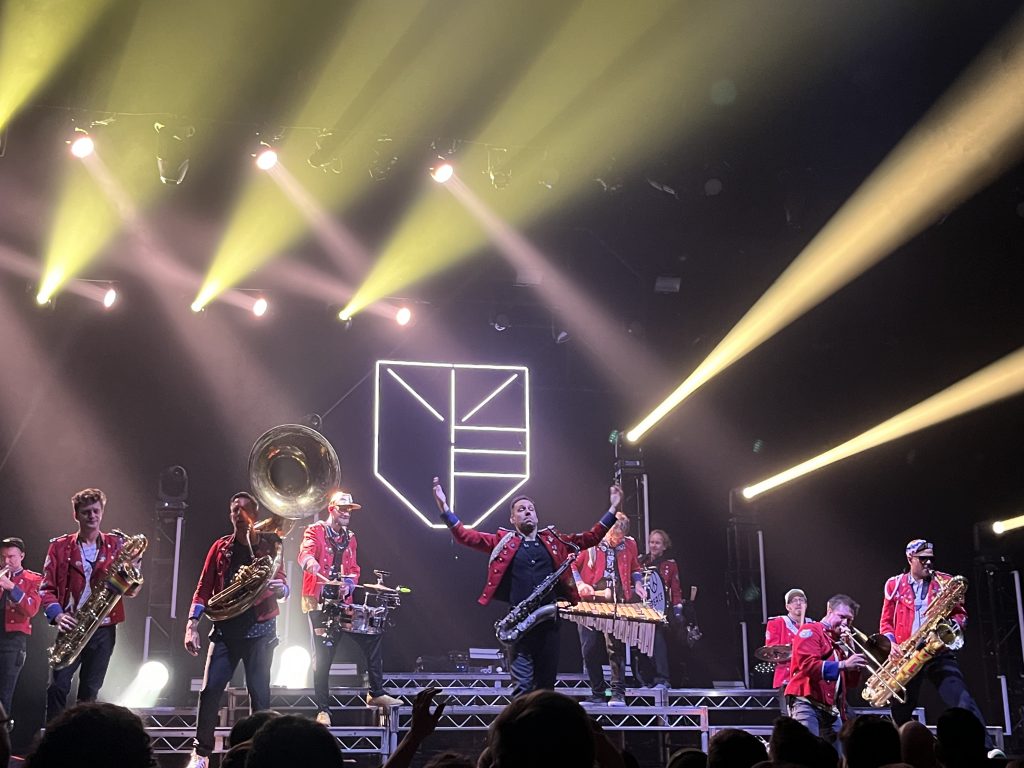 Amidst the rigidity of the classic marching band uniforms and instruments, Meute broke boundaries and defied expectations of what house and techno music could, and have historically always, been. Not only did they break out of the norms of electronic music, but the band member's open display of queerness and brotherhood across all ages contributed to my sense that I was witnessing a truly groundbreaking group that embraced one another and the uniqueness each individual brought to the collective. As Meute lined up single file at the edge of the Wiltern stage in their closing song, I could feel the energy of each beaming face and jumping body in the audience transmitted through my bones. Out on the sidewalk in the crisp Los Angeles air, I could still feel the thump of the bass drum and the buzz of the tuba pulsing through me, sending me out into the night propelled by a natural electricity.